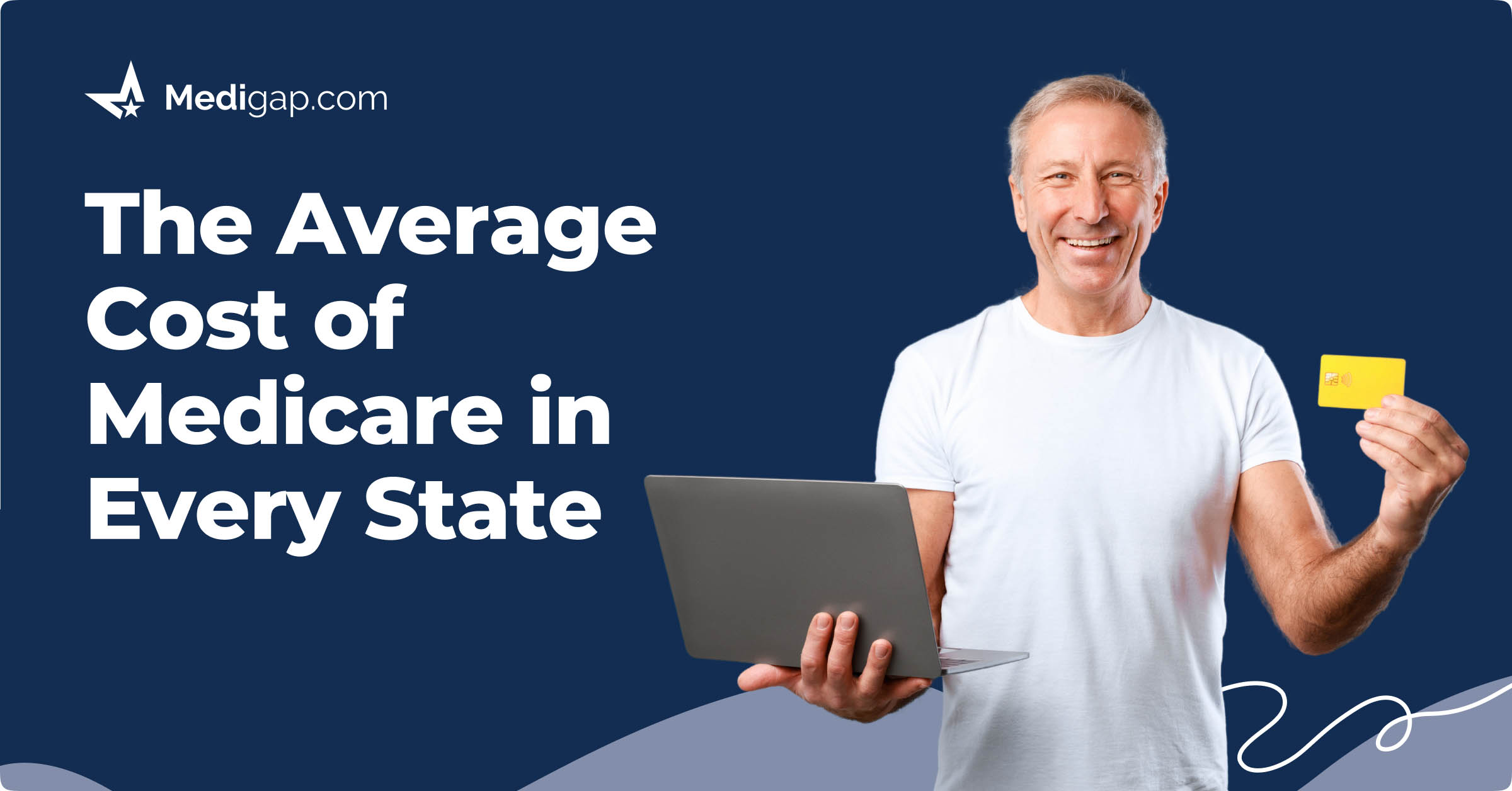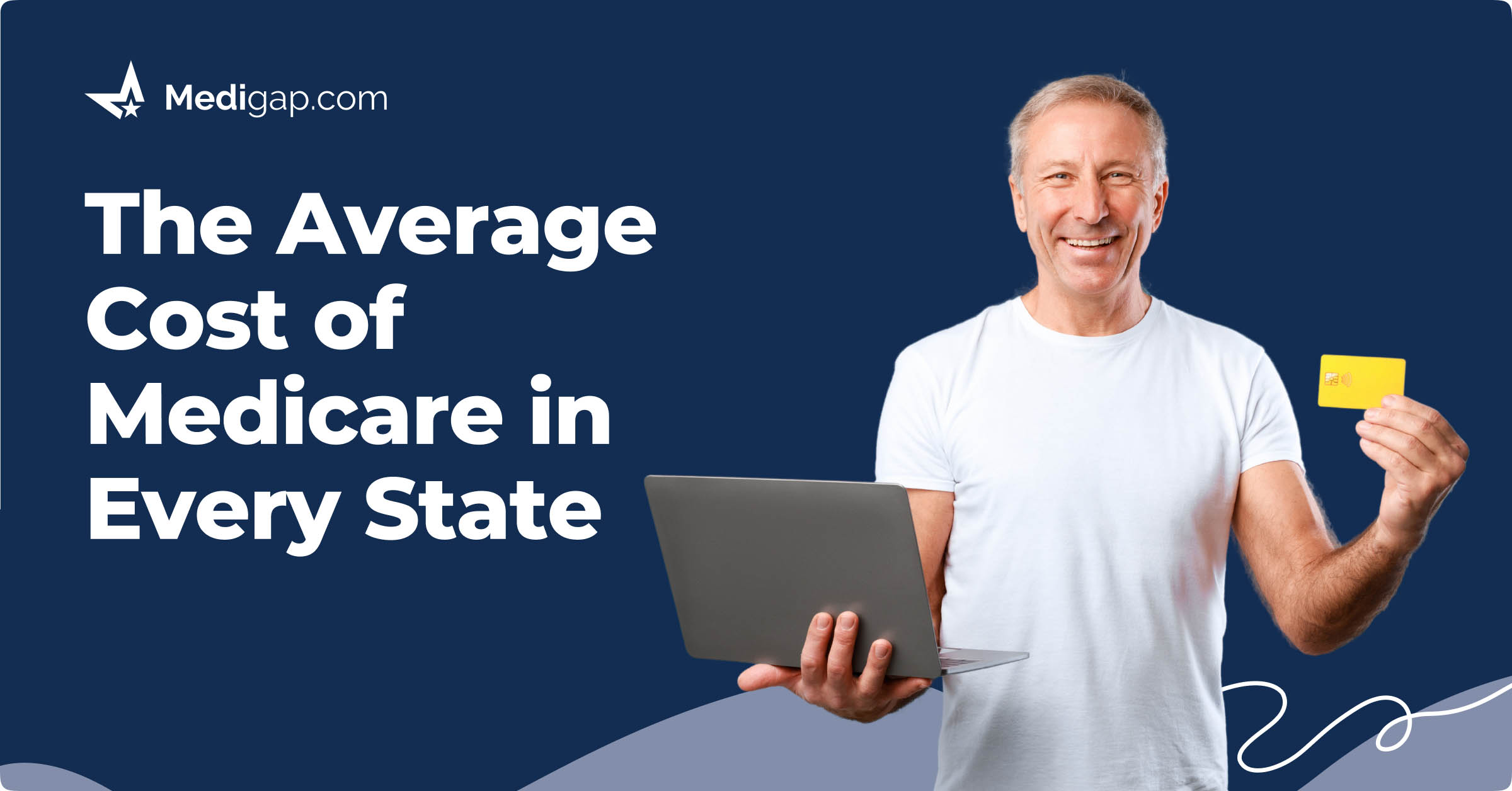 Are you or a loved one approaching the age of 65? If so, you're not alone. Every day, 10,000 American seniors join the ranks of Medicare beneficiaries, and by 2030, all Baby Boomers will have hit that milestone. But with over 63 million registered for Medicare, the options for insurance can be overwhelming. Not all Medicare beneficiaries have equal access to the same insurance options.
Did you know that almost half of all Medicare enrollees – over 28 million people – are enrolled in private Medicare plans known as Medicare Advantage plans? Another 24 million are enrolled in prescription drug plans. And for the remainder, over 41% also have a Medicare Supplement Plan. So, what does this all mean for you? In this article, we'll be breaking down the average cost of Medicare plans in every state so that you can make an informed decision about your Medicare options.
Table of contents
Medicare plan types
There are several types of Medicare plans available for beneficiaries. There are a few ways to get your coverage. We'll discuss the different Medicare plans by state below.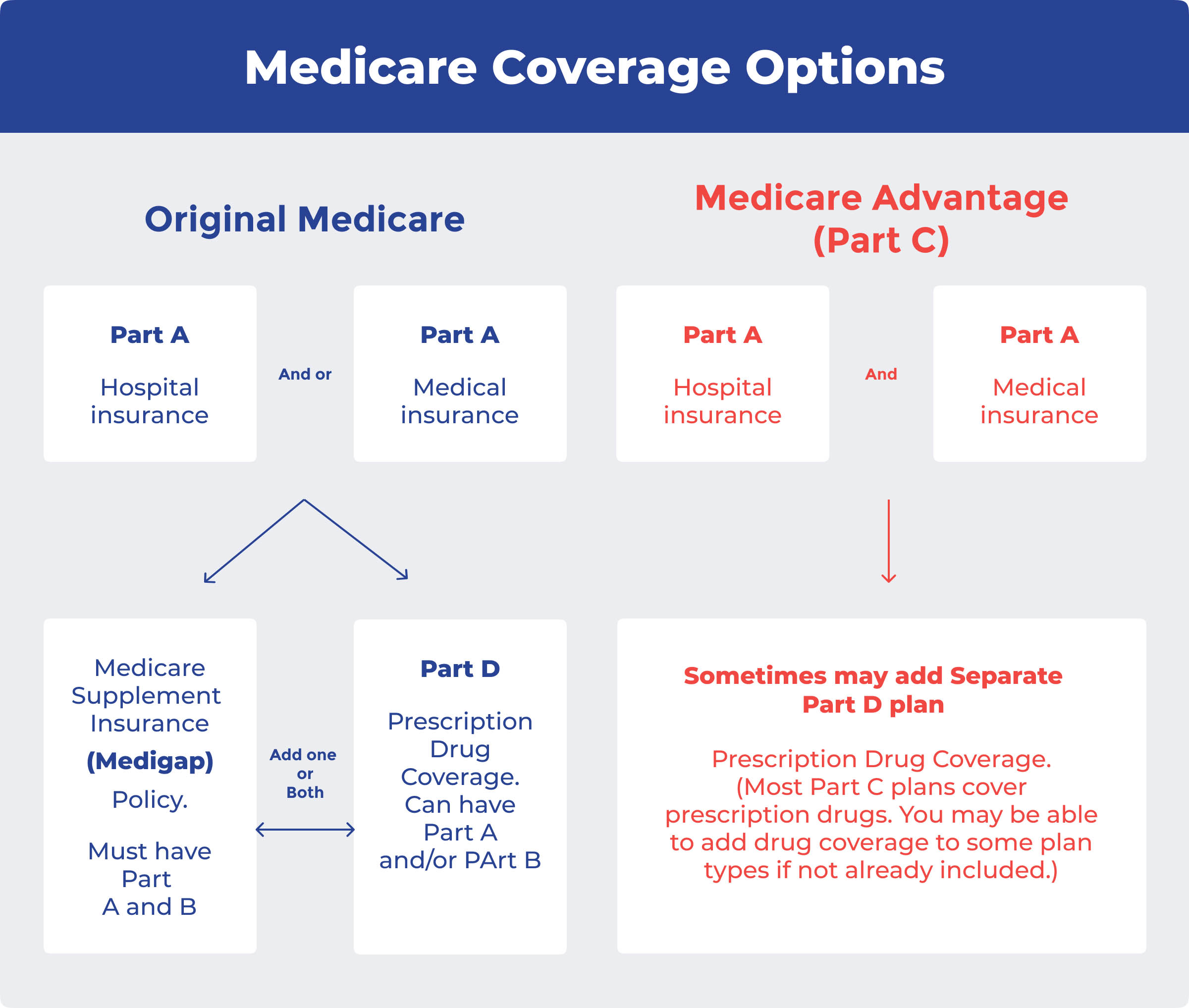 Original Medicare
Medicare Parts A and B are known as Original Medicare. With Original Medicare, you're responsible for a few deductibles, generally 20% of medical expenses, and any Part B excess charges.
Many enrollees will add a Medicare Supplement to help offset and pay portions of the beneficiary's cost share for medical services covered under Medicare.
They must add a Medicare Part D prescription drug plan to get coverage for prescription drugs filled at a pharmacy.
Medicare Supplement
These standardized Medigap plans have ten different options, including two high-deductible versions, except for the states of Minnesota, Massachusetts, and Wisconsin. The plans are the same in all other states except for the price.
Medicare Part D prescription drug plans
Private companies like Humana, Wellcare, and UHC provide access to prescription drug plans. The plan benefits, and prices can vary depending on where you live. All plans must have coverage as good or better than the standard model presented by the Centers for Medicare & Medicaid Services.
Medicare Advantage plans
Like Medicare Part D, Medicare Advantage or Medicare Part C are also administered by private companies contracted with Medicare and are another way to receive Medicare benefits.
These plans provide the same benefits as Original Medicare; some even offer extra benefits like prescription drug coverage. The benefits differ depending on your chosen program and where you live.
Almost all Medicare Advantage plans to provide prescription drug coverage, with 89% of plans offering this benefit in 2022.
Individuals eligible for Medicare can enroll in either a Medicare Advantage Prescription Drug (MAPD) plan, a standalone Part D plan (PDP), or opt out of both. Still, they are not permitted to enroll in both simultaneously.
Overview of the best states for Medicare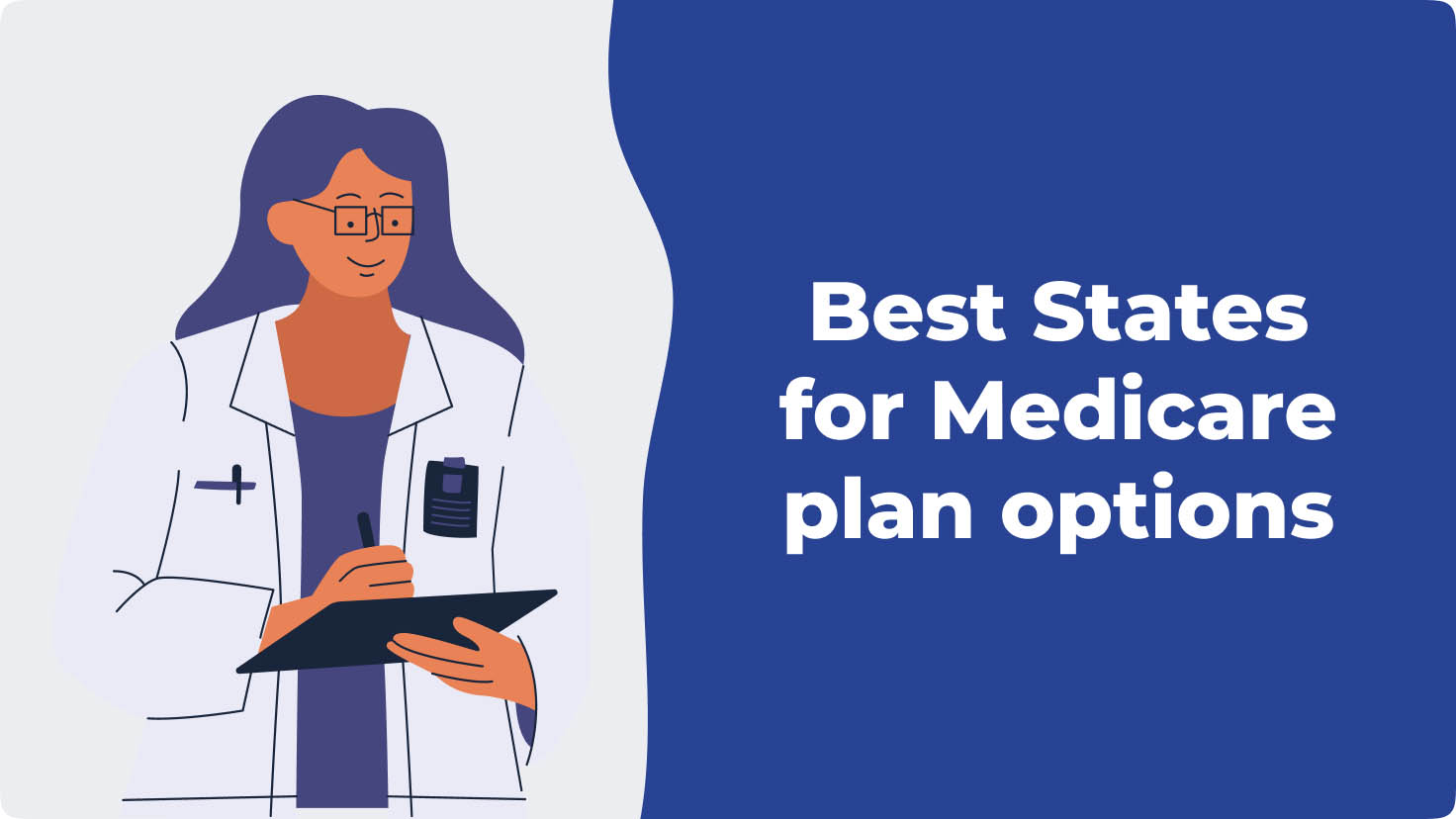 Many variables come into play regarding the best state for Medicare. For one, the Medicare plan type you are interested in may be better or more affordable in one state. So personal preference comes into play.
Generally speaking, you can find excellent Medicare Advantage plans with low costs and additional benefits in a metropolitan area. However, the Medicare Supplement plan premiums may be more affordable if you live in a more rural state.
We reviewed the Centers for Medicare & Medicaid Services information for all 50 states. We looked at affordability and quality to make our comparisons.
The Centers for Medicare & Medicaid Services annually evaluates all Medicare Advantage and Medicare Part D drug plans and assigns them a rating.
Plans with one star are the lowest quality, while those with four or more stars are the highest. Next, we'll provide a breakdown of the cost of Medicare plan options by state so you can see which states best suit your needs and preferences.
Medicare plans: Average costs in 2023
There are plenty of options with considering Medicare plans and the average costs. However, you must remember that each Medicare plan type is quite different.
The average cost of Medicare plans by type:
Medicare Advantage plans have a nationwide average of $18.
Medicare Prescription drug plans have a national average cost of $31.50.
Medicare Supplement plans averages range depending on the plan letter. You can expect to pay between $80 and $300 monthly.
The average Medicare Advantage costs in every state
In , Medicare Advantage Prescription Drug (MAPD) plans are generally affordable. On average, the monthly premium for these plans is $18, but in some areas, some plans don't require any monthly payment.
If you choose an MAPD plan, you'll also have a limit on the total amount you'll need to spend on medical expenses in a year. However, the MAPD plan can only make you pay $8,300 for in-network costs out-of-pocket annually.
Regarding quality, around 55% of available Medicare Advantage plans in each state have a rating of 4 out of 5 stars or higher from Medicare in .
| State | Average Premium | Average Maximum Out-of-Pocket |
| --- | --- | --- |
| Alabama | $17 | $4,775 |
| Arizona | $5 | $4,083 |
| Arkansas | $12 | $5,494 |
| California | $23 | $3,001 |
| Colorado | $9 | $5,213 |
| Connecticut | $21 | $6,187 |
| Delaware | $12 | $6,116 |
| Florida | $5 | $3,380 |
| Georgia | $12 | $6,285 |
| Hawaii | $61 | $5,322 |
| Idaho | $21 | $5,838 |
| Illinois | $19 | $3,566 |
| Indiana | $16 | $4,470 |
| Iowa | $29 | $4,429 |
| Kansas | $4 | $3,887 |
| Kentucky | $11 | $5,369 |
| Louisiana | $18 | $5,586 |
| Maine | $19 | $6,006 |
| Maryland | $58 | $7,140 |
| Massachusetts | $47 | $5,784 |
| Michigan | $36 | $4,534 |
| Minnesota | $89 | $3,763 |
| Mississippi | $8 | $5,903 |
| Missouri | $11 | $3,468 |
| Montana | $37 | $4,792 |
| Nebraska | $2 | $4,692 |
| Nevada | $5 | $2,623 |
| New Hampshire | $27 | $6,680 |
| New Jersey | $12 | $7,263 |
| New Mexico | $11 | $5,544 |
| New York | $53 | $6,839 |
| North Carolina | $11 | $4,956 |
| North Dakota | $17 | $4,678 |
| Ohio | $32 | $4,826 |
| Oklahoma | $8 | $4,977 |
| Oregon | $48 | $5,357 |
| Pennsylvania | $50 | $6,050 |
| Rhode Island | $39 | $5,192 |
| South Carolina | $6 | $6,323 |
| South Dakota | $3 | $4,258 |
| Tennessee | $13 | $5,404 |
| Texas | $8 | $4,586 |
| Utah | $14 | $5,904 |
| Vermont | $34 | $6,663 |
| Virginia | $17 | $6,185 |
| Washington | $33 | $5,805 |
| Washington, DC | $28 | $6,588 |
| West Virginia | $10 | $6,774 |
| Wisconsin | $35 | $4,279 |
| Wyoming | $39 | $6,500 |
Average Medicare Advantage cost by State (2023) – costs rounded to the nearest dollar
The average Part D plan costs in every state
The table shows how much people pay monthly for Medicare Part D prescription drug plans in different states.
The states with the cheapest plans are Mississippi, Kansas, Kentucky, Indiana, Illinois, and Oklahoma, where people pay around $43 monthly.
The most expensive plans are in California, Pennsylvania, and West Virginia, where people spend around $60 monthly.
Average Part D costs and availability by state (2023)
The average Medicare Supplement plan costs in every state
Most states offer ten different Medicare Supplement Insurance plans. The average monthly premium for Medicare Supplement plans varies depending on the state.
The average monthly premium for Medigap policies was lowest in Wisconsin, Hawaii, and Iowa at around $102 monthly. On the other hand, New York had the highest average monthly premium for Medigap plans, which was $304.72 per month.
Average Medicare Supplement costs by state (2023)- Prices shown are based on a 65-year-old female in a random zip code. Actual prices may vary.
Medicare costs in every state
Medicare has two parts, A and B, which cost the same in every state. Most people can get Part A for free if they or their spouse have worked and paid Medicare taxes for at least ten years, but those who paid taxes for fewer quarters may have to pay a premium of up to $505 per month. Part B has a standard monthly premium of $174.70, but some people may have to pay more based on their income, called IRMAA. If you want to know if you must pay IRMAA in , check with Medicare.
FAQ
Is Medicare the same price in every state?
Medicare has two parts, A and B, with fixed costs in every state. However, the costs of Medicare Advantage, prescription drug, and Medigap plans may differ based on various factors, including your location.
What is the average cost of Medicare per month?
The monthly cost of Medicare depends on your type of Medicare. Medicare Advantage plans usually cost around $18 per month in , while Medicare Part B typically costs $174.70 monthly. Additionally, a Medicare Part D plan covers prescription drugs and costs an average of $31.50 monthly.
How do you qualify for money back from Medicare?
To receive the giveback, you must meet these requirements:
You must be enrolled in Medicare Parts A and B.
You need to be paying your premiums for Original Medicare, as you are not eligible if your premiums are covered by a state or local program.
You must reside in an area serviced by a plan offering a Part B giveback.
How much is the cheapest Medicare plan?
Medicare Advantage plans are usually the cheapest, averaging $18 monthly. Note that the cost of Medicare Advantage is on top of the $174.70 per month that you pay for Medicare Part B, which is typically deducted from Social Security payments. You can find Medicare Advantage plans with a $0 premium in many areas.
What is the most expensive Medicare plan?
Because Medigap Plan F offers the most benefits, it is usually the most expensive of the Medicare Supplement insurance plans. However, this may not always be the case, and you should shop around to find the best plan option for you.
There are numerous Medicare plans available for beneficiaries. However, narrowing the plans and understanding which fits your needs could be daunting. We can help identify and provide information on plans that fit your needs.
For assistance with Medicare plans in your area, fill out our online request form or give us a call to connect to a licensed agent who specializes in Medicare plans for your area.
---
Sources – Medigap.com extracted and analyzed data from the following to provide data in this article.
"The State of Medicare Supplement Coverage" (AHIP)
"2023 Landscape files" regarding Medigap, MAPD, and PDP (CMS)
"Medicare Part D: A First Look at Medicare Drug Plans in 2023" (Kaiser Family Foundation)
Related Content