UnitedHealthcare is a health insurance company that provides Medicare supplemental Medicare plans, Medicare Advantage plans, and prescription drug coverage.
UnitedHealth Group, one of the biggest health insurers in the United States, is the parent company of UnitedHealthcare.
UnitedHealthcare offers Medicare supplemental plans under the brand names UnitedHealthcare and AARP. This carrier also offers Medicare Advantage plans and prescription drug coverage under UnitedHealthcare's brand name.
UnitedHealthcare Medicare plans
UnitedHealthcare offers a variety of supplemental Medicare plans to fit the needs of its policyholders. Some of these options include Medigap plans, designed to help policyholders pay for some of the expenses left over by Medicare.
These expenses can include copayments, coinsurance, and deductibles. UHC also offers Medicare Advantage plans, which are health insurance plans that pay instead of Original Medicare.
Medicare Advantage plans provide policyholders various benefits, such as prescription drug coverage, dental coverage, and vision coverage. Finally, UHC offers Medicare Part D plans, which are prescription drug plans that help policyholders pay for the cost of their prescriptions.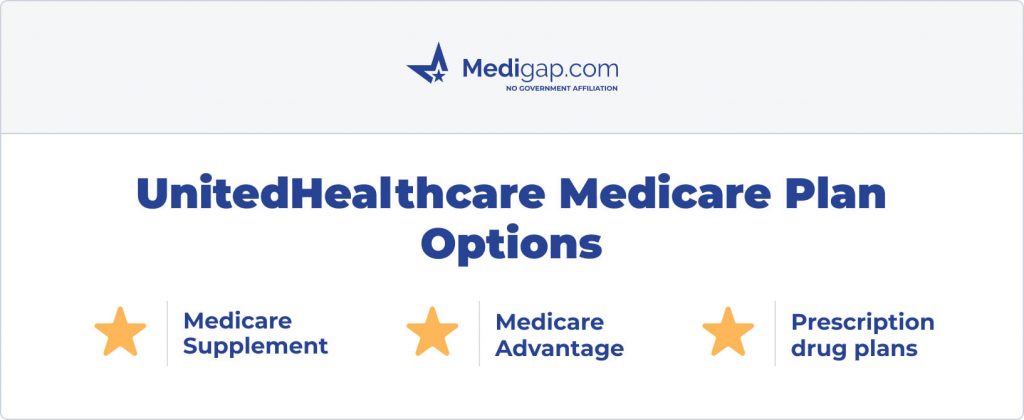 UnitedHealthcare Medicare Supplement plans 2023
UnitedHealthcare offers several Medicare Supplement options to help people cover the costs not covered by Original Medicare.
There are several different types of plans, each one providing different coverage levels. Some of their most popular programs include the Medigap Plan F and the Medigap Plan G.
UnitedHealthcare Medicare Advantage plans 2023
UnitedHealthcare also offers a variety of Medicare Advantage plans. These plans are designed to take over for Original Medicare and typically offer more coverage than Original Medicare.
UnitedHealthcare's Medicare Advantage plans include plan extras such as dental, vision, and hearing coverage. The amenities include benefits such as gym memberships and over-the-counter allowances that can be used for certain everyday items.
UHC Medicare prescription drug plans
UnitedHealthcare also offers a variety of Medicare Part D plans. These plans are designed to help people pay for their prescription drugs. Most of these plans provide various coverage levels, so people can choose the best option.
UnitedHealthcare Medicare pros and cons
Pros
Largest Medicare plan provider
Household discounts
Light underwriting
Endorsed by AARP
Gym Membership on all plans
Cons
Average rate increases
Medicare Supplements require an active AARP membership for enrollment
UnitedHealthcare financial strength ratings.
A.M. Best, Standard & Poor's, and Moody's are all companies that provide financial strength ratings for businesses. A.M. Best rates UnitedHealthcare as "A-" with a stable outlook, Standard & Poor's rates UnitedHealthcare as "A" with a stable outlook, and Moody's rates UnitedHealthcare as "A2" with a stable outlook. A
All three companies have given UnitedHealthcare a stable outlook, which means they believe it will continue to be financially sound.
UHC carrier reviews
UnitedHealthcare is a well-known and highly respected insurance company. They offer a variety of Medicare choices, including Medicare supplemental plans, Medicare Advantage plans, and Medicare Part D plans.
They have something for every Medicare beneficiary. UHC is one of the most trusted providers in the Medicare space. Its members highly recommend UHC to their friends and family.
FAQs
How much does UnitedHealthcare Medicare Advantage plans cost?
UHC Medicare Advantage plans are available in many areas with a $0 premium. However, the average cost of Medicare Advantage plans is $18.
How much does UHC Medicare Supplement Plan G cost?
UHC's Plan G Medicare Supplement will vary depending on the state and your age. Plan G will average about $125 for a 65-year-old Medicare beneficiary.
To get a UHC Medicare Supplement, must you be an AARP member?
Yes! You must have an active AARP membership to enroll in a Medicare Supplement plan from UnitedHealthcare.
Can I keep my doctor if I switch to a UHC Medicare Supplement?
Yes! You can keep your doctor if enrolling in a UnitedHealthcare Medigap plan.
How much is the UHC Medicare Advantage plan?
Prices will differ depending on where you live. You can find UnitedHealthcare Medicare Advantage plans as low as $0.
What's the difference between Secure Horizons and UHC?
Secure Horizons was a UHC product in specific states. All Secure Horizons plans have been rebranded to UHC's other plan names, such as AARP Medicare Complete.
How to enroll in a UHC Medicare plan
To enroll in a UnitedHealthcare Medicare Advantage plan, you must be a Medicare beneficiary eligible for coverage.
You can fill out our online request form, and one of our agents can assist you in finding a plan in your area or give us a call to speak with someone about your coverage options. Our licensed agents are specialists in Medicare, and they're standing by to help you!