Oklahoma Medicare Supplement plans, or Medigap plans, are insurance policies that work with Medicare and help beneficiaries cover health care costs not covered by Original Medicare.
The government standardizes these plans, so each state and carrier's Medigap plans feature the same benefits. However, monthly premiums vary depending on location and other factors.
Oklahoma Medicare Supplement plan enrollment
Oklahoma has 203,944 Medicare Supplement enrollees. Patients with Fee-for-Service Medicare Part A and Medigap make up 32.3% of the total number of state enrollees.
This percentage reflects the majority of the United States Medigap coverage choices, as over 26 other states have around 35% Medigap participation in addition to Original Medicare.
| | | | | | | | | | | |
| --- | --- | --- | --- | --- | --- | --- | --- | --- | --- | --- |
| PLAN | A | B | C | D | F | G | K | L | M | N |
| | 3,353 | 885 | 2,742 | 1,827 | 127,427 | 46,041 | 1,410 | 1,544 | 6 | 13,134 |
What are the top Medigap plans in Oklahoma?
Plan F is the top Medigap plan Oklahomans choose, with 127,427 enrollees. This plan is popular for its comprehensive inpatient and outpatient healthcare services coverage.
Medigap Plan G is the next most popular option for Oklahoma patients. The plan's 46,041 enrollees indicate their satisfaction with this policy.
Although Medigap Plan N has only 13,134 enrollees, this is Oklahoma's third most popular Medigap plan.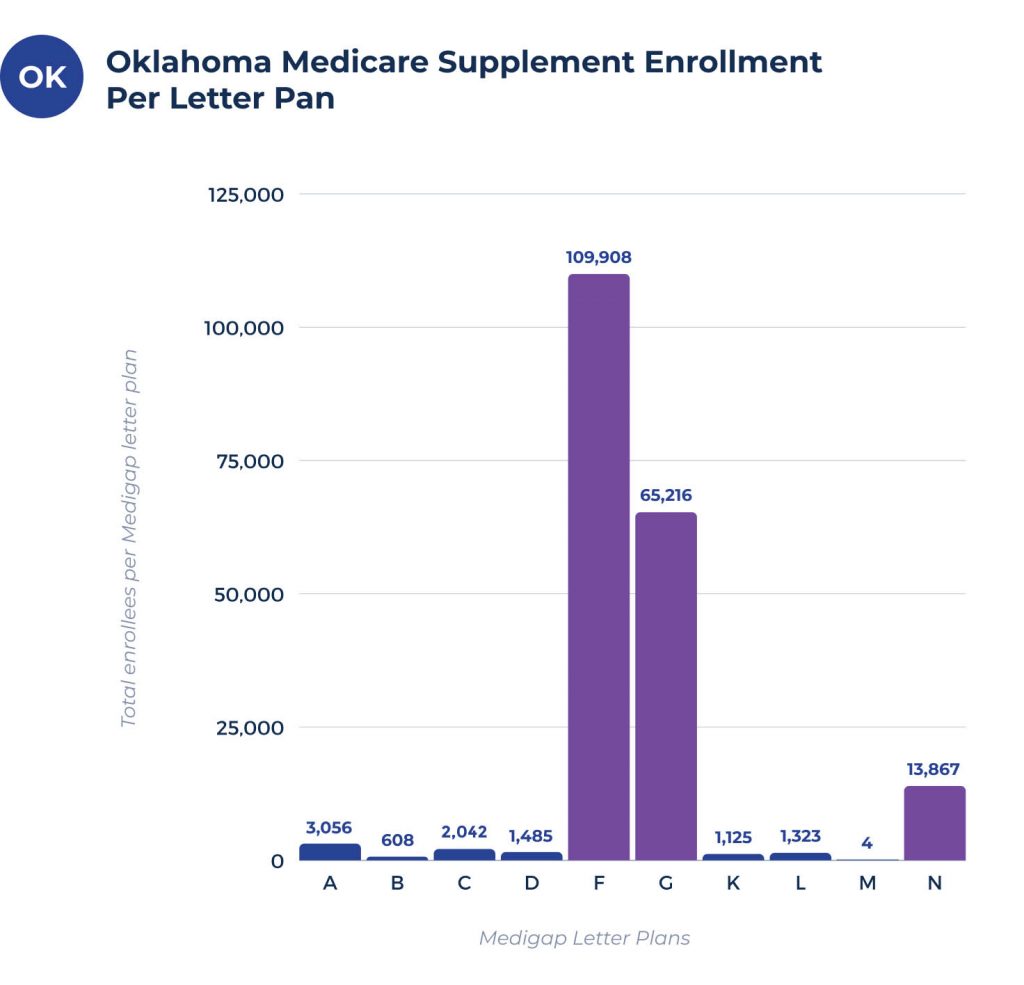 Medigap plan coverage chart for Oklahoma
The benefits in the following chart are standard across all states. Whether in Oklahoma or Ohio, Medigap's plans cover the same services and treatments.
Medicare Supplement plans costs in Oklahoma
Premiums operate differently despite patients receiving the same plan benefits in every state. Oklahoma Medicare Supplement plans' premiums vary depending on several factors. These factors include:
Your age
If you use tobacco
Rate locks
The payment method
Your enrollment date
Gender
If your rate has increased before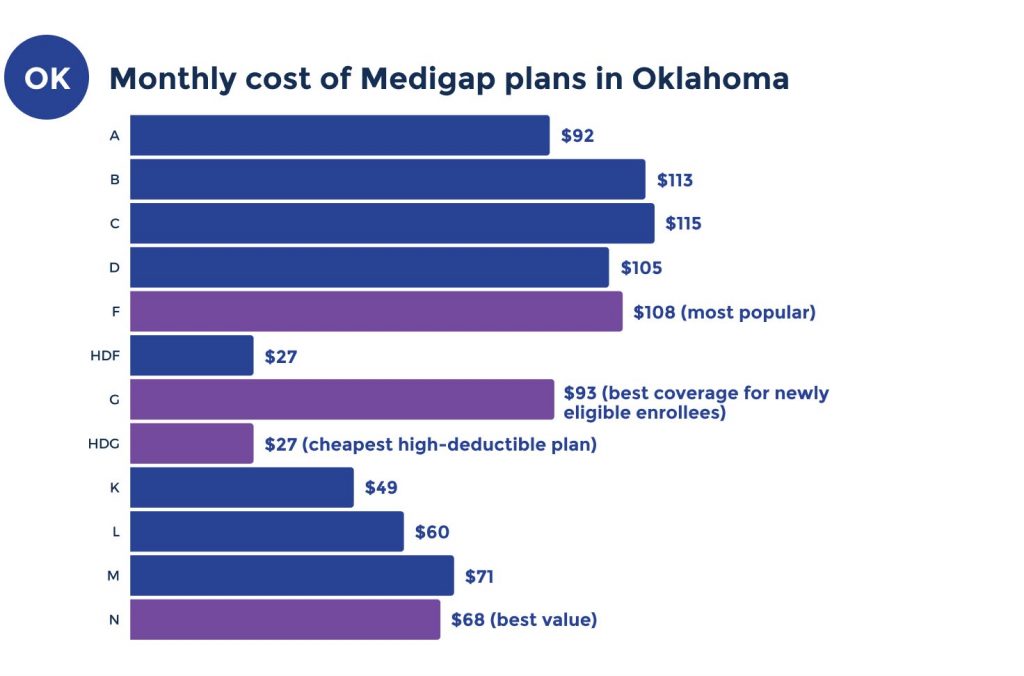 What's the average cost for a Medicare Supplement plan in Oklahoma?
Inexpensive premium per Medigap letter plan in Oklahoma
Medigap offers plans with different premiums for different types of enrollees. The following quotes are average for 65-year-old females in Oklahoma.
| | | | | | | | | | | |
| --- | --- | --- | --- | --- | --- | --- | --- | --- | --- | --- |
| PLAN | A | B | C | D | F | G | K | L | M | N |
| Premium | $86 | $101 | $111 | $104 | $114 | $99 | $50 | $63 | $70 | $68 |
Most expensive premium per Medigap letter plan in Oklahoma
While some Medigap plans are relatively inexpensive, others have significantly higher premiums. The following charted premium quotes apply to the average 70-year-old male living in Oklahoma.
| | | | | | | | | | | |
| --- | --- | --- | --- | --- | --- | --- | --- | --- | --- | --- |
| PLAN | A | B | C | D | F | G | K | L | M | N |
| Premium | $1,205 | $388 | $467 | $428 | $479 | $414 | $143 | $229 | $266 | $408 |
Top Medicare Supplement plan carriers in Oklahoma
The leading Medicare Supplement policy carriers include SBLI, New Era, Mutual of Omaha, and United States Fire. Plan N features the lowest premiums across all insurance companies, while SBLI offers some of the lowest pricing for Plan F, Plan G, and Plan N.
These numbers are quotes for an average 65-year-old female beneficiary in Oklahoma.
Oklahoma cities with Medicare Supplement coverage's estimated premiums
Oklahoma residents considering Medicare Supplement plans can access the following charts on the below cities:
FAQs
What is the best Medicare Supplement plan in Oklahoma?
Determining which Medicare Supplement plan is best depends on the beneficiary's individual insurance and medical needs. However, the most popular Oklahoma Medicare Supplement plan is Plan F.
This plan covers all inpatient and outpatient medical care and extra expenses. It has no out-of-pocket limit so that you can enjoy significant savings on medical costs.
What age rating is used in Oklahoma?
Medigap insurance providers in Oklahoma are primarily attained-age providers. However, if you're looking for an issue age policy, you can try Bankers or Old Surety.
Do Medicare supplements have networks in Oklahoma?
Some Medicare Supplement plans don't have networks, while others do. Medigap policies don't have networks. However, they can still cover expenses that Original Medicare doesn't cover.
Some Medicare Advantage plans have networks in Oklahoma, including Medicare Special Needs Plans and plan with HMO carriers. In contrast, others offer more flexibility and don't require you to stay in the Medicare network.
Can I switch from a Medicare Supplement to an Advantage plan in Oklahoma?
You can change your Medicare Supplement policy to a Medicare Advantage plan in Oklahoma. However, the only time you can change is during the Annual Enrollment Period, which starts October 15 and runs until December 7.
By switching from Medigap to Medicare Advantage, you may be able to save more money with lower monthly premiums. You must alert the Medigap provider of your cancellation to switch successfully.
It's crucial to remember that you can only switch from a Medicare Supplement Plan to a Medicare Advantage plan during the Annual Enrollment Period.
Can you be denied a Medicare Supplement plan in Oklahoma?
In Oklahoma, some conditions may result in a Medigap coverage denial. After turning 65, you have six months to purchase a Medigap plan without risking rejection, as insurers must sell you a plan regardless of current or previous health conditions.
However, a Medigap provider may deny your coverage after this six-month window for various reasons, including health complications.
For Medicare Advantage plans (Medicare Part C), you have three months before and after the day you turn 65 to enroll. Otherwise, you will have to wait for the Medicare Open Enrollment Period.
How much is Medicare Supplement monthly in Oklahoma?
How much you pay for Oklahoma Medicare Supplement plans depends on several factors, such as your location in the state, age, gender, and more.
The average cost in Oklahoma is $150, but you may pay more or less depending on the plan you pick. Typically, patients pay higher monthly premiums for more coverage and better benefits.
In addition, some insurance companies only look at specific factors or lock in a certain rate. Researching certain providers and plans is crucial to determine which Medicare Supplement plan fits your budget and insurance needs best.
How to sign up for Medicare Supplement plan in Oklahoma
If you're looking for a quality, affordable supplemental Medicare plan in Oklahoma, we can help. We offer free comparison services to ensure you find the best policy for your needs.
Furthermore, our licensed insurance agents can go over anything Medicare-related on your mind. Doing this provides you with the best information possible and makes you feel confident in making the right decision.
Please speak with our experts or complete our online rate form and get rates now!