Medicare Supplement plans pay a large portion of Medicare expenses, such as coinsurance & deductibles. Enrolling in a Medicare Supplement can relieve you from the financial burden of medical bills.
Medigap policies are available to beneficiaries across all 50 states. Also known as Medicare Supplements, these plans provide predictability, protection, and overall peace of mind.
Medicare Supplement Plan Benefits
Medicare Supplement plans are extra insurance purchased from private companies to help cover costs associated with the Medicare program. These policies help cover Medicare Parts A and B expenses that beneficiaries are otherwise responsible for paying themselves.
Medicare benefits are standardized and regulated by the Centers for Medicare & Medicaid Services, meaning the plans must offer the same coverage. The company you choose to buy your insurance policy must provide the same benefits.
Medicare Supplement Plans Comparison Chart 2023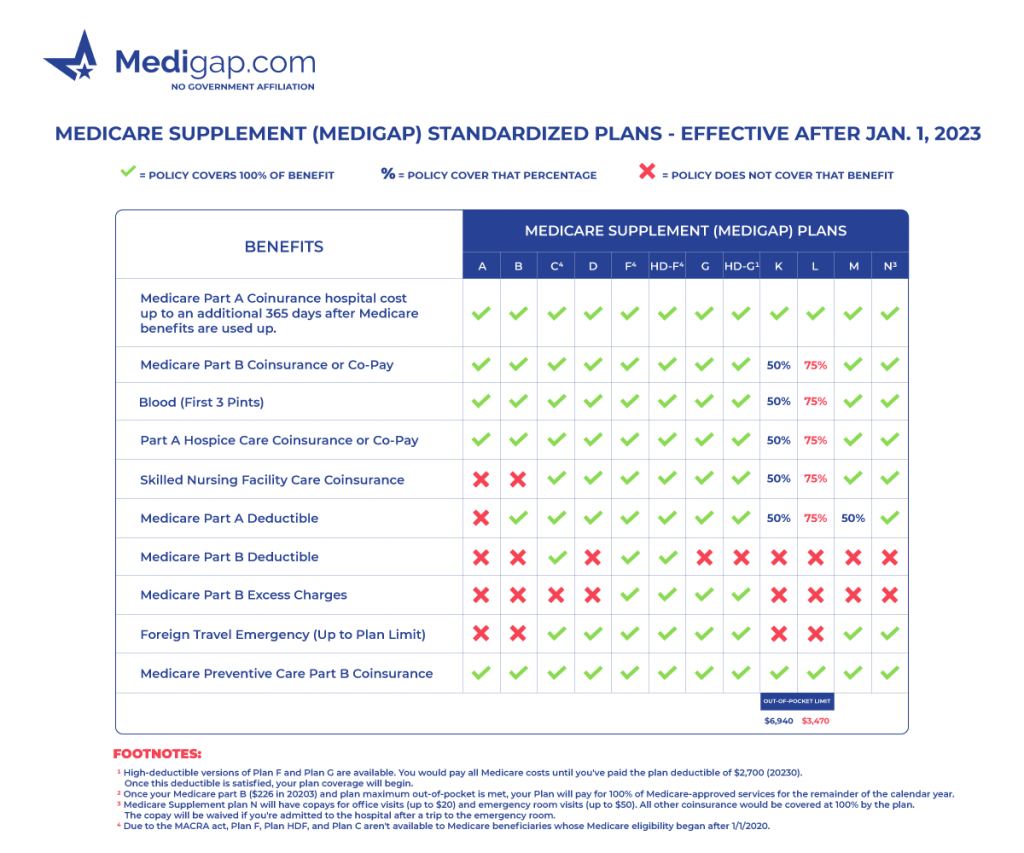 10 Medigap Letter Plans to Choose From
Medicare Supplement plans are identifiable by letter. Plan A through Plan N. Medicare Supplement Plan A has the least coverage, covering basic benefits and 20% coinsurance.
Meanwhile, Medicare Supplement Plan F has the most comprehensive coverage that pays all the out-of-pocket costs associated with Original Medicare.
Generally, the best plan options are Plan G, Plan N, & Plan F. Everyone's situation is different. Your individual needs will determine which plan letter is best for your health care costs. Plans F and G have high-deductible plan options you can choose from.
Notably, Massachusetts, Minnesota, and Wisconsin standardize plans in different ways. The state of Wisconsin has designed its Medigap plans to feature a base plan with the opportunity to choose from riders that offer supplementary coverage.
By contrast, Massachusetts Medicare Supplement plans offer three unique options: the Core plan, Supp 1, or Supp 1A plan. Minnesota's Medicare Supplement insurance plans follow a distinct approach, comprising a fundamental plan that can be augmented with riders or prebuilt plans to boost coverage.
Medicare Supplement Insurance Coverage
Medicare Supplement Plans cover 100% of the Part A coinsurance and inpatient hospital costs up to 365 days after Medicare benefits run out. Also, Medigap plans cover all or part of the Part B coinsurance or copayments.
Medicare pays for the first three pints of blood in full while you're in the hospital as an inpatient. All plans cover at least a portion of the Part A hospice care coinsurance or copayment.
Most Medigap options cover the Part A deductible and the skilled nursing facility care coinsurance. Plan F and Plan C cover the Part B deductible.
But Plan F and Plan G cover Part B excess charges. If you travel outside the country, Plan C, D, F, G, M, and N cover foreign travel emergencies up to plan limits.
Supplemental insurance exists because what Medicare covers isn't everything. Knowing your financial risks and protecting yourself is essential.
Medicare Supplement plans don't include prescription drug coverage. You'll need to enroll in a stand-alone Part D prescription drug plan to obtain coverage for medications filled at a retail pharmacy.
Companies That Offer Medigap Health Insurance
Many insurance companies offer Medigap insurance. You'll find many options in your state, from well-known to underrated carriers.
You may have seen many major private insurance companies through employer insurance offer Medigap plans. These companies include Aetna, Cigna, Humana, UnitedHealthcare, and many more.
Enrollment in Medicare Supplement Insurance Plans
The best time to enroll in a supplement policy is during your Medigap Open Enrollment or Special Enrollment Period.
The Open Enrollment Period begins the month your Medicare Part B starts and continues for six months. During the OEP, you can enroll in any plan with any carrier with no health questions and typically lock in a lower rate.
You'll be granted guaranteed issue rights on your policy during either of these times, avoiding underwriting and getting the best possible premium rates.
Several GI rights allow enrollment into specific plans depending on the event triggering the enrollment period.
Applying for Medicare a Supplement Health Plan Outside of Enrollment Periods
Suppose you're changing policies to find a lower premium or missed a Guaranteed Issue opportunity. In that case, you'll likely undergo an underwriting process. But, in most cases, underwriting isn't a big deal.
Sure, there are questions about your health, but these companies understand that there are health issues with age. You can expect your policy to be approved if your health issues are under control, even with medications.
Working with an insurance expert can save you time determining which company will most likely approve your application. The agent can also inform you if changing policies isn't in your best interest; it's their fiduciary duty to lead you in the right direction.
Medicare Supplement Average Monthly Premiums
For example, a Plan N in Washington could cost less than a Plan N in New York. Premiums depend primarily on the plan you select. A good rule of thumb, the more coverage you have, the higher the premium.
Reasons to Enroll in a Medicare Supplement
The cost of healthcare services Medicare won't cover can be high. Especially for those that need extensive treatments or long-term hospital stays.
Suppose you like to travel, enjoy having the freedom to see any doctor or healthcare providers you like, or don't want unexpected medical expenses. In that case, you should buy a Medicare Supplement plan.
Comparing Medicare Supplement Plans
After comparing costs and benefits, many people may find Plan N the most beneficial policy. Plan N provides a balance of lower prices in premiums and the ability to pay less when going to the doctor, saving you out-of-pocket expenses. But Plan N won't be the best option for everyone everywhere.
Two good plans are Plan F, which, if you're eligible, covers all the costs Medicare would expect you to pay. Then, Plan G covers almost the same as Plan F. The only difference is it doesn't cover the Part B deductible.
Best way to Compare Medicare Supplement Plans
Working with an insurance agent or broker lets you understand which companies will provide you with the most value.
Suppose you've ever searched for other types of insurance. In that case, you know how time-consuming it can be to contact each company individually. Well, licensed Medicare insurance experts can eliminate the frustration of endless online searches.
These professionals represent top Medicare carriers and can help you identify the best Medigap policy and the best company for your needs.
FAQs
Is Medigap the same as a Medicare Supplement?
Medicare Supplement policies are sometimes called Medigap policies because they fill the gaps in Medicare. You will see these terms interchangeably.
What is the number one Medicare Supplement plan?
Plan F is the most popular Medicare Supplement Plan. However, new Medicare beneficiaries can't enroll in this plan. Plan G is the most popular plan for new Medicare members.
How much is a Medicare Supplement per month?
Medicare Supplement costs can vary based on several factors. These factors include your plan, age, living, and tobacco use.
Plan N can cost between $80 to $150.
Plan G can cost between $95 to $190.
Plan F can cost between $130 to $250.
These are averages, and your costs may be more or less.
What is the difference between a supplement plan and a Medicare Advantage Plan?
Medicare Supplement plans are additional insurance that covers the cost-share gaps in Original Medicare. Medicare Advantage plans are another way to receive your Original Medicare benefits. These MA plans can cover items and services not included with Medicare coverage.
What Medicare Supplement plan has the highest level of coverage?
The top three plans are Plan F, and Plan G. Medicare Supplement Plan F covers all the cost-share left from the Original Medicare. The only difference in Medicare Supplement Plan G's coverage is that it doesn't pay the Medicare Part B deductible.
What are some Medicare Supplement plans that are currently available?
Plan availability depends on where you live. There are ten Medicare Supplement plans available. Plan F, Plan G, and Plan N are the most popular and comprise over 75% of all Medicare Supplement enrollments.
How to Get Help Signing Up for a Medicare Supplement Plan
Signing up for a Medicare Supplement plan is easy. You don't even need to leave the comfort of your home. In just a few minutes, you'll have more coverage than Medicare alone can provide you.
Call us or compare rates online to discover which plans will provide you with the best value. To get rates, complete our quote form.