Medigap Plan A is the most basic of all Medicare Supplement insurance plans available to Medicare beneficiaries. Plan A covers the least amount of benefits of all Medigap options. It does cover some of the costs associated with Original Medicare. Plan A also leaves coverage gaps.
What is Medicare Supplement Plan A?
Many states offer Medicare Supplement policies for Medicare beneficiaries under age 65. In those states, not all plan letters are available. Plan A is one of the required plans in those states for beneficiaries under the age of 65.
You'll notice the premiums of many of the states that offer Medicare Supplement plans for people under the age of 65 are significantly higher. The premium is the same in a few states as in someone turning 65. However, it's more common to see the premium double or triple the cost compared to a beneficiary 65 or older.
The main reason for the higher costs is beneficiaries on Medicare due to disability will usually have higher medical costs.
The good news is there's a less expensive option. Many beneficiaries that go on Medicare early due to a disability choose a Medicare Advantage plan. Upon their 65th birthday, they re-evaluate their situation during their second Medigap Open Enrollment Period upon turning 65.
Medicare Advantage plans are the same price and benefit level regardless of age, gender, or other factors that cause the Medigap prices to vary. These will give you an affordable option to protect you from the unpredictable costs of having Original Medicare only.
Medicare Supplement Plan A coverage
Medicare Plan A covers basic benefits, which include some of the most significant costs associated with Original Medicare. It covers costs associated with Part A, such as:
Part A inpatient hospital copayments and coinsurance
Part B coinsurance
Hospice care costs
Preventative care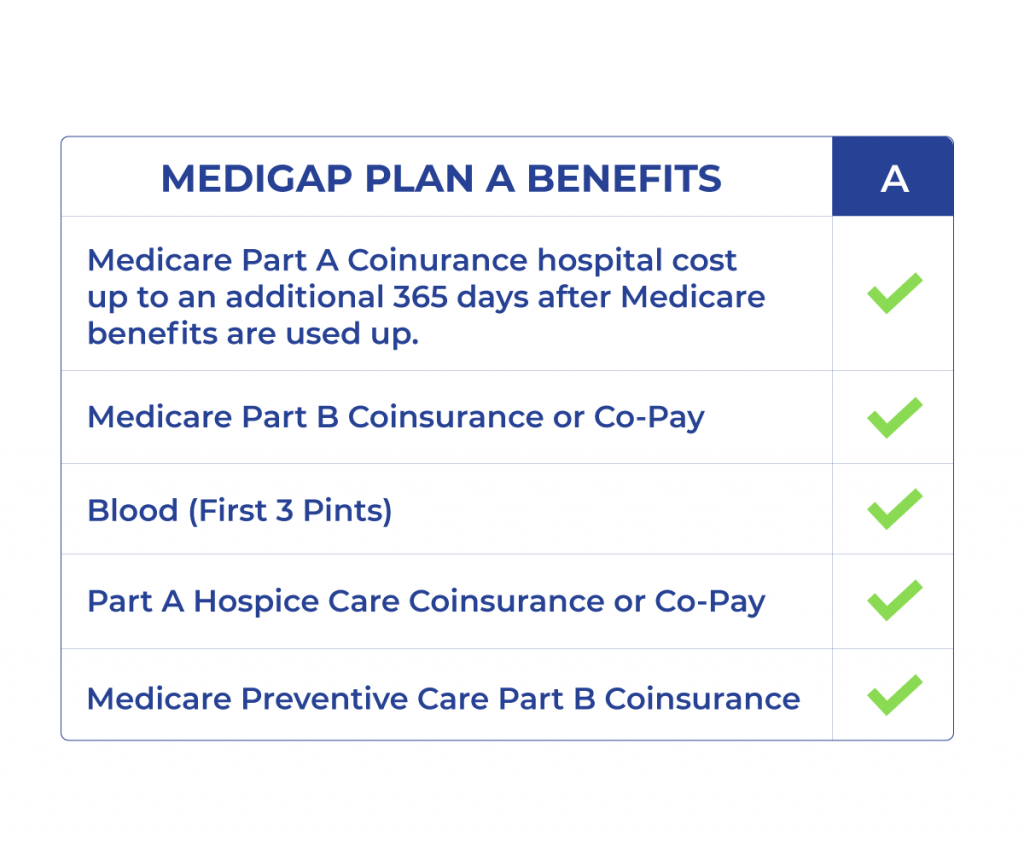 While this doesn't sound like a lot, it does help ensure you don't have uncapped medical bills, as the Part B coinsurance does not have a cap.
Medicare Supplement Plan A chart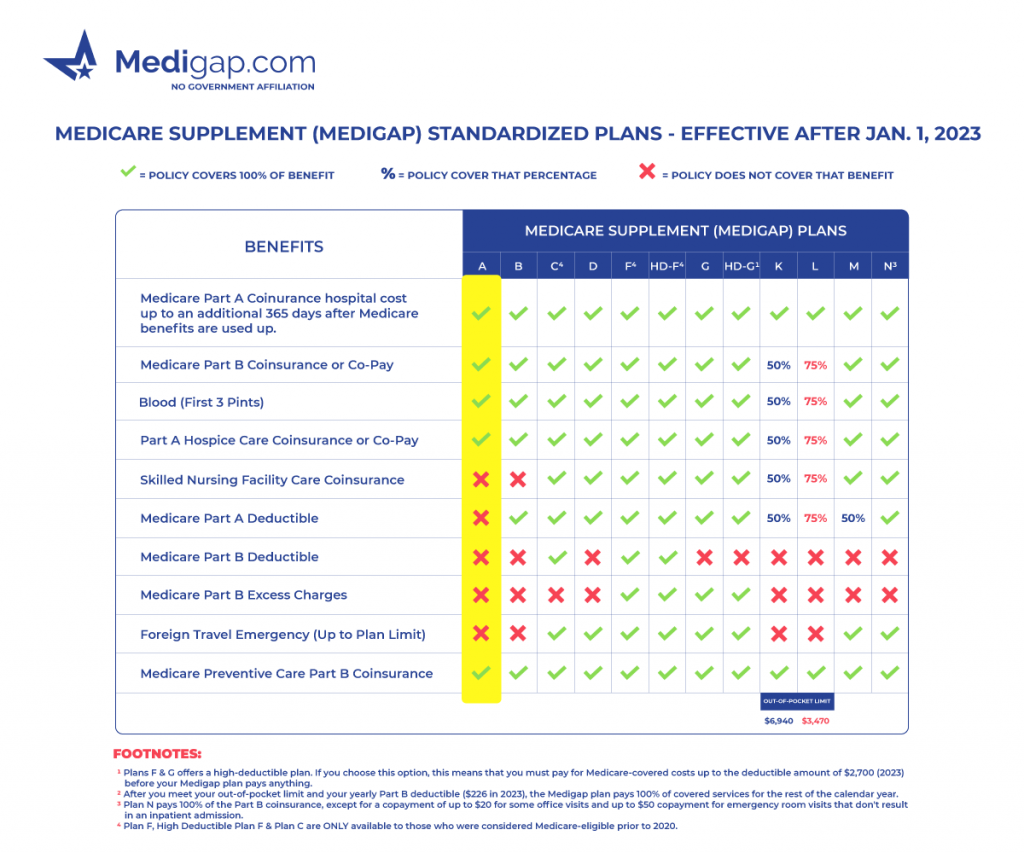 What is not covered by Medicare Supplement Plan A?
Plan A doesn't cover the Part A and Part B deductibles, Part B excess charges, skilled nursing coinsurance or copay, or foreign travel.
Medicare Supplement Plan A monthly premium cost
The monthly premium for this Medigap policy will range between $110 to $130 for most beneficiaries. A few factors will dictate the actual cost: age, gender, smoking, and location.
Medicare Supplement Plan A reviews
Most Medicare beneficiaries don't choose Plan A, but it's an option that some enjoy. Plan A is sometimes the only option for those under 65, covering the most unpredictable part of Medicare. The 20% Part B coinsurance.
Plan A works great for beneficiaries looking for a lower premium and can protect against unlimited potential Medicare coinsurance.
FAQs
Who chooses Medicare Supplement Plan A?
Plan A is best for beneficiaries who aren't worried about deductibles, excess charges, or skilled nursing coinsurance and don't travel outside the United States.
Are Medicare Supplement Plan A and Medicare Part A the same thing?
Commonly, people confuse Medicare Supplement plan letters with Parts of Medicare letters. It's a bit of an alphabet soup. Part A is your hospital coverage with Original Medicare, and Plan A is a Medigap plan to help fill the holes in the Original Medicare coverage.
What is not covered under Medigap Plan A health insurance?
No Medicare Supplements cover only Medicare benefits that are included with the federal Medicare program's coverage. Some items and services not included are prescription drug coverage and dental, vision, or hearing coverage.
Plan A has the lowest level of coverage of all Medicare Supplement plans. Below are the Medicare healthcare costs not covered.
Medicare Part A Deductible
Medicare Part B Deductible
Skilled Nursing Facility Copayments and Coinsurance
Part B Excess Charges
Foreign Travel Emergency
What is the difference between Medicare Supplement N and Medicare Supplement A?
Plan N covers all the same health plan benefits as Plan N but also covers out-of-pocket costs for the Part A deductible, Skilled nursing facility, and foreign travel emergency.
For Part B coinsurance, Plan N has a small $20 copay for doctor's office visits and a $50 copay for the emergency room.
What's the difference between Aetna's Medicare Supplement Plan A and Cigna's Plan A?
Nothing! Medicare Supplement insurance policies are standardized plans regulated by the Centers for Medicare & Medicaid Services. Regardless of your private insurance company, the coverage must be identical.
How do I get prescription drug coverage with a Medicare Supplement plan?
For beneficiaries enrolling in a Medicare Supplement plan option, enroll in a stand-alone Part D prescription drug plan. Having a separate pan lets, you cater your health insurance to your needs.
How to get help comparing Medigap Plan A rates
Our licensed insurance agents can help explain all the details and costs associated with Medicare Supplement plans. No matter how old you're, we can help. We can assist with the pricing and enrollment of Medigap plans for you.
Suppose you determine that Medicare Advantage is the right path for you. In that case, we can assist with coverage available in your area. No matter the need, we can help. Give us a call or fill out our online rate form, and one of your licensed representatives will assist you.