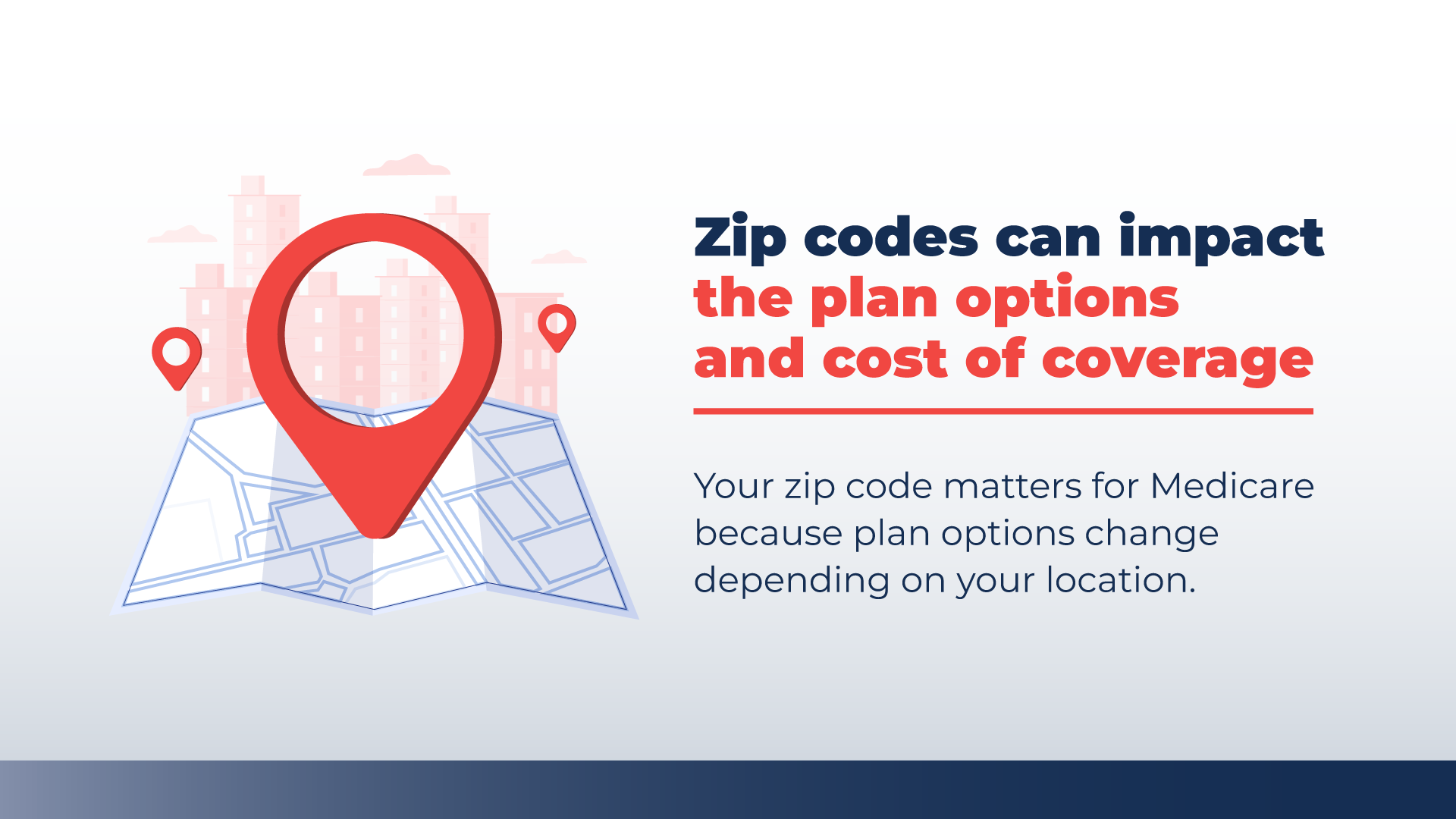 It may come as a surprise the difference in Medicare options by zip code or state. Medicare programs vary depending on where you live.
Medicare is a federal program, so benefits are country-wide. But, when it comes to planning options, some areas may offer a plethora of coverage options while others, usually more rural areas, will have fewer options.
The impact of zip code on Medicare options
Zip code does affect which plan options are available to you. For example, Medigap and Medicare Advantage plans will vary in pricing and features depending on your location. Additionally, you must live in the plans service area to be eligible for enrollment.
Medicare Advantage plans are impacted most by zip code changes. Did you know Medicare Advantage plans don't cover you outside the service area? So, in many cases, when you leave the service area, you no longer have coverage.
Also, Medicare Advantage plan premium costs are cheaper (generally) in metropolitan areas and more expensive in rural areas. Some areas may offer policies with a more extensive network of doctors or more ancillary benefits.
Since Medicare Supplement plans are standardized, they have the same coverage in all states except Wisconsin, Massachusetts, and Minnesota. Pricing will vary greatly depending on your zip code.
Medigap would be a good option if you want a policy that allows you to have coverage in another state.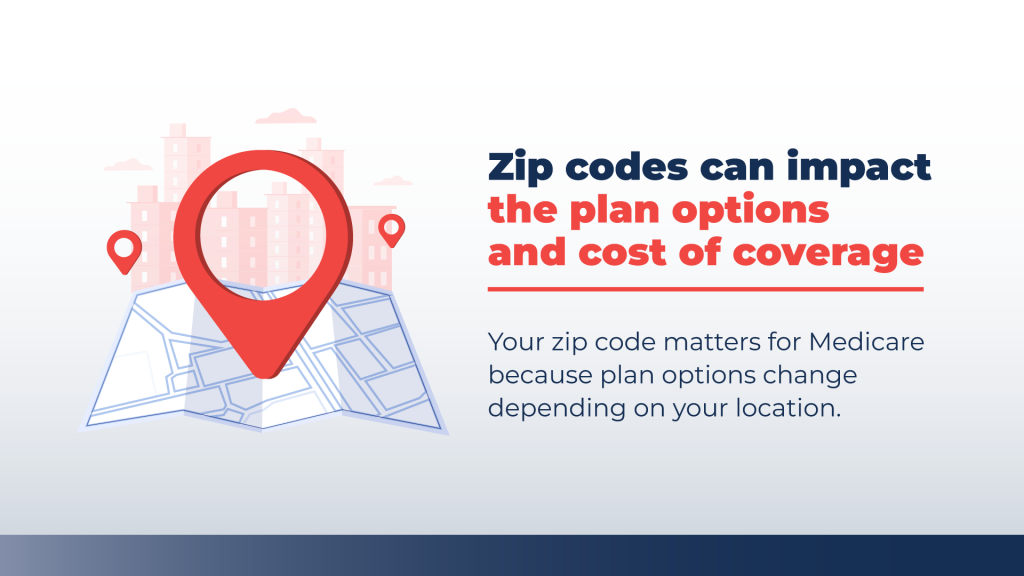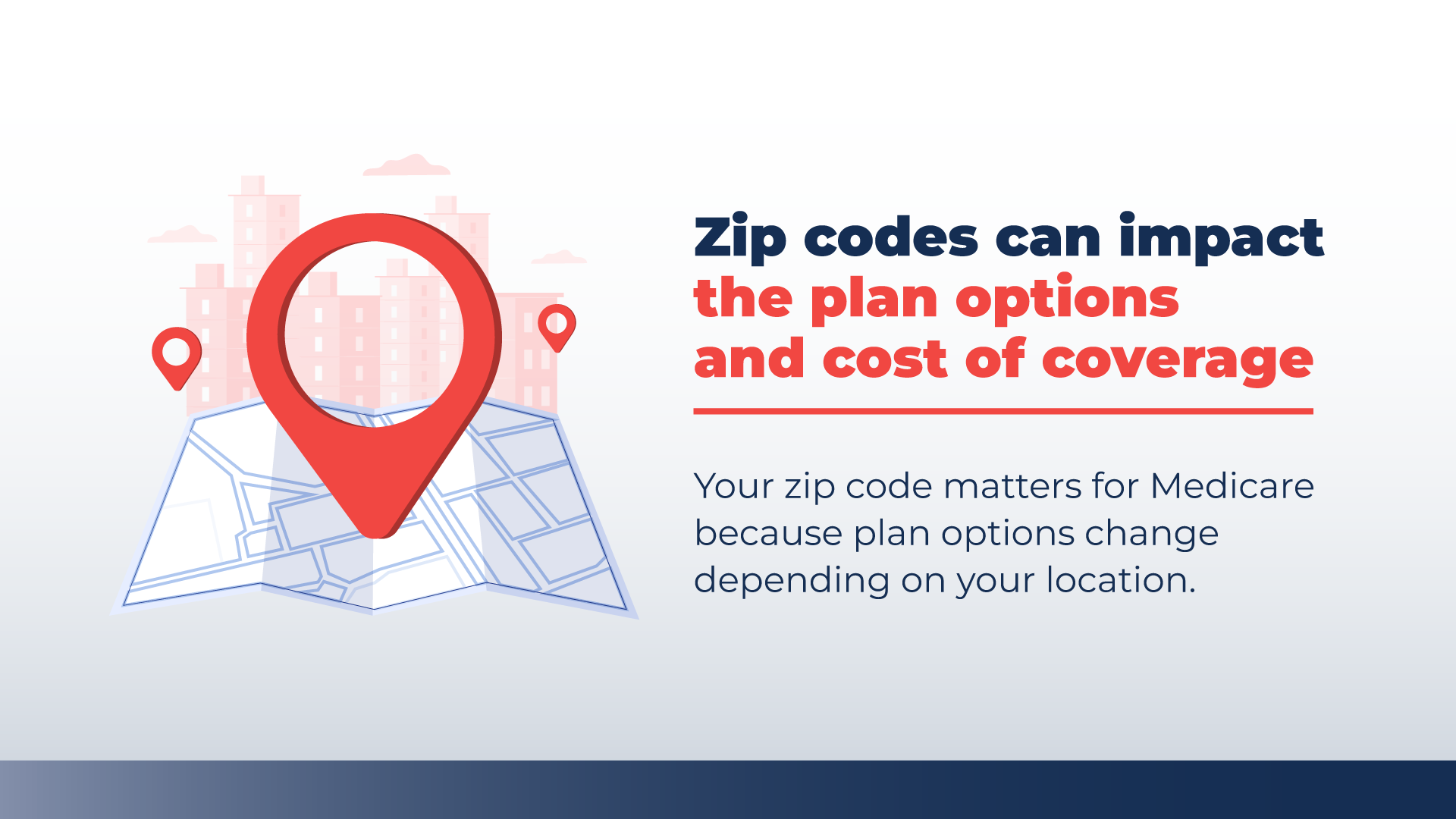 Why does my zip code matter for Medicare?
Your zip code matters for Medicare because plan options change depending on your location. Also, Medicare Advantage plan networks depend on the private insurance company providing care to each client.
Zip code is vital in terms of Medicare program eligibility.
Medicare costs by zip code
The federal program that's Original Medicare, costs the same no matter your state. But Medigap and Medicare Advantage plan options will change depending on your location.
Some states have a higher cost of Medigap than other states, and some zip codes offer $0 Medicare Part C options. On the contrary, there are zip codes with fewer plan options or higher premium plans.
Best zip codes for Medicare in 2023
Don't go moving just yet. Medicare Advantage plan options change every year. Moving for a policy isn't a sensible decision since these plans won't be the same next year.
On the top 10 Zip Codes in America for Seniors, Arizona, and Kansas both have two zip codes with a high score of survey satisfaction.
But, if the lowest-costing Medicare Advantage plans are the point of interest for you, San Diego or Los Angeles seemed to offer quite a few $0 programs with meager out-of-pocket costs. The only downside, coverage is only available within the plan's service area.
Medigap plans cover you anywhere Medicare covers you; some programs even provide foreign travel emergency coverage. But Medicare Supplement plans vary in price depending on where you live.
Of course, even if the cost of Medigap changes too much, the difference between the most expensive state for Medigap and the cheapest could still be less than $80 a month.
In most cases, the cost of Medicare insurance aligns with the cost of living in that area. So, as we stated above, don't rush to move just for a Medicare plan.
Medicare in two states
No, you can't have Medicare in two states. You'll need to choose a primary state for your residence. Usually, the state you file your taxes in is where your Medicare is active.
A Medigap plan could make sense if you travel between two or more states frequently. Medigap plans don't force you into a plan service area unless you have a Medigap Select policy.
Since Medicare is a federal program, you don't need to worry about your state; coverage will be available. With Medigap, they cover their portion when Medicare approves the claim.
The effect of moving on my Medicare premiums
It's possible that moving could increase your Medicare Supplement or Medicare Advantage premiums. But Medicare is a federal program offered nationwide, and the costs remain the same, as well as the benefits.
In some cases, moving could lower your Medigap or Medicare Advantage premium. You'll qualify for a Special Enrollment Period upon notifying Medicare and your plan of the move.
Once you know your new zip code, you can get quotes to have coverage effective when you make the big move.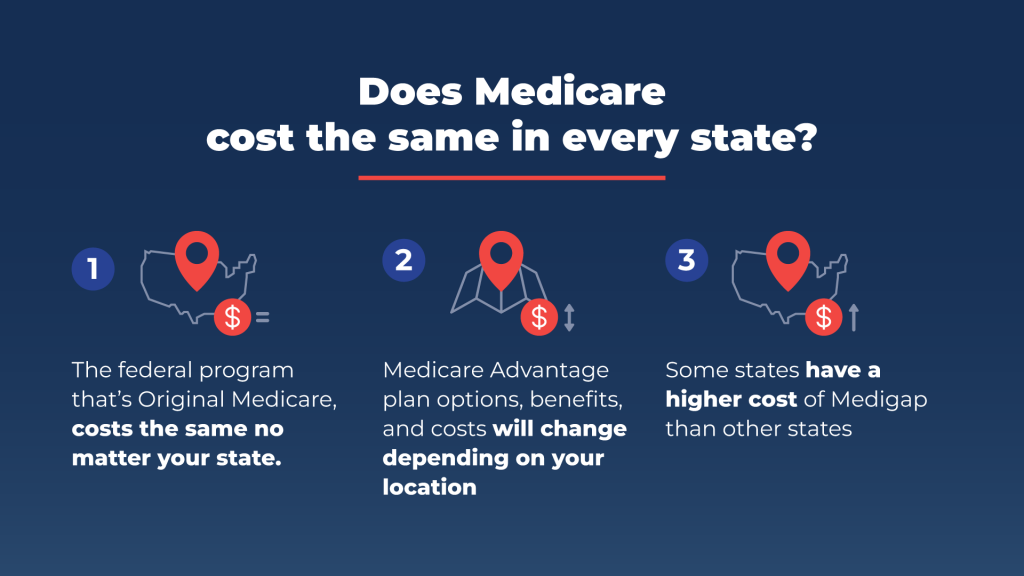 FAQs
What zip codes qualify for extra Medicare benefits?
Many zip codes qualify for extra benefits. The most robust plans are usually in highly populated areas such as Miami or Los Angeles.
What does zip code have to do with Medicare?
Medicare Advantage plan varies depending on the area. You use your zip code to see which programs are available to you and what benefits they include.
Medicare Supplements are also affected by location, The Plans available and pricing can vary depending on your zip code.
What does zip code have to do with Medicare Supplement plans?
Medicare Supplements offer the same coverage regardless of location, but the premium varies based on where you live. Prices could be higher or lower depending on where you live or if you move.
What does zip code have to do with Medicare Advantage plans?
Depending on the zip code, Medicare Advantage plans have different service areas, benefits, and costs. It's not uncommon for one zip code to have drastically different benefits than another.
How does zip code affect Medicare?
Your zip code has nothing to do with your Original Medicare benefits. However, it does affect Medicare Supplement and Medicare Advantage plans.
How to find Supplemental Medicare plans in my zip code
Whether moving a county over or across the country, you must know the new options. Sometimes, like moving across the street, you won't need to change your plan. But it's always nice to see if you can change plans.
Working with a licensed Medicare agent can save you time and money, and we can connect you with an agent to compare all the plan options in your area.
Call us now at the number above to see the Medicare plans available in your zip code. Or fill out an online rate form to compare your options.
Related content