Your Medicare options work differently than the standardized Medicare model if you live in Wisconsin. You start with a base plan and build your policy in an a la carte style for your plan benefits.
Medigap plans will help you avoid substantial out-of-pocket medical expenditures. Enrolling in one of these plans Guarantees predictable medical expenses.
When transitioning into Medicare, picking the appropriate supplement for your specific condition is critical. We'll show you how Wisconsin plans work.
Medicare Supplement plans in Wisconsin
Wisconsin has 299,998 Medigap plan beneficiaries, which is about 41.3% of all Medicare beneficiaries.
Medicare Supplement coverage chart in Wisconsin
Medigap plans usually have the same coverage from state to state because the federal government standardizes them. This standardization applies to every state outside Wisconsin, Minnesota, and Massachusetts. Your benefits will stay the same regardless of where you reside.
Minnesota Medigap plans work similarly to Wisconsin with a basic plan that riders or MN preset plans can enhance. Below we'll show how the system in Wisconsin works. Massachusetts has three Medicare Supplement plan options to select from.
In Wisconsin, you start with a basic plan and add riders for the coverages you want. The basic plan is the starter point and is very similar to standard Plan A.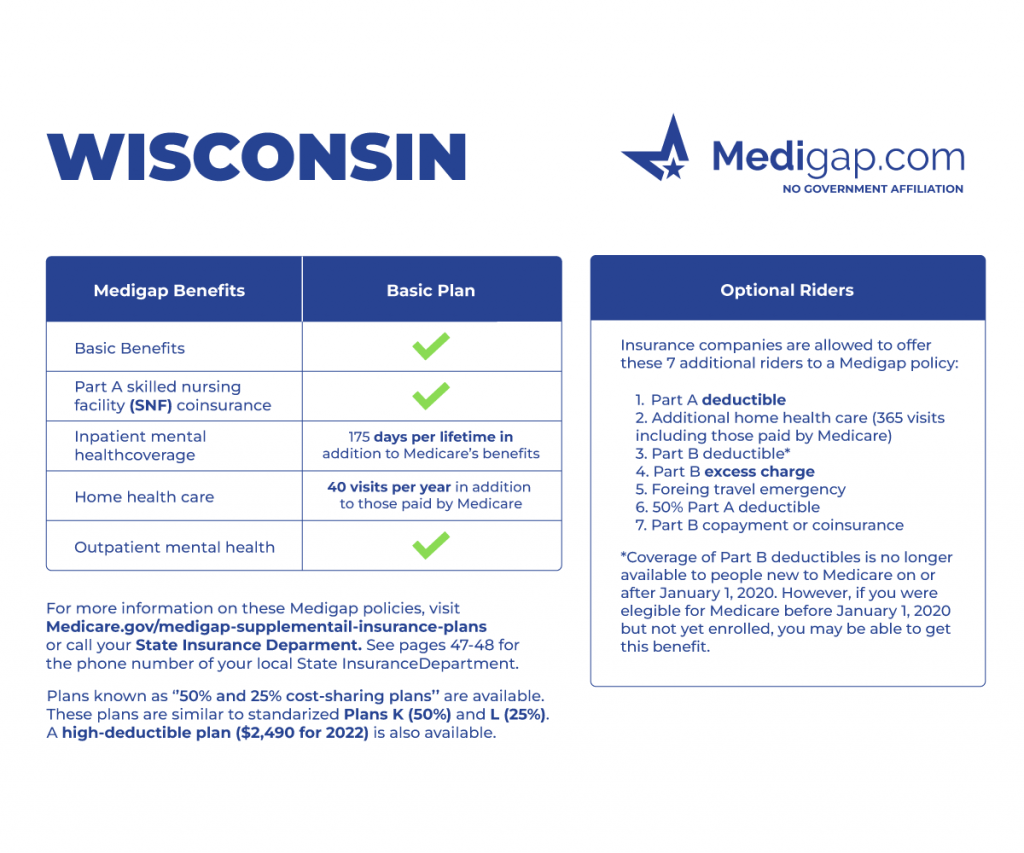 Basic plan
Part A coinsurance, which starts after 60 consecutive days of inpatient services
First 3 pints of blood
40 additional home health care visits
Part B Coinsurance
Another 175 days of mental health care as an inpatient once the standard Medicare benefit has been exhausted.
Everything starts with this basic plan; you can add riders to increase coverage.
Additional riders for the Basic plan
Part A deductible (100% coverage)
Part A deductible (50% coverage)
Additional 365 days of home health care
Part B deductible (If eligible for Medicare before 1/1/2020)
Part B coinsurance

Adding the Part B coinsurance rider will add copays of up to $20 for a doctor visit and up to $50 for the emergency room.

Part B excess charges
Foreign travel emergency
Each rider has a cost that will either add or subtract from the base cost of the basic plan.
Medigap costs in Wisconsin
The cost of Medigap insurance varies depending on a variety of circumstances. The health, age, and area you live in may all significantly impact your plan premiums.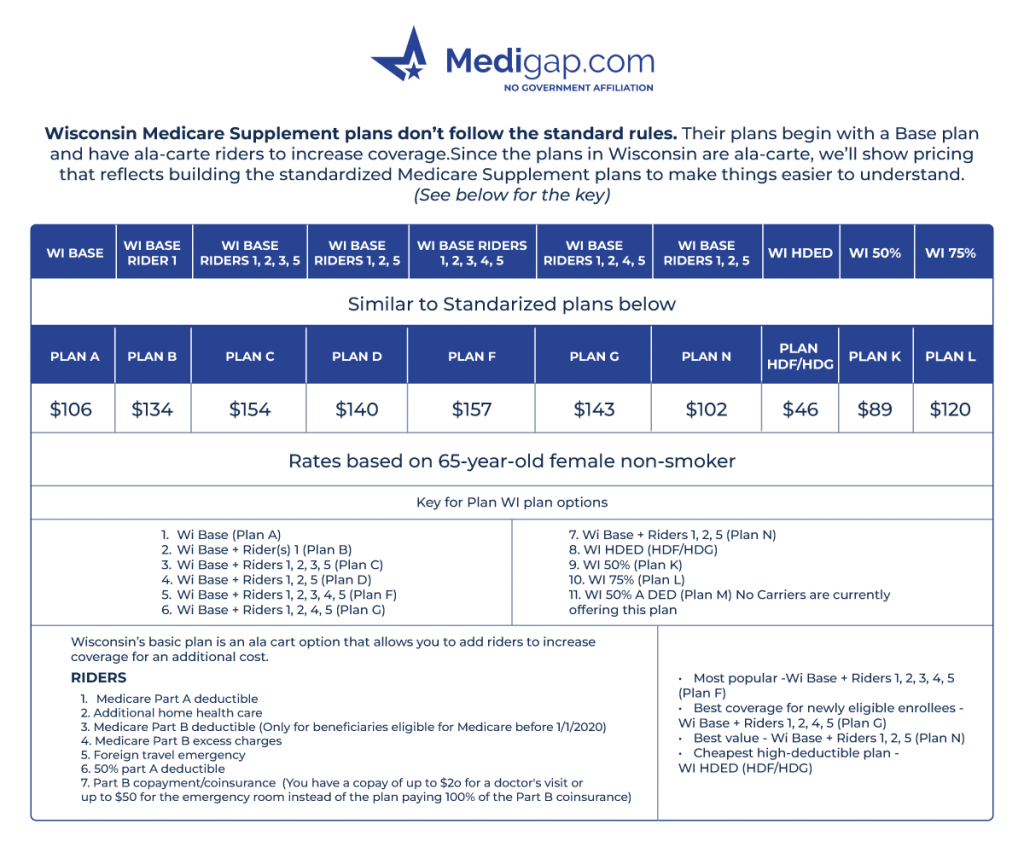 Open enrollment for Medigap isn't a yearly event, it's a one-time enrollment that applies only to the specific beneficiary. Enrolling during your one-time six-month Medigap Open Enrollment Period, You'll have access to any plan with any provider. This period will also allow you to skip medical underwriting.
Lowest Medicare Supplement premiums in Wisconsin
The lowest cost Medigap plan in WI based on the most popular rider combinations are:
Base+Part A Deductible+Part B Excess Charges = $121
Part A Deductible+Base+Part B Deductible + Part B Excess Charges = $141
Base+Part A Deductible+Part B coinsurance + Part B Excess Charges = $82
Most popular Medicare Supplement plan riders
Most beneficiaries in Wisconsin will add the following riders to their basic plan.
Part A deductible
The Part B deductible (if they qualify)
Part B excess charges
If the beneficiary is cost-conscious, they would also add the Part B coinsurance rider.
Top Medicare Supplement carriers in Wisconsin
We're using a 65-year-old woman in Wisconsin as our benchmark in the example below. Most carriers in the state utilize attained age rating schemes. The plans shown are the most popular options, and for simplicity, we will call them Options 1, 2, and 3:
1 – Base+Part A Deductible+Part B Excess Charges
2 – Base+Part A Deductible+Part B Deductible + Part B Excess Charges
3 – Base+Part A Deductible+Part B coinsurance + Part B Excess Charges
What Medicare Supplement plan in Wisconsin is best for me?
While everyone's needs differ, it may be tough to determine which Medicare Supplement is ideal for you. Even though all Medigap carriers and plans provide the same coverage, some people may find one more suitable than others.
Some Medigap providers have improved customer service, faster claims payment, and other essential features. Determining which carrier is appropriate for your requirements might be challenging, but we're here to help.
Another item to think about is your long-term medical care requirements. Family history may help us get a little closer to the mark.
It's critical to be realistic about how well you expect your health will do because changing insurance companies in the future will rely on whether or not you can pass underwriting.
While the cost is essential, you don't want to pay too much for the same coverage. For the greatest experience, pick well-known and financially secure companies.
It would be best to consider all of these variables when deciding to end up with a provider who will give outstanding customer service.
Estimated premiums for Medicare Supplement plans in Wisconsin cities
Estimated Premiums for Medigap coverage for the listed cities can be viewed using the charts provided in the link below:
Green Bay
Kenosha
Madison
Milwaukee
Racine
FAQs
What's the average cost for a Medicare Supplement Plan in Wisconsin?
The average cost of a Medicare Supplement plan in Wisconsin varies based on the riders you choose. The monthly premium can range anywhere between $111 to $163. Additional factors such as age and tobacco use can affect your monthly premium.
Are Medicare Supplement plans expensive in Wisconsin?
Wisconsin's Medigap plans are pretty affordable. The amount you pay in monthly premiums depends on what plan and additional riders you choose.
What's the most popular Medigap plan in Wisconsin?
The most popular Medigap rider combinations usually consist of the Base Plan plus the Part A deductible rider and excess charges rider. Some beneficiaries will also add on the Part B deductible and coinsurance rider.
What is a 30-day mandate in Wisconsin?
Although it has to be proven medically necessary, the 30-day mandate states that Wisconsin Medigap plans must cover 30 days in a skilled nursing facility with no hospitalization.
How to get help signing up for Medigap in Wisconsin
If you're looking for Medicare Supplemental plans in the state of Wisconsin, we can absolutely help with that! Medigap.com works with a comprehensive list of insurance companies offering Medigap. We pride ourselves on making the process quick and easy to compare and even help guide you through enrollment.
Our licensed insurance agents can assist you during this process, and your time on the phone with them is free. They educate you on Medicare and your coverage options and answer any questions.
So if you're ready to discuss a Medigap plan, call us today. Or complete our online rate form to get the best rates in your zip code.