Medicare Supplement Plan N is an excellent policy for those wanting the benefits of a Medicare Supplement with a lower premium than other comprehensive plans.
Regardless of your chosen company, Medicare Supplement Plan N's coverage will be the same as other Medigap policies. Plan N coverage is a practical Medigap option. It's neither too much nor too little coverage.
Medicare Supplement Plan N Benefits & Costs
You cover some of the costs of Original Medicare. The costs that beneficiaries are responsible for include the Medicare Part B deductible and excess charges in exchange for a smaller premium.
They're also responsible for copayments at office visits or in the ER. Once you pay these copays, Plan N will cover the remainder of the Medicare Part B coinsurance.
Plan N covers the costs of inpatient admissions, such as the Part A deductible, coinsurance, and copays up to 365 days after the traditional Medicare benefit limits. Hospice care is by Medicare Supplement Plan N.
Plan N covers the first three pints of blood in a medical procedure every year. Like many other plan options, the skilled nursing facility care coinsurance has coverage.
Further, Plan N provides foreign travel emergency care for those who like to travel, which includes 80% coverage up to the plan's limits.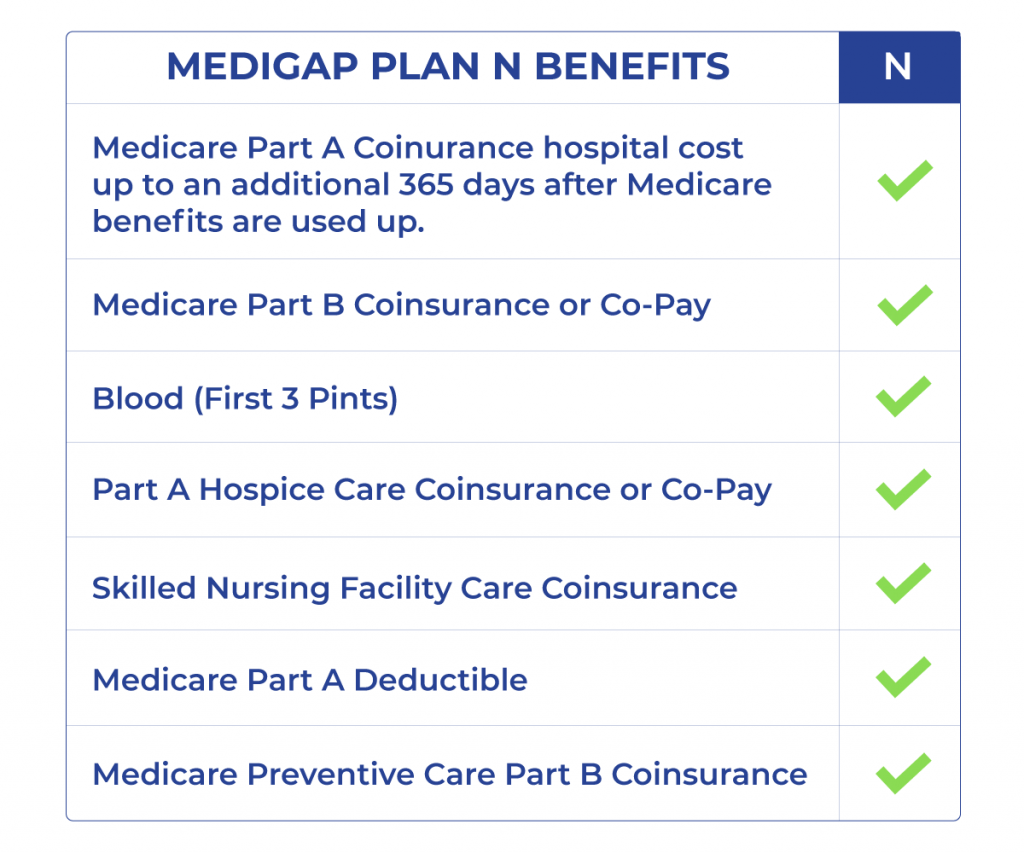 Plan N coverage for Medicare Part B excess charges
Medicare Supplement Plan N doesn't cover Part B excess charges. Fortunately, most healthcare providers don't charge these additional out-of-pocket medical expenses.
Excess charges are an amount providers can charge more than what Medicare allows. For example, a doctor can charge up to 15% more than what Medicare allows.
A recent study shows that the national percentage of doctors implementing excess charges is around 5%.
Some states don't allow these additional out-of-pocket expenses, and many doctors don't charge this higher fee. If access charges or a concern for you, call your doctor and ask if they accept the Medicare-approved amount or if they bill excess charges to Medicare Beneficiaries.
The doctor's office can give you an answer, and in most cases, doctors that accept Medicare don't subscribe to this extra fee.
Medicare Supplement Plan N chart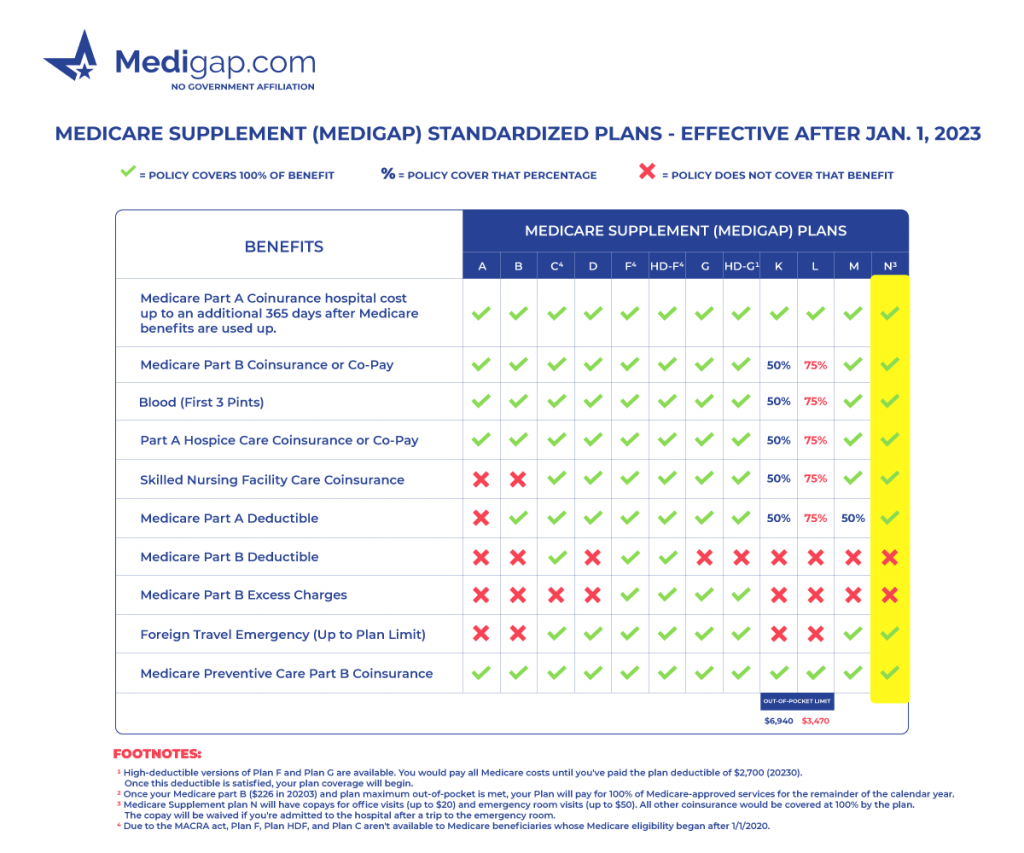 Best time to enroll in a Medicare Supplement Plan N
The Medigap Open Enrollment Period is the most beneficial time to enroll in plan N.
A few other Guaranteed Issue Rights allow you to enroll without needing underwriting. You can enroll in Medicare Supplement insurance plans if you have a qualifying life event.
You must answer health questions outside the OEP or a GI right for coverage approval. You can apply for a Medigap policy anytime; there are no annual enrollment windows like with Medicare Advantage plans.
Medigap Plan N reviews
Medicare Supplements have high ratings because Medicare is the entity that determines which claims to pay. So, if Medicare covers the service, the Medigap policy covers its portion.
In addition, since the Federal Medicare program is primary, you maintain the right to use any healthcare provider nationwide that accepts Medicare coverage.
While Medicare Supplement Plan N has excellent reviews, some policyholders complain about copayments being a regular expense.
The best way to determine if this policy makes sense for your situation is to compare quotes from Plan N versus Plan G to see which best suits your lifestyle.
Medicare Supplement Plan N reviews
Medigap Plan N is regarded as the best plan for the cost. This plan is one of the top three Medicare Supplement plans and, in most cases, has significantly lower premiums than Plan F and G. Plan N provides full coverage for the Part A deductible and then affordable copays for your office visits and emergency room.
FAQs
Is Medicare Part N the same as Medicare Supplement Plan N?
Medicare only has four parts: Part A, Part B, Part C, and Part D. There is no Medicare Part N. This is a mislabeling of Medicare Supplement (Medigap) Plan N.
What's the Medigap Plan N copayment?
With the Medicare Supplement Plan N, out-of-pocket costs are limited. A copayment of up to $20 when you visit some doctor's offices and up to $50 for emergency room visits that don't result in hospital admission.
Remember that Medicare covers preventive care, so you pay nothing for these standard Medicare preventive services.
Am I eligible for Medicare Plan N?
You can enroll in a Medicare Supplement policy if you have Medicare Part A and Part B.
How much does Medicare Supplement Plan N cost?
While Medicare Supplement health insurance coverage is standardized, the cost of Plan N is not. Plan N costs will range between $80 to $250 a month. Tobacco use, gender, age, and where you live are reasons that impact this fluctuation in monthly premiums.
Does Medicare Supplement Plan N cover prescription drug costs?
No! Medicare Supplement plans only cover items related to Original Medicare. For prescription coverage, beneficiaries will need to enroll in a stand-alone Medicare Part D prescription drug plan in addition to their Plan N
What companies offer Plan N?
Many top-rated companies offer Plan N, such as UnitedHealthcare, Cigna, Mutual of Omaha, and Humana. Working with an insurance agent can make selecting the best company for you easier.
An agent can determine if you need underwriting; if you do need underwriting, the insurance agent can help you find the company most likely to approve your application.
What is the deductible for plan N?
The only deductible you're responsible for is the Medicare Part B deductible. Plan N pays the Part A deductible for you.
What is the difference between plans N and G?
Plan G covers all costs once the Medicare Part B deductible has been paid. Plan N requires copays when using the plan for doctor visits and the emergency room.
Is plan N cheaper than Plan G?
Yes! Plan N usually has considerable savings compared to the Plan G
How do I enroll in Medicare Supplement Plan N
You can enroll in Plan N over the phone with a licensed insurance agent. Enrollment only takes a few minutes, and the agent can answer all your questions.
In most cases, this policy provides a balance of benefits. The only time a beneficiary should not consider a Plan N would be if they see their doctor so often every month that the copay costs don't outweigh the savings between Plan N and Medicare Supplement Plan G.
The best way to find the most suitable coverage is by talking to a licensed insurance agent. Fill out an online rate form or give us a call at the number above.