Wellcare has offered Medicare plans for over 20 years with various product offerings. They service over five million Medicare beneficiaries through their Medicare Advantage and Part D products. Wellcare is a subsidiary of Centene Corporation.
Centene's Medicare brands include Allwell, Health Net, Fidelis Care, Trillium Advantage, 'Ohana Health Plan, and TexanPlus, and all will transition to the Wellcare brand.
Wellcare Medicare plans
Wellcare primarily focuses on Medicare Advantage and Medicare Part D plans. They offer plans in all 50 states. Their plans are built with every Medicare beneficiary in mind.
This article will discuss Wellcare's plan options and financial strength. Then, we'll give a review and answer some frequently asked questions. Finally, we'll cover enrolling in a Wellcare supplemental Medicare plan.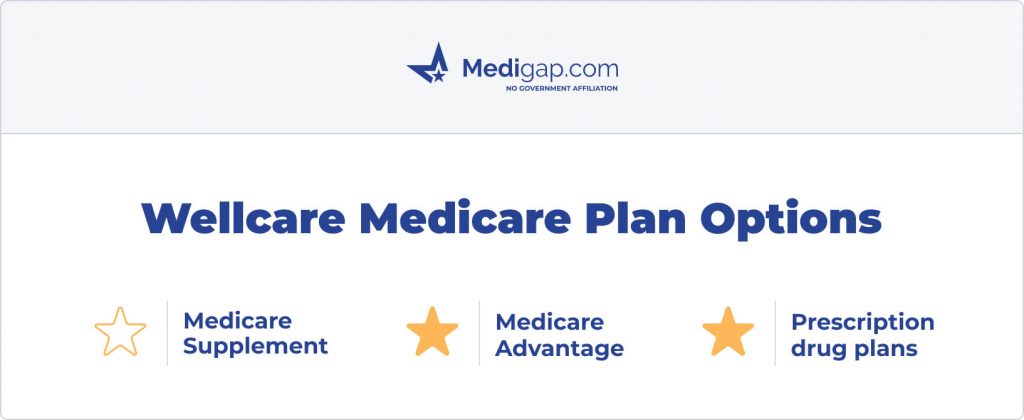 Wellcare Medicare Advantage plans
Medicare Advantage plans, or Medicare Part C take over the role of Original Medicare. You must continue your Medicare Parts A and B enrollment, but the Advantage plan will take over your healthcare admission.
These plans are all-in-one options that usually include prescription coverage. These plans are required to cover everything that's included in Original Medicare.
In addition, to covering the same benefits that Medicare offers, these plans usually offer additional coverage for benefits not included by Medicare.
Plan extras can include dental, vision, gym memberships, food, and utility assistance. Some plans also include transportation for health care services, over-the-counter benefits, and a flex card to help offset costs. Some of Wellcare's Medicare Advantage plans actually include dental implants.
These plans will vary depending on where you live, so make sure you review the summary of benefits to ensure the benefits you're looking for are included.
Wellcare Medicare Part D prescription drug plans
Medicare Part D is the prescription portion of Medicare. You can only get Medicare prescription coverage through a stand-alone Part D or Medicare Advantage plan. If you choose not to enroll in drug coverage, you'll be penalized later when you decide to enroll in one.
Prescription drug coverage has four phases: Deductible, Initial, Coverage Gap, and Catastrophic phases. The coverage gap is often referred to as the Donut Hole.
Wellcare offers three Part D plan options throughout the United States. They have one of the lowest premium Part D plans in the nation.
Wellcare Medicare pros and cons
Pros
Low-cost Medicare Advantage and Part D plans
One of the most recognized names in Medicare
Great benefits
Cons
Average star ratings are three or lower
Offshore customer service
Wellcare financial strength ratings
Medicare insurance companies are rated by AM Best, Moody's, and Standard & Poors. These companies will evaluate their financial strength. Generally, companies with good financial ratings will pay claims quickly and have lower rate increases and premiums.
Wellcare's parent company Centene has an AM Best Rating of B+ (Good)
Moody's rates Centene at a Ba1
Wellcare reviews
Wellcare is quickly becoming one of the top Medicare carriers in the market. Their plans have low copays and great benefits. They're one of the few companies that will cover dental implants.
They even offer utility assistance in certain areas for their low-income clients. Customer service has been their Achilles heel in the past. However, they are starting to make strides in improving that area.
FAQs
Does Wellcare cover dental implants?
Wellcare does cover dental implants on select plans in specific areas. Speak with a licensed insurance agent to see if a Wellcare plan in your area covers implants.
Does Wellcare have flex card benefits?
Yes, some Wellcare plans include a flex card benefit.
What is Wellcare Medicare?
Wellcare Medicare is a supplemental Medicare plan that helps fill in the gaps in coverage that Original Medicare leaves up to the beneficiary to pay through cost-sharing.
What's the cheapest Wellcare Part D plan?
In Wellcare's Value Script Plan is about $11 in most states. They have the second-lowest monthly premium in the nation.
Does WellCare's Medicare Advantage plans include dental?
While coverage can vary from state to state, most Wellcare Medicare Advantage plans include strong dental coverage. In some areas, they also include dentures and dental implants.
What's the difference between Wellcare and Medicare Advantage?
Wellcare offers Medicare Advantage plans. Medicare Advantage is an alternative to Original Medicare. These plans are all-in-one plans that typically include drug coverage and additional benefits.
Are the Shingles shot covered by Wellcare Medicare plans?
Yes! Vaccinations are generally covered under Medicare Part D. Effective January of 2023 Medicare recommended vaccines are available at a $0 copay.
What is the prescription deductible for Wellcare Drug plans?
Wellcare has three prescription plans to choose from.
Wellcare Value Script has a $505 drug deductible but only applies to drug tiers 3, 4, 5, and 6.
Wellcare Classic has a $505 deductible that applies to all drugs.
Wellcare Medicare Rx Value Plus has a $0 deductible.
How to enroll in a Wellcare Medicare plan?
Medicare can be a frustrating and confusing process. Fortunately, you can get help. We're here to answer your questions, educate you, identify your needs and wants, and help guide you step by step.
Our licensed brokers specialize in Medicare and can assist you with every aspect. We pride ourselves on making things clear, quick, and easy. For more information, just give us a call, or fill out our online request form.