Medicare Supplement plans in North Carolina are the ideal choice for individuals who want the most protection and fewer restrictions. There's a plan to meet your demands and budget with all ten Medicare Supplement policies available!
Below, we'll go through essential information relevant to you as a beneficiary. This data includes the number of enrollees in your letter plan and their average premium for this specific coverage type with each provider's offerings throughout North Carolina.
North Carolina Medicare Supplement Plans
Medigap enrollees in North Carolina have grown to 505,388 beneficiaries. That's 36.8% of the beneficiaries enrolled in Medicare! Medigap plans are crucial to staying healthy as people age.
| | | | | | | | | | | |
| --- | --- | --- | --- | --- | --- | --- | --- | --- | --- | --- |
| Plan | A | B | C | D | F | G | K | L | M | N |
| Enrollees | 2,932 | 2,480 | 10,244 | 1,802 | 296,027 | 127,411 | 1,820 | 1,123 | 83 | 33,846 |
Most Common Medicare Supplement Plans in North Carolina
The most popular Medigap plans that North Carolina residents choose to enroll in are shown in the chart above. Plan F, Plan G, and Plan N are among the most popular policies.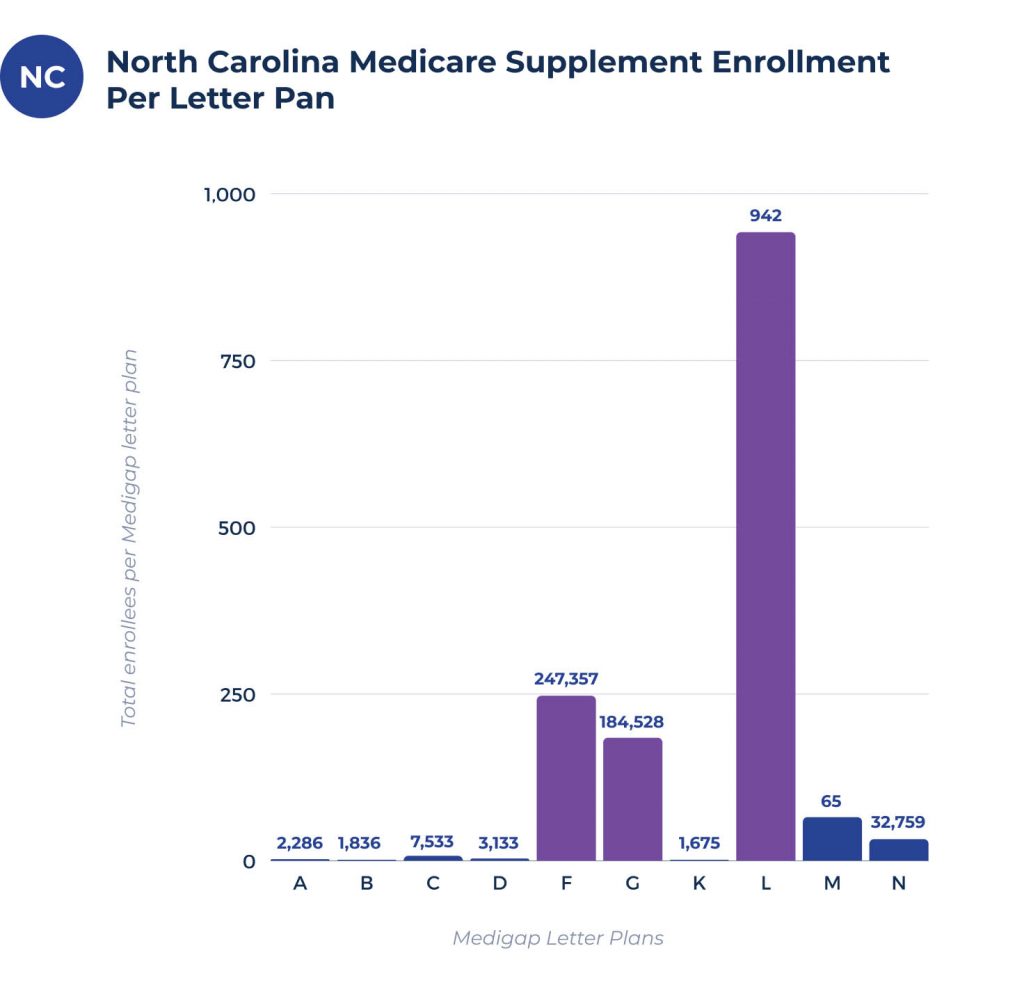 Medigap Plan Coverage Chart for North Carolina
The federal government standardizes Medicare Supplement plans, so you won't have to worry about state-specific coverage. The benefits will be the same with each letter plan in every state except Massachusetts, Wisconsin, and Minnesota.
Medicare Supplement Plan Cost in North Carolina
It's critical to understand that various factors determine your monthly premium for a Medicare Supplement policy. Even though the coverage won't vary between states, you may pay more or less depending on your age, health, and even where you live in North Carolina.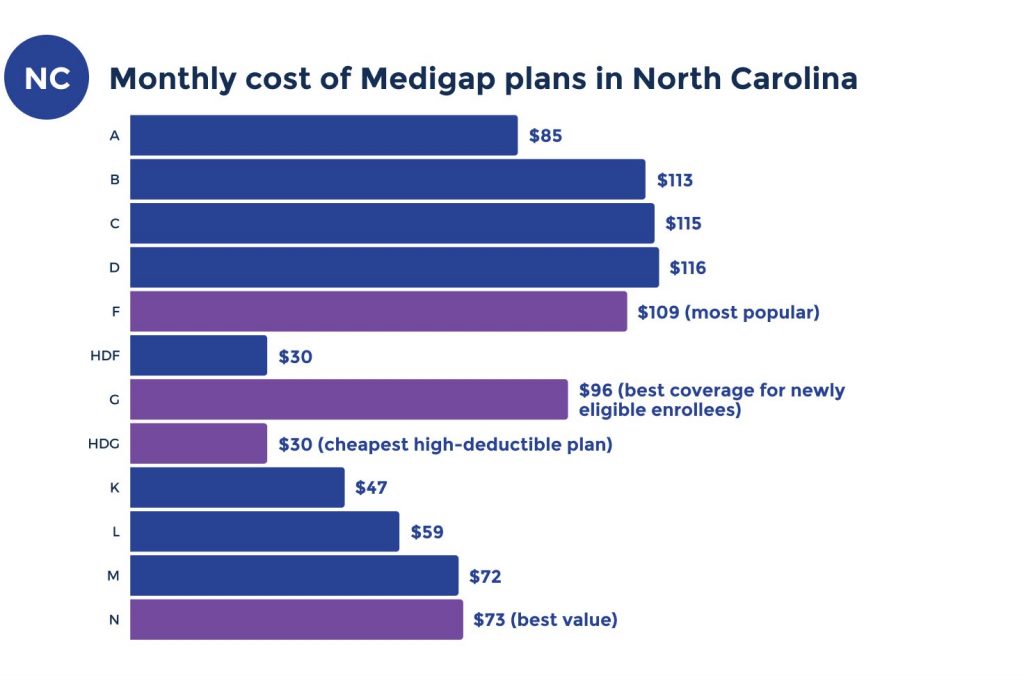 What's the average cost for a Medicare Supplement Plan in North Carolina?
Lowest Premium Per Medicare Supplement Letter Plan in North Carolina
The following are estimates for a 65-year-old woman who resides in Raleigh, North Carolina.
| | | | | | | | | | | |
| --- | --- | --- | --- | --- | --- | --- | --- | --- | --- | --- |
| Plan | A | B | C | D | F | G | K | L | M | N |
| Premium | $93 | $113 | $194 | $178 | $125 | $102 | $51 | $82 | $72 | $76 |
Top Medicare Supplement Carriers in North Carolina
We'll apply the same standards to the leading Medigap carriers and their rates for letter plans listed below.
Which Medigap Plan in North Carolina is Right for Me?
The best option for you is probably not the same as your neighbors. Assume you'd rather spend less on monthly premiums while still getting adequate coverage.
A high deductible policy, for example, may be preferable for you in that situation. There is no such thing as a one-size-fits-all answer.
Another thing to think about is when you become eligible for Medicare. For example, you can't join Plan F because you're now just qualifying. Because this policy is no longer available, consider selecting Plan G as your plan since that's the closest letter plan to Plan F.
North Carolina Cities with Estimated Premiums for Medicare Supplement Coverage
There are charts with estimated premiums for Medicare Supplement coverage for the below cities:
FAQs
Will my North Carolina Medigap increase as I get older?
All Medicare Supplements will increase premiums. In North Carolina, most plans are age-attained, meaning they will increase based on age and other factors such as inflation.
Are there any issue-age policies available in North Carolina?
A couple of companies in NC use the issue age rating. If you want to enroll in a policy that uses issue-age ratings in NC, you can choose between Old Surety and Physicians Mutual.
What's the average cost for a Medicare Supplement in North Carolina?
Medigap plan pricing is different for each company and plan:
In North Carolina, What's the most popular Medigap Plan?
In North Carolina, Plan F is the most popular Medicare Supplement plan.
How often should I change my Medicare Supplement in North Carolina?
That depends on you. You're not required to change the plan even. If you get a rate increase that you feel is a little high, perhaps you should consider shopping around.
As long as you can pass medical underwriting
How to Get Help Enrolling in a Medigap Plan in North Carolina?
There are many different carriers to evaluate, and comparing them on your own can take a lot of time and work. That's where an experienced agent can be of assistance. Our agents collaborate with all carriers to guarantee you get the best possible prices while conserving money.
Whether you're looking to acquire a Medigap policy or explore other alternatives like Medicare Advantage assistance, we can help. Please fill out our rate form or call us to see rates now.