Medicare Supplement Plan B is one of the Medigap letter plans that covers the least amount of benefits. However, it still covers a lot that Original Medicare doesn't cover.
What is Medicare Supplement Plan B?
Medicare Plan B is NOT the most comprehensive option for coverage. But, depending on your situation, it might work for you. Medicare Supplement plans are standardized coverage that helps offset costs associated with Medicare.
Medicare Supplement Plan B coverage
Medigap Plan B is similar to Plan A, but Plan B covers the basic benefits of Original Medicare. Medicare Supplement Plan B will cover the Medicare Part A deductible and the inpatient Part A coinsurance and copayments. Plan B covers Part A hospice care coinsurance and Part B preventive care.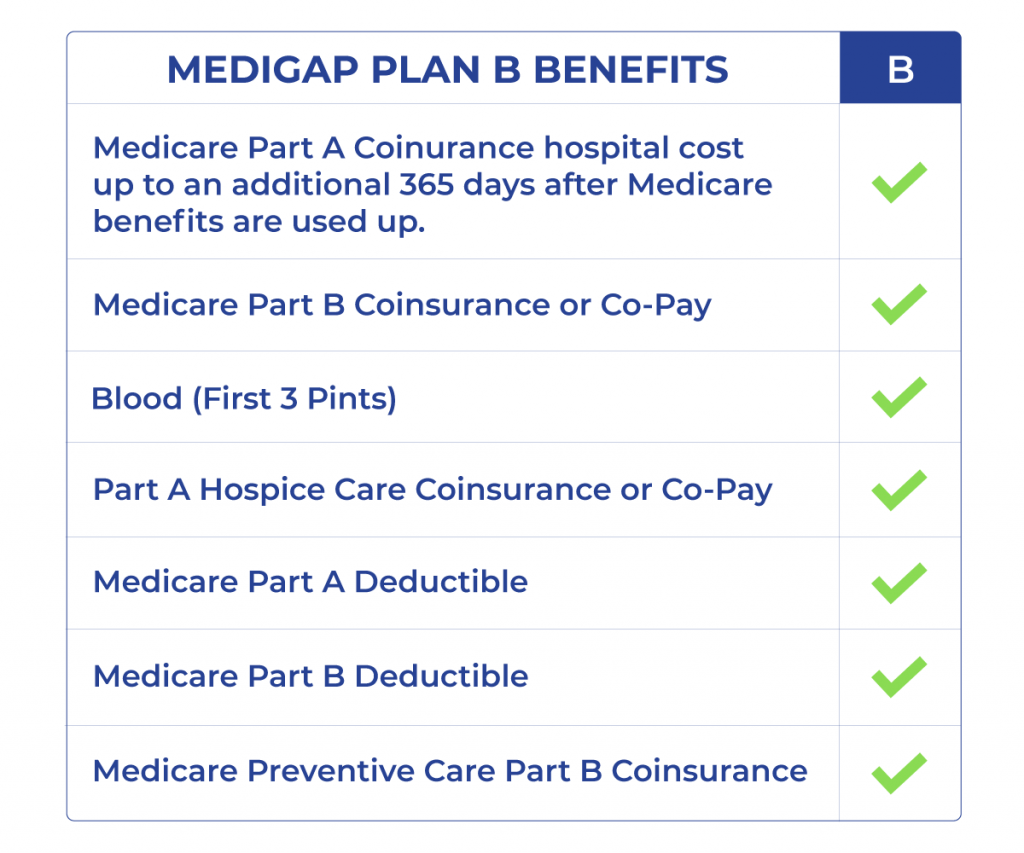 Also, Plan B will cover the Part B coinsurance and the first 3 pints of blood each calendar year.
Since other policies cover more, like Plan G or Plan N, many agents don't recommend Plan B. It's better to have a policy that provides more coverage.
Medicare Supplement Plan B chart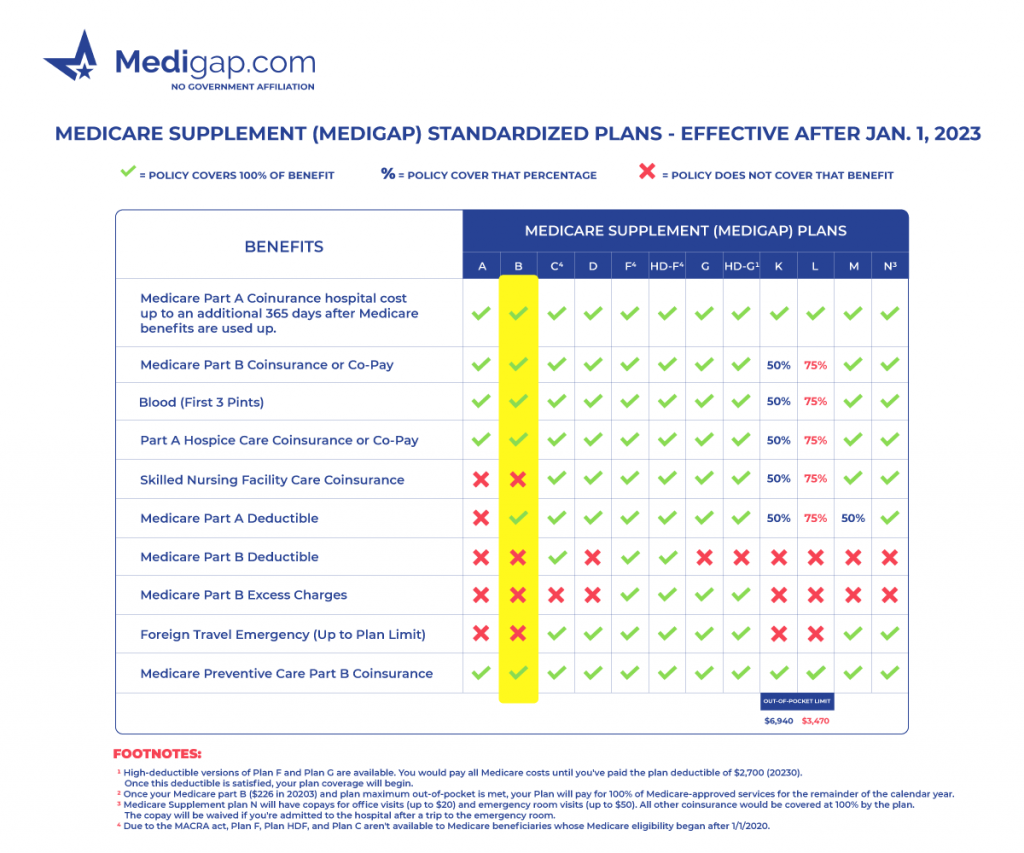 Medicare Supplement Plan B eligibility
Anyone eligible for Medicare and enrolled in Part A and B can sign up for a Medicare Supplement plan. Suppose you miss the Medicare Supplement Open Enrollment Period. In that case, you might not be able to buy a policy if your health is in poor condition.
Signing up for a Medigap policy as soon as you're eligible for Medicare is essential. Outside of the OEP, you can still apply for Medicare Supplement, but you'll go through underwriting.
Working with an insurance agent is extra beneficial if you go through underwriting because they can help identify the companies most likely to approve your application.
Medicare Supplement Plan B premium cost
Medigap Plan B can cost between $110 to $210 each month. The premium will depend on various factors such as tobacco use, gender, age, and location. Contact an insurance agent at the number above to determine your specific costs for Plan B.
Is Plan B the same as Part B?
Medicare Plan B is an additional insurance option designed to help cover the costs you would otherwise be responsible for paying. Plan B is not mandatory. Plan B is an optional Medicare Supplement plan.
Medicare Part B is the outpatient portion of your Original Medicare. Coverage Part B is optional, but delaying enrollment can result in a Part B penalty. There is a monthly premium.
Does Medigap Plan B include prescription drug coverage?
Medicare Supplement insurance does not cover Part D prescription drugs. Medigap plans will cover Part B drugs in an outpatient setting. Drugs administered in this setting include immunosuppressants or injectables.
You will need a Part D drug plan to have coverage on drugs prescribed by your doctor.
Medicare Supplement Plan B reviews
Medigap Plan B isn't the most popular plan. However, it's a lower-priced option for beneficiaries who want protection from the Medicare Part A deductible and Part B coinsurance. These two costs represent the most significant cost-sharing related to Original Medicare.
FAQs
Is Medicare Part B the same as Medicare Supplemental Plan B?
No! Medicare Part B is the outpatient insurance coverage through the Original Program. Medicare Supplement Plan B is supplemental health care that helps cover out-of-pocket costs associated with Medicare coverage.
Do Medicare Supplement insurance plans pay the Medicare Part B premium?
No! You're required to continue paying for your Medicare health insurance when enrolling in a Medicare Supplement plan. Medicare Supplement plans help cover costs left over from the Original Medicare benefits. For Medicare Supplement coverage to apply, you must have active Medicare Part A and Medicare Part B.
What is the Medicare Plan B deductible for 2023?
In 2023 the annual Medicare Part B deductible was changed to $226.
What isn't covered by Medicare Supplement Part B?
Medicare Supplements only cover items and services covered by Original Medicare, so coverages like prescription drugs, dental coverage, and vision and hearing benefits aren't included.
Other benefits that are covered by the federal Medicare program but not Plan B are:
Skilled Nursing Facility Coinsurance
Medicare Part B deductible
Foreign Travel Emergency
What's the difference between Medicare Supplement Plan A and Medicare Supplement Plan B?
The only difference between Medicare Supplement Plans A and B is that Plan B covers the Medicare Part A deductible. Medicare Supplement Plan A doesn't cover the Part A deductible.
How to sign uip for Medicare Supplement Plan B?
If you believe Plan B will provide the most value, enrolling is simple and can occur over the phone. Call us at the number above to speak with a licensed insurance agent about your Medigap options. Or, fill out an online rate form to compare rates side by side now.