Medicare Supplement Plan D is a Medigap plan that covers some out-of-pocket costs individuals with Medicare health care would otherwise be responsible for paying.
Plan D covers more than most Medicare Supplement health insurance options but is not the most comprehensive or popular. Let's review some of Plan D's benefits to see if this option suits you.
Medicare Supplement Plan D coverage
Plan D covers the Medicare Part A deductible, Part A coinsurance, and inpatient hospital costs up to 365 days after the Original Medicare benefits are exhausted.
Plan D covers Medicare Part B coinsurance, hospice care, and skilled nursing facility care coinsurance.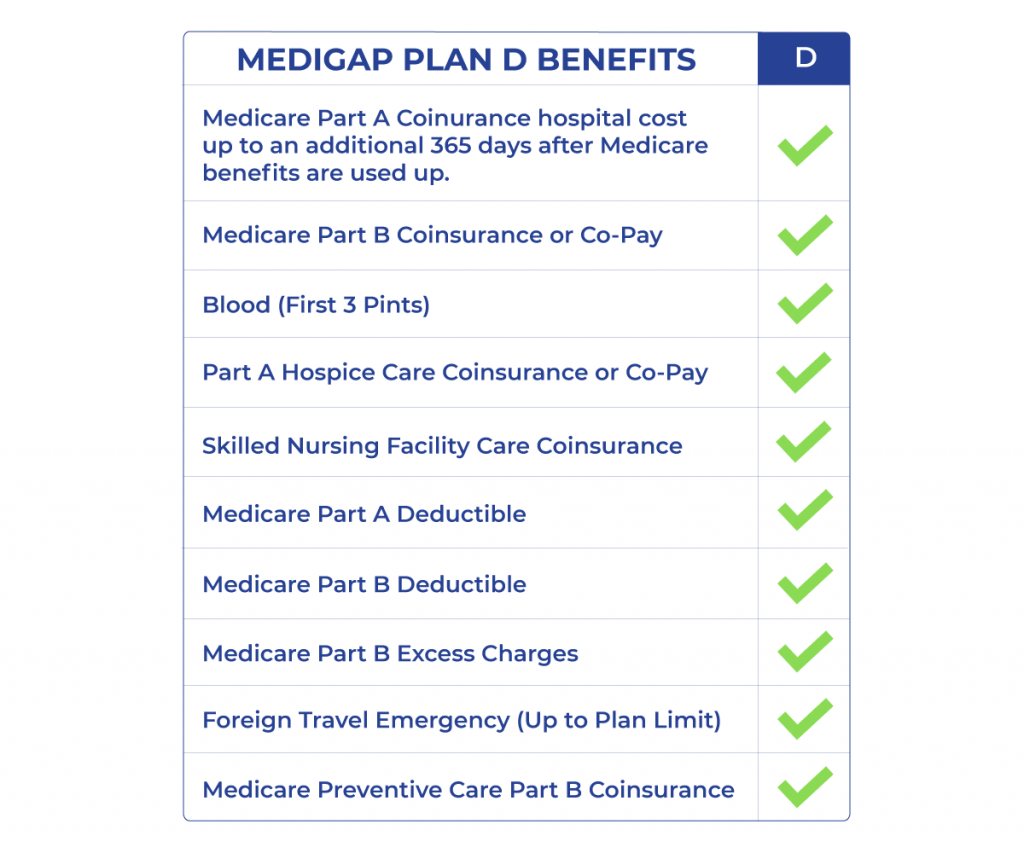 The plan will also cover the first 3 pints of blood each year. Also, foreign travel emergency coverage is available up to the plan's limits.
Medicare Supplement Plan D chart
What does Medicare Supplement Plan D not cover?
Medigap Plan D doesn't cover the Medicare Part B deductible or excess charges. Like other Medicare Supplement health plans, prescription drugs, long-term care, dental, and vision aren't included.
For Medicare prescription drug coverage, Medicare Supplement enrollees can add a stand-alone Medicare prescription drug plan through Part D of Medicare.
Medicare Supplement Plan D eligibility
Suppose you're eligible for a Medigap policy. In that case, you're eligible for Plan D. You must also live in an area that offers this Medicare Supplement plan letter. Some states like Massachusetts, Minnesota, and Wisconsin don't provide the same standardized options as others.
Massachusetts Medicare Supplement options have three distinct plans, while Wisconsin Medigap has a base plan in which riders are added to enhance coverage. Minnesota Medicare Supplement options include a basic plan that riders can be used to enhance coverage or preset MN Medigap plans.
Who would benefit the most?
You could benefit from Medicare Supplement Plan D if you dislike having copayments. There are no copays with this plan. Plan D will cover the Part B coinsurance and copayment for doctors' office and emergency room visits.
If you want to keep your premiums low but want more than the bare minimum coverage, Plan D could make sense. For beneficiaries that plan to travel overseas, Plan D covers 80% of the cost of an emergency when you're in a foreign country; after you pay the $250 deductible.
As with most Medicare Supplement policies, this policy benefits those who want a plan with stable rate increases. It's also great for people that don't want unexpected out-of-pocket costs while in the hospital.
Reasons to enroll in Medicare Supplement Plan D
Medicare Supplement Insurance plans are additional coverage to the Original Medicare program. This allows Medicare beneficiaries to retain the freedom to choose their own doctors. No referrals are required; they can see any healthcare provider nationwide that accepts Original Medicare.
Another benefit of using Medigap Insurance instead of a Medicare Advantage plan is simplicity. Medicare Supplement plans have fewer authorizations and hoops to jump through for coverage.
Regarding reviewing plans, these Medicare Supplement plans are standardized, meaning the coverage is identical regardless of your chosen private insurance company. Medicare Supplement Plan D with Mutual of Omaha covers the exact healthcare costs as UnitedHealthcare's Plan D.
Medicare Supplement Plan D reviews
Medigap Plan D is popular in states that don't allow Part B excess charges. Plan D is identical to the more popular Plan G except the excess charge coverage. This plan is a favorite for beneficiaries in New Jersey.
FAQs
Is Medigap Plan D the same as Medicare Part D?
Medigap Plan D is different from Medicare Part D prescription drug coverage. Plan D doesn't cover prescription drugs. Part D prescription drug plans are separate insurance policies covering prescriptions you fill at the pharmacy to take home.
What does Medigap Plan D cost?
Medigap Plan D's monthly premium ranges between $120 to $240 depending on your age, location, gender, and tobacco use. Medicare Supplement insurance costs can vary greatly depending on many factors.
A beneficiary in their Open Enrollment Period will likely pay less than someone going through medical underwriting outside the OEP.
What is the difference between Medicare Supplement Plan D and Plan G?
There is only one difference between Plan D and Plan G.
Plan G covers the Medicare Part B excess charges, while Plan D doesn't. Fortunately, excess charges are easy to avoid.
Should I still pay my Medicare Part B premium if enrolled in a Medicare Supplement Plan D?
Yes! Regardless of the supplemental Medicare coverage you select, you must continue to pay the Medicare Part B premium.
How to sign up for Medicare Supplement Plan D?
Signing up for a Medicare Supplement is simple and can be done over the phone or online. Working with a licensed insurance agent is beneficial because they can help you identify the policy, company, and Part D plan that makes the most sense for you.
Getting a quote is free and easy. Call a Medicare expert today at the phone number above or fill out an online rate form to compare rates now.