Medicare Supplement Plan F is the long-standing champion of Medicare plans. Because it was simple to explain, understand, and use.
It helps cover all the Medicare cost-sharing that the beneficiary has to pay. Plan F is the most comprehensive Medicare Supplement available.
It has also been the most popular for a very long time due to these reasons. Unfortunately, it's no longer available to those considered newly eligible.
What is Medicare Supplement Plan F?
Plan F is known as the Cadillac plan. You pay your monthly premium, and the health care plan takes care of the rest. All you have to do is pay your monthly premium and sit back and relax. Medicare Supplement Plan F does the rest. In other words, you have zero cost-sharing.
Who's eligible for Medigap Plan F?
Due to the MACRA Act, the Centers for Medicare & Medicaid Services has discontinued Plan F. Beneficiaries eligible for Medicare on or after January 1, 2020, aren't eligible for Medigap Plan F, Plan C, or High-Deductible Plan F.
Medicare beneficiaries eligible for Medicare before January 1, 2020, can still enroll in Medicare Supplement plans F, C, and High-Deductible Plan F.
What does Medicare Supplement Plan F cover?
Plan F is a first-dollar Medicare Supplement insurance plan. First-dollar coverage means you'll pay zero out-of-pocket outside the monthly premium. No matter your medical costs, you'll never pay copays, coinsurance, or deductibles. If Medicare covers it, you won't pay a penny.
The following Original Medicare out-of-pocket costs are covered 100% by Medicare Supplement plan F.
Medicare Part A deductible, coinsurance, and copayments
Medicare Part B deductible
Medicare Part B coinsurance, including Part B excess charges
Medicare benefits and covered services include the following:
Skilled nursing facility
Inpatient hospital
Outpatient doctor visits and procedures
Durable medical equipment
Drugs administered in an outpatient setting
Preventive services
Hospice care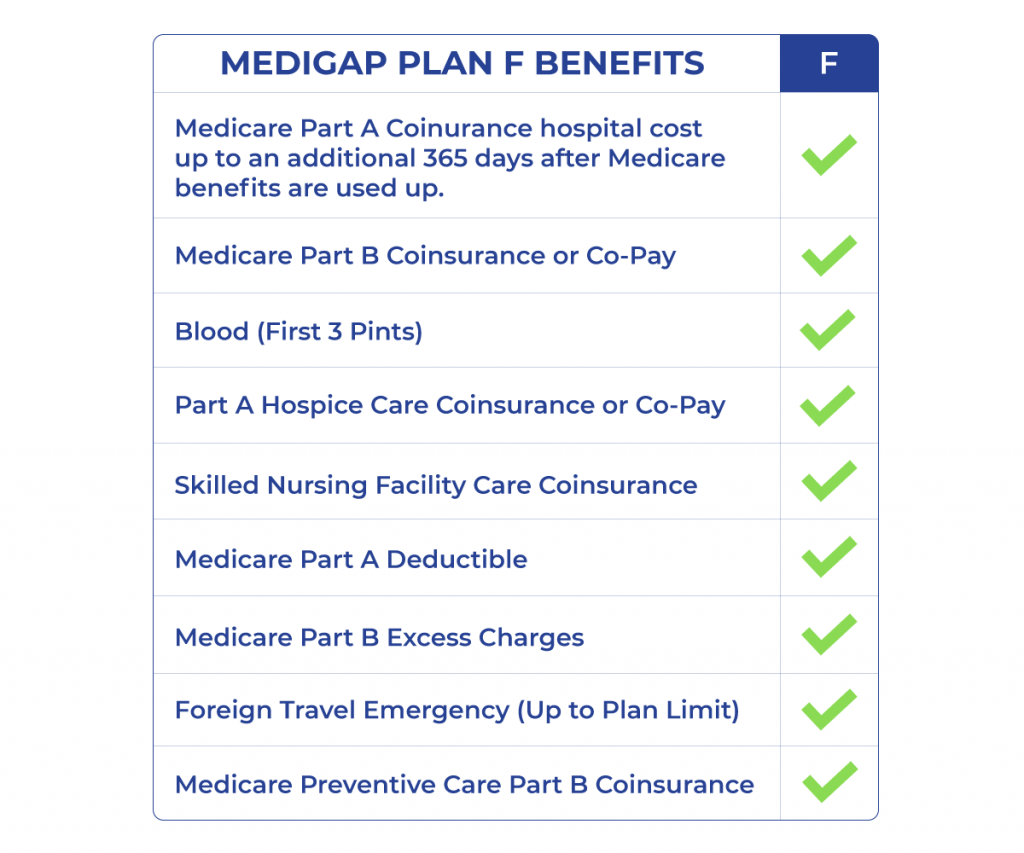 Plan F offers the most comprehensive coverage of any Medicare Supplement health insurance.
Medicare Supplement Plan F chart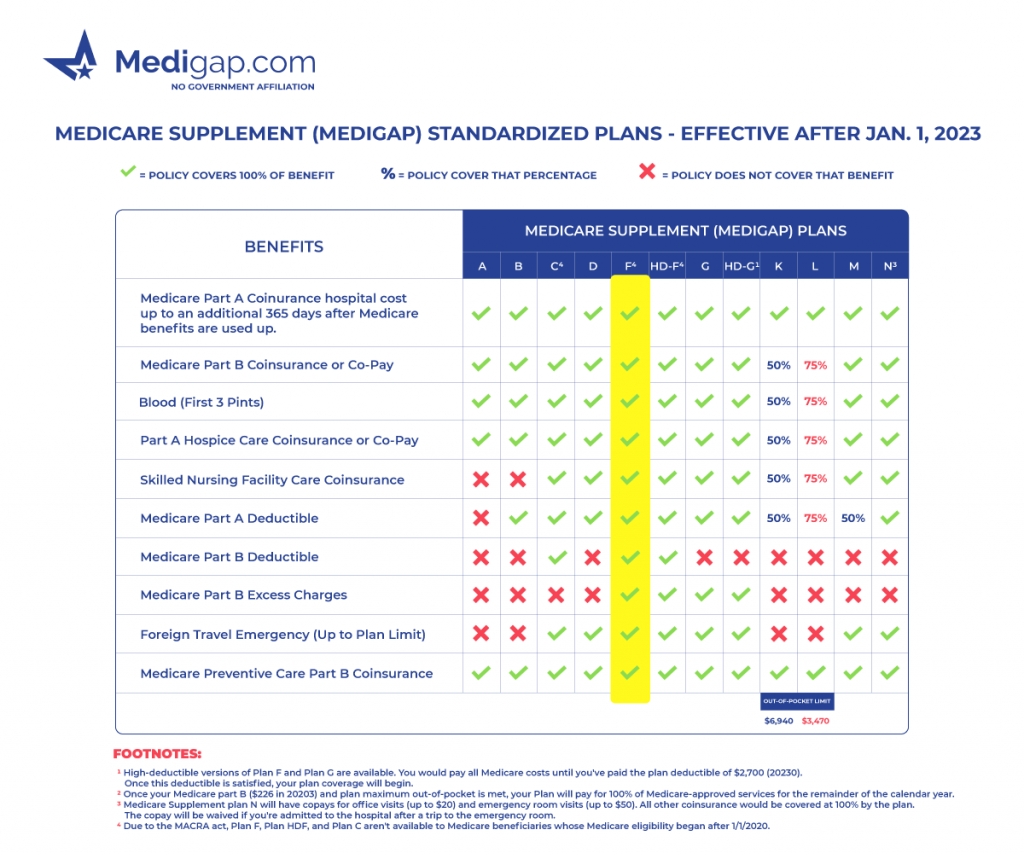 How much does Medicare Supplement Plan F cost?
On average, the monthly premium for Plan F costs between $120 to $250 a month. Some things that will impact your cost are your age, gender, where you live, tobacco usage, and in some cases, your height and weight.
Less expensive alternatives for Medigap Plan F
There are two ways to get Plan F coverage with lower premiums:
Medicare SELECT Plan F – A Medicare SELECT option will have the same coverage as a Medigap Plan F. However, it does come with network limitations.
High Deductible Plan F – The High Deductible version of Plan F has the same coverage level as the traditional Plan F. The only difference is you'll have to pay the plan deductible before it kicks in to cover your costs.
When to Enroll
Since Plan F is a Medigap plan, you can enroll anytime as long as you're healthy and eligible. Medigap does not come with annual enrollment periods like Medicare.
Usually, the best time to enroll in a Medigap plan is during your Medicare Supplement Open Enrollment Period. Medicare beneficiaries usually only get one chance at their six-month Open Enrollment Period. You must answer health questions and pass underwriting unless you're in Open Enrollment or have a Guaranteed Issue enrollment.
Medicare Supplement Plan F reviews
Medigap Plan F is the reigning champion of Medicare Supplement insurance. Plan F will cover all the cost-share left over from the Original Medicare coverage. With only a manageable montly premium and no out-of-pocket on Medicare Approved services, Medicare Supplement Plan F is a great option for a set-it-and-forget-it plan.
Plan F is not available to new Medicare beneficiaries.
FAQs
Who can enroll in Medigap Plan F?
Any Medicare beneficiaries with Parts A or B of Medicare effective dates before 2020 aren't newly eligible. If you were eligible for Medicare before 2020, you could still enroll in Plan F regardless if you enrolled in a Medicare Supplement plan.
Does Medigap Plan F have rate increases?
Yes, no matter who the insurance company is or even the plan letter., Medigap plans will have annual rate increases in most cases. Over the past five years, the rate increase has been roughly 7% to 9% for Plan F. Keep in mind that other factors contribute to rate increases.
Inflation will always impact increases. Other factors affecting rate increases are age and the claims history of people living in your area and on the same plan. You can't be singled out based on your personal claim history.
Why is Medicare Supplement Plan F being discontinued?
The Centers for Medicare & Medicaid Services killed off all first-dollar plans. This change discontinued all versions of Plan F. If you already have Plan F, you can your grandfathered in. As long as you were eligible for Medicare before 2020, you can still enroll in Plan F with any carrier that offers it in your area.
What is the difference between Medigap Plan F and Plan G?
The only difference between these two plans is that Plan G doesn't cover the Part B deductible, which is currently $240.
Does Plan F Cover prescription drug plans?
None of the current Medigap plans cover prescription medications picked up at the pharmacy. However, they will cover drugs administered in the hospital or medical office.
You must enroll in a Part D prescription drug plan to have prescription drug coverage for medications you receive from a pharmacy.
What's the difference between Mutual Of Omaha's Plan F and Unitedhealthcare's Plan F?
They are exactly the same. Medigap policies are standardized plans regulated by the Centers for Medicare & Medicaid Services, and the coverages must be the same regardless of the insurance company.
How to get help enrolling in Medicare Supplement Plan F
The next step is to give us a call or fill out our online request form. Our licensed agents will help educate and guide you through the enrollment process.
Our Medicare experts can answer any questions regarding Plan F or other supplemental policies.