Special Needs Plans (SNPs) are a subset of Medicare Advantage plans available to people with special needs. These plans aren't available in all areas. SNP plans help people with chronic disabilities or special needs.
What is a Medicare Special Needs Plan?
There are three categories of Special Needs Plans, C-SNP, D-SNP, and I-SNP.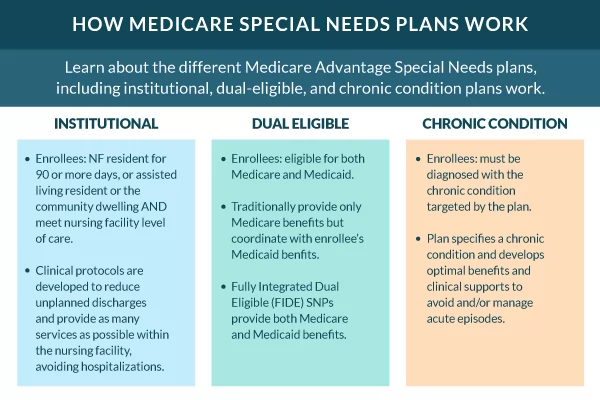 What is a Chronic Special Needs Plan?
Chronic Special Needs Plans (C-SNP) are for Medicare Beneficiaries with severe and disabling chronic medical conditions. The qualifying conditions are considered medically complex, life-threatening, or substantially disabling.
Conditions that apply have a high risk of hospitalizations, significant adverse reactions, or specialized treatment delivery systems. The most common conditions are Chronic Obstructive Pulmonary Disease (COPD), Diabetes, and Atrial Fibrillation (AFIB).
C-SNP plans make prescriptions and treatments less expensive related to the qualifying condition.
Upon enrolling, you must have your health care provider fill out a form verifying your chronic needs condition.
What is a Dual Eligible Special Needs Plan?
Dual Eligible Special Needs Plans (D-SNP) are designated to assist low-income beneficiaries. However, qualifications vary from plan to plan.
Enrolling in a D-SNP program requires Medicare and medical assistance from the state through the Medicaid system. Some states cover the costs of Medicare for the beneficiary.
D-SNPs have two options depending on the level of assistance the beneficiary receives.
Medicare Zero-dollar cost-sharing plan.
Medicare Non-Zero-cost sharing plan.
Qualifying and enrolling into a zero-dollar cost-sharing D-SNP plan means the beneficiary will have a $0 cost-share when receiving covered services.
Therefore, qualifying for a non-zero dollar cost-sharing plan means the beneficiary may have cost-sharing depending on the service and level of assistance.
What is an Institutional Special Needs Plan?
Institutional Special Needs Plans (I-SNP) are designated to assist institutionalized beneficiaries.
For 90 days or longer, the beneficiary must have had or expect to need the level of care provided by one of the following:
Skilled Nursing Facility (SNF)
Long Term Care (LTC)
LTC Nursing Facility (NF)
Intermediate care facility for people with intellectual disabilities (ICF/IDD)
Inpatient Psychiatric Facility to qualify for an I-SNP
Medicare beneficiaries living in the community can qualify if the following conditions apply:
A determination of institutional LOC must be determined using the state's assessment tool. The assessment must be the same determination for beneficiaries living in an institution.
An independent, impartial party with the professional knowledge to identify and assess the institutional needs must administer the assessment.
How do I Appeal an SNP Disenrollment Notice?
The beneficiary has the right to appeal if they disagree with the notice. An independent agency will look over the appeal forms.
If discharged from the hospital early due to disenrollment, you have the right to an immediate review. The Beneficiary and Family-Centered Care Quality Improvement Organization (BFCC-QIO) reviews the review.
The hospital is then required to allow you to stay at no cost. The hospital can't discharge the beneficiary until after the review is complete.
Beneficiaries under the care of a skilled nursing facility, comprehensive rehabilitation center, or home health care have the fast-track right to appeal.
If you plan to file an appeal, you should have a few things handy before starting the process. Ask your doctor for any documentation or information that'll assist in proving your case.
If your health status concern you, ask for a fast appeal. Generally, within 72 hours, you should have an answer.
How to Enroll in a Medicare Advantage Special Needs Plan
Of course, there is. We would love to be your advocate. Call one of our licensed representatives, or fill out our online request form. We would happily review your situation and help determine which plan fits your needs.
Related Content