Medicare Supplement Plan L is a Medigap plan with a lower premium due to cost-sharing. In exchange for this lower premium, you agree to pay 25% of the remaining costs of the Medicare program for services received.
Medicare Supplement Plan L
The golden rule of insurance is that the more coverage you purchase, the more you will have to pay for it. It's a pretty self-explanatory rule. The benefits offered by Medicare Supplement Plan L are a way of finding a middle ground.
Medicare Supplement Plan L covers:
100% of your Medicare Part A coinsurance costs for up to 365 days after Medicare benefits run out (for inpatient hospital treatment only)
75% of your Part B copay and coinsurance costs
75% of the cost of your first 3 pints of blood should you require a blood transfusion while receiving inpatient hospital treatment
75% of your Part A hospice care co-payments and coinsurance
75% of your coinsurance costs for care in a skilled nursing facility
75% of your Medicare Part A deductible
75% of your skilled nursing facility care coinsurance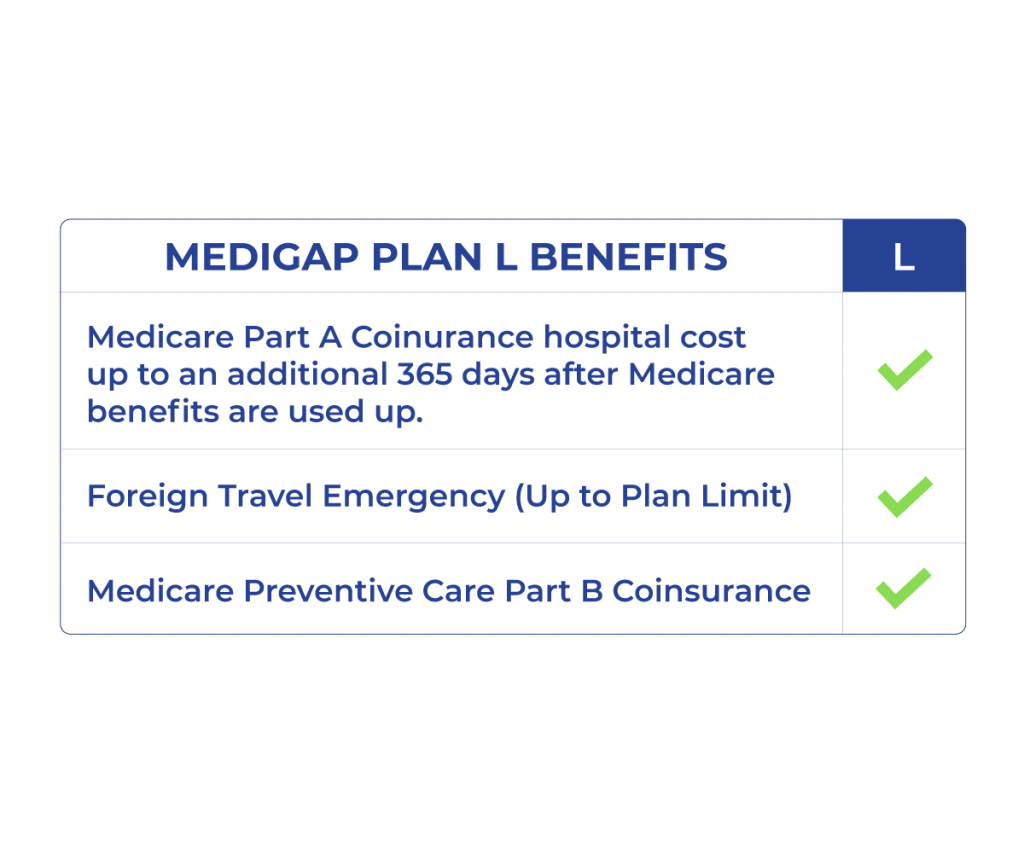 Medicare Supplement Plan L will not cover the following:
Your Medicare Part B deductible
Your Medicare Part B excess charges
Emergency foreign travel assistance
Medicare Part B coinsurance
Medicare Supplement Plan L chart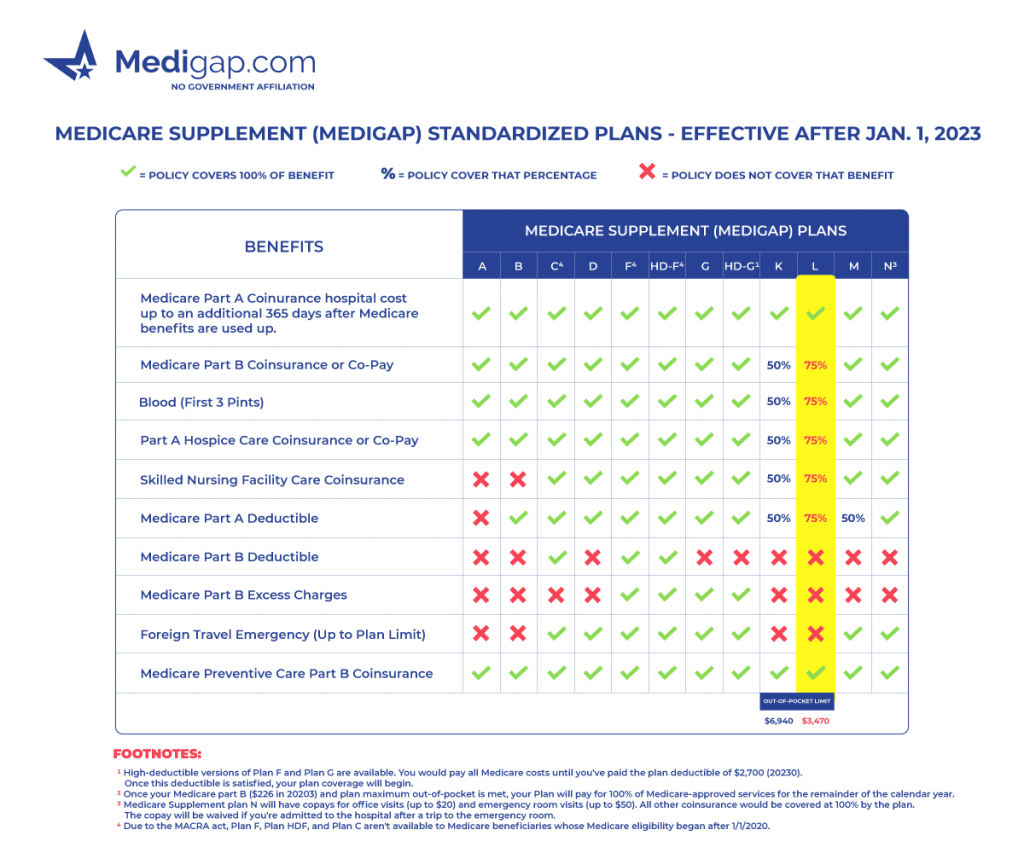 How Much Does Medigap Plan L cost?
The average cost for a Medigap Plan L is between $100 to $130 per month. The monthly premium will depend on where you live and how much healthcare costs in your area. In addition to that, you should budget for the following:
Your Medicare Part A deductible with Plan L
You'll be responsible for 25% of your Medicare Part A deductible, starting in 2023, which will cost you $400 per benefit period if you're admitted for inpatient hospital treatment.
Remember that annual deductibles and benefit period deductibles are two different payments. It's possible to go through more than one benefit period in the same year under certain circumstances.
Your Medicare Part B deductible with Plan L
The Medicare Part B deductible is reviewed annually. This annual deductible costs beneficiaries $164.90 per year for their outpatient, doctor visits, and all other care under Medicare Part B.
Medicare Part B excess charges
Medicare Part B out-of-pocket charges happen when a doctor or facility doesn't want to pay the Medicare assignment price and tacks on an additional 15% to the Medicare-approved amount.
Because of this, Medicare will start by paying the Medicare assignment price, and those charges will be your responsibility. Call ahead when and where to ensure the care you're getting is not subject to Part B excess charges, and try your best to budget for those costs in an emergency.
Foreign travel emergency assistance
Medigap Plan L does not benefit beneficiaries who get sick while traveling abroad. So if you plan on globetrotting during your golden years, make sure to either budget for this or stick to countries with relatively low out-of-pocket medical costs for foreigners.
Which beneficiaries benefit the Most from Medigap Plan L?
The questionnaire below can help you figure out whether or not Medigap Plan L is right for you:
Has your state passed laws to make excess charges for Medicare Part B illegal?
Do you think you'll use more of your Medicare Part B benefits than your Medicare Part A benefits?
Are you still relatively young and in excellent health?
Do you have a modest healthcare budget but aren't in the market for a fancy Cadillac plan?
Are you planning on only traveling domestically, or not at all?
Medigap Plan L will do an excellent job of letting you get comprehensive coverage and paying a discounted premium.
Out-of-Pocket limits for Medicare Supplement Plan L in 2023
The maximum out-of-pocket cost for Medigap Plan L will be $3,470. If you spend more than that on your healthcare in a calendar year, your Medigap plan will pay 100% of your medical costs after you meet this deductible.
Cost-share plans like Medigap Plan L can benefit beneficiaries with a decent medical care budget but not many medical care needs.
If you're not careful, this plan still covers 75% of the Medicare gaps you may fall into. And the low $3,470 out-of-pocket maximum provides financial protection for less flexible beneficiaries in a medical emergency.
Overall, it balances beneficiaries who need more comprehensive health insurance but don't have the funds for a "Cadillac plan." Such as Plan F and Plan G.
Medicare Supplement Plan L reviews
Medigap Plan L is another lessor known plan. The coverage is similar to Plan K, covering a percentage of most Medicare-related costs. healthy beneficiaries may choose this plan with a low-premium and maximum out-of-pocket limit for medical expenses. The coverage is similar to that of an Advantage plan since you'll pay a portion ou-of-pocket when using the plan.
FAQs
Even if you dedicate yourself to learning everything you need about Medicare, you're still more likely than not to have questions. Well, we've got answers.
These are the most frequent questions from beneficiaries who need our help. And we hope these answers can help you, too.
Is Medicare Supplement Plan L Available in my state?
If you live in Minnesota, Wisconsin, or Massachusetts, the answer to that question is no. The reason is that each state can pass its unique insurance laws.
These states offer their Medigap plans instead of the ten standardized plans available in the other 47 states. For more information on which one of these states' plans will best meet your needs, contact your insurance agent or your local Centers for Medicare & Medicaid Services Office.
When's the best time to enroll in a Medicare Supplement Insurance plan?
Most people consider your once-in-a-lifetime Open Enrollment Period the best time to enroll in a Medigap policy such as Plan L. During this 6-month window. You can choose any plan from any insurance company in your area without the concern of health conditions.
Is Medicare Supplement Plan L the same thing as a Medicare Advantage plan?
While Plan L and Medicare Advantage plans both include a maximum out-of-pocket yearly limit, they are two different kinds of supplemental Medicare coverage.
Medicare Supplements are add-on coverage that covers all or part of the out-of-pocket expenses from Original Medicare.
Medicare Advantage plans are another way to get your Medicare benefits, including prescription drug coverage and additional benefits not included with Original Medicare.
Are there any other plans similar to Plan L?
Plan K works similarly to Plan L. It has a different out-of-pocket max and pays 50% of the remaining Medicare costs.
How to enroll in Medicare Supplement Plan L
That's not as surprising as you may think. Our Medicare experts know how difficult it can be to get a great plan at a great price. But the good news is that you're not alone. Give us a call, or complete our online rate form to get started now.