In Florida, there are 12 Medigap plans you have the option to select. Medicare Supplement plans will guard you against high out-of-pocket costs for medical services. Enrolling in one of these plans ensures predictable medical expenses.
When aging into Medicare, choosing the right supplement is essential. Next, we'll show how many Florida enrollees are in each letter plan, the average cost, the most popular plans, and the top Medigap carriers in Florida.
Florida Medicare Supplement enrollment per letter plan
In Florida, there are 901,389 Medicare Supplements beneficiaries, about 32.7% of the Medicare beneficiaries enrolled in a Medigap plan.
| | | | | | | | | | | |
| --- | --- | --- | --- | --- | --- | --- | --- | --- | --- | --- |
| Plan | A | B | C | D | F | G | K | L | M | N |
| Enrollees | 8,169 | 28,433 | 55,032 | 44,604 | 555,187 | 27,313 | 8,606 | 4,232 | 120 | 80,902 |
Most popular Medicare Supplement plans in Florida
Florida's most popular Medicare Supplement plans are Plan C, Plan F, & Plan N. New beneficiaries can't enroll in Plan C or Plan F.
Plan G is expected to become a top-three plan for Florida's Medicare beneficiaries, and we'll see enrollments increase for Plan G & Plan N over the next few years because of this change.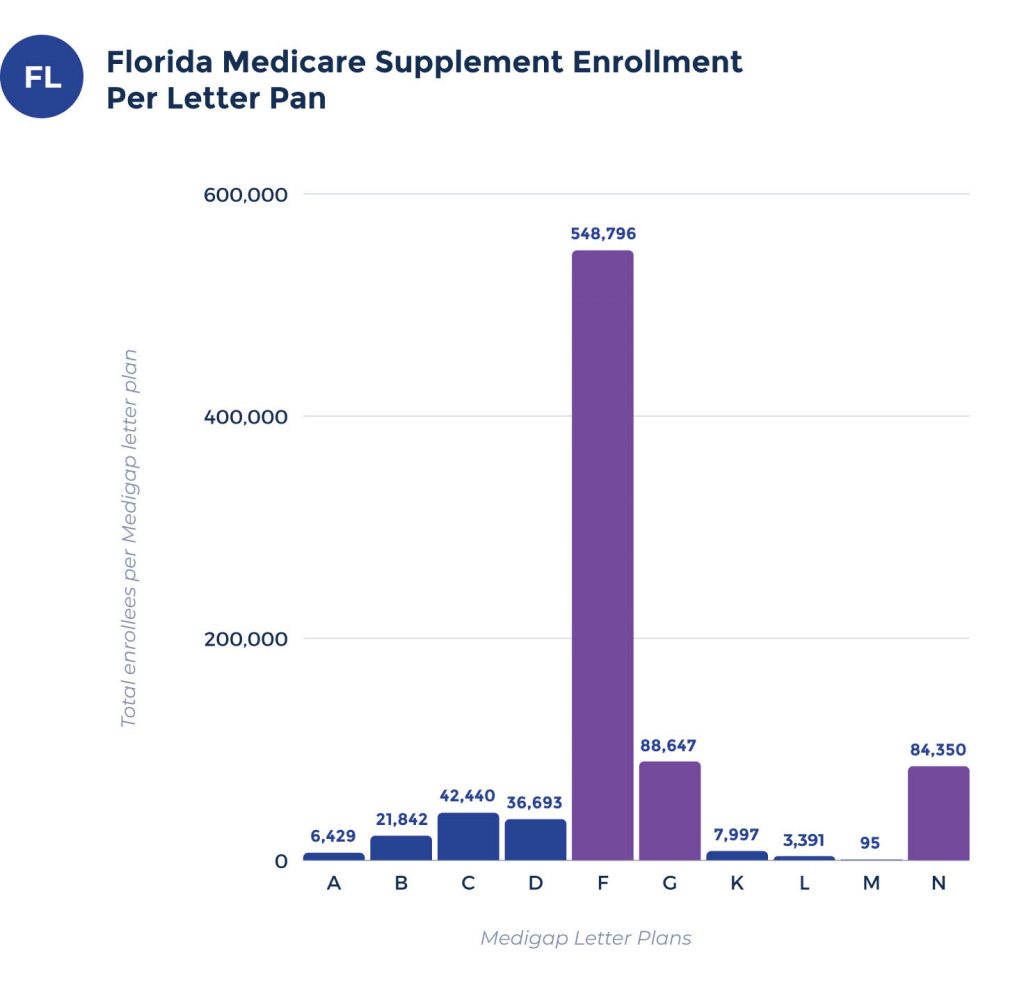 Coverage
Medigap plans have the same coverage from state to state because the federal government standardizes Medicare Supplement benefits. Your benefits will remain the same no matter what state you live in. Only three states do not use the standard Medigap rules, Wisconsin, Minnesota, and Massachusetts.
Costs
Medigap policies vary in cost due to many different factors. Three of the most significant factors are your health, age, and the area you live, which can significantly impact your plan premiums.
Medigap open enrollment isn't an annual period but a one-time enrollment specific to the individual beneficiary.
Enrolling during your one-time six-month Medigap open enrollment period will allow you the freedom to choose any plan with any carrier. Enrolling during this period will also allow you to forego medical underwriting.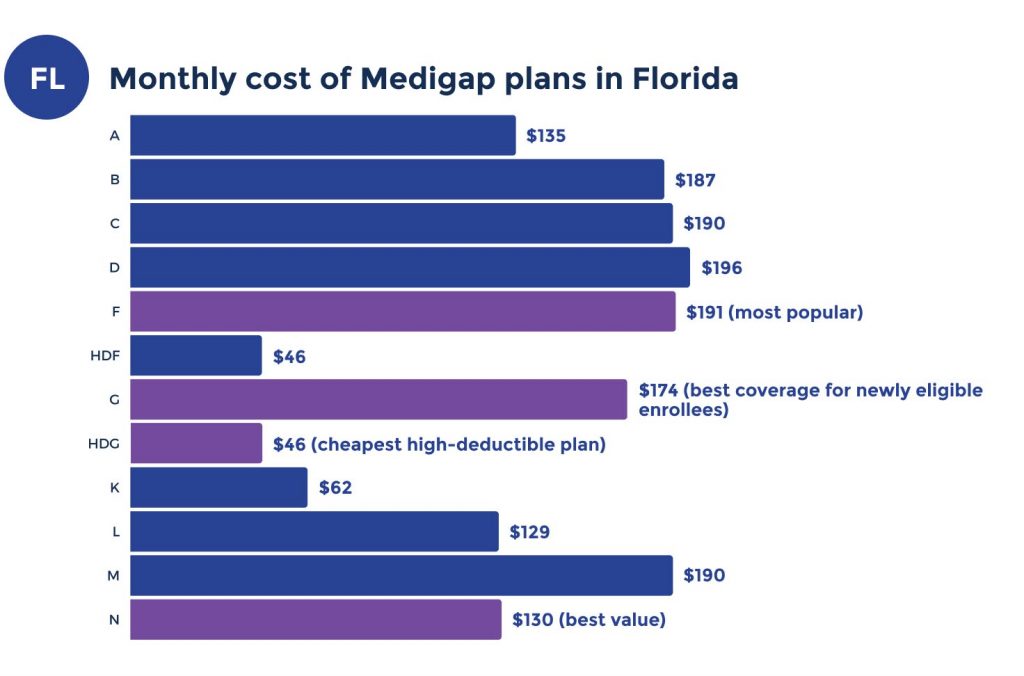 How much does Medigap cost in Florida?
Lowest Medigap premiums in Florida per letter plan
| | | | | | | | | | | |
| --- | --- | --- | --- | --- | --- | --- | --- | --- | --- | --- |
| Plan | A | B | C | D | F | G | K | L | M | N |
| Premium | $157 | $185 | $221 | $201 | $212 | $201 | $92 | $143 | $194 | $145 |
Top Medigap carriers in Florida
In the example below, we're basing the cost on a 65-year-old male in Florida. Carriers in Florida use issue age rating methods.
What Medigap plan in Florida is best for me
Everyone has different needs, making determining which Medicare Supplement is best for you is challenging.
Although all Medigap plans have the same coverage, some providers have more robust customer service, quick claims payment, and other vital factors to beneficiaries. Choosing a suitable carrier for your needs can be difficult, but we are here to help.
One essential item to consider is your future healthcare needs. We aren't fortune tellers, but things like family history can make your prediction a little more accurate.
It's essential to be realistic about how you think your health will progress because changing plans in the future will depend on your ability to pass underwriting.
While the price is essential, you don't want to overpay for the same coverage. You should consider well-known and financially stable companies for the best experience. Considering all the factors will usually ensure you end up with a carrier providing excellent customer service.
Cities with estimated premiums for Medigap coverage
Florida has several large cities with estimated premiums for Medicare Supplement coverage. The following cities have estimates for these benefits:
FAQs
How much do Medigap plans in Florida cost?
The average cost for the top Medicare Supplement plan in Florida varies depending on the plan letter, age, and various factors. You can expect the Medigap premiums in Florida to range from $165 to $260.
Plan F is about $234
Plan G is around $215
Plan N averages $169
Are Medigap plans expensive in Florida?
Florida is one of the more expensive states to purchase a Medigap.
What's the most popular Medicare Supplement plan in Florida?
Plan F is the most popular Medigap plan in Florida.
Why does Florida have state laws regulating Medicare Supplement Insurance?
Florida state and federal laws regulate Medicare Supplement Insurance to ensure all coverage plans offer the same essential benefits. This prevents Supplements from two separate insurance companies from offering drastically different coverage.
How to get help signing up for Medigap plans in Florida
We have a comprehensive list of Medigap insurance companies. We pride ourselves on making the process quick and easy to compare and even help guide you through enrollment.
Our services won't cost you a penny, and our licensed agents specialize in Medicare. They educate you on Medicare and your coverage options and answer any questions. Complete our rate form, or give us a call to have one of our agents assist you.