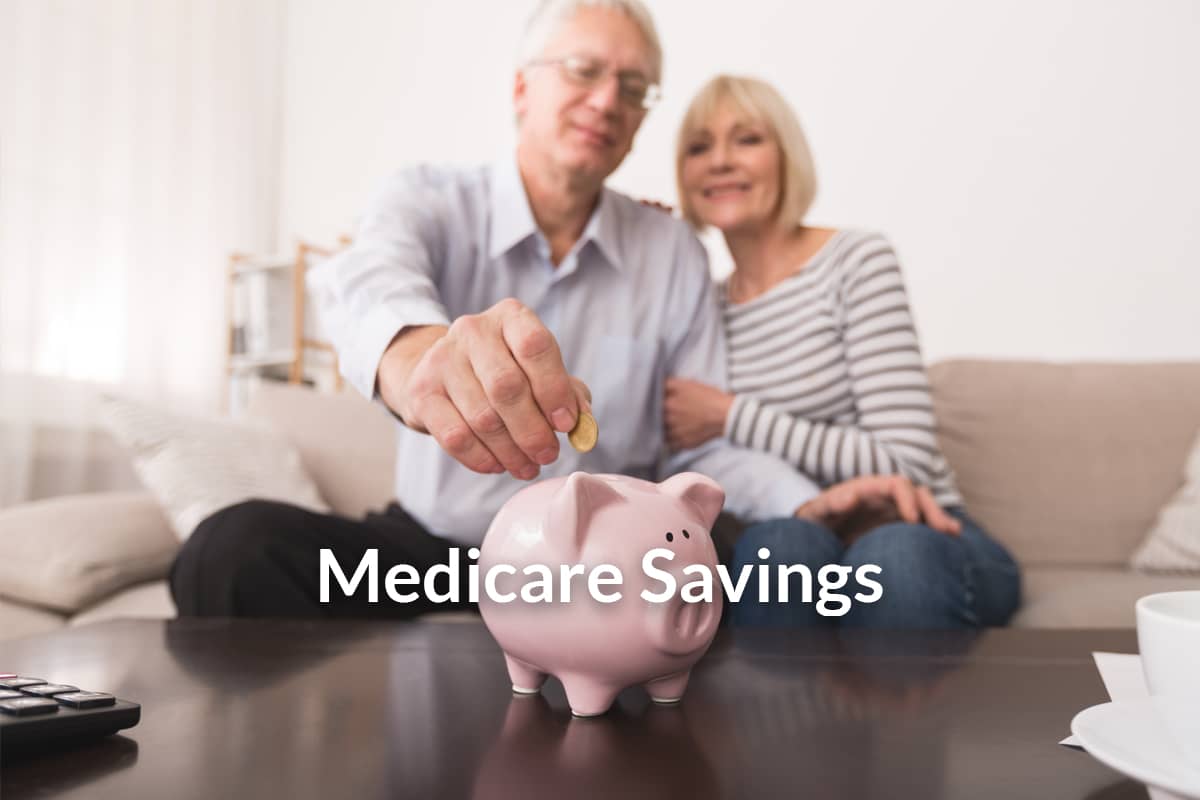 Are you a Medicare beneficiary concerned about the rising costs of healthcare? If so, you're not alone. Many Medicare recipients struggle with the financial burden of medical expenses. Fortunately, there's help available through the Medicare Savings Program (MSP). In this article, we'll review MSPs and provide you with essential information to navigate these programs effectively.
Medicare Savings Programs
There are several categories of MSPs. Each type of MSP is dependent on the situation. Beneficiaries enrolled in an MSP are sometimes called Full Benefit Dual Eligible (FBDE).
FBDE means that the Medicare beneficiary has both Medicare and Medicaid.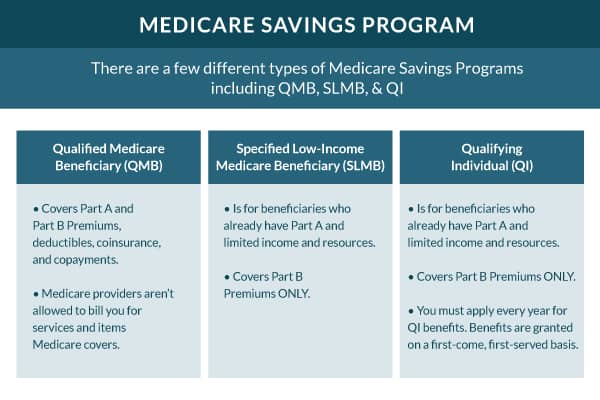 There are a few different Medicare Savings Programs, including QMB, SLMB, & QI.[/caption]
Qualified Medicare Beneficiary (QMB)
QMB helps pay for Part A and B premiums, deductibles, coinsurance, and copays. These apply to services and items Medicare Covers.
Specified Low-Income Medicare Beneficiaries (SLMB)
SLMB helps pay the Part B premium for beneficiaries that have Part A but limited income and resources.
Qualifying Individual (QI)
QI is another program for Part A beneficiaries with limited income and resources. With QI, you must apply every year. QI gets approved on a first-come, first-serve basis. Beneficiaries that had QI the previous year have priority. You can't qualify for QI if you have Medicaid.
You'll automatically qualify for extra help if you qualify for QMB, SLMB, or QI. Extra help pays Part D premiums, medication coinsurance, and copays. If you're subject to a Part A, B, or D penalty, qualifying for a Medicare Savings Program or extra help could waive the penalty.
Medicare Saving Programs State-Specific Naming
Some states have different names for their Medicare Savings Programs. The chart below shows several examples. You should check with the state Medicaid office for specific differences in your state.
State
Program
State Name
Alaska
(SLMB)
(QI)
(SLMB Base)
(SLMB Plus)
Connecticut
(QI)
(ALMB)
North Carolina
(QMB)
(SLMB)
(QI)
(QDWI)
(MQB-Q)
(MQB-B)
(MBQ -E)
(MWB)
New Hampshire
(QI)
(SLMB-135)
Oregon
(QMB)
(SLMB)
(QI)
(QDWI)
(QMB-BAS)
(QMB-SMB)
(QMB-SMF)
(QMB-DW)
Wisconsin
(QI)
(SLMB Plus)
Qualifying for a Medicare Savings Program
Check your local Social Security office for your state's limit. State limits could vary from Federal limits.
| Medicare Savings Program | Individual Monthly Income Limits | Household Monthly Income Limits |
| --- | --- | --- |
| QMB | $1,094 | $1,472 |
| SLMB | $1,308 | $1,762 |
| QI | $1,469 | $1,980 |
| QDWI | $4,379 | $5,892 |
Countable Resources for Medicare Savings Programs
Countable resources are resources that have a value that contributes to the value of your assets towards Medicare Savings Program resource limits. The countable resources include money in your checking and savings accounts, stocks, and bonds.
Resources not included in your countable resources are your home, one car, burial plot, up to $1500 for burial insurance if you have that money set aside, furniture, and other household or personal items.
| Medicare Savings Program | Individual Monthly Income Limits | Household Monthly Income Limits |
| --- | --- | --- |
| QMB | $7,970 | $11,960 |
| SLMB | $7,970 | $11,960 |
| QI | $7,970 | $11,960 |
| QDWI | $4,000 | $6,000 |
How to Get Additional Medicare Coverage with Your Medicare Savings Program
Medicare Advantage plans have $0 premiums in many areas. Adding an MA plan to your current MSP and Medicare can give additional benefits that Medicare doesn't cover. Depending on your level of subsidy, they could lower what you pay when you use health care services and procedures.
Qualifying for Extra Help or an MSP can save money on out-of-pocket Medicare costs.
How to Apply for a Medicare Savings Program
You can visit SSA.gov or call your local Medicaid office to determine if you qualify. Medicare can answer questions about financial assistance with your Medicare premiums. Medicare can give you the phone number of your local Social Security office and help determine if you may qualify for help.
Program limits are subject to increase each year. Just because you didn't qualify this year doesn't mean it isn't worth checking out next year. You'll need the documentation when you apply for an MSP. The documents required vary depending on the state you reside. You'll want to include recent bank statements to apply for the program.
Medicare Savings Programs FAQs
What does FBDE Medicaid cover?
FBDE means full benefit dual eligible. This indicates that a Medicare beneficiary also has full Medicaid as well. These beneficiaries will have their Medicare costs paid for in full. They may have their Part D drug plan premiums and deductibles reduced to zero and have little to no copay when picking up their prescription drugs due to qualifying for full Extra Help.
Is a Medicare Savings Program the same as Medicaid?
No. While those who qualify for Medicaid typically qualify for a Medicare Savings Program, you can qualify for an MSP and not be on Medicaid.
Will FBDE cover the Medicare Part B premium?
Yes! If you qualify for FBDE, the state will pay Medicare Part B premiums.
Have Additional Questions or Need Help?
That's why we're here to help. Please fill out our online request form or give us a call. Our licensed agents would love to get you assistance and coverage to fit your needs, and we can educate and guide you through the enrollment process while making it simple and easy to understand.
Related Content