Medicare Supplement High Deductible Plan F is a version of the standard Plan F. The High Deductible Plan F is a popular option for healthy beneficiaries that watch how they spend their money.
These high deductible health care plans are popular because of low premiums and an affordable cap on the maximum you can spend. More and more Medicare beneficiaries are leaning toward the High Deductible Plan F if they're eligible.
Medicare Supplement High Deductible Plan F coverage
This plan covers all the same benefits as the standard Plan F. Before the plan covers your costs, you must pay the annual plan deductible.
Plan F covers all your portion of Medicare costs. The Medicare Supplement High Deducible Plan F does the same once you reach the plan deductible. Covered Medicare benefits include:
The Reoccuring Medicare Part A Deductible
The Annual Medicare Part B Deductible
Skilled Nursing Facility Care Copayments and Coinsurance
Medicare Part B Coinsurance for Outpatient Services
Foreign Travel Emergency Coverage
Hospice Care Copayments and Coinsurance
Inpatient Hospital Stays, Copayments, and Coinsurance
Part B Excess Charges
Medicare Basic Benefits
Medicare-approved Preventive Care
Remember, the plan's annual deductible amount must be met for the high-deductible version of Medigap Plan F before the Medicare program covers items at 100%.
Consider it this way. This plan will work like Original Medicare until you meet the plan's deductible.
Once you meet your deductible, your coverage kicks in 100%. High Deductible Plan F will pick up your portion of Medicare cost-sharing for the rest of the year.
Any costs out of your pocket for Parts A and B services get counted towards the deductible. These services include Medicare Part A and B deductibles, co-pays, or coinsurance. These will also include excess charges.
Medicare Supplement High Deductible Plan F chart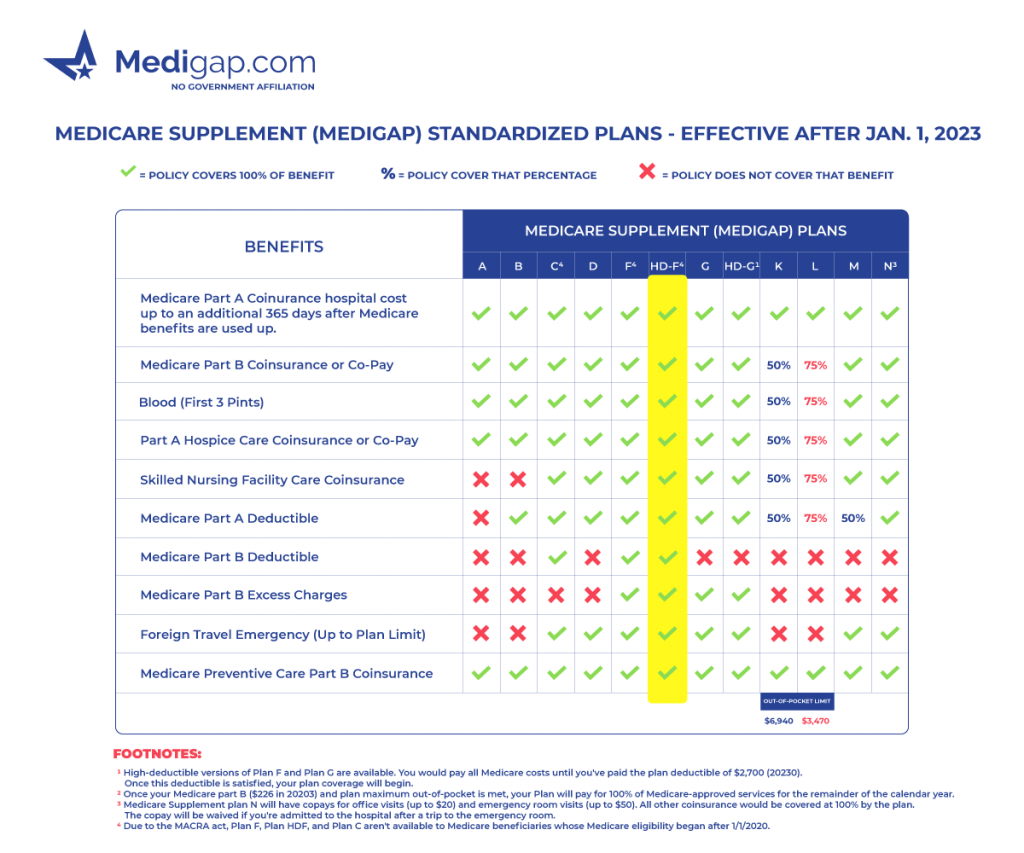 Medicare Supplement High Deductible Plan F costs
This Medicare Supplement Insurance costs between $30 to $90 a month. The actual premium will vary based on your age and the resident state.
High Deductible Plan F and the High Deductible Plan G differences
HDF and HDG are essentially the same plans. Both have the same deductible. Once reached, all out-of-pocket costs for Part A or B services are covered.
The only difference is HDF is a version of Plan F. It has the same benefits once the deductible phase is complete.
HDG is a version of Plan G. It does not cover the Part B deductible. But that cost does go towards the plan deductible. Both plans will work the same way.
So, is one better than the other?
Not really! If both are an option and one has a lower premium, enroll in the one with the best price since the coverage is the same.
Who's eligible?
Remember, the High Deductible F is not an option for new-to-Medicare beneficiaries. It might or might not be an option for you. Your eligibility date for Medicare will determine if you can enroll in the HDF.
This plan is perfect for those who
Enjoy taking advantage of the ability to see any medical professional they would like nationwide.
Healthy and don't see the doctor often
Have a nest egg to cover the deductible
They don't see the value of paying more for their insurance premiums. Just in case they may need it.
Like enjoying fewer restrictions that come along with the Original Medicare health plan
Guaranteed Issue Rights with High Deductible Plan F
Medicare only allows some plans to enroll using a guaranteed issue right. The plan options available to you're determined solely by your eligibility date for Original Medicare.
If you were eligible to begin Medicare before 2020, you could use your guaranteed issue rights to enroll in Plan HDF.
Medicare Supplement Plan High Deductible F reviews
Medigap Plan High Deductible F is a popular option for Medicare beneficiaries who want a low monthly premium, are healthy, and can pay a higher deductible if they need Medical care. These plans have very low rate increases. Once the deductible is met, the remaining Medicare costs are covered at 100%
Plan HDF was discontinued for new Medicare beneficiaries in 2020.
FAQs
When's the best time to enroll in a Medicare Supplement HDF plan?
The Medicare Supplement Open Enrollment Period is the best time to enroll in a Medigap policy. The reason it's considered the best is because of no medical underwriting, which means guaranteed acceptance and fewer factors that could negatively impact the monthly premium.
What does High Deductible Plan F mean?
The term high deductible Plan F means the coverage is the same as the regular Plan F. The difference is that the beneficiary must pay a calendar year deductible of $2,700 before the Medigap plan covers the remaining out-of-pocket expenses.
Does Medicare Supplement Plan F have a deductible?
No! The regular Medicare Supplement plan F doesn't have a deductible. It's a first-dollar plan that covers all medical expenses for Medicare benefits.
What are the eligibility requirements for high-deductible Plan F?
The eligibility requirements for the high-deductible options are the same as any other Medicare Supplement plan. You must be on Original Medicare and live in the plans service area.
How Much is the Plan HDF Deductible?
The plan deductible is $2,700. Most beneficiaries don't meet the deductible yearly.
That's why the premiums are very stable and have some of the lowest rate increases of any plan available.
Be mindful of your health and situation. Go to the doctor often or have chronic medical issues. One of the standard plans may be a more suitable decision for your situation.
Does Medicare Supplement HDF cover prescription drugs?
There isn't a Medicare Supplement available that covers prescription drugs. Beneficiaries can add a Medicare Part D prescription drug plan to receive this coverage.
How to compare rates for Medicare Supplement High Deductible Plan F
We help guide you through the process every step of the way. Additional questions will always come up. We're here to help.
We can review both Medicare Advantage plans and Medicare Supplement insurance plans with you. Once we review the health insurance options, we can answer questions and help guide you through enrollment.
We give you a quick and easy analysis to help you choose if this is the right plan for you! Comparing rates is simple. Give one of our licensed agents a call, or fill out the online request form.