Georgia is known for its beautiful weather and friendly people. But what many residents might not know about the state are all of its benefits when it comes to Georgia Medicare Supplement plans!
Ten choices with high-quality options mean you'll be covered no matter where your home is located, making this an opportunity worth taking advantage of before disaster strikes.
Medicare Supplement plans can provide you with additional protection and benefits. The main advantage is that they go hand in hand with Original Medicare. These Medicare Supplement plans give you all the pros of Original Medicare without the high risk of unlimited out-of-pocket costs!
Georgia Medicare Supplement Plans
| | | | | | | | | | | |
| --- | --- | --- | --- | --- | --- | --- | --- | --- | --- | --- |
| Plan | A | B | C | D | F | G | K | L | M | N |
| Enrollees | 2,010 | 2,436 | 12,414 | 1,809 | 199,510 | 90,411 | 2,015 | 890 | 10 | 38,850 |
Medicare Supplement plans are a great way to protect yourself from high medical costs. Some people might enroll in Medigap options simply because they want comprehensive health insurance. In contrast, others may need it due to age or physical vulnerability that makes them more prone to health conditions such as diabetes and heart disease, which can arise without warning at any moment!
There are 369,924 Georgians enrolled in Medicare Supplements. That's 31.7% of Georgia's Medicare beneficiaries who have Medigap plans, but this number could grow rapidly with the ever-rising population.
The good news is that you can find the perfect Medicare plan for your needs without worrying about all these different state options. The government has established a standardization for Medicare Supplements to be easy!
There are only three exceptions, Massachusetts, Wisconsin, and Minnesota, which have unique plan options that follow national guidelines, such as the fact that you can see any doctor nationwide that accepts Medicare.
Most common Medigap plans in Georgia
Medicare Supplement plans are well-known in Georgia, with the most popular options being Plans F, G, and N.
However, individuals joining Medicare after 2020 must utilize an alternative to Plan F, such as Plan G or Plan N, since they are only available to those who qualify for Medicare before then. As a result, these aren't an option for Georgians that are new to Medicare benefits.
With the removal of Plan F and Plan C, new Medicare enrollees will gravitate to Plan G or Plan N. These changes took effect in 2020 when Medicare discontinued Plans F and C for people new to Medicare. Thus, Plan G and N expect to see increased enrollments going forward.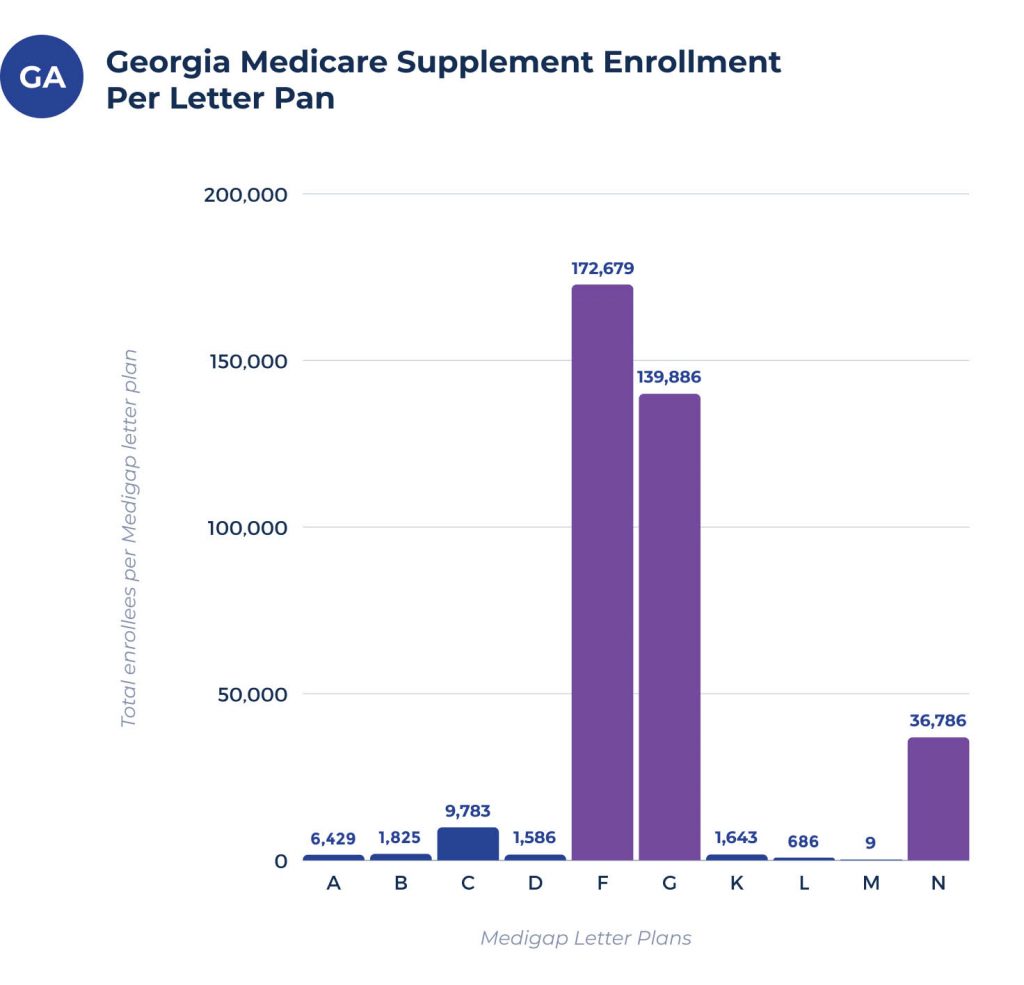 Medigap Plan Coverage Chart for Georgia
Medicare Supplement plan cost in Georgia
The differences in premiums for Medicare Supplement plans can vary from one part of Georgia to another, even if the coverage offers identical benefits.
For example, a 65-year-old male that smokes may have a different monthly price than somebody in that same situation living elsewhere in Georgia.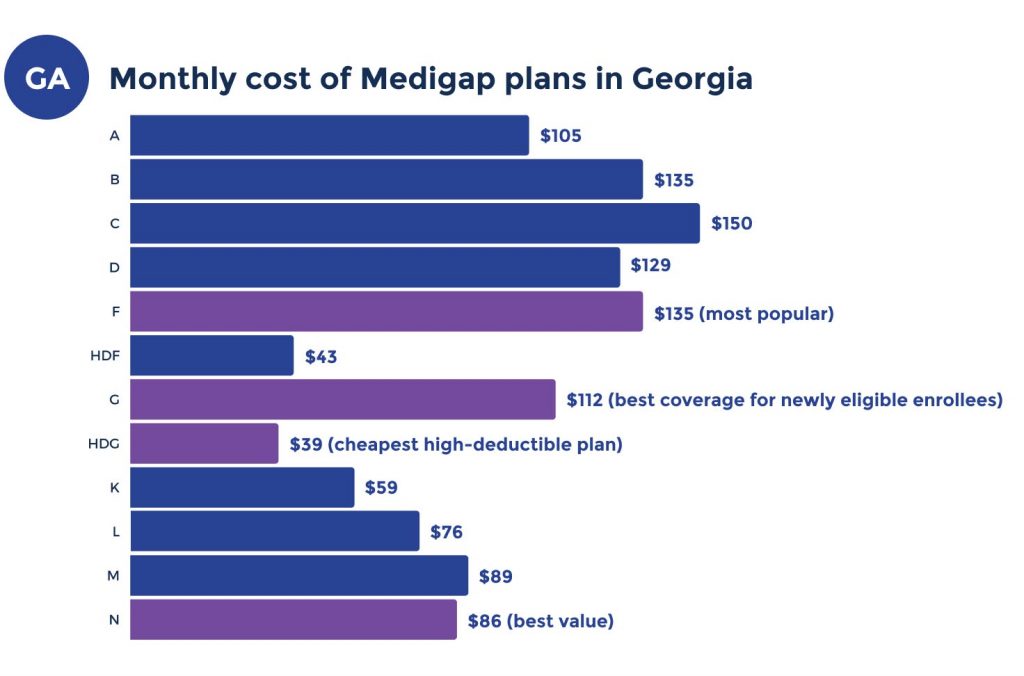 How much does Medigap plan cost in Georgia?
Lowest premium per Medigap letter plan in Georgia
Medicare Supplement plans are a great way to protect yourself from high out-of-pocket costs. For example, in Atlanta, Georgia, the following is an estimate of the lowest price for a man who is a 65-year-old non-smoking male for each Medicare Supplement plan.
| | | | | | | | | | | |
| --- | --- | --- | --- | --- | --- | --- | --- | --- | --- | --- |
| Plan | A | B | C | D | F | G | K | L | M | N |
| Premium | $120 | $156 | $216 | $309 | $159 | $131 | $67 | $125 | $101 | $102 |
We have access to all Medicare Supplement insurance plans for Georgia residents. We aim to get you covered as quickly and efficiently as possible so that no hassle or stress is involved with choosing a plan or changing providers! Most Georgians on Medicare select one of the three top options: Plan F, Plan G, or Plan N.
Top Medicare Supplement plan carriers in Georgia
Choosing the right Medicare Supplement insurance might be challenging. We'll compare the top carriers below to help you determine which Medicare Supplement policy is best for you. The cost is determined using criteria identical to our previous comparison tables, ensuring your healthcare requirements meet a realistic budget!
Which Medicare Supplement in Georgia is right for me?
Depending on your specific demands, Medicare insurance is available in many varieties. Some people like plans with higher premiums that cover more thoroughly, while others prefer a less expensive option with lower monthly payments but decent coverage if something significant occurs.
Plans F and G have high deductible variations called HDF and HDG. These Medicare Supplement policies are forms of Medigap insurance that offer comprehensive protection at a lower cost than traditional plans.
When considering Medicare Supplement plans, explore whether Plan F, G, or N fits your needs better. If you're already on Plan F and want to save money on your premiums, look at Plans G, and N. Remember that not everyone will require all the coverage benefits available!
Georgia cities with Medicare Supplement coverage estimated premiums
You can find charts with estimated premiums for Medicare Supplement coverage for the below cities:
FAQs
How much do Medigap plans in Georgia cost?
Medigap Plans in Georgia are different for each plan letter. Other factors like age and location can also affect the premium. The average Medicare Supplement plan in Georgia is between $125 and $185
The average cost for the most popular plans is:
What's the most popular Medigap plan in Georgia?
The most popular plan in Georgia remains Plan F. Since Plan F is discontinued for new Medicare beneficiaries, expect Plan G to become a beneficiary favorite quickly.
Do Georgia Medicare Supplement Plans increase annually?
You'll likely see an annual increase on your Medicare Supplement Plan.
How often should I review my Medigap Supplement in Georgia?
You'll typically want to check your Medigap alternatives every 5 to 7 years, but you should review rates if your premium rise has been greater than anticipated. You'll generally have to undergo a series of medical underwriting questions to switch Medicare Supplement plans.
How to get help with Georgia Medicare Supplement plans
Medicare can be a mysterious and complicated journey. But you no longer have to worry about it because we're here to help!
Our trained and licensed insurance agents are knowledgeable in all aspects of Medicare, from selecting the best insurance for your needs to assisting you through the enrollment procedure. We work with many carriers, so you don't have to guess which is best for you.
So give us a call today. Or fill out our online rate form to receive the best rates in your area.