Many residents choose Hawaii Medicare Supplement or Medigap plans because Original Medicare doesn't cover all Part A and B expenses. These plans cover gaps in Original Medicare to help you save. The government standardizes these plans for each state, so you'll get the same benefits no matter your carrier.
Below are details on current Medicare Supplement plans available in Hawaii.
Hawaii Medicare Supplement enrollment per letter plan
Beneficiaries can significantly reduce their medical expenses by enrolling in a Hawaii Medicare Supplement plan. There are 11,299 enrollees with Medigap as of 2018. Of this number, 7.3% of Hawaii Medigap beneficiaries also have a Fee-for-Service plan.
| | | | | | | | | | | |
| --- | --- | --- | --- | --- | --- | --- | --- | --- | --- | --- |
| PLAN | A | B | C | D | F | G | K | L | M | N |
| | 113 | 56 | 304 | 26 | 7,625 | 568 | 403 | 70 | 0 | 1,534 |
What are the most popular Medigap plans in Hawaii?
Hawaii has the lowest number of Medigap participants nationwide, excluding Washington, DC. The most in-demand Medigap plan in Hawaii and many other states is Medigap Plan F. This is the top plan offering full-coverage benefits, with 7,625 beneficiaries.
Medigap Plan N has 1,534 enrollees. This figure is the second-highest amount, indicating that the plan's offerings are satisfactory for beneficiaries.
A third plan, Medigap Plan G, has 568 enrollees. This plan is popular for its nearly full benefits, as the only thing it doesn't cover is the Part B deductible.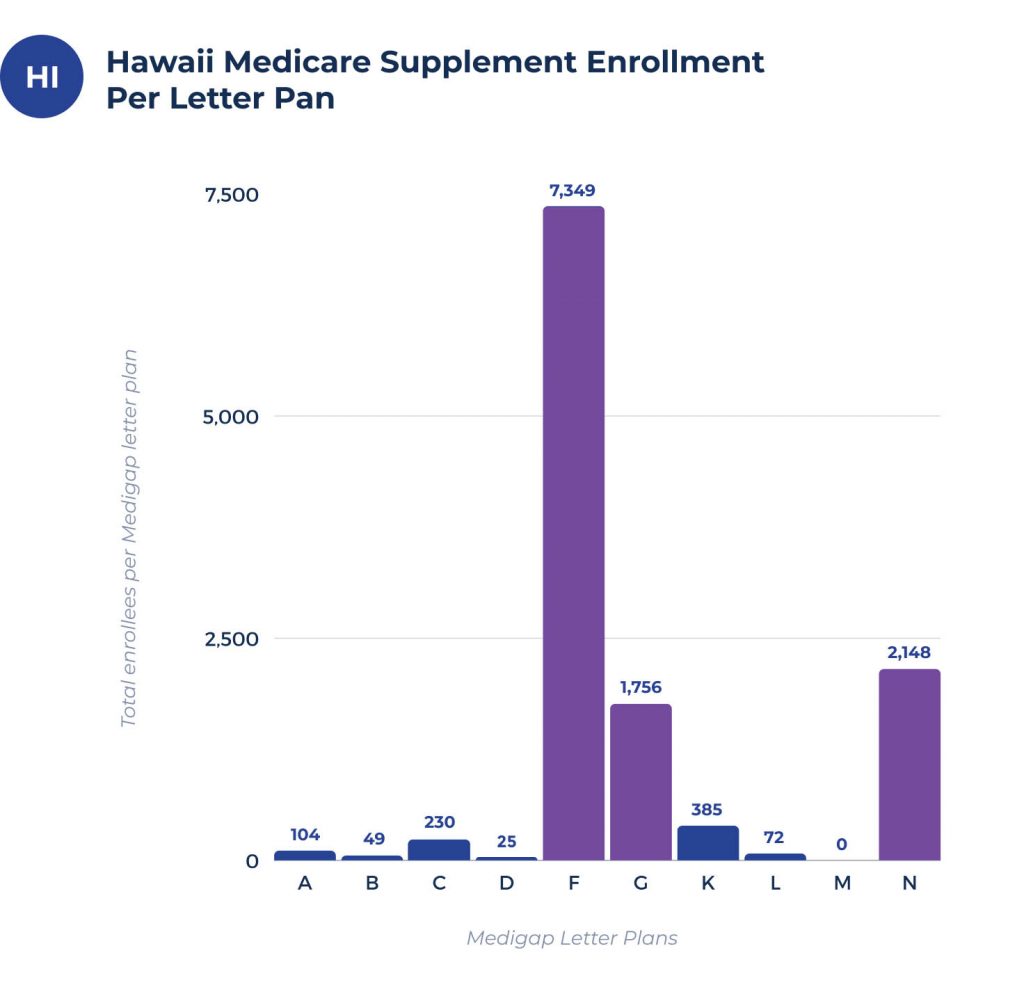 Medigap plan coverage chart for Hawaii
The chart below lists coverage benefits for Medigap plans in Hawaii. Medicare Supplement plan benefits remain the same across all states except Minnesota, Wisconsin, and Massachusetts. Otherwise, you get the same benefits in Hawaii as in Alaska.
Medicare Supplement plans costs in Hawaii
Many variables will impact your Medigap premium. Your age, your gender, your location, whether you use tobacco products, whether you've had any coverage rate increases in the past, and other considerations help your carrier determine how much you'll pay.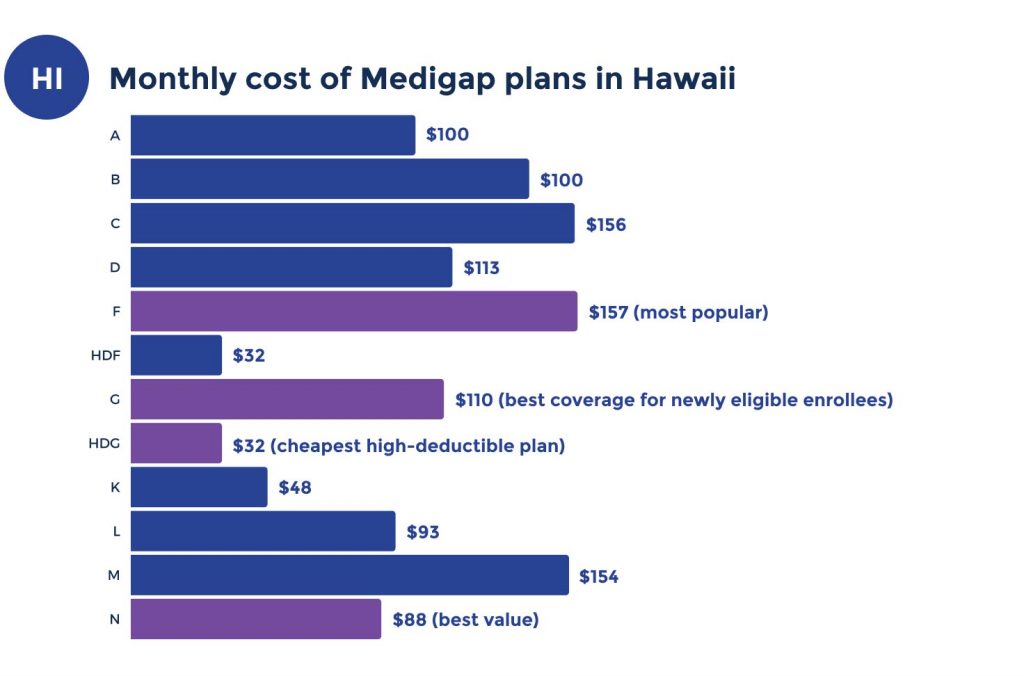 How much does Medigap cost in Hawaii?
Cheapest premium per Medigap letter plan in Hawaii
There are many affordable Medigap premiums for each letter plan. The following chart displays the most affordable premiums a female aged 65 in Hawaii could pay.
| | | | | | | | | | | |
| --- | --- | --- | --- | --- | --- | --- | --- | --- | --- | --- |
| PLAN | A | B | C | D | F | G | K | L | M | N |
| Premium | $87 | $115 | $136 | $112 | $137 | $109 | $44 | $76 | $94 | $87 |
Most expensive premium per Medigap letter plan in Hawaii
Your Hawaii Medicare Supplement may increase with gender or age. The following figures represent the highest potential costs you could pay for a Medigap plan in Hawaii. These rates indicate how much Hawaiians pay if they're 70.
| | | | | | | | | | | |
| --- | --- | --- | --- | --- | --- | --- | --- | --- | --- | --- |
| PLAN | A | B | C | D | F | G | K | L | M | N |
| Premium | $353 | $329 | $389 | $338 | $463 | $368 | $113 | $225 | $261 | $212 |
Hawaiian cities with estimated premiums for Medicare Supplement coverage
The cities in Hawaii listed below each have helpful Medigap coverage charts with estimated premiums. These charts exist, so you have an idea of what to expect to pay roughly:
FAQs
How much does Medigap cost in Hawaii?
The Medigap plans' costs in Hawaii will range between $87 and $180 monthly. Prices may differ depending on the insurer and the rating of the premium, as well as other factors such as age and location.
Is Medigap better than Medicare Advantage plans in Hawaii?
Depending on your needs, a Hawaii Medicare Supplement plan may be better than Medicare Advantage. Medicare Advantage saves you more on Original Medicare and often provides additional benefits like prescription drug coverage.
Medigap coverage covers Original Medicare's gaps, so you don't have to pay. It's a worthwhile option for Hawaiians who don't need extra dental, vision, or hearing exam coverage.
Can Medigap premiums be deducted from Social Security in Hawaii?
Social Security can't deduct Medigap premiums from Social Security in Hawaii. Instead, beneficiaries pay the monthly premium to their carrier directly.
Social Security does deduct the Medicare Part B premium for patients with Medicare Advantage and Original Medicare's fee-for-service plan. They can also deduct this premium for beneficiaries possessing a Medigap plan.
How is Medigap paid for in Hawaii?
Paying for Medigap in Hawaii is easy. Instead of deducting your monthly premium from your Social Security balance, you pay your bill online directly to the carrier.
In exchange, you get supplemental financial assistance to cover costs that Original Medicare doesn't. If you need additional services, you must purchase standalone plans.
Who pays for Medigap in Hawaii?
Private carriers pay for enrollees' medical expenses from various medical services that Original Medicare Part A and Part B don't cover. Medigap plans are individual to each enrollee, so spouses pay for separate plans.
Plan beneficiaries pay for their Hawaii Medicare Supplement plan with monthly payments. You'll also pay a premium for Medicare Part B.
Do Medicare Supplement plans cover drugs in Hawaii?
Medigap plans don't cover drugs in Hawaii or any other state. Instead, it would be best if you enrolled in a Medicare Part D plan to get drug coverage or have a Medicare Advantage plan that pays for prescription medication.
It's especially beneficial to get a Medicare Part D plan. Without one, you risk being charged a late enrollment fee for every month you didn't have prescription drug coverage or an approved alternative.
How to sign up for a Medicare Supplement/Medigap plan in Hawaii
Before enrolling, don't forget to consider your options. Whether you want a low premium or a full-coverage plan, the right Medigap letter plan is waiting.
Visit Medigap.com to learn more about the available Medigap plans in Hawaii. We have the most recent information regarding Medigap plans in your area. Our team works with the area's top carriers and plans. No matter your requirements, we'll help you find a suitable plan.
Our experts understand how overwhelming selecting a Medigap plan can be. If you're unsure of plan inclusions, we'll explain the benefits. Our services are completely free.
Whether you need help selecting a Medigap plan or don't know how to sign up, the team at Medigap.com is ready to assist. Contact us today or fill out our rate request form online and receive quotes.