Medicare enrollment can be confusing if you're new to the process. But we can help. If you're not sure which enrollment period is suitable for you, we've summarized them below so that you know where to get started. And you can click the links to learn more about each specific enrollment period to get the most out of your particular Medicare plan.
Medicare Enrollment Periods: Key Takeaways
There are many different types of Medicare enrollment periods that beneficiaries may be eligible for depending on their needs and circumstances
You may face late enrollment fees if you fail to enroll on time
Some enrollment periods happen at specific times of the year, while others depend on your particular circumstances or may happen spontaneously if you experience a life-changing event
Medicare Enrollment Period (Or, Rather, Periods)
There are several different Enrollment Periods when it comes to Medicare. Those include:
For clarification, "enrollment" and "election" are used interchangeably. You're not voting for anything; you're "electing" to enroll in specific forms of coverage.
Some of these periods will occur only once in your lifetime – and if you miss them, you could be in trouble. Other periods happen annually, so if you aren't happy with your coverage, you won't have to wait too long to change it.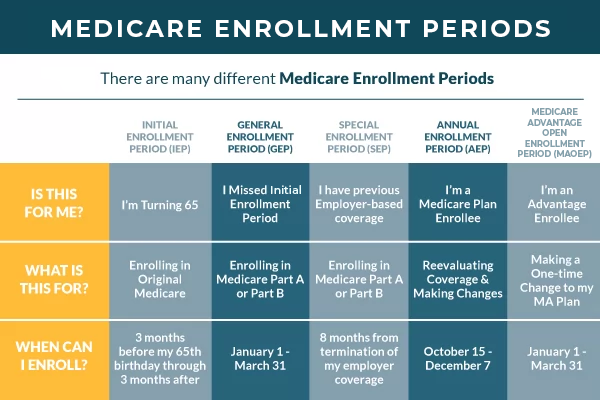 Medicare Initial Enrollment Period (IEP)
The Initial Enrollment Period only happens once. It starts at the beginning of the month three months before your birthday and lasts for seven months (ending on the last day of the month three months after your birthday). So if your birthday is in June, your IEP starts April 1 and ends September 30 during the year when you turn 65.
You may be automatically enrolled during this enrollment period if you currently receive SSI benefits. Call your local Centers for Medicare & Medicaid Services office if you think you're eligible for automatic enrollment but don't receive your Medicare card and information packet in the mail within the first few months.
Medicare Annual Election Period (AEP)
The Annual Election Period happens at the same time annually and is available to every beneficiary who needs it. It starts on October 15 and ends on December 7.
During this time, you have the option to:
Switch from Medicare Advantage back to Original Medicare (and vice-versa)
Change to a new Medicare Advantage plan
Change your prescription drug plan, drop it, or enroll in Medicare Part D
If you fail to meet the December 7 deadline, you'll have to wait until the next AEP to change your Medicare coverage. The only exception is if your circumstances change and you qualify for a Special Election Period.
Medicare Advantage Open Enrollment Period (MAOEP)
Most beneficiaries who want to either change from one Medicare Advantage plan to another or switch back to Original Medicare can do so between January 1 and March 31 each year during the Medicare Advantage Open Enrollment Period.
But once you make that change, you can't change again until the next AEP or until you qualify for a SEP, whichever comes first. This period used to be known as the "Medicare Advantage Disenrollment Period," but the name changed back in 2019.
Medicare General Enrollment Period (GEP)
The General Enrollment Period is pretty straightforward. It's your yearly opportunity to enroll in Parts A and B of Medicare. Suppose you're already enrolled in Part A and wish to add Part B. In that case, you need proper documentation proving that you didn't need to enroll during your IEP or a qualifying SEP because you already had qualifying coverage.
If not, you'll have to pay a late enrollment penalty. The GEP starts on January 1 and ends on March 31. If you enroll in Part B, take advantage of the period between April 1 and June 30 to enroll in a prescription drug plan.
Medicare Supplement Open Enrollment (MSOEP)
Your Medicare Supplement Open Enrollment Period is another enrollment period that's a bit complicated. Your MSOEP begins the first of the month your Medicare Part B becomes effective.
For someone whose birthday falls on February 15 and whose Part B benefits go live on March 1, you will be able to enroll in a Medicare Supplement (Medigap) plan starting in March.
Enrolling during this period is vital because you will automatically qualify for a guaranteed issue right. Having a guarantee issue right means you will be accepted into the plan of your choice regardless of your current health status. If you wait too long and your MSOEP expires, you may have to pay more or be rejected for coverage altogether.
Medicare Special Election Periods (SEP)
Special Enrollment Periods are a little hard to describe. They can happen anytime during the year if your life circumstances change and you suddenly lose or need to change your healthcare coverage.
Here are a few examples of when you may be eligible for a SEP:
If you currently have coverage and want to switch to Medicare, you can qualify for a SEP. Regardless of the circumstances, you will have 60 days to make the changes you need to make. If you feel like you'll need more time, be sure to contact your local Centers for Medicare & Medicaid Services office right away.
Medicare Advantage Initial Coverage Election Period (MAICEP)
If you want a Medicare Advantage plan, you must sign up for Original Medicare. Once settled in, you'll find yourself in a Medicare Advantage Initial Coverage Election Period.
If you plan on enrolling in Medicare immediately, this period is the same as your IEP. You won't need to enroll in Part D because you'll be enrolling in prescription drug coverage as a part of your Medicare Advantage plan.
If you enroll in Part B after your IEP, your MAICEP will be three months before your Part B effective date. If you can't find a Medicare Advantage plan in time, you'll likely have to settle for Original Medicare until another enrollment period opens up.
What are the three enrollment periods for Medicare?
Suppose you're explicitly referring to Part A & Part B. In that case, the three enrollment periods are your Initial Enrollment Period, the General Enrollment Period, and a Special Enrollment Period if you had a change in circumstance.
Can you enroll in Medicare anytime?
No, there are specific enrollment periods for the different parts of Medicare. However, when it comes to Medicare Supplement plans, you can enroll at any time of the year as long as you're enrolled in Part B.
Do I have to enroll in Medicare every year?
No, you don't have to enroll in Medicare every year. However, you want to compare plans annually during the Annual Enrollment Period to ensure you have the best coverage in your area for the upcoming year.
What happens if you don't enroll in Medicare at 65?
If you don't enroll in Medicare at 65 and don't have another form of creditable coverage, you'll be penalized for not enrolling when you were first eligible. You'll be penalized 10% of the standard Part B premium every 12 months you go without coverage. You'll also be penalized 1% of the standard Part D premium per month you delayed coverage. The Centers for Medicare & Medicaid Services will add these penalties to your monthly premiums for the rest of your life.
How to Get Help Understanding Your Medicare Enrollment Periods
If you're unsure what Medicare enrollment periods you're eligible for or currently in, give us a call. Our agents are here to help you navigate the complexities of Medicare. You can also complete our rate form to get rates in your area.