Montana Medicare Supplement plans, also known as Medigap, help pay for medical costs not covered by Original Medicare. These plans work alongside Medicare to cover gaps or leftover out-of-pocket expenses.
All Medicare Supplement plans have federal government standardization, so the insurance carrier benefits remain the same across all states.
Montana Medicare Supplement enrollment chart per letter plan
In Montana, 84,674 residents have enrolled in Medigap plans. A total of 43% of those enrolled in Fee-for-Service Medicare purchased Medigap coverage. Medigap policies include 10-letter plans from A to N.
| | | | | | | | | | | |
| --- | --- | --- | --- | --- | --- | --- | --- | --- | --- | --- |
| PLAN | A | B | C | D | F | G | K | L | M | N |
| | 551 | 289 | 3,513 | 308 | 53,974 | 16,563 | 550 | 237 | 5 | 5,692 |
What are the most common Medigap plans in Montana?
Typically, Medicare covers the approved costs for your health care. Then, your Medigap plan pays for the remaining share. Those with Medigap insurance can visit any Medicare-approved doctor or hospital.
Medigap Plan F has 53,974 enrollees, making it the most popular plan in Montana. Plan F provides a broad range of coverage with an all-in-one care plan. However, Plan F has started to phase out, and those not eligible for Medicare before January 1, 2020, cannot enroll.
Medigap Plan N has 5,692 enrollees. Plan N provides coverage for hospice care and skilled nursing facilities and pays for 100% of Medicare Part B coinsurance except for small copayments required for doctor visits and emergency care.
Lastly, Medigap Plan C has about 3,513 enrollees. Plan C pays for Medicare Part A and Part B deductibles. It also provides coverage for foreign travel emergency care.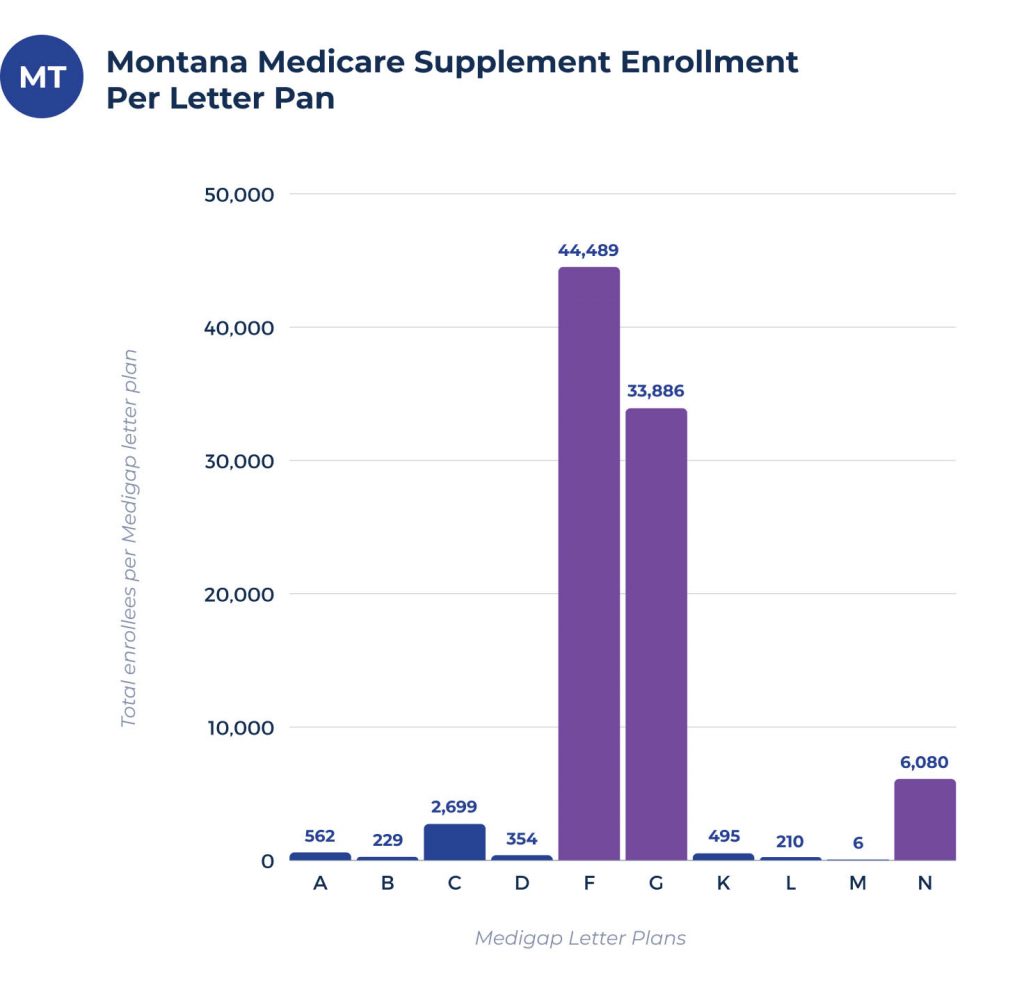 Medigap plan coverage chart for Montana
Medigap can help pay for additional expenses not covered by Medicare Part A and B. Medicare Supplement policies offered by insurance companies come with standardized benefits. The benefits listed in the chart below remain the same from state to state.
Medicare Supplement plans costs in Montana
Several factors affect Medicare Supplement plans costs in Montana. The most notable factors include location, age, gender, tobacco use, time of enrollment, etc. In addition, the time of enrollment can significantly change your rates and eligibility.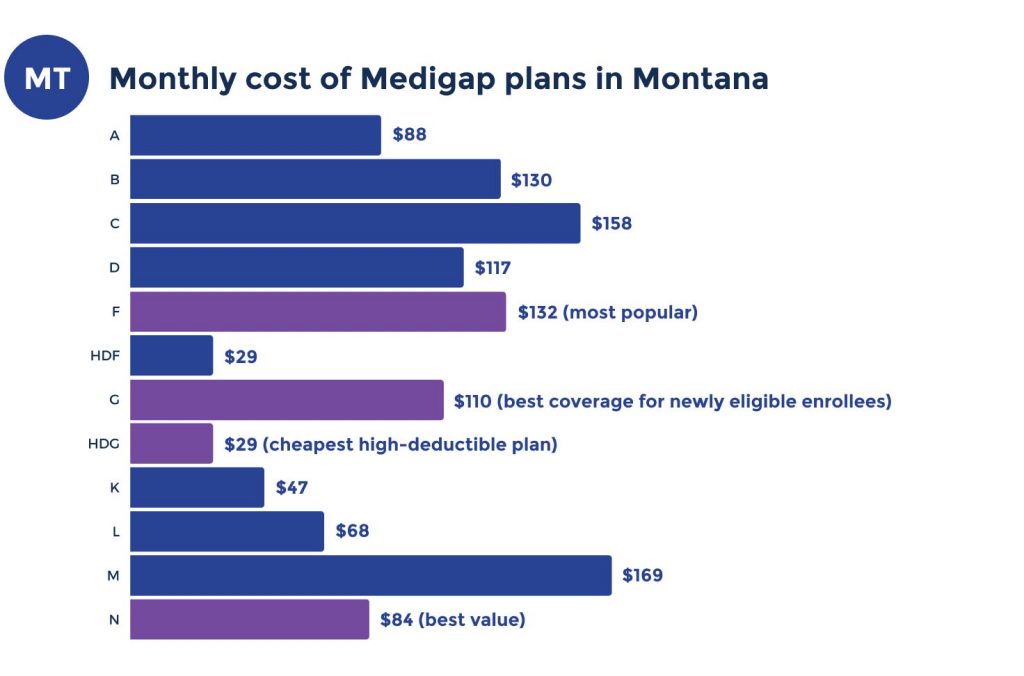 What's the average cost for a Medicare Supplement plan in Montana?
Cheapest premium per Medigap letter plan in Montana
The chart below shows the lower end of premiums for each Medigap letter plan. The quotes below use a 65-year-old female living in Montana as their basis.
| | | | | | | | | | | |
| --- | --- | --- | --- | --- | --- | --- | --- | --- | --- | --- |
| PLAN | A | B | C | D | F | G | K | L | M | N |
| Premium | $88 | $132 | $152 | $116 | $134 | $111 | $46 | $70 | $114 | $87 |
Highest premium per Medigap letter plan in Montana
The quotes below use data from a typical 70-year-old male beneficiary living in Montana. These numbers show the more expensive premiums for each type of letter plan; however, these numbers will vary with different plan enrollees.
| | | | | | | | | | | |
| --- | --- | --- | --- | --- | --- | --- | --- | --- | --- | --- |
| PLAN | A | B | C | D | F | G | K | L | M | N |
| Premium | $354 | $352 | $421 | $258 | $423 | $402 | $129 | $252 | $258 | $391 |
Top Medicare Supplement/Medigap plan carriers in Montana
The quotes below display Montana's top Medicare Supplement plan carriers based on a 65-year-old female enrollee. Plans F, G, and N are Montana's most popular Medigap plans.
Lumico has a monthly premium of $134 for Plan F, $112 for Plan G, and $88 for Plan N. The next carrier, Cigna, offers Medigap Plan F for $141 per month, Plan G for $129, and Plan N for $87. Lastly, Mountain Health has monthly premiums of $145 for Plan F, $113 for Plan G, and $92 for Plan N.
Estimated premiums for Medicare Supplement plans for Montana cities
Estimated premiums for Medicare Supplement plan letters for the cities listed below can be accessed via the accompanying charts linked below:
FAQs
What Medicare supplements are available in Montana?
Montana residents can enroll in Medicare Supplement plans A, B, C, D, F, G, K, or L. In addition, Medigap Plan D and Plan G remain open to beneficiaries eligible for Medicare on or after January 1, 2020.
Can you change your Medigap plan every year in Montana?
Medicare beneficiaries can change their Montana Medicare Supplement plan every year.
Beneficiaries can switch their Medigap plan during the six-month Open Enrollment Period without risking coverage denial for medical reasons.
However, you must undergo medical underwriting after the period ends or fall under the Medigap guaranteed issue to change plans.
What's the pricing method used in Montana?
Most Medigap insurance companies use the attained-age rating method. If you're looking for an issue age policy, explore Old Surety.
Does Medigap cover pre-existing conditions in Montana?
Yes, Medigap plans in Montana can cover pre-existing conditions. However, some Medigap policies can include a waiting period of six months before coverage begins.
You can avoid or shorten the waiting period if you enroll in a Medigap policy with guaranteed issue rights or during the Open Enrollment Period.
What is the Medigap guaranteed issue in Montana?
In Montana, Medigap protections, or guaranteed issue rights, dictate certain rules and conditions that insurance companies must follow. Usually, you get a guaranteed issue when your current health insurance changes or drops coverage.
When you have guaranteed issue rights, the insurance carrier cannot deny a Medigap policy due to pre-existing health conditions or charge you more based on your medical history.
Can you have 2 Medicare Supplement plans in Montana?
No. In Montana, you cannot legally have two Medicare Supplement plans. Insurance companies cannot sell multiple Medigap plans to a single beneficiary.
However, you can pair your Medicare Supplement plan with a stand-alone Part D plan to cover your prescription drugs.
How to sign up for Medicare Supplement/Medigap plan in Montana
Since Medigap rates vary from one insurance carrier to another, we recommend comparing all policies to find one that matches your health needs and budget. We work with all insurance carriers and can find you the right Montana Medicare Supplement plan.
Our licensed agents provide free services and resources to educate residents living in Montana on Original Medicare and Medicare Supplement plans. We can explain Medigap policy benefits, guaranteed issue rights, and enrollment procedures.
To get started today, give us a call or complete our online rate form to be connected with the best rates in Montana.