Medicare High Deductible Plan G stepped in and filled the void left by the new MACRA law that went into effect. Plan F, Plan C, and High Deductible Plan F were discontinued, and the HDG entered the spotlight.
High deductible plans have always been popular, with low premiums and a relatively low cap on out-of-pocket expenses. These low monthly premiums and out-of-pocket limits have caused more people to gravitate to them over the years.
Medicare Supplement High Deductible Plan G
This plan covers all of the same benefits as Plan G. The difference is you have an annual plan deductible that you must meet before the plan covers 100%.
Plan G covers your portion of Medicare costs after the Medicare Part B deductible is paid. The HDG does the same. Instead of the Part B annual deductible, it has a plan deductible.
Think of it like this. When on the HDG, you'll pay your Medicare cost-sharing. Once you've met the plan's deductible, your coverage plan pays 100%. The program covers your portion of Medicare cost-sharing for the remainder of the year.
All costs you pay for Medicare Part A and B cost-sharing go towards the plan deductible. These include the Part A and B deductibles, 20% coinsurance, and excess charges.
High Deductible Plan G coverage
The HDG covers the same Medicare benefits as the regular Plan G. Some of these benefits include:
Medicare Part A Deductible
Medicare Part A Coinsurance
Skilled Nursing Facility Copay
Medicare Part B Excess Charges
Medicare Part B Coinsurance
Hospice Care Coinsurance
Foreign Travel Emergency
Remember, these costs are covered after the high deductible amount has been satisfied.
Medicare Supplement HDG Chart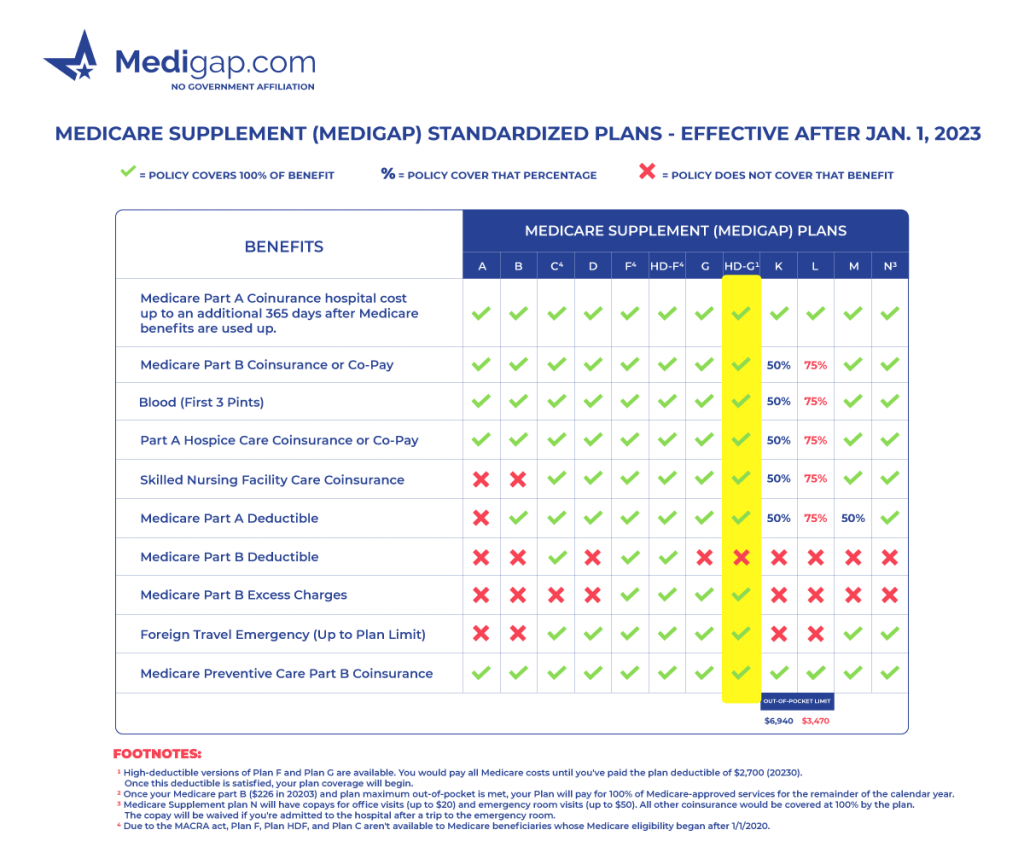 Medicare Supplement High Deductible Plan G cost
The monthly premium for an HDG Medicare Supplement Health insurance plan usually ranges between $40 to $90, depending on the state and your age.
Medicare Supplement High Deductible Plan G annual deductible
The deductible for the HDG is $2,700. Because of this deductible, many beneficiaries don't meet it annually. Because many don't reach the deductible, the premiums stay low and usually have fewer increases than other plan options.
If you have medical issues and go to the doctor often, the standard Plan G may be a better-suited option for your needs.
This plan is perfect for those who
Have a rainy day fund to cover the deductible
Don't go to the doctor often
Prefer to pay less monthly on insurance premiums
Want to stay with Original Medicare to take advantage of fewer restrictions
Want to continue to see any doctor or hospital they choose nationwide
Guaranteed Issue Rights with Medicare Supplement High Deductible Plan G
Only specific plans allow you to use guaranteed issue rights to enroll. Suppose you were eligible for Medicare before 2020 and have guaranteed issue rights. In that case, you can only use them to enroll in HDF, not HDG. And vice versa.
Medicare Supplement Plan High Deductible G reviews
Medigap Plan High Deductible G is popular among healthy individuals enrolled in Medicare. Savvy beneficiaries prefer this option with low monthly premiums and conservative rate increases. Once the deductible is met, the cost-sharing left for the beneficiaries is paid in full by the HDG.
FAQs
What is the difference between Medicare Supplement Plan G and high-deductible plan G?
The difference between the standard Plan G and the high-deductible version is the deductible. Plan G only requires you to pay the annual Part B deductible before the plan picks up all costs.
Plan HDG has a plan deductible of $2,700 that you must satisfy before covering the remaining cost.
What is the deductible for high-deductible plan G in 2023?
The deductible for HDG and HDF for 2023 is $2,700.
What is the difference between the High Deductible Plan G and the High Deductible Plan F?
The plans are the same. The only difference is that, like Plan G, it does not cover the Part B deductible. Since both programs have the same annual deductible, the Part B deductible will go towards the plan deductible anyway.
What's the better Medicare Supplement plan? HDG or HDF?
Well, does one have a lower premium? That would be better if they're essentially the same plan. Take the one with the lower premium.
Since the High Deductible Plan F isn't available for new Medicare beneficiaries, it may or may not be available to you. It depends on when you first became eligible for Medicare.
When can I enroll in an HDG Medigap plan?
Medicare supplemental insurance enrollment can occur anytime if you're healthy enough to qualify. If you have health issues, enrolling during your Open Enrollment Period or a Guaranteed Issue period is best.
What's the difference between a Medicare Supplement Insurance plan and a Medicare Advantage plan?
Medicare Supplement Insurance helps pay for the out-of-pocket costs remaining from the federal Medicare program's covered services. These Medigap policies are secondary to Medicare and provided by private insurance companies.
Medicare Advantage plans are another way to receive Medicare coverage. It can include Part D prescription drug coverage and benefits not included with Original Medicare.
How to compare rates for Medicare Supplement High Deductible Plan G
Well, that's the easy part. Simply give us a call, or fill out the online request form. We'll contact and assist you along the way with any additional questions that may come up.
In addition, we can help with a quick and easy analysis to help you decide if this is indeed the correct path for you. We're here to help with any aspect of your Medicare journey.