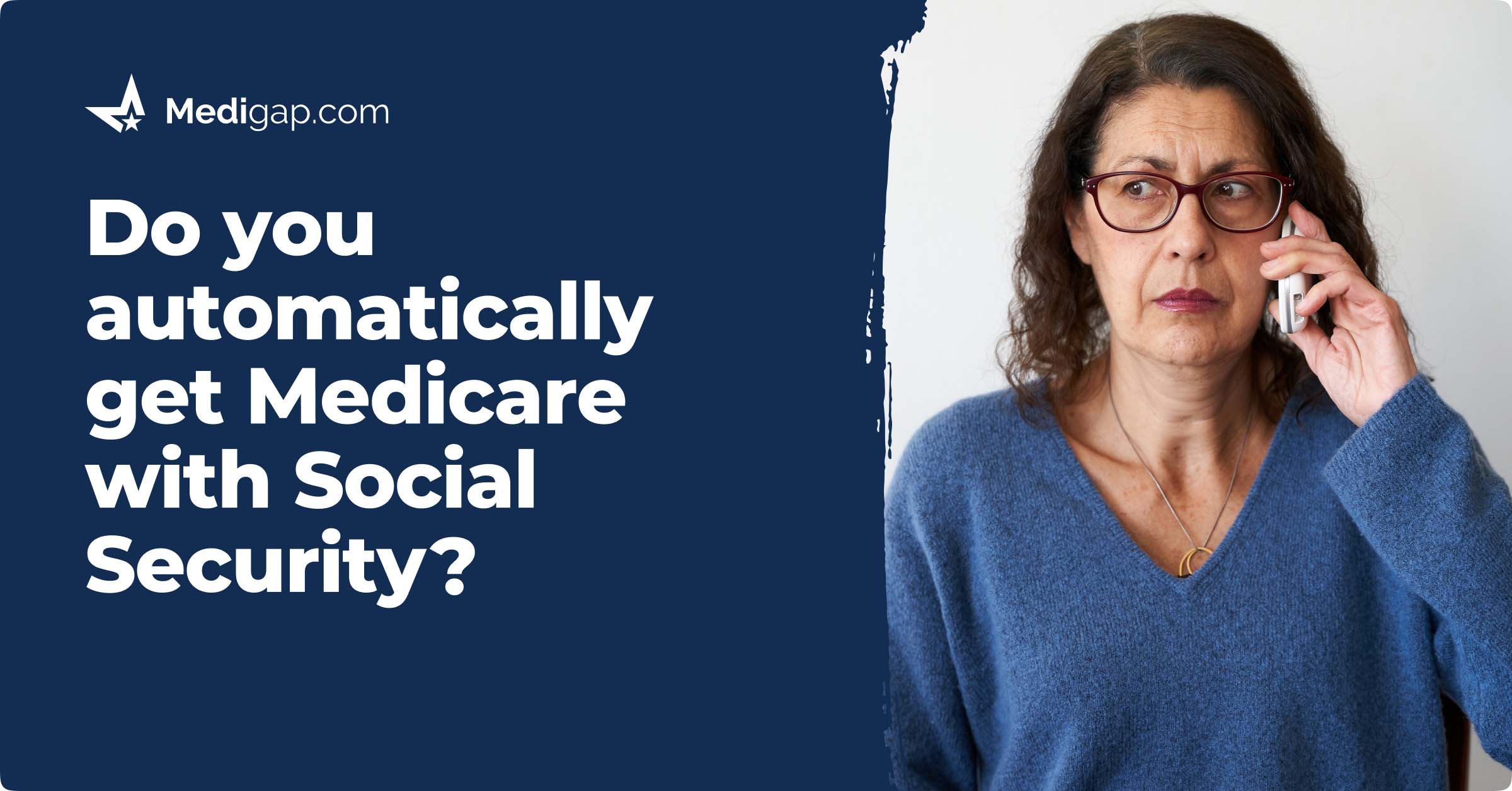 Are you a Medicare beneficiary wondering about the intricate relationship between Social Security and Medicare? We've tailored this guide to address your concerns and review the connection between these federal programs.
Learn the key distinctions between Social Security and Medicare, explore the enrollment processes, and gain valuable insights into choosing the right Medicare plan for your healthcare needs. Let's embark on this journey together to navigate the complexities of Social Security and Medicare for a secure and worry-free future.
Understanding the differences
Social Security and Medicare may seem similar, but they serve different purposes. Let's explore the key distinctions.
Social Security and Medicare are federal programs for retired and disabled Americans. Social Security primarily provides a monthly income to eligible retirees, disabled individuals, and their dependents. It functions as a financial safety net, ensuring a stable income during retirement or in case of disability.
On the other hand, Medicare is a health insurance program that offers coverage for medical expenses and healthcare services. It's designed to help individuals access necessary medical treatments and services, including hospital stays, doctor visits, and prescription drugs. While both programs are essential for the well-being of eligible individuals, understanding their differences is crucial for making informed decisions about retirement and healthcare planning.
Social Security provides a monthly income to retirees and disabled individuals.
Medicare offers health insurance coverage for medical expenses.
Both programs are funded through payroll taxes.
Enrolling in Medicare with Social Security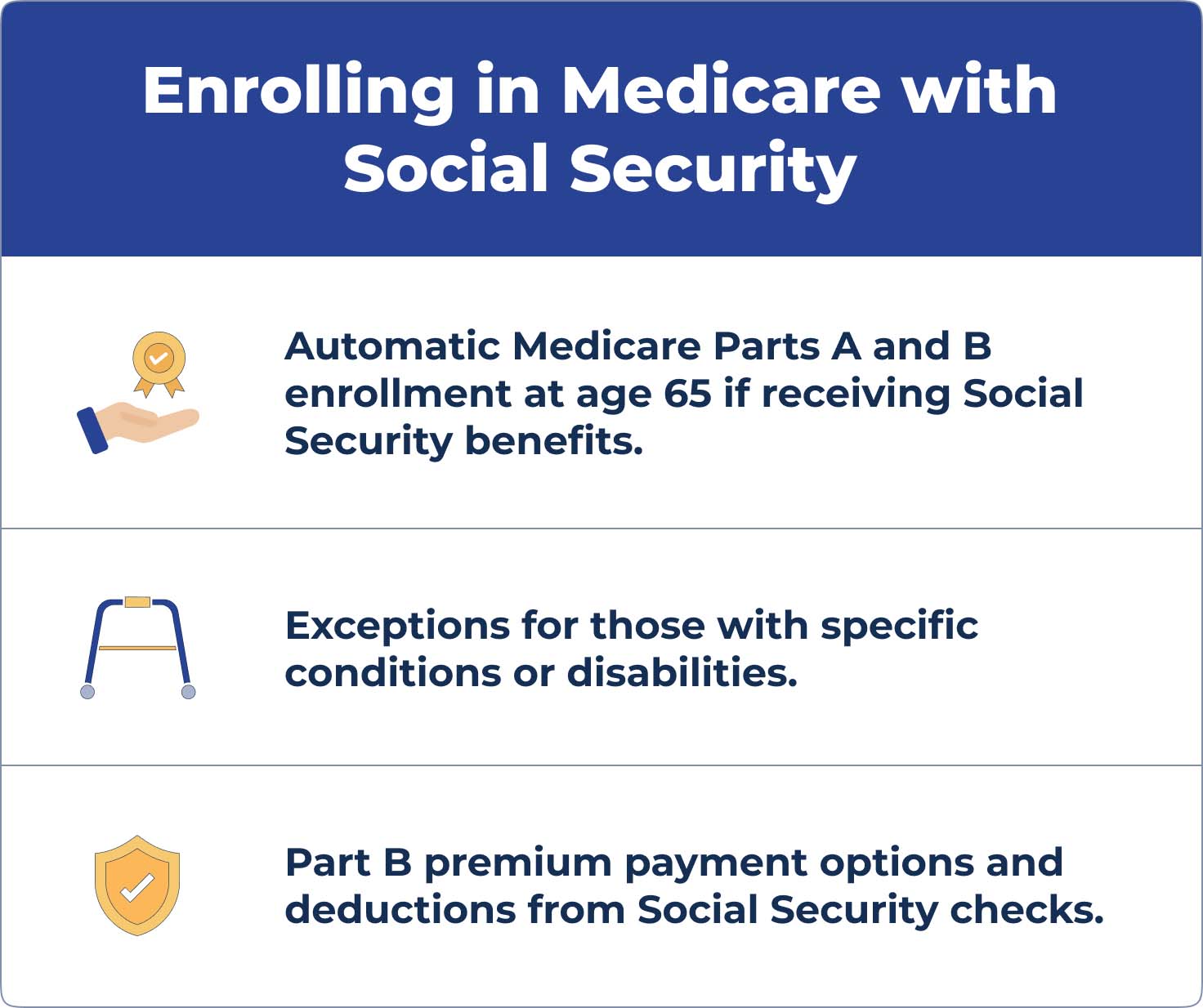 Medicare enrollment is necessary for individuals age 65 or those with qualifying disabilities. Generally, most people become eligible for Medicare when they turn 65 and are automatically enrolled in Medicare Part A and B if they already receive Social Security retirement benefits. However, manual enrollment may be required for those still waiting to receive Social Security benefits.
It's important to be aware of the Initial Enrollment Period, which begins three months before the 65th birthday and lasts three months after. Please enroll during this period to avoid late enrollment penalties and delayed coverage. Additionally, individuals under 65 who qualify for Medicare due to a disability must be mindful of the 24-month waiting period after receiving Social Security Disability Income (SSDI) before Medicare benefits become accessible.
Medicare options for non-Social Security beneficiaries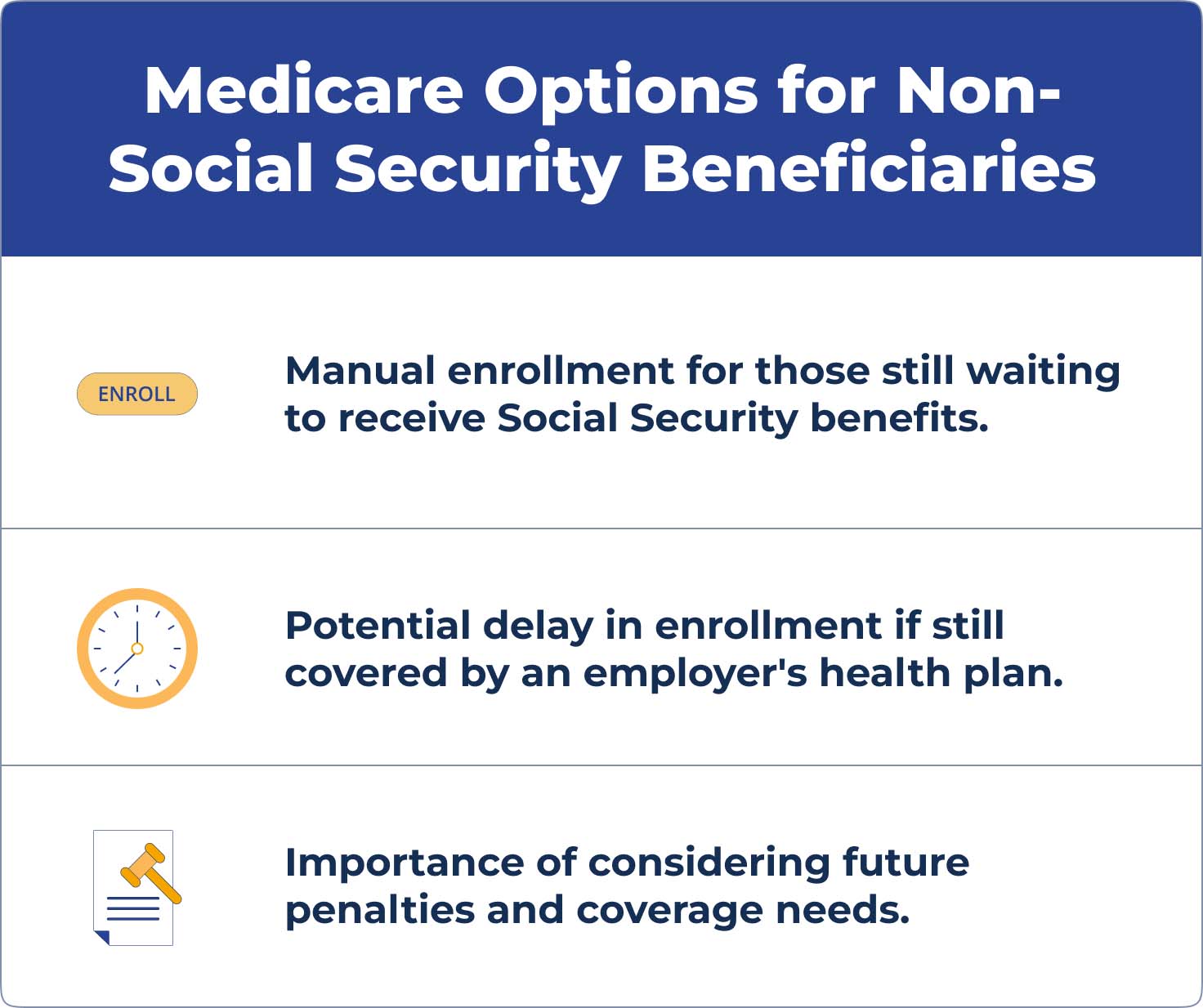 If you aren't receiving Social Security benefits yet, it's important to understand the steps for manual enrollment in Medicare during the Initial Enrollment Period. To initiate enrollment, visit the official Social Security website or contact the Social Security Administration by phone or in person. Depending on your healthcare needs and circumstances, you can sign up for Medicare Part A and/or Part B during enrollment.
To navigate the enrollment process smoothly, gather essential documents such as your birth certificate, proof of US citizenship or legal residency, and any information about your current health insurance coverage. This will ensure a smooth application process and prompt access to Medicare benefits. Review the different Medicare plans available in your area, including Original Medicare, Medicare Supplement, Part D, and Medicare Advantage, to determine which aligns best with your healthcare requirements.
Medicare coverage for Social Security Disability Income (SSDI) recipients
Medicare coverage for Social Security Disability Income (SSDI) recipients is an important aspect of ensuring access to essential healthcare services. Individuals who qualify for SSDI benefits are automatically enrolled in Original Medicare after completing a 24-month waiting period. During this waiting period, individuals with disabilities must wait 24 months from the date they become eligible for SSDI before they can start receiving Medicare benefits.
The waiting period is waived for those with specific medical conditions, such as amyotrophic lateral sclerosis (ALS) or end-stage renal disease (ESRD). This waiver is especially crucial for individuals with serious medical conditions needing immediate healthcare services. Once the waiting period is over or the waiver applies, SSDI recipients can benefit from Original Medicare coverage, including Medicare Part A and Medicare Part B, ensuring they receive the necessary medical treatments and services for their health conditions.
Factors to consider when choosing Medicare plans
When selecting the right Medicare plan, it's necessary to consider various factors. Assess your healthcare needs and preferences.
Healthcare needs and preferences
Consider any chronic conditions you have, ongoing medical treatments, and prescription medications you require. Are you in good health and need minimal coverage, or do you anticipate frequent doctor visits and medical services?
Prescription drug coverage
Review the formulary of each Part D plan to ensure it includes your necessary medications and assess the copayment or coinsurance for each drug. Additionally, consider any coverage restrictions or prior authorization requirements that may apply to your medications. Selecting a plan that covers your prescription drugs at an affordable cost can significantly impact your out-of-pocket expenses for medications.
Doctor and hospital networks
When selecting a Medicare Advantage plan, consider the doctor and hospital networks associated with each plan. Ensure your preferred healthcare providers are in-network to avoid higher costs or potential service restrictions. If you have a longstanding relationship with specific doctors or specialists, confirm their participation in the plan you're considering. This way, you can maintain continuity of care with the healthcare professionals you trust.
Additional benefits and costs
Medicare Advantage plans often offer additional benefits beyond what Original Medicare provides. These benefits may include dental, vision, hearing, fitness programs, and other wellness services. Carefully review the extra benefits different plans offer and determine which ones align with your health and lifestyle needs. Be aware of any extra costs associated with these benefits, such as higher premiums or copayments. Weigh the value of these additional benefits against the potential increase in expenses to make an informed decision.
Navigating Medicare and Social Security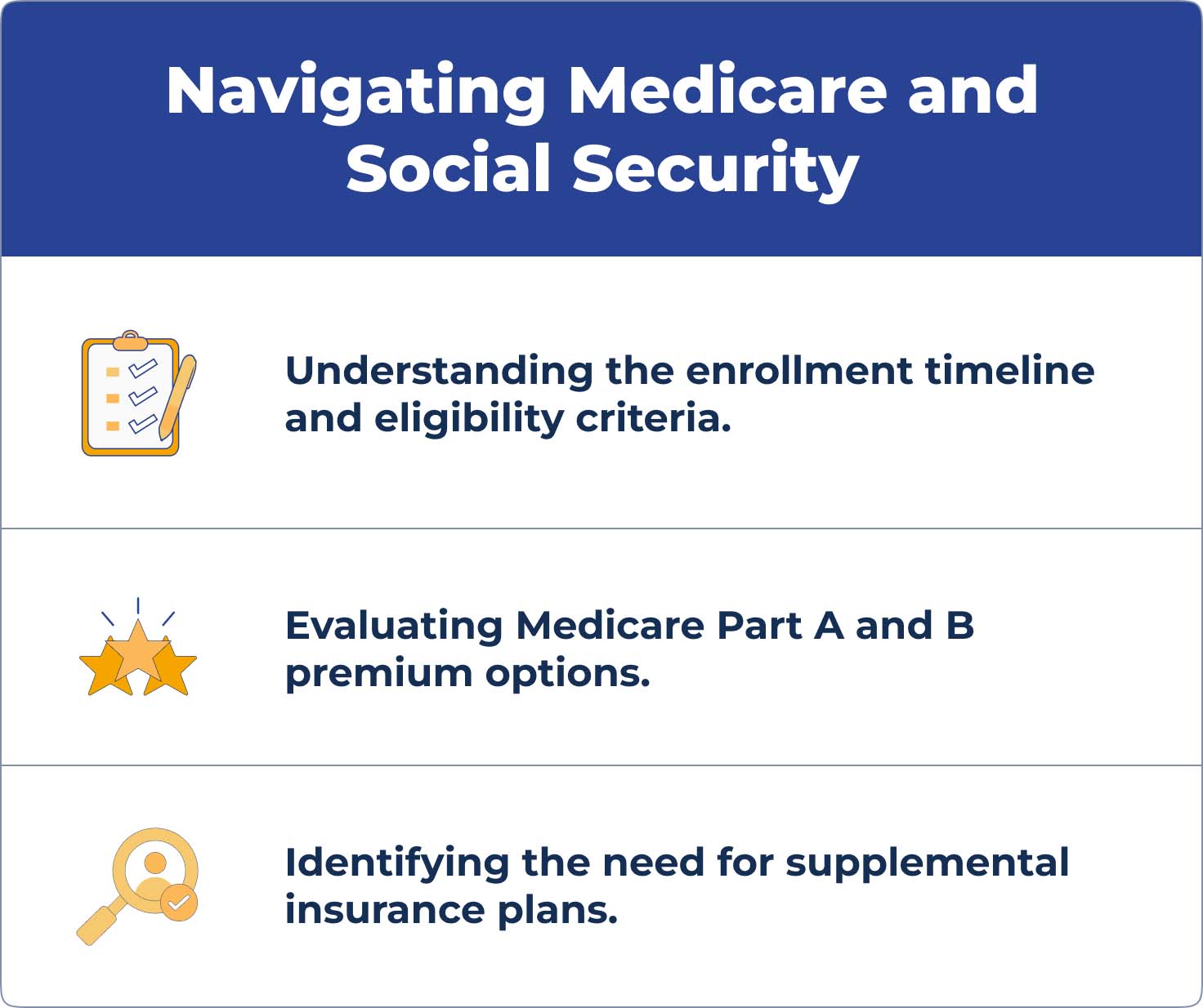 Understanding the intricacies of Medicare and Social Security can be challenging, but specific examples can help you effectively navigate both programs. Let's explore scenarios that illustrate how the tips apply to different situations.
Example 1: John is turning 65 and receiving Social Security retirement benefits in three months. To ensure seamless access to healthcare coverage, John should be aware of his Initial Enrollment Period for Medicare, which begins three months before his 65th birthday and lasts seven months. By enrolling during this period, John can avoid late enrollment penalties and secure timely Medicare benefits, including Part A and Part B. Moreover, since he already receives Social Security benefits, John will be automatically enrolled in Medicare Parts A and B, simplifying the process.
Example 2: Mary is 64 years old and planning to retire soon. However, she wants to delay signing up for Medicare Part B because she has health insurance through her employer until she retires. Her employer's coverage allows Mary to do so without incurring late enrollment penalties. By understanding how her employer's plan coordinates with Medicare, Mary can make informed decisions and transition smoothly to Medicare when right.
Example 3: Sarah is 62 and plans to start Social Security benefits. She is self-employed and will automatically be enrolled in Medicare during her Initial Enrollment Period as she turns 65. She can select a suitable plan that provides comprehensive coverage for her medical treatments and prescription drugs based on her healthcare needs.
FAQs
Can I receive Medicare if I'm not on Social Security?
You can apply for Medicare even without collecting Social Security benefits. The eligibility for Medicare is based on age (65 or older) or qualifying disabilities. You can manually enroll in Medicare during your Initial Enrollment Period, which typically starts three months before you turn 65 and lasts seven months.
How do I update my address for Social Security and Medicare?
You can contact the Social Security Administration directly online, by phone, or by visiting your local Social Security office to update your address. You can also update your address online through the official Social Security website.
Is Medicare enrollment mandatory after age 65?
Medicare enrollment isn't mandatory, but avoiding late enrollment penalties and ensuring timely healthcare coverage is highly recommended. If you delay enrolling in Medicare Part B when you're first eligible and don't have other creditable coverage, you may face late enrollment penalties for as long as you have Part B.
What happens if I don't sign up for Medicare?
Not signing up for Medicare on time may lead to paying full medical costs out-of-pocket and potential late enrollment penalties. Enrolling during your Initial Enrollment Period is essential to avoid coverage gaps and ensure access to Medicare benefits when needed.
Can I choose different Medicare plans based on my healthcare needs?
You can choose different Medicare plans based on your specific healthcare needs. Medicare offers various options, such as Original Medicare (Parts A and B), Medicare Advantage (Part C) plans, Medicare Supplement, and Medicare Part D for prescription drug coverage. Consider your health requirements and evaluate the benefits and costs of each plan to find the one that best suits your needs.
How do I select a Medicare plan that includes my preferred doctors and hospitals?
When choosing a Medicare Advantage plan, review the provider networks to ensure your preferred doctors and hospitals are included. You can check the plan's website or work directly with a licensed insurance agent to verify their network. For Original Medicare and Medicare Supplement plans, you can visit any healthcare provider that accepts Medicare.
What additional benefits are available with Medicare Advantage plans?
Medicare Advantage plans often provide extra benefits beyond what Original Medicare offers. These benefits may include dental, vision, hearing, fitness programs, and other wellness services. Review the plan's benefits carefully to choose one that complements your healthcare needs.
Can I change my Medicare plan after enrollment?
Yes, you can change your Medicare plan during certain enrollment periods. The Annual Enrollment Period, from October 15th to December 7th each year, allows you to switch plans or modify your coverage. Special Enrollment Periods may apply if you experience qualifying life events, such as moving, losing other health coverage, or changing your current plan's contract. You can access the Medicare Advantage Open Enrollment Period from January 1st to March 31st if enrolled in a Medicare Advantage plan.
Empowering your healthcare future with a Medicare plan
Now that you have gained a deeper understanding of the crucial link between Social Security and Medicare, you hold the key to securing your healthcare future. You can ensure timely and comprehensive coverage by proactively exploring your options and enrolling during the appropriate periods. Remember, seeking expert assistance from Medicare professionals can further clarify doubts and guide you toward making well-informed choices.
Don't hesitate to take charge of your healthcare journey. Discover the peace of mind that comes with knowing you have the right Medicare plan to support your unique needs. Explore additional resources and educational materials to empower yourself with knowledge. Fill out our online rate form to begin the path to a secure and comfortable retirement.
---
Methodology
Medigap.com extracted and analyzed data from the following to provide data in this article.
"Social Security Medicare Program" (Benefits.gov)
"Plan for Medicare" (ssa.gov)
"Enrollment Information for People New to Medicare" (kff.org)
---
Related Content
---