When your Medicare plan fails to cover certain medical expenses, you can use a Rhode Island Medicare Supplement plan, also called a Medigap plan, to fill the coverage gap. The federal government provides standards for Medicare and these supplemental plans.
If you have Medicare Part A or Part B, you can access 10 Medigap plans to help you afford hospital costs, prescriptions, nursing facilities, and more. Plan benefits remain the same regardless of where you live, so Plan F enrollees in Rhode Island receive the same benefits as those in California.
Rhode Island Medigap enrollment and coverage chart per letter plan
In Rhode Island, more than 50,000 Medicare beneficiaries also have Medigap coverage. Of consumers enrolled in fee-for-service (FFS) Medicare coverage, 39.2% receive coverage through Medigap policies. About 40,000 of these Medigap enrollees enjoy Medigap Plan C or Plan F coverage.
| | | | | | | | | | | |
| --- | --- | --- | --- | --- | --- | --- | --- | --- | --- | --- |
| PLAN | A | B | C | D | F | G | K | L | M | N |
| | 810 | 162 | 20,909 | 55 | 19,883 | 1,812 | 145 | 167 | 2 | 5,692 |
What are the most common Medigap plans in Rhode Island?
Plans C, F, and N stand apart as the Rhode Island supplement plans with the most enrollees.
With 20,909 enrollees, Medigap Plan C is the most popular in Rhode Island. Plan C offers inclusive coverage for Medicare beneficiaries, including hospital and hospice coinsurance.
Just below Plan C with 19,883 enrollees, Medigap Plan F covers everything except your monthly premium.
The Medicare Supplement plan with the next highest number of enrollees is Medigap Plan N, with 5,692. This plan offers comprehensive coverage at a lower cost than similar ones.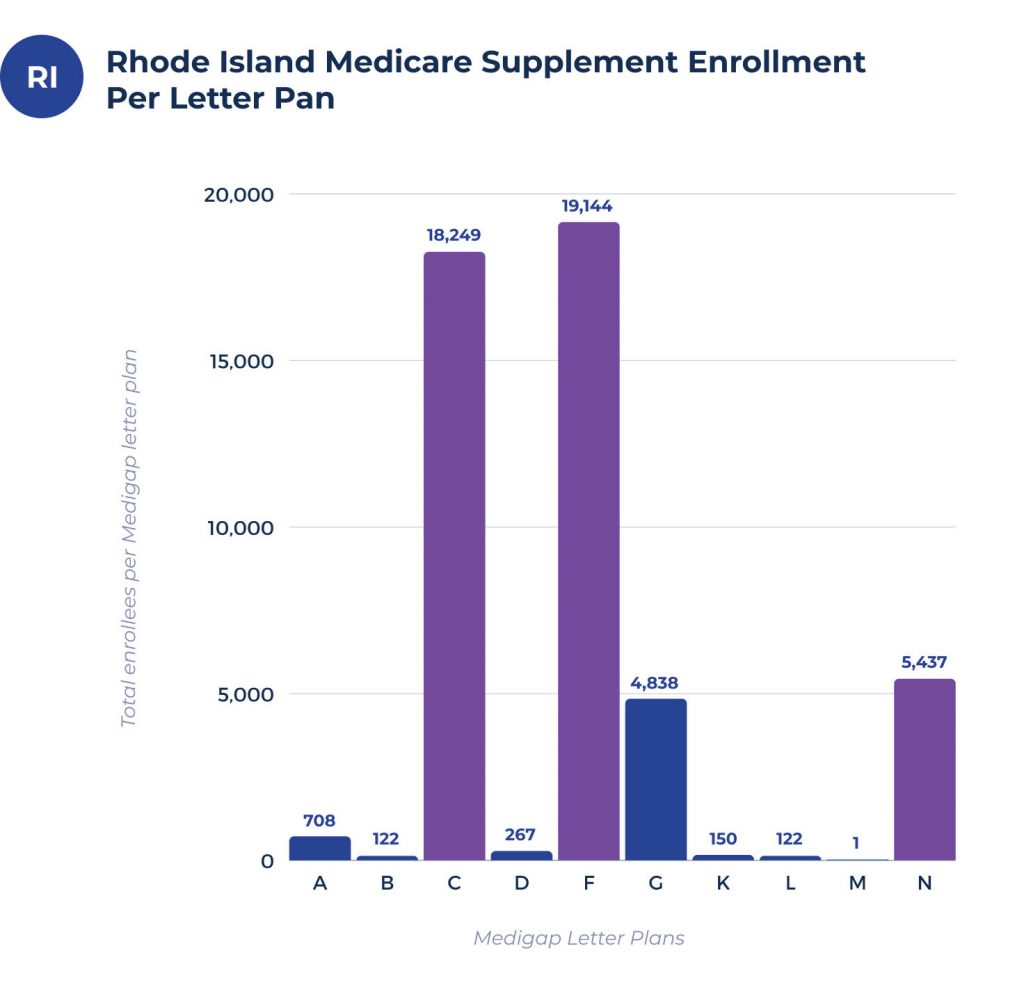 Medigap plan coverage chart for Rhode Island
Because Medicare is a federal healthcare program, plan benefits remain the same regardless of the state you call home. You can compare plans using the coverages listed below, whether you reside in Rhode Island or across the country in California.
Medicare Supplement plans costs in Rhode Island
Although Medigap plan benefits remain the same for all enrollees, plan rates vary depending on various factors. Supplement plan rates change from state to state and also depend on the plan pricing method, your age, gender, tobacco use, and other factors. Your household may qualify for discounts, and how you pay can also help lower your monthly rates.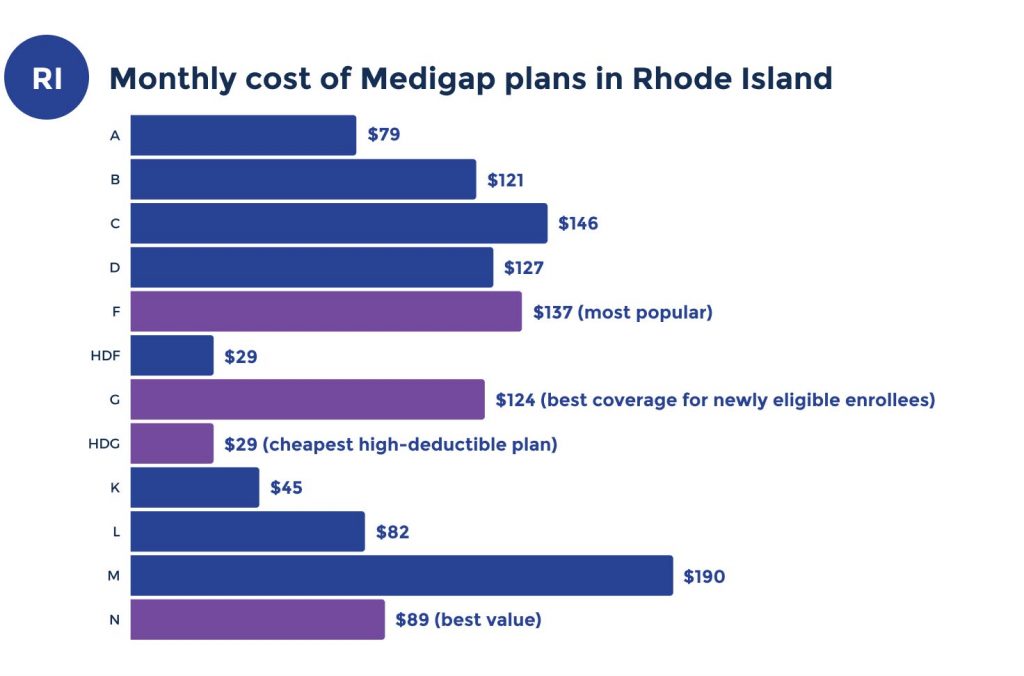 What's the average cost for a Medigap plan in Rhode Island?
Lowest premium per Medigap letter plan in Rhode Island
Below, you'll find a chart with the lowest Medigap plan premiums based on a female beneficiary who is 65 years old.
| | | | | | | | | | | |
| --- | --- | --- | --- | --- | --- | --- | --- | --- | --- | --- |
| PLAN | A | B | C | D | F | G | K | L | M | N |
| Premium | $78 | $120 | $145 | $127 | $132 | $123 | $44 | $81 | $117 | $85 |
Most expensive premium per Medigap letter plan in Rhode Island
We based these estimates of the most expensive Medigap plan premiums on a 70-year-old male beneficiary.
| | | | | | | | | | | |
| --- | --- | --- | --- | --- | --- | --- | --- | --- | --- | --- |
| PLAN | A | B | C | D | F | G | K | L | M | N |
| Premium | $409 | $345 | $414 | $291 | $417 | $399 | $139 | $235 | $305 | $307 |
Top Medicare Supplement plan carriers in Rhode Island
Let's look at the best Rhode Island Medicare Supplement plans based on the 65-year-old female. As you can see in the chart below, the premiums range from $85 for Cigna's Plan N to $169 for Humana's Plan F.
Rhode Island cities with estimated premiums for Medicare Supplement plans
Medicare Supplement plans for the cities listed below have estimated premiums that can be accessed with the accompanying charts linked below:
FAQs
Do Medigap premiums increase with age in Rhode Island?
Sometimes. Private insurance companies offering Medigap plans in Rhode Island use one of three methods to price them: community-rated (no age-rated), issue age-rated (entry age-rated) and attained age-rated. Rates calculated using the first two methods don't change over time.
The third method uses the beneficiary's current age to determine rates, so the price increases as they age. To find coverage with an affordable rate that doesn't increase with age, determine how each insurance company calculates rates before choosing your Medigap plan.
Are Medicare Supplement premiums based on income in Rhode Island?
Beneficiaries classified as "higher-income" pay increased Medicare premiums. Your rates rise if your modified adjusted gross income (MAGI) exceeds the current higher income threshold. Your MAGI is your total adjusted gross income, including tax-exempt interest.
As an example of how this works, the higher-income threshold for an individual in 2020 was $91,000, so beneficiaries with MAGIs higher than that amount paid higher premiums.
When can I apply for Medigap in Rhode Island?
Your six-month Open Enrollment Period for applying for a Rhode Island Medicare Supplement plan begins when you turn 65 and have Medicare Part B. We encourage Medicare beneficiaries to enroll during this Open Enrollment to find the lowest rates.
Your health doesn't affect your eligibility during your Medigap Open Enrollment Period. If you apply outside that six-month period, your eligibility will depend on the insurance company's medical underwriting qualifications.
Can a Medicare Supplement plan be purchased at any time of the year in Rhode Island?
Applying during Open Enrollment offers the best chance of attaining coverage, but you can also apply at other times.
For example, a Rhode Island insurance company may cover you if you are under 65 but need a Medigap plan to help cover a disability or severe illness.
Can I switch Medigap plans anytime in Rhode Island?
You can switch plans anytime in Rhode Island, but insurance companies can conduct medical underwriting outside your Open Enrollment Period.
The company determines the cost of covering you based on your medical history during this process. The company may reject your application unless you qualify for guaranteed issue rights.
Guaranteed issue rights are available to Medicare beneficiaries under certain circumstances, such as when a Medigap plan goes bankrupt or you move outside your current plan's service area.
How to sign up for a Medicare Supplement plan in Rhode Island
Consider a supplemental Medigap plan in Rhode Island if you need more coverage than your Medicare Part A and Part B.
To find the best plan for your needs at an affordable rate, apply during your Open Enrollment Period and gather several rate quotes to find the best option.
Get started now by giving us a call or filling out our convenient online rate form.