Medigap Plan M is a deductible-sharing Medicare Supplement health insurance plan that provides a lower premium in exchange for fewer benefits.
Private insurance companies provide access to Medicare Supplement policies. Plan M is a deductible-sharing or cost-sharing plan. If you're comfortable paying more out-of-pocket medical costs, Plan M might suit you.
Medicare Supplement Plan M coverage
Medicare Supplement Plan M will cover costs associated with Original Medicare coverage. Some of these Medicare benefits include:
Medicare Part A inpatient hospital costs
Medicare Part A coinsurance and copayments
Medicare Part A hospice care coinsurance
Medicare Part B coinsurance
Medicare Part B preventive care coinsurance
Skilled nursing facility care coinsurance
50% of the Medicare Part A deductible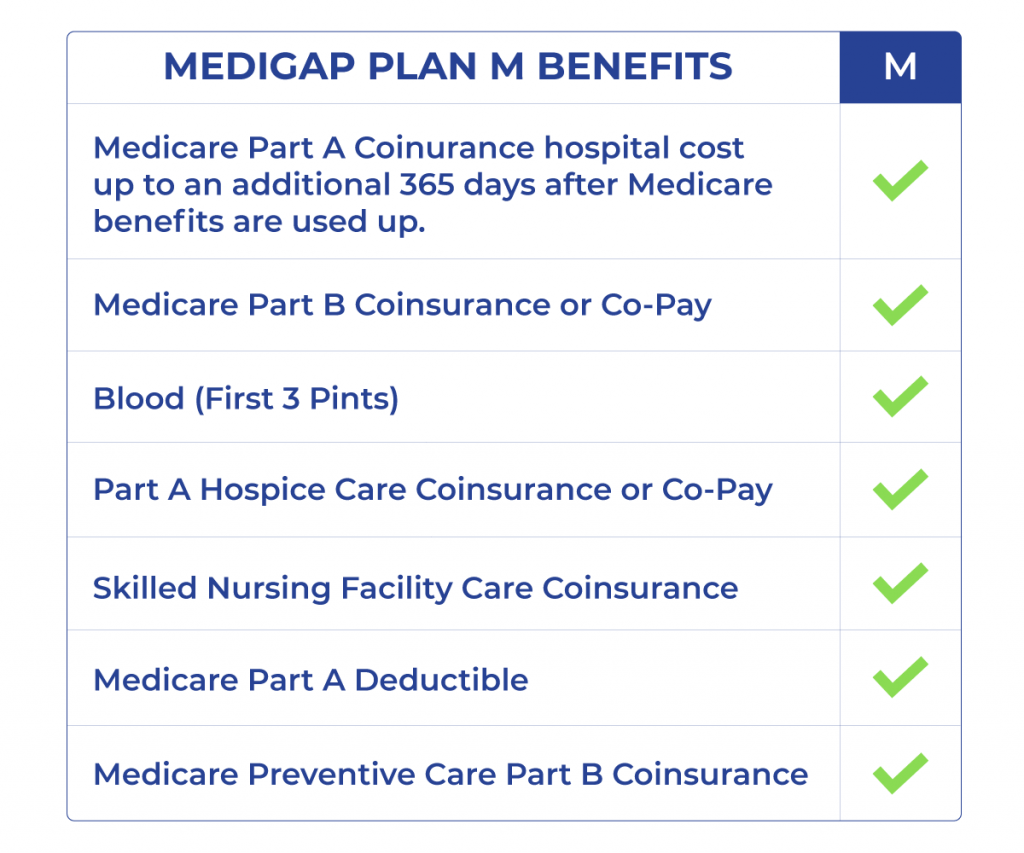 Medicare Supplement Plan M covers the first 3 pints of blood each year, skilled nursing facility care, and foreign travel emergency.
Medicare Supplement Plan M chart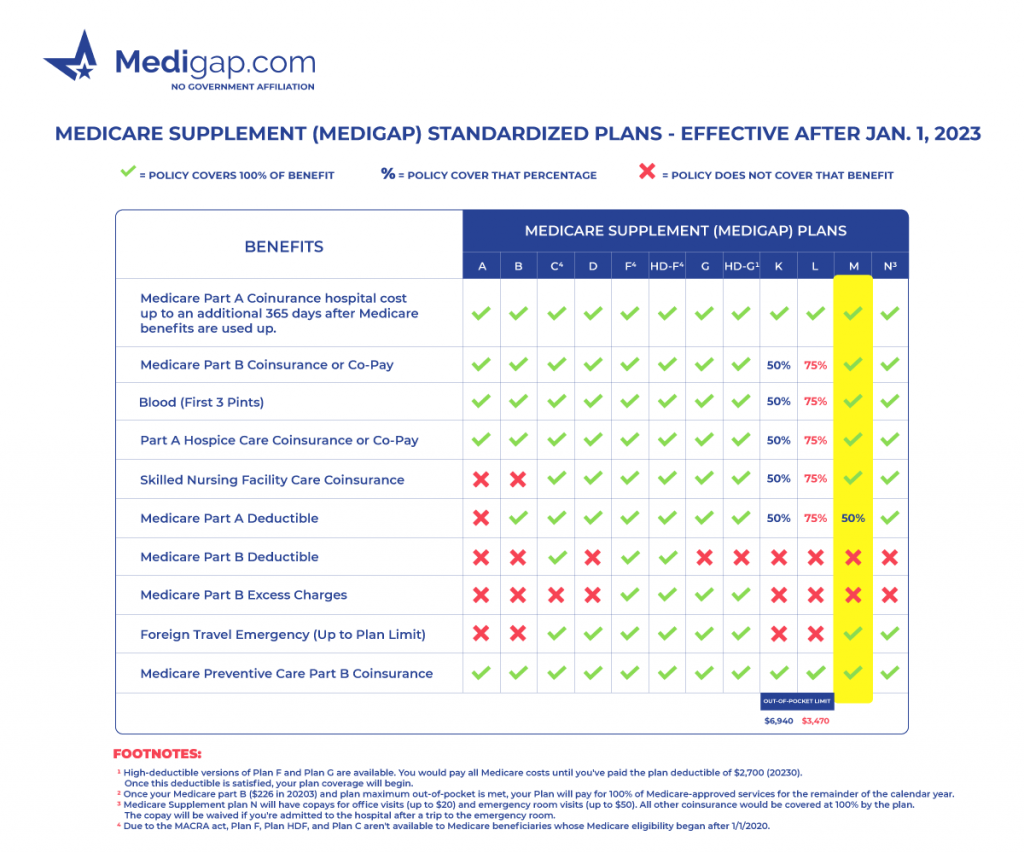 What is deductible sharing Plan M?
Medigap Plan M leaves you responsible for paying 50% of your Part A deductible. Since you pay a portion of this deductible, we call Plan M a deductible-sharing plan. Other cost-sharing Medicare Supplement insurance plans include Plan K and Plan L.
What does Medigap Plan M not cover?
Medicare Supplement Plan M won't cover the Medicare Part B deductible or Part B excess charges. Like other Medigap insurance plans, Plan M won't cover health care costs for dental, vision, Part D prescription drugs, long-term care, or private nursing. You can purchase a separate dental, vision, and Part D prescription drug coverage policy.
Who can benefit from Medicare Plan M?
You could benefit from Medigap Plan M if you need a lower monthly premium and don't mind paying 50% of your Part A deductible.
Plan M can be beneficial, but it's worth comparing Plan N and Plan G to Plan M before you make your final decision. An insurance agent can help you determine which policy will most benefit you.
How much does Medigap Plan M cost?
Medigap Plan M costs, on average, between $130 to $210 monthly. The cost of a Medicare Supplement can vary depending on location, age, tobacco use, gender, and eligibility. The premium for Medigap Supplement Plan M is likely lower than most other plans since your out-of-pocket costs are higher. Contact an insurance agent to compare rates in your area for the most accurate quote on Plan M.
Medicare Supplement Plan M reviews
Medigap Plan M is most similar to Plan D. The primary difference with Plan M is that you're responsible for 50% of the Part A deductible. This plan can save a little money for beneficiaries that don't use the hospital often. Some states provide this plan as an option for beneficiaries that are under 65.
FAQs
Is Medicare Plan M better than Plan N?
Some beneficiaries may find that Plan N makes more sense and covers the Part A deductible 100%. Comparing the premiums in your area is essential.
If Plan N has a lower premium, that plan may seem more appealing. Now, if Plan M has a lower premium, you may decide the portion of the Part A deductible is no big deal.
However, suppose Plan G has competitive premiums in your area. In that case, you may decide to pay more and have more coverage in exchange for fewer out-of-pocket costs.
When can I enroll in Medigap Plan M?
Like any Medicare Supplement policy, you can enroll anytime if you have Part A and B. You can't have a Medicare Advantage plan AND a Medicare Supplement plan; you must only choose one.
Also, the ideal time to sign up for any Medigap plan is during the Medicare Supplement Open Enrollment Period.
You'll have Guaranteed Issue Rights during this time, meaning the insurance company can't deny you a policy and get the best premium ratings. These "Medigap protections" allow you to get coverage without worrying about your pre-existing conditions.
What are Part B excess charges?
A Medicare Part B excess charge is a surcharge above the Medicare-approved amount. Most doctors accept Medicare assignments, so there is less than a 5% chance of running into these excess charges.
How to enroll in Medicare Supplement Plan M?
Working with a licensed agent can benefit you no matter which Medigap policy you decide is right for you. They can help you find the right company. Also, an agent can answer any questions you have about Medicare.
Working with our licensed insurance agents allows you to compare top Medigap carriers in your area in just one phone call. So, call the phone number above to get started saving on your Medicare Supplement insurance. If you can't call, fill out an online rate form to discover your options.