Medicare Advantage plans utilize one of two types of networks. Either a PPO (Preferred Provider Organization) or an HMO (Health Maintenance Organization) network. Access to more providers is why people select a Medicare Advantage plan that uses a PPO network.
Insurance companies use cost-saving features such as a network of providers to stretch the purchasing power of each dollar. Medicare beneficiaries want access to more providers, so more people are electing to enroll in a Medicare Advantage plan that uses a PPO.
Medicare Advantage PPO plan details
The Medicare beneficiary can receive services in or out of the network with a PPO plan. The insurance pays more when you stay in-network but does offer some benefits if treatment occurs outside the preferred network of doctors.
Medicare Advantage PPO plans must provide the same compensation package as Original Medicare. All Advantage plans must offer the same rights, benefits, and protections as Original Medicare.
Advantage plans are competitive because they offer additional benefits such as vision, hearing, and dental services.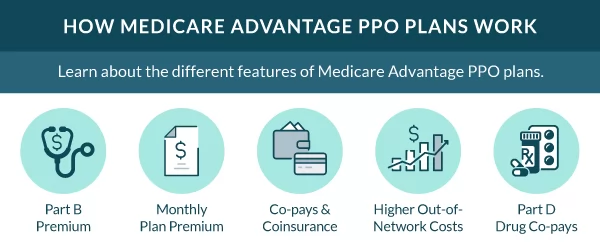 Eligibility for a Medicare Advantage PPO plan
You're eligible for a Medicare Advantage PPO if you live in the service area and have Medicare Parts A and B.
Medicare beneficiaries are eligible to enroll in a Medicare Advantage PPO during the following periods:
The difference between a PPO and an HMO
A PPO (Preferred Provider Organization) utilizes a network of providers and pays a higher benefit when services are performed in the network.
Referrals aren't required, and Medicare Advantage PPO plans tend to cost more than Medicare Advantage HMO plans because they pay a percentage of the benefit out of network.
An HMO uses a tighter network of providers. In addition, the PCP (Primary Care Provider) acts as the gatekeeper, and the plan requires any services outside an emergency must first be addressed with the PCP. If you see a provider before receiving a referral from your PCP, your plan may not cover those services.
FAQs
What's the difference between Medicare Advantage PPOs Different than Original Medicare?
A Medicare Advantage PPO is a different option from Original Medicare. These plans offer another way to receive your Medicare benefits.
They still allow the freedom to see any provider that accepts Medicare. However, the costs are less when using an in-network provider. In addition, these plans can offer additional benefits not covered by Original Medicare.
What are the Benefits of a PPO?
The most significant benefit of a Medicare Advantage PPO plan is the small copays assigned to most services. Another factor in selecting an Advantage plan that uses a PPO network is the larger group of providers.
PPO plans don't require referrals. When you need to see a specialist, you can contact one from your network without a trip to your primary doctor.
What's the difference between Medicare Advantage PPO and HMO plans?
HMO Plans require all services to be performed by an in-network provider. PPO plans have coverage for both in and out-of-network providers. There are some additional benefits of having an HMO over a PPO, but your doctor choices will be limited.
What are some common characteristics of a Medicare Advantage PPO plan?
Low monthly premiums – PPO plans typically have premiums lower than Medigap policies.
In-network benefits – PPO plans will pay a higher benefit inside the plan network and a lower benefit
percentage out of the network, except in an emergency.
No health questions – To enroll in a Medicare PPO plan.
No Referral required – There isn't a referral requirement for specialists.
Part D drug coverage – Usually included in Medicare PPO plans.
Copays and coinsurance – Usually, insured persons pay a small copay for covered services in place of the 20% typically assigned by Original Medicare.
Annual plan changes – The insurance company makes and releases most benefit changes before the Annual Enrollment Period.
How to get help enrolling in a Medicare Advantage PPO plan
To say the world of Medicare Advantage is complicated is an understatement. Since every plan varies from carrier to carrier, it can be challenging to separate what's important vs. what's extra fluff. That's where we step in.
Give us a call, or complete our online quote form now to review the plan options in your area.