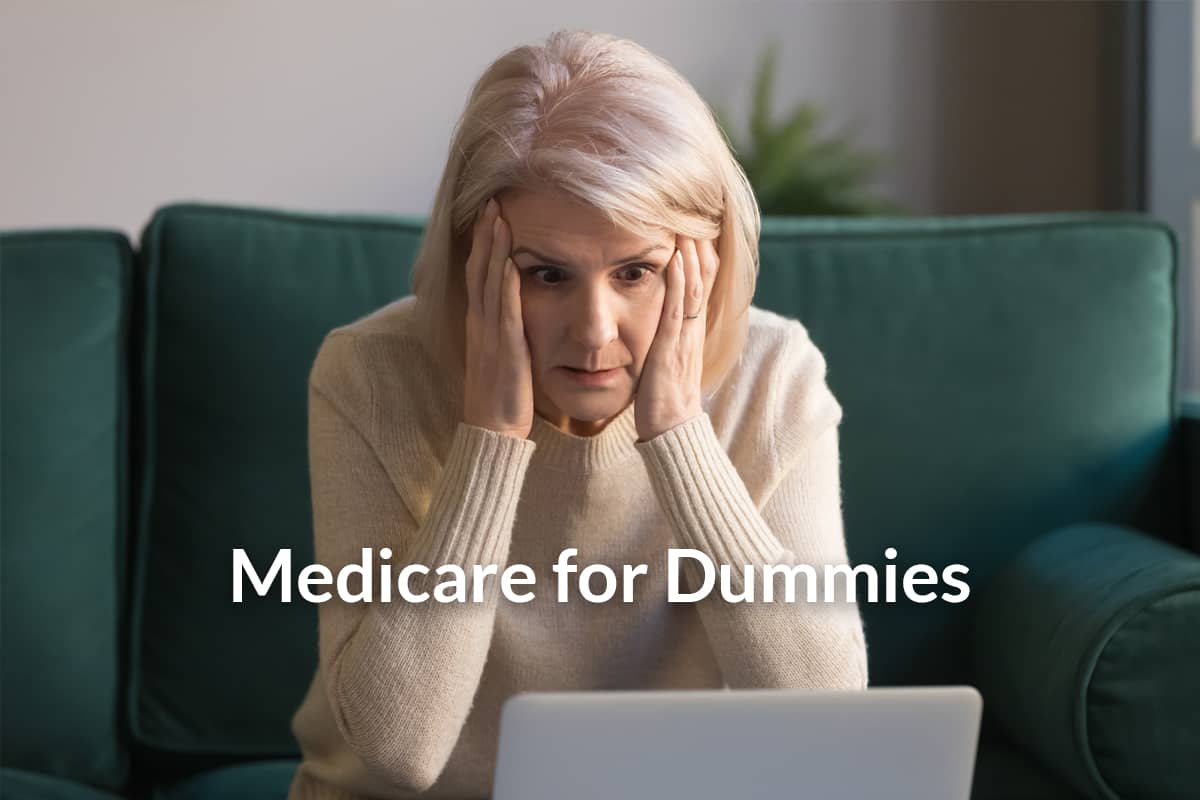 If you want all the details on Medicare for Dummies without reading a whole book, you came to the right place. We're going to skip the introduction and get right to the point. This text will discuss how to start with Medicare, costs, coverage, eligibility, and enrollment.
Medicare for Dummies
If you're 65 years or older or have certain disabilities, you likely have Medicare. When you have Medicare, it's essential to understand coverage details. The "for Dummies" books are a popular source of information for many from the baby boomers generation. Today we'll summarize Medicare for Dummies.
Chapter 1: Getting started with Medicare
Understanding the ABCDs of Medicare is the first thing discussed in Medicare for Dummies. Some parts of Medicare are mandatory while other parts are optional.
If you turn 65 and are already on Social Security or Railroad Retirement Board benefits, your Part A and B should begin automatically. You can call Medicare if you're unsure.
Next, we'll break down the four parts of Medicare.
Medicare Part A
Part A is the hospital portion of your Medicare coverage. If you need inpatient care or a Skilled Nursing Facility, Part A covers 80% of the costs. This means you'll pay 20% of your Part A costs. There is also a Part A deductible that's subject to change annually. Part A is accessible to most people.
However, regarding hospice, Part A will cover 100% of your hospice care-related costs.
Medicare Part B
Part B is your outpatient coverage for doctor's office visits, preventive screenings, lab tests, outpatient surgery, and Durable medical Equipment (DME). Also, Part B covers drugs your doctor administers in the doctor's office.
Like Part A, Part B covers 80% of your medical services, and you pay 20% of the cost.
There is a Part B deductible that can increase on an annual basis. Also, the premium for Part B can change every year.
Delaying enrollment in Part B can result in a penalty if you don't have creditable coverage.
Medicare Part C
Medicare Advantage plans are optional. These plans won't be suitable for everyone. Part C plans combine Part A, Part B, and Part D. These plans usually include basic dental, vision, or hearing benefits.
The coverage for Part C must be at least as good as Medicare. These plans can change benefits yearly, so comparing your options regularly is necessary.
There are doctor limitations and frequent out-of-pocket costs, and these plans require you to stay within a service area.
Medicare Part D
Even if you don't take prescription drugs, enrolling in a Part D plan when you're first eligible will protect you from the penalty for late enrollment. Part D plans cover medications your doctor prescribes for you to take at home.
With Part D coverage, there are different tiers depending on your medications. Generally, generic medicines are cheaper than brand-name medications.
Step therapy, prior authorization, or quantity limits sometimes depend on your prescriptions. The more medications you take or, the more expensive your drugs are, the more likely you will reach the coverage gap.
With Part D coverage, you usually pay a copayment or coinsurance on your medications when you go to the pharmacy. Some pharmacies are cheaper to use with specific Part D plans. While you have plenty of choices, you'll want to make timely decisions.
Chapter 2: What Medicare covers or doesn't cover
Medicare covers a lot, but it doesn't cover everything. Now you know what Part A and Part B cover from the section above, but it's also valuable to understand what's not covered.
Original Medicare won't cover long-term care, vision, dental, dentures, acupuncture, hearing aids, cosmetic surgery, or routine foot care. Also, Medicare won't' cover stairlifts or other home modifications to accommodate a disability.
In some cases, there may be coverage limits, like Part A limits hospital stays. Understanding the limitations is important because it can help you decide which supplemental insurance will benefit you the most.
Chapter 3: Understanding your Medicare costs
Part A is free to most people. The Part B premium can increase annually. Currently, it's $174.70 each month. There are deductibles as well.
The Part A deductible is $1,632. And the Part B deductible is $240. On top of these costs, you'll pay 20% coinsurance on the total cost of medical services. Plus, if a Part B excess charge is applied, you could pay an additional 15%.
Those with higher incomes have an Income Related Monthly Adjustment Amount (IRMAA) on Part B, and Part D. IRMAA is based on your income from two years ago, so if you had a substantial drop in your income, you could file an appeal to lower your amount.
Part D premiums usually range from $20-$100, depending on the coverage you need and the medications you take.
While Medicare Advantage plans have lower monthly premiums but higher out-of-pocket costs. Medigap plans to fill the gaps in Medicare, exchanging higher premiums for little to no out-of-pocket costs.
Chapter 4: How to lower out-of-pocket costs
Buying a Medigap plan can lower your out-of-pocket costs. But, if your income is lower, Medicaid could be an option for you to reduce your medical expenses.
If you don't qualify for Medicaid, you may still be eligible for extra help paying for your Part D costs.
Chapter 5: Medicare eligibility
If you're about to turn 65 or you're already 65, then you're eligible for Medicare. Also, if you're on Social Security disability for at least 24 months or have a qualifying disability, you're eligible for Medicare.
Those who delay Part B because they continue working and have creditable coverage through an employer will be eligible for Medicare when they retire.
Chapter 6: The right time to enroll in Medicare
The right time to enroll in Medicare depends on your situation. Medicare enrollment could be automatic if you're on Social Security or Railroad Retirement Board benefits.
The Initial Enrollment Period
During the Initial Enrollment Period (IEP), you can sign up for Medicare three months before you turn 65, the month you turn 65, or within three months of turning 65. It's best to sign up for Medicare as soon as you're eligible.
The Special Enrollment Period
If you delay Medicare and keep private employer health coverage creditable, you can delay enrollment into Medicare. The employer must have more than 20 employees. When you're ready to sign up, you'll qualify for a Special Enrollment Period (SEP).
The General Enrollment Period
Between January 1 and March 31, the General Enrollment Period (GEP) for Medicare occurs. This enrollment period is for people who didn't apply for Medicare during their IEP or SEP. Those that enroll during this period will have coverage effective July 1.
Medicare for Dummies FAQs
Do you have to sign up for Medicare at 65?
Signing up for Medicare is not required. You can delay or decline your Medicare, but doing so without creditable coverage can result in Medicare late-enrollment periods.
When do I sign up for Medicare?
If you're diagnosed with Lou Gehrig's disease, already drawing SSI, or have been on SSDI for 24 months, your Medicare will begin automatically. Otherwise, you will need to apply for Medicare. This can be completed online, over the phone, or at your local Social Security office.
When will my Medicare start?
For most individuals, Medicare will start on the 1st of the month they turn 65. If your birthday is on the first, it will begin the first day of the previous month. If you have been on disability for 24 months, your coverage will begin automatically on the first day of the 25th month of SSDI benefits.
What kind of Medicare plan is better, Medicare Supplement or Medicare Advantage?
It truly depends on your situation and where you live. Medicare Supplements have the most comprehensive coverage and the highest premiums. They also don't include your prescription drug coverage. Medicare Advantage plans are another way to get your Medicare benefits. They have holes and gaps in coverage but include additional items not included by Original Medicare. Your situation will determine the right Medicare plan for you.
How to find help with my Medicare
We hope this breakdown of Medicare for Dummies was helpful to you. Whether you're new to Medicare or just plain confused, working with an insurance agent can be beneficial. Using a licensed insurance agent can be a huge advantage when learning how Medicare works and investigating the plan options. You can compare your Medicare options online by completing an online rate comparison form.
Related Content