Beneficiaries must negotiate a delicate balancing act when choosing the right Medigap plan. You want to get as many benefits as possible for a lower premium and the lowest amount of cost-sharing you can afford. That's where Medicare Supplement Plan K comes into play.
But you also have to consider that the more coverage you purchase, the more expensive your monthly premiums will be. Different Medicare Supplement insurance plans employ various strategies to help Medicare beneficiaries find that balance between what they're getting and what they're paying for.
So let's look at how Medicare Supplement Plan K does this and why it may (or may not) be the right plan for you.
Medicare Supplement Plan K
No matter what product you're talking about, one primary tenant holds in the insurance industry: the more coverage you purchase, the more you pay in premiums.
For beneficiaries who want to pay less in premiums, Medigap Plan K offers them that opportunity. For a small monthly premium, Medigap Plan K provides the following:
100% of your basic benefits and Medicare Part A hospital coinsurance costs for up to 365 days after Medicare benefits run out (for inpatient hospital costs only)
50% of your Part B coinsurance costs
50% of the cost of your first 3 pints of blood should you require a blood transfusion while receiving inpatient hospital treatment
50% of your Part A hospice care coinsurance and copayments
50% of your skilled nursing facility care coinsurance
50% of your Medicare Part A deductible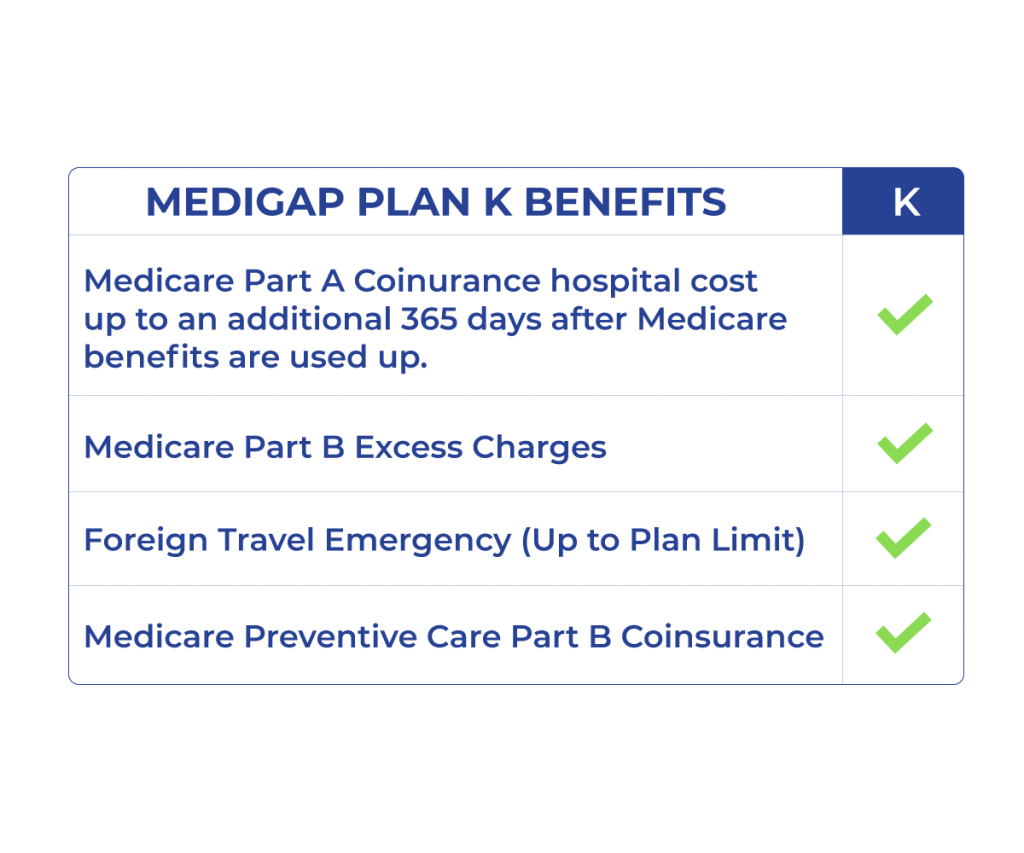 Unlike some other, more comprehensive plans, Medigap Plan K does not cover the following:
Medicare Supplement Plan K chart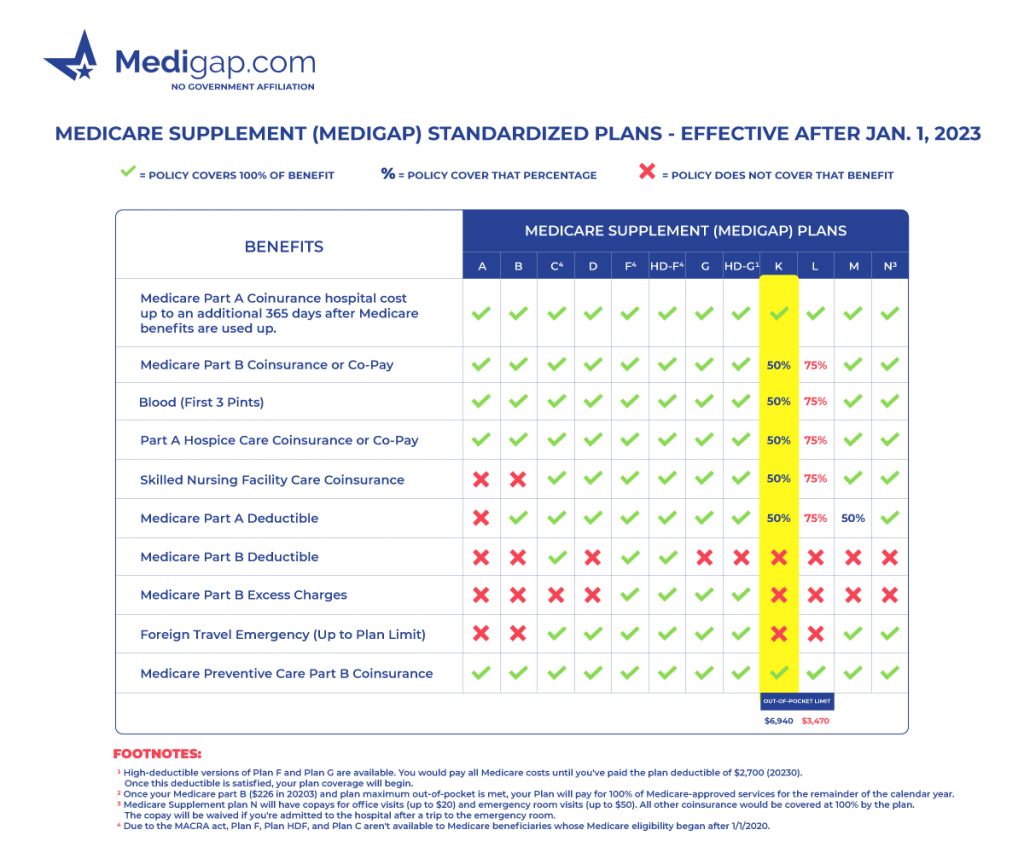 How Much Does Medigap Plan K cost?
Most beneficiaries can get Medigap Plan K for $60 to $100 monthly. Premiums will vary by state and zip code, so you'll have to check with your insurance agent to ensure.
In addition to that monthly premium, you should budget for the out-of-pocket expenses for the below medical costs.
Your Medicare Part A deductible with Plan K
50% of the current Medicare Part A deductible is $800. Remember that you must pay this amount at the beginning of every benefit period, which is not the same as paying annually.
Your Medicare Part B deductible with Plan K
The annual Medicare Part B deductible is $226. Unlike the Medicare Part A deductible, you will only have to pay this amount once yearly to cover your doctor and outpatient care costs.
Medicare Part B Excess charges
Certain doctors and facilities charge up to 15% more than the Medicare-approved amount. These costs may be difficult to avoid in an emergency. However, outside of that, be sure to call ahead and see whether or not the doctors and facilities you need care from will apply excess charges before you go.
Foreign travel emergency assistance
Unfortunately, Medicare Plan K does not cover medical emergencies should you travel abroad. Luckily, paying out-of-pocket for medical care in most foreign countries is still significantly less expensive than healthcare in the United States. It's unlikely to break your budget.
Who Is Medigap Plan K meant For?
Medigap Plan K is a great way to save money on your healthcare costs if these apply to you:
Prefer not to travel abroad
Have a limited budget for your health care costs
Are newly retired and in relatively good health
Anticipate needing little to no emergency care shortly
Think most of your medical needs are covered by your Medicare Part B benefits
Live in a state which has outlawed Medicare Part B excess charges
If only one or two of these variables apply, you can consider purchasing a more comprehensive plan. Otherwise, you may face an insurmountable amount of out-of-pocket costs.
Out-of-Pocket limits for Medicare Supplement Plan K in 2023
The cap on out-of-pocket costs for Medigap Plan K will be $6,940. After that, your insurance policy will cover 100% of the costs of your eligible benefits.
If you're newly retired and relatively healthy, you don't anticipate needing much medical care or hospitalization. Then Plan K is an excellent choice for budget-conscious beneficiaries who want to use their retirement funds for other things.
Suppose you think more frequent hospitalization, hospice care, or skilled nursing facility care are likely in your near future. In that case, the Medigap policy may leave you with more out-of-pocket costs than you can handle.
Medicare Supplement Plan K reviews
Medigap Plan K is a lessor known plan but has some unique features. Plan K is widely looked at as an alternative to Medicare Advantage. The reason is that it's one of two plans that include a maximum out-of-pocket. In states where it's available, it's a popular choice for beneficiaries looking to save a little money in premiums but still has lower costs when using Medicare coverage.
FAQs
Is Medigap Plan K Available in every state?
Technically, no. Three states in the US don't offer the ten standardized Medicare Supplement plans: Wisconsin, Massachusetts, and Minnesota. But some of the plans they do offer come with similar benefits. Suppose you live in neither of these three states.
Does Medicare Supplement Plan K cover Part B deductible?
No! Medicare Supplement Plan K doesn't pay the Medicare Part B deductible as part of its covered services. The only Medicare Supplement health insurance plans that cover the Part B deductible are Plan F and Plan C.
What is the difference between Medicare Supplement plan K and Medicare Supplement plan L?
Medicare Supplement Plans K has a higher maximum out-of-pocket yearly limit and covers, on average, 50% of the coinsurance left after Original Medicare pays its portion.
Medicare Supplement Plan L covers, on average, 25% of the coinsurance costs after the federal Medicare program pays its portion.
Does Medicare Supplement Plan K cover prescription drugs?
No! Medicare Supplement plans don't include coverage for prescription drugs. Beneficiaries must enroll in a Part D prescription drug or Medicare Advantage plan for prescription drug coverage.
How to enroll in Medicare Supplement Plan K
Our licensed agents are available to you at no cost. They can compare all Medigap plans with all insurance companies in your area to find you the best plan with the lowest premium. Call us, or use our online rate form to get started now.