California has a well-known reputation as one of the most beautiful places in the United States. Many people don't realize that this state offers a variety of advantages when it comes to Medicare Supplement insurance plans!
There are ten Medicare Supplement Plan choices with high-quality options, so you'll be covered no matter where you live. California is also one of the few states with an additional Open Enrollment.
Medicare Supplement plans in California can offer you more protection and benefits than Original Medicare alone since they work in tandem with Original Medicare.
Medigap plans give you all of the advantages of Original Medicare without exposing you to the high risk of limitless out-of-pocket spending!
California Medicare Supplement plan enrollment
Medicare Supplement plans are the perfect way to protect yourself from high medical expenses. Some people might enroll in Medigap policies because they want the most comprehensive health insurance.
| | | | | | | | | | | |
| --- | --- | --- | --- | --- | --- | --- | --- | --- | --- | --- |
| Plan | A | B | C | D | F | G | K | L | M | N |
| Enrollees | 6,162 | 2,877 | 10,250 | 1,768 | 396,195 | 42,270 | 6,394 | 2,826 | 25 | 65,187 |
Others may need it due to age or physical fragility, making them more susceptible to illnesses that can strike without warnings, such as diabetes, heart disease, or a stroke!
Medicare Supplements enrollees make up 27.2% of all California's Medicare Beneficiaries. 1,035,631 Californians are enrolled in Medicare Supplement insurance policies thus far, but it may rise as more people seek quality healthcare options.
It's hard to understand which is right for you with the different Medicare plan options. Fortunately, the government has implemented a standardization system that makes things simple!
Massachusetts, Wisconsin, and Minnesota are the only states that do not follow the federal standardization process. Plans in these states still follow all national guidelines, such as allowing you can see any doctor nationwide that accepts Medicare. The plan benefits of their programs work differently than all other states.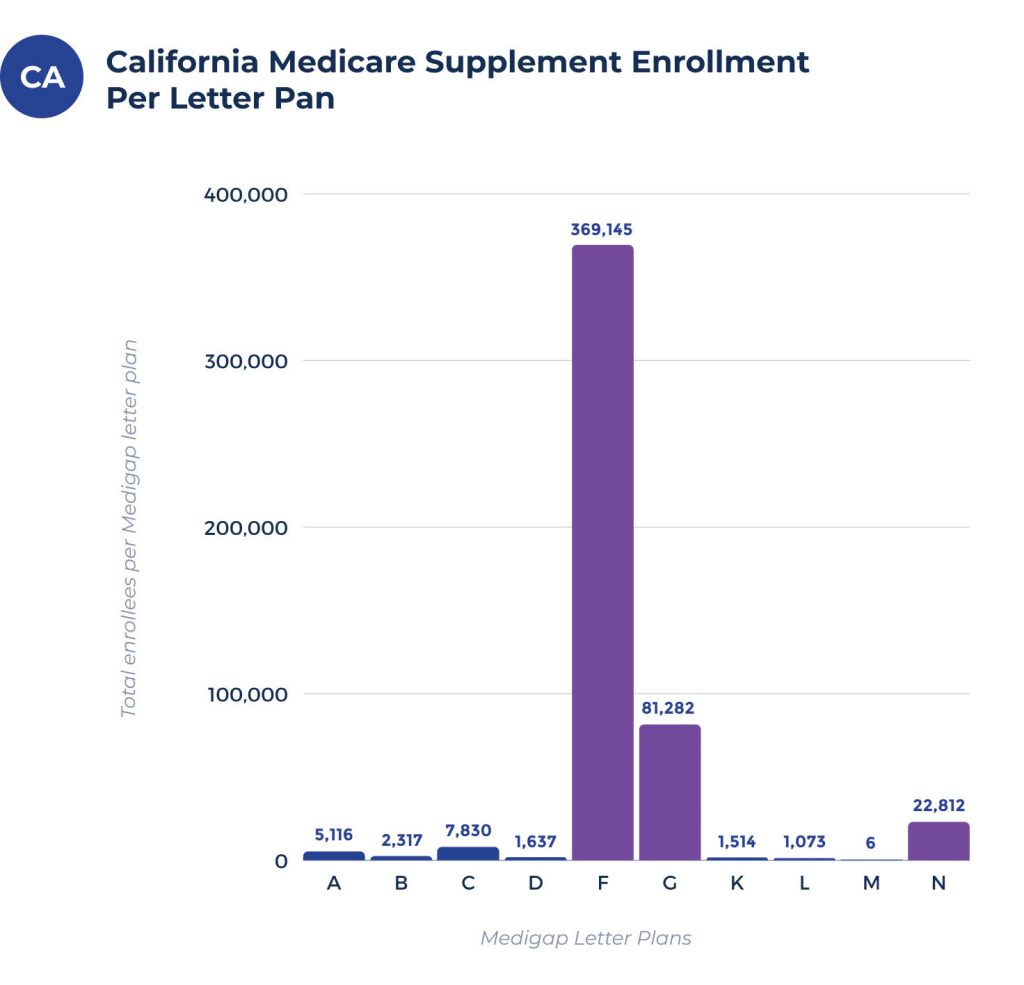 Medicare Supplement plan coverage chart for California
Medicare Supplement plan cost in California
Every plan letter has identical coverage. Premiums for Medicare Supplement policies might differ from location to location. A 65-year-old smoker may have a different monthly cost than someone the same age who smokes but lives in another area within California!
How much does Medigap cost in California?
The cost of a Medigap policy in California typically ranges from $150 to $200 per month.
Lowest premium per Medicare Supplement letter plan in California
Medicare Supplement insurance is an excellent choice to protect yourself from high out-of-pocket expenses. In Los Angeles, California, below are estimates of the lowest cost for a 65-year-old non-smoking male for each Medicare Supplement Plan Letter.
| | | | | | | | | | | |
| --- | --- | --- | --- | --- | --- | --- | --- | --- | --- | --- |
| Plan | A | B | C | D | F | G | K | L | M | N |
| Premium | $121 | $170 | $201 | $210 | $202 | $157 | $63 | $113 | N/A | $128 |
We provide access to all Medigap insurance plan options available in California. We make it a priority to get you covered as quickly and painlessly as possible.
Our services can alleviate stress when choosing your plan or changing Medicare Supplement companies! Most Californians enrolled in Medicare select one of the three top options: Plan F, Plan G, or Plan N.
Most common Medicare Supplement plans in California
Medicare Supplement Plans are popular in California. Most enrollees choose to enroll in Plans F, G, or N.
Remember that California beneficiaries who join Medicare after 2020 must use an alternative option to Plan F, such as Plan G or Plan N. Plan F is only available to those who qualified for Medicare before January 1, 2020.
New Medicare beneficiaries will migrate to Plan G or Plan N since Plan F, and Plan C aren't options. We expect Both Plan G and N to have increased enrollment rates.
Top Medicare Supplement plan carriers in California
Deciding which Medicare Supplement insurance plan is best for you may be challenging. We'll compare the top carriers below to determine which Medigap plan suits your needs.
The cost is determined using the same parameters on our previous comparison charts, ensuring that your healthcare needs are handled at a realistic price!
Which Medigap plan in California is right for me?
Depending on your specific needs and preferences, Medicare has various options for you. Some people want plans with higher premiums that offer complete coverage, while others prefer less expensive options but good medical benefits if something significant happens!
Two plan options have high deductible options. They are Medigap Plan F and G versions known as HDF and HDG. These Medicare Supplement policies are Medigap insurance policies that provide complete protection at a lower price than regular plans.
With the different Medicare plans available, you must explore which will best suit your needs. For example, if you are on Plan F but want to save money on your premiums, look at G or N, as they offer more benefits with lower premiums!
Another great thing about living in California with a Medicare Supplement is that you can review and change companies and plans annually using your California Birthday Rule. There aren't many states that allow additional ways to change your plan without the need for medical underwriting.
California cities with estimated Medicare Supplement coverage premiums
Charts for Medicare Supplement coverage exist for the following California cities:
FAQs
How much does Medigap cost in California?
The cost of a Medigap policy in California is based on the coverage level and age of the policyholder, typically ranging from $150 to $200 per month.
Do Medigap Plans increase annually in California?
You will likely see an annual increase on your Medicare Supplement Plan, and fortunately, in California, you have the Birthday Rule to allow you to change without medically qualifying.
How often should I review my California Medigap plan?
You will typically want to check your Medigap alternatives every 5 to 7 years, but you should review rates if you believe your premium rise has been more significant than anticipated. You can change yearly without answering health questions with the California Birthday Rule.
What's the average cost of California's most popular Medicare Supplement Plan Options?
Medicare Supplement options in California differ depending on your plan letter. The most popular plan options' average costs:
Plan F averages $206
Plan G averages $166
Plan N averages $144
What's the most popular Medicare Supplement in California
Currently, Plan F is the most popular Medigap plan in California. However, we expect Plan G's enrollments to increase significantly.
Getting help with Medicare Supplement plans in California.
Medicare can be tricky to navigate. But you don't have to worry about it anymore because our team of licensed insurance agents is here for all your needs! The agents specialize in everything about Medicare, from choosing the right type of coverage to helping with enrollments. We've dealt with every carrier imaginable, so there's no guesswork involved!
We provide a range of coverage choices to match your specific needs, whether you're looking for a Medicare Supplement or a Medicare Advantage plan.
Allow us to assist you in selecting the insurance that best meets your requirements and demands! Please give us a call today. Or fill out our online rate form to receive the best rates in your area.