Missouri Medicare Supplement plans are hands down the most comprehensive coverage for Medicare. These standardized plans are regulated and have the same benefits regardless of who you enroll in or where you live.
These plans fill in the gaps left by Original Medicare. These gaps are the reason they're referred to as Medigap plans. Because these plans work alongside Original Medicare, beneficiaries can visit any provider nationwide.
Missouri Medicare Supplement plans enrollment
Missouri has quite a bit of rural areas. Since Medigap plans allow you to see any provider that takes Medicare, it enables residents in rural areas more access to healthcare. Missouri has 327,545 Medicare Supplement enrollees, about 37.6% of the Medicare beneficiaries.
| | | | | | | | | | | |
| --- | --- | --- | --- | --- | --- | --- | --- | --- | --- | --- |
| PLAN | A | B | C | D | F | G | K | L | M | N |
| | 1,981 | 1,950 | 8,938 | 4,555 | 186,122 | 87,259 | 1,032 | 904 | 11 | 21,139 |
What are the best Missouri Medicare Supplement plans
Missouri's most popular Medicare Supplement plans are F, G, and N. They are the most popular because of how good the coverage these plans offer.
Plan F isn't just the top Plan in Missouri but the entire nation. When you enroll in Plan F, the only cost you're responsible for is the monthly plan premium. It picks up all the costs left over from Original Medicare.
New Medicare beneficiaries aren't eligible for enrollment into plan F due to the MACRA act.
Plan G is the number one plan for new Medicare beneficiaries. The coverage is identical to plan F in every way except one. Plan G doesn't pay the Medicare Part B deductible and is the closest option to Plan F for new beneficiaries.
Plan N has always been a popular option. With premiums that are more affordable than Plans F and G and strong benefits, Plan N has always been a solid option. The Plan N coverage is very similar to Plan G. The difference is that when you use the Plan, you will pay small copays when you see your doctor or visit the emergency room. It also doesn't cover Medicare Part B excess charges.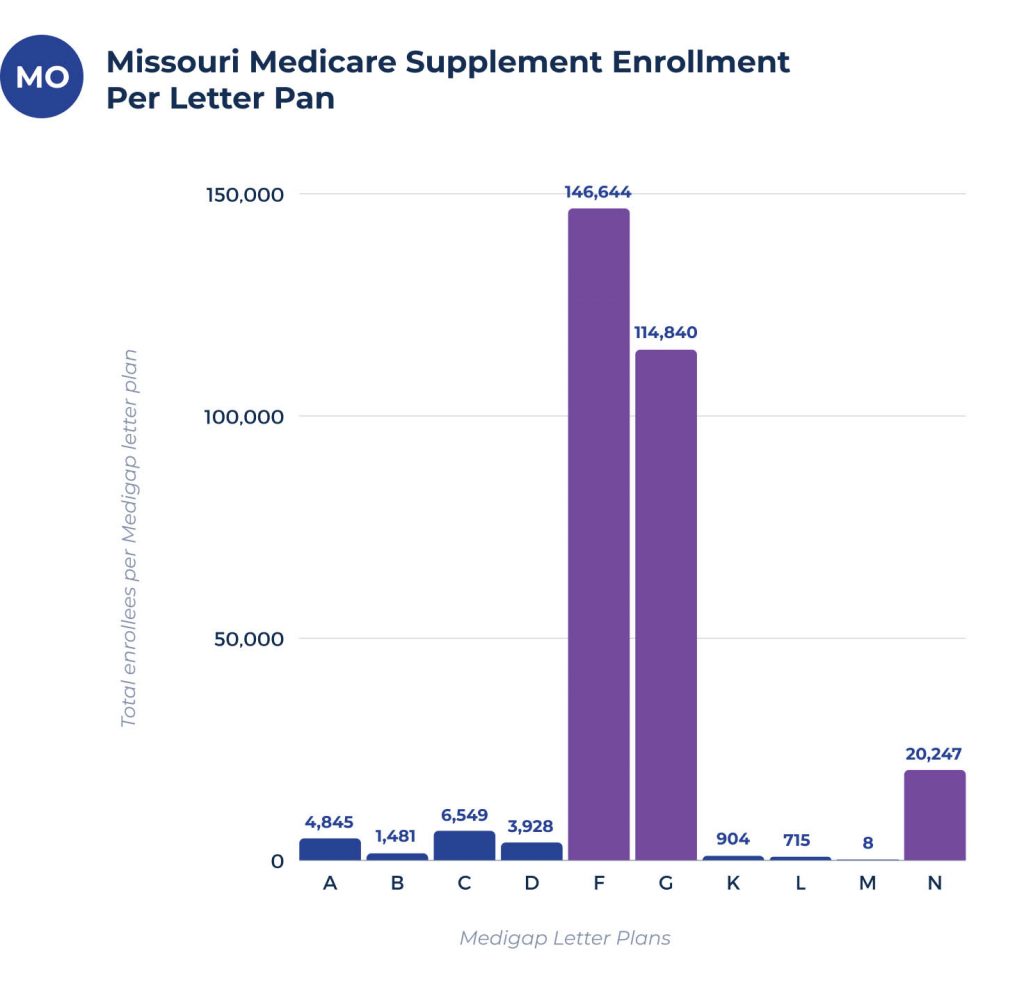 Medigap plan coverage chart for
Missouri
The chart below shows the benefits of each letter plan. Remember that all these benefits are the same regardless of your plans or the insurance carrier you enroll with. In addition, the coverage is the same from state to state.
Missouri Medicare Supplement plans costs
Several factors can affect your monthly premiums regarding Medicare Supplement plan pricing. The most significant factors influencing your rate include age, location, and tobacco use. Other factors are gender, how you pay, rate locks when you enroll, and if you qualify for any household discounts.
Enrolling in a situation where underwriting is necessary can also impact your rate. Fortunately, Missouri has an anniversary rule that allows you to change to another carrier without Medical Underwriting. The caveat is that you can only switch to the same letter plan you're already enrolled in without underwriting during your anniversary rule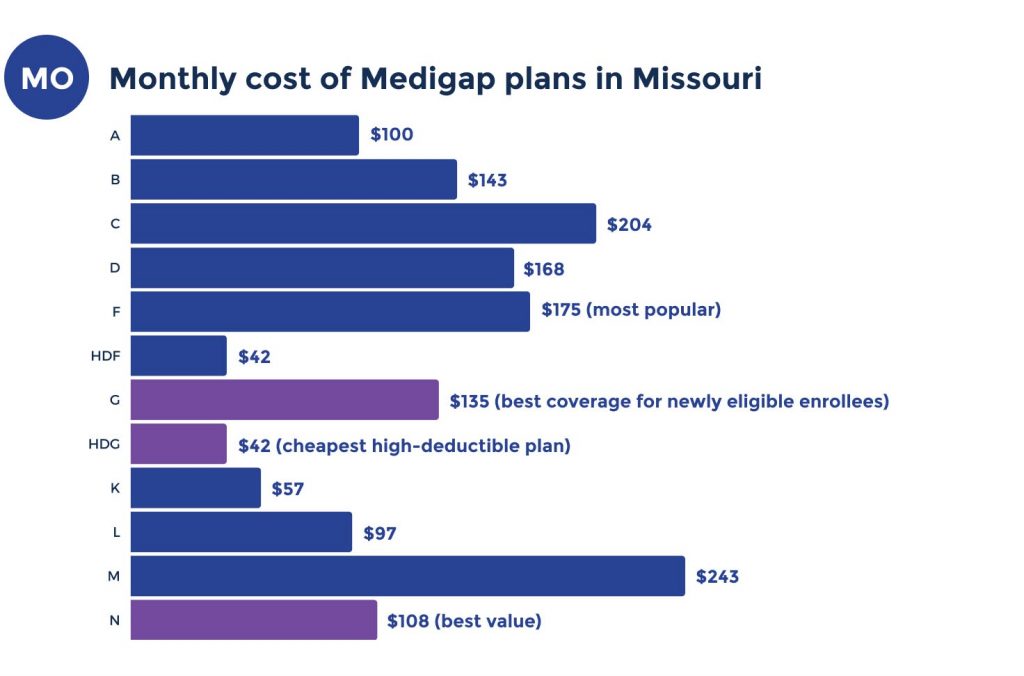 What's the average cost for a Medicare Supplement plan in Missouri?
Lowest premium per Missouri Medicare Supplement plan
Next, we'll cover the lowest premium per plan letter. Keep in mind that these prices are based on a 65-year-old woman.
| | | | | | | | | | | |
| --- | --- | --- | --- | --- | --- | --- | --- | --- | --- | --- |
| PLAN | A | B | C | D | F | G | K | L | M | N |
| Premium | $94 | $150 | $177 | $164 | $178 | $146 | $62 | $105 | $132 | $120 |
Most expensive premium per Medigap Letter plan in Missouri
The following graphic shows each plan letter's highest cost Medigap plans. The chart below's information uses data from a 70-year-old man.
| | | | | | | | | | | |
| --- | --- | --- | --- | --- | --- | --- | --- | --- | --- | --- |
| PLAN | A | B | C | D | F | G | K | L | M | N |
| Premium | $402 | $381 | $397 | $334 | $464 | $413 | $145 | $322 | $382 | $334 |
Top Medigap plan carriers in Missouri
Now we'll talk about the top-rated Medicare Supplement providers in Missouri. The prices are shown in the chart below use information from a female that's 65 years old.
Cities in Missouri with estimated premiums for Medicare Supplement Coverage
Below, we've compiled a series of helpful charts to illustrate the projected costs of Medigap plans for the following Missouri cities:
FAQs
What pricing method is used in Missouri?
All Medicare Supplement insurance companies use the issue-age rating in Missouri. Regardless if you enroll with a lesser-known company, such as Old Surety, or a well-known provider, such as Mutual of Omaha, the pricing method will be the same.
What are the top three Medicare Supplement Plans in Missouri?
The top three plans in Missouri are Plans F, G, and N. Will similar coverage levels and excellent benefits, one of these top plans can fit your needs. Plan F is no longer available for new Medicare beneficiaries.
How much is Plan G in Missouri?
The price of Plan G will vary based on a few factors. Plan G starts at $146 and can be as expensive as $413 monthly.
What's the least expensive Medigap in Missouri?
Plan K is the cheapest Medicare Supplement in Missouri. It starts with a $ 62-a-month premium.
What's the average monthly cost of a Medigap Plan in Missouri?
The average cost of a Medigap plan in Missouri is about $150 a month.
How to sign up for Medicare Supplement plan in Missouri
The state of Missouri has excellent Medicare Supplement rates. Choosing the right Plan for you is vital in staying healthy and receiving the healthcare you deserve. With so many choices, how do you choose the right Plan for you? Well, the answer is we can help. Not only do our licensed agents excel in all things Medicare, but we love to help our clients.
We'll arm you with the education and information needed to make the best situation for you. Help is only one call away. You can fill out our online request form if now isn't a good time.