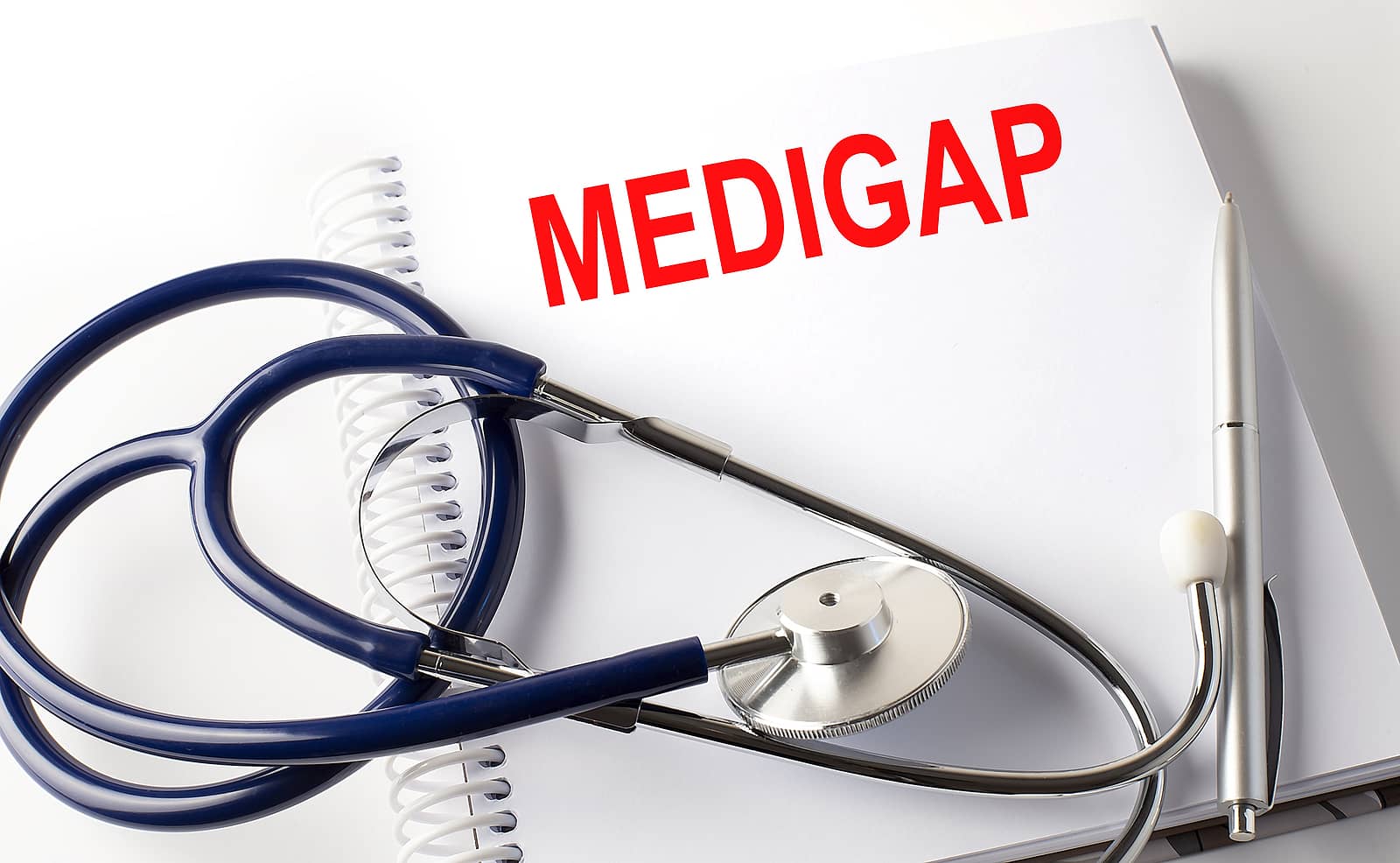 Medigap is a Medicare Supplement policy. These plans cover the gaps in Medicare, which is why they are called "Medigap." With Traditional Medicare, you'll pay 20% of the cost of your medical bills, with no Maximum Out-of-Pocket. Plus, there are deductibles and other gaps in coverage.
The perk of Original Medicare is that you can go to any doctor nationwide since Medicare is a national program. Luckily, Medigap plans follow Medicare. So, if Medicare covers the medical service, your Medigap plan will pay its portion. The freedom to choose any doctor is one reason choosing Medigap makes sense.
What exactly is Medigap?
The best way to explain Medigap is that it covers all or a portion of your medical bills that you would otherwise be responsible for paying. All the Medicare Supplement plans are standardized.
The standardization of Medigap plans means that a Plan F in California is the same coverage as a Plan F in Florida. While coverage remains the same, the monthly premium cost does vary.
Medicare Supplements are a type of insurance sold by private companies. These policies follow Medicare's guidelines for coverage.
So, Medigap plans don't cover long-term care, vision, dental, hearing, or private nursing.
But coverage does include things like your Part A and B coinsurances, Part A deductible, Part B excess charges, Skilled Nursing care, and three pints of blood each year. Some policies cover foreign travel emergencies and the Part B deductible.
An insurance agent can help you determine the right amount of coverage for your situation.
What is the difference between a Medicare Supplement and Medigap?
Medicare Supplement plans are Medigap plans, this is just a different name for the same type of coverage. Throughout this text, we will use these terms interchangeably.
What is Medigap coverage used for?
Medigap coverage is used to cover the gaps in Medicare. You'll want to enroll in this coverage if predictable health costs are important to you. A Medicare Supplement plan covers 20% of the medical bills you otherwise pay.
Do Medigap plans have an out-of-pocket maximum?
Most Medicare Supplement insurance plans don't need a Maximum Out-of-Pocket (MOOP), but two options have a MOOP. Plan L and Plan K have a MOOP, subject to change annually.
Those two policies aren't the most popular Medigap plans. Options like Plan F don't require you to pay outside your premium on Medicare-covered services so a MOOP wouldn't make sense.
Do Medigap plans have a deductible?
Some Medigap plans have a deductible. Coverage depends on the policy you choose.
High deductible plans like High-Deductible Plan F or High Deductible Plan G require you to meet that amount before coverage begins. The deductible increases yearly, but these plans' premiums are quite low.
Most plans cover the Part A deductible. However, the Part B deductible is a likely deductible you'll have with your plan.
Do all Medicare Supplement plans cover the same?
A Plan F might have the same coverage as another Plan F, but Plan N doesn't cover as much as Plan F. Standardized plans make it easier for you to compare prices but be sure you're comparing the same letter plans when you're getting quotes.
Who needs Medigap insurance?
If you have Medicare, you should consider a Medigap plan. A Medicare Supplement plan can provide peace of mind during a major health event.
Those with many doctors should consider a Medigap policy; since Medigap allows you to see any doctor that takes Original Medicare, you have many options.
Beneficiaries with chronic health conditions, a strict budget, lower risk tolerance, and those that travel need to sign up for Medigap.
If one of those applies to you, talk to a Medicare advisor to find out which option will provide you with the most value.
What is the Medigap Open Enrollment Period?
If you recently turned 65 or you're turning 65, you're eligible for the Open Enrollment Period. You can enroll in a policy without dealing with underwriting during this time. No underwriting means you're guaranteed enrollment into the policy of your choice.
You can only enroll in a policy without underwriting if you qualify for a Special Enrollment Period. Outside of these two enrollment periods, you'll likely have your application for coverage reviewed by an underwriter.
You can sign up for Medigap anytime if you don't have a Medicare Advantage plan. Unfortunately, you can't have both Medigap and Medicare Advantage.
For those that need to go through underwriting, using the help of a Medicare expert can save you time. In one conversation, you'll know which company will most likely approve your application for the most reasonable price.
Why is Medigap so expensive?
Medicare Supplement coverage is more than a premium; with this type of policy, you have few out-of-pocket expenses. Premiums are predictable monthly amounts that may see slight annual rate increases.
The saying "you get what you pay for" applies to insurance.
Are Medicare Supplement plans worth it?
Medicare Supplement plans are worth the cost. Medigap is the right policy if you want predictable costs, freedom to see any doctor nationwide, and predictable coverage.
Medigap plans have a monthly premium, but in many cases, the annual premiums are substantially less than the Maximum Out-of-Pocket for a Medicare Advantage plan.
For example, suppose the Medicare Advantage plan has a $8,300 limit on spending before you don't have to keep paying copayments and deductibles. That could be an expensive policy, especially if you consider that Plan G could cost less than $2,000 for the whole year with hardly any out-of-pocket expenses.
The big question is, do you want to save money while you're healthy and pay unpredictably high medical bills if you become extremely disabled? Or would you rather lock yourself into a great policy with a low premium while you're still eligible for coverage?
Once your health declines to a certain point, Medigap insurers won't accept your policy. It's best to get coverage before you need it. Then, it's there when you do need it.
Do Medicare premiums increase based on age?
Medicare premiums don't increase with age, but premiums may go up because of inflation. On the contrary, Medigap premiums can increase with age. Medicare Advantage premiums don't change based on age. They are available based on location.
Are Medigap premiums based on income?
Medigap isn't based on premium. Higher-income earners could pay a Part B or Part D Income Related Monthly Adjustment Amount (IRMAA).
The Medicare premiums for Part B and Part D could be higher depending on how high your taxable income is from two years ago. You can file a Part B or Part D IRMAA appeal if your income is substantially lower than two years ago.
Is Medigap and Medicare Advantage the same thing?
Many people compare Medigap vs Medicare Advantage; these two policies aren't the same thing. The Medigap options give you the freedom to choose doctors, predictable costs, and the ability to travel.
Medicare Advantage plans may have lower premiums, but the out-of-pocket costs can add up quickly. Also, Part C plans require you to stay in the provider network, using doctors only in your service area.
Sure, either plan could be beneficial depending on what you find important, but Medigap generally takes the cake.
What are the best Medicare Supplement plans?
The best Medicare Supplement plan depends on your situation. Some people will need more coverage than other people.
A Medigap Plan F or Plan G will likely make the most sense if you need comprehensive coverage. But, if a lower premium is more important, alternative plans offer lower monthly costs.
Working with a qualified Medicare advisor is the best way to identify the coverage you need. Call our experts today to see which option makes the most sense.
You can now complete an online rate form to discover Medigap rates in your area.