Some doctors accept Medicare, but they don't take Medicare assignment with Medicare. In those cases, they can bill the patient more than the Medicare-approved amount, called an excess charge.
It is not likely that you would see excess charges. Less than 5% of healthcare providers are not-participating providers for Medicare. An excess charge is capped at 15% above the Medicare-approved amount for a procedure or service.
How Common Are Excess Medicare Charges?
Excess charges are calculated based on the Medicare-approved amount. For example, suppose you have a medical procedure with a dermatologist to remove a sunspot. Let's assume the approved amount is $250.
The healthcare provider can charge 15% percent more than the approved amount. 15% of $250 is $37.50. The doctor could charge $287.50. If you have already reached your Medicare Part B deductible, Medicare will pay $200, and you would be responsible for $87.50.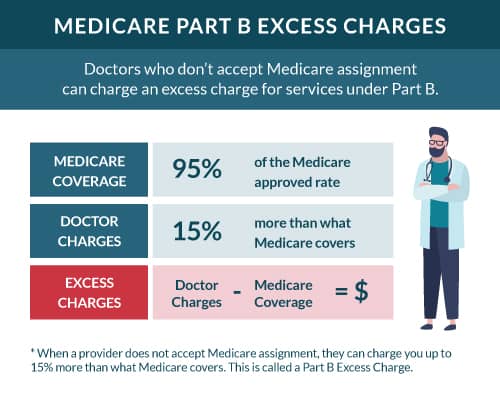 How To Avoid Excess Medicare Charges
Avoiding being overbilled is one of the most straightforward processes involved with Medicare.
To start with, most doctors that take Medicare don't charge excess charges. In addition, most providers don't charge them. Avoiding excess charges can be as simple as asking a provider if they accept Medicare assignment before seeing them. If they say yes, they don't charge excess charges.
The other way to verify if a provider charges excess charges is to use Medicare's physician finder tool. It will say if a healthcare provider does or doesn't accept Medicare assignment.
Which States Do Not Charge Medicare Excess?
There are 8 states that either limit additional charges further or do not allow them at all due to the Medicare Overcharge Measure. The states that don't allow or limit excess charges are Connecticut, Massachusetts, Minnesota, New York, Ohio, Pennsylvania, Rhode Island, and Vermont.
FAQs
What do excess charges mean?
A 15% charge on top of the Medicare-approved amount.
What does it mean to have a Medicare Part B excess charge?
If you receive an excessive bill, it means the health care provider you saw accepts Medicare but not Medicare assignment. In this situation, you will be required to pay more than the typical 20% after the program pays 80%.
Can I avoid an excess charge?
Yes, simply ask the healthcare provider beforehand if they accept Medicare assignment. If so, they can't charge excess charges.
What states allow excess charges?
Every state except the following allows excess charges. The ones that do not are: Connecticut, Massachusetts, Minnesota, New York, Ohio, Pennsylvania, Rhode Island, and Vermont
Are excess charges standard?
No, most healthcare providers nationwide accept Medicare assignment.
Which Medicare Supplements cover excess charges?
Currently, only Medigap Plans F and G cover excess charges. Medicare Supplement Plan F is only available to beneficiaries that had Medicare before January 1, 2021.
Can hospitals charge excess charges?
That depends. Excess charges are allowable for Part B. If the service is deemed an inpatient, there should be no excess charges. It'll fall under Part B if it's outpatient, and excess charges can apply.
How Do I Get A Medicare Supplement Plan To Help With Excess Charges?
If excess charges from Medicare are something you'd rather never worry about, a supplement plan can be a valuable asset. In fact, getting a Medigap plan can help you with most — if not all — charges assessed to you that the program doesn't cover itself.
Getting assistance with picking the right Medicare Supplemental plan is a lot easier when using our licensed insurance agents to help you make the most informed decision. Along with their knowledge and ability to answer your questions, their service is free for you to use.
We can help educate you on how to avoid excess charges. Give us a call or fill out our online request form so we can find the best plans for your area.