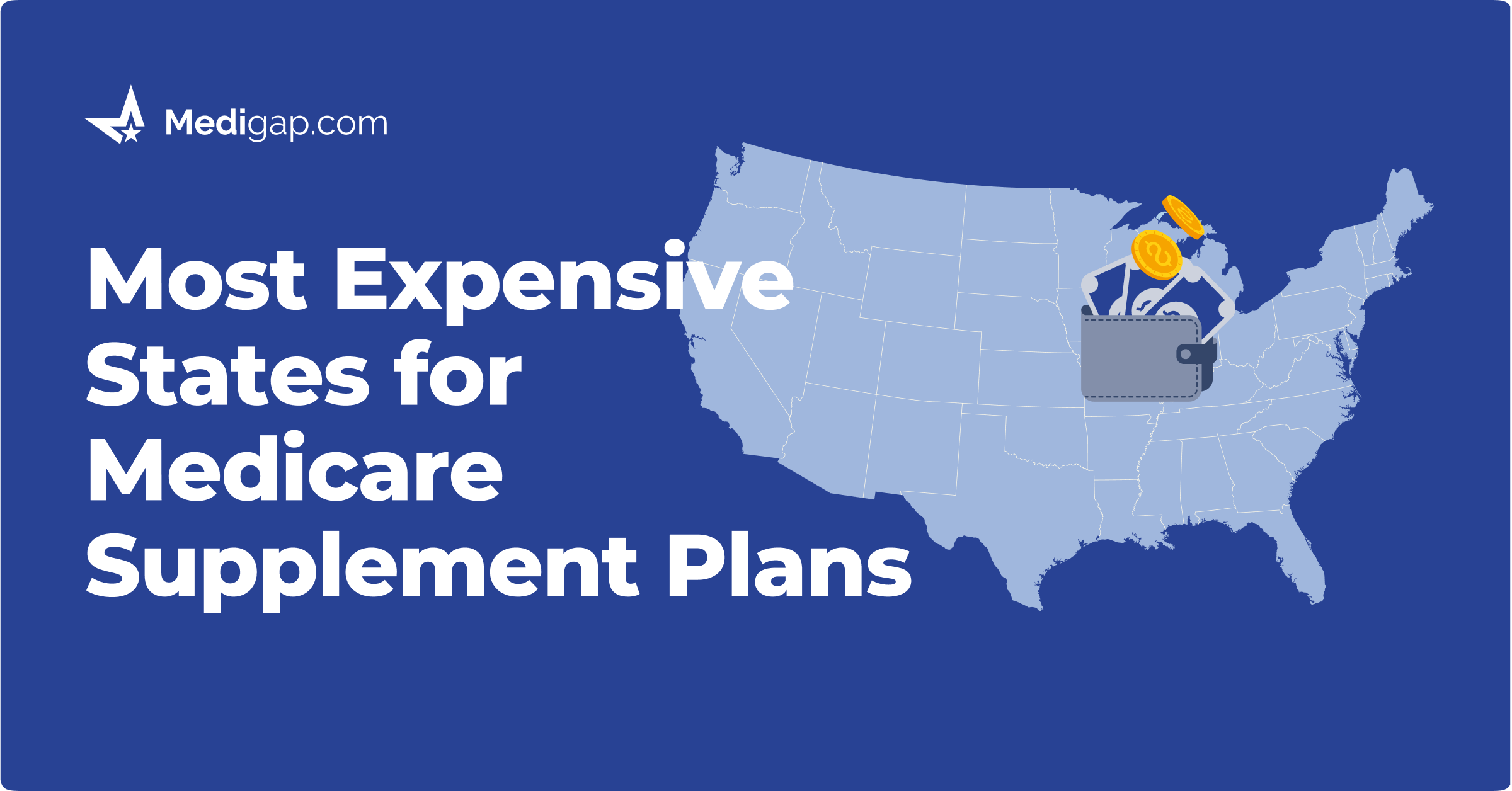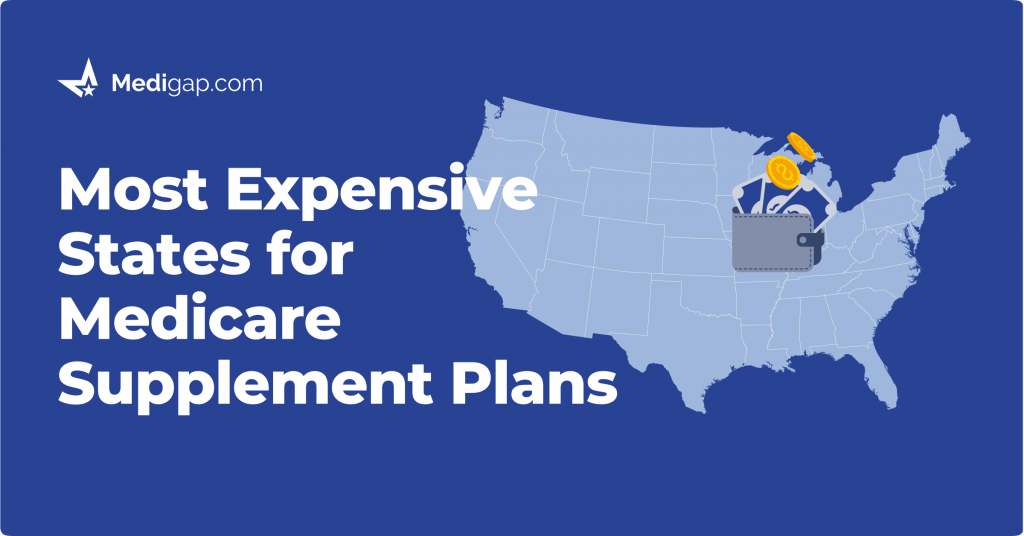 Some states have higher Medicare Supplement plan premiums than others, and we're reviewing the most expensive states for Medigap. While benefits are standardized, costs vary. Below we'll show which states have the highest Medigap premiums, the reasons behind the higher prices, and how to find the best healthcare option for you.
Top 5 states with the highest Medigap premiums
New York

Connecticut

Washington

Florida

California
#1 New York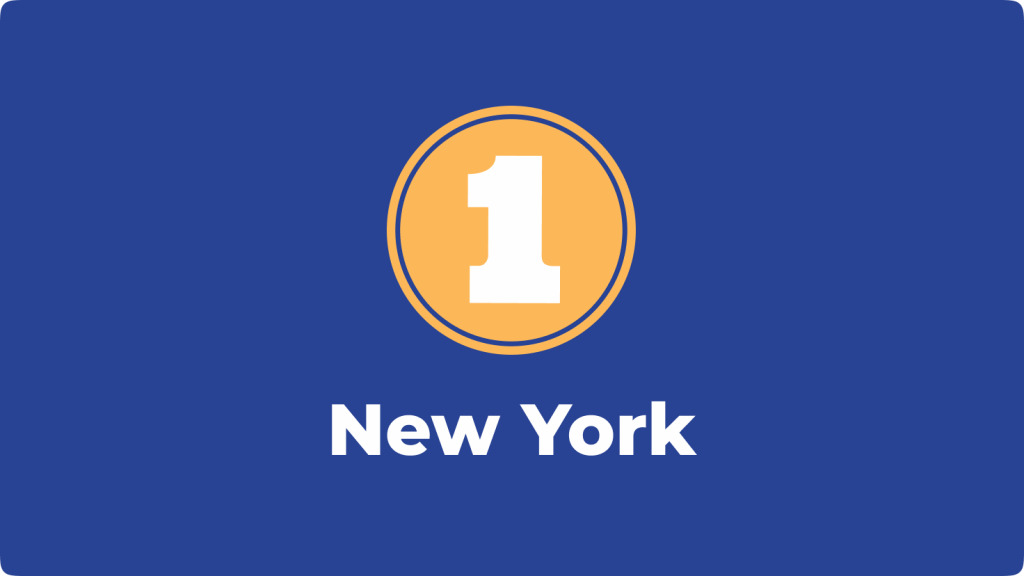 New York is the most expensive state for Medigap insurance. Costs for a 65-year-old female can range from $200-$750, depending on several factors. Rates can vary by zip code.
Choosing a health insurance company and Medigap policy that fits your healthcare spending plan is essential. Plan G may cost more than Plan N in monthly premiums. Suppose regular doctor visits are in your schedule; The Plan G would save you money over time.
What makes New York the most expensive state for Medigap plans?
Medigap is likely expensive in New York for several reasons. The first reason is that New York has one of the highest living costs in the United States.
Secondly, states with community rating methods tend to pay more than those with attained age or issue age ratings. New York offers year-round Open Enrollment Period guaranteed issue rights.
New York doesn't allow Part B excess charges to be applied to your health care costs. Excess charges can increase your medical expenses by up to 15% if the provider disagrees with Medicare's fee schedule.
Finally, New York requires insurance carriers to offer coverage to Medicare beneficiaries under 65 on disability.
When you combine these things, it's no surprise New York is at the top of the list for the most expensive Medicare Supplement insurance.
#2 Connecticut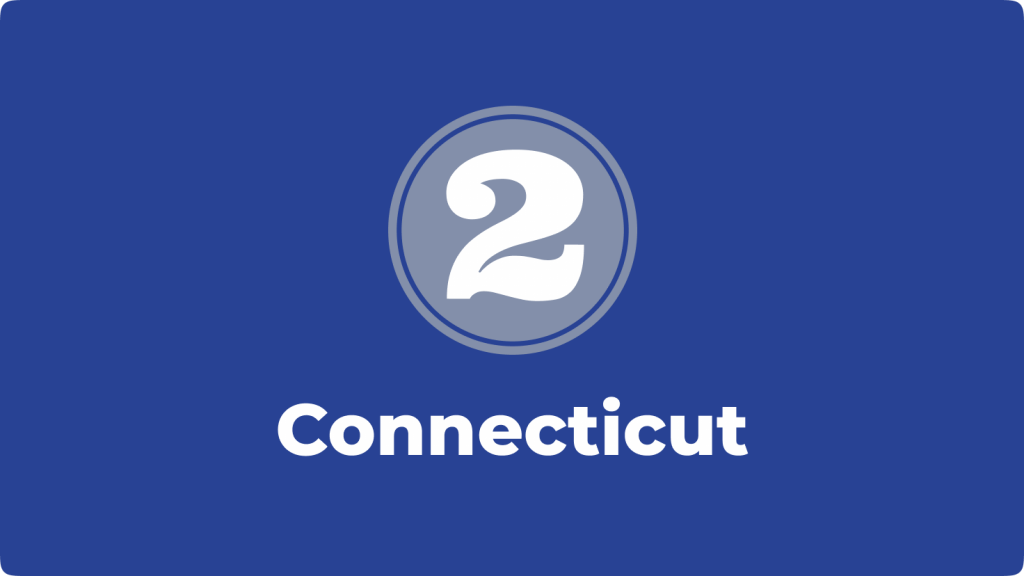 For example, Plan F generally costs more than Plan G since Plan F covers the Medicare Part B deductible. However, paying the deductible and saving on monthly premium costs often makes more sense.
| | | | |
| --- | --- | --- | --- |
| Carrier | Plan G | Plan N | Plan F |
| AARP | $210 | $170 | $282 |
| USAA | $276 | $172 | $284 |
| Anthem | $211 | $169 | $298 |
| United American | $362 | $207 | $345 |
| Humana | $343 | $259 | $399 |
Why is Medigap so expensive in Connecticut?
Since Connecticut offers a year-round guaranteed issue right and community ratings, it makes sense that Medigap monthly premiums are higher.
Also, Connecticut's cost of living is 22% higher than the national average. And the cost of living impacts healthcare premiums.
Connecticut doesn't allow Medicare Part B excess charges. So, Plan C works like Plan F in this state. Since excess charges aren't allowed, premiums tend to be higher.
Finally, Connecticut requires insurance carriers to offer Medigap plans to those under 65 with Medicare due to disability. These factors increase the costs, making Connecticut among the most expensive states for Medicare Supplement policies.
#3 Washington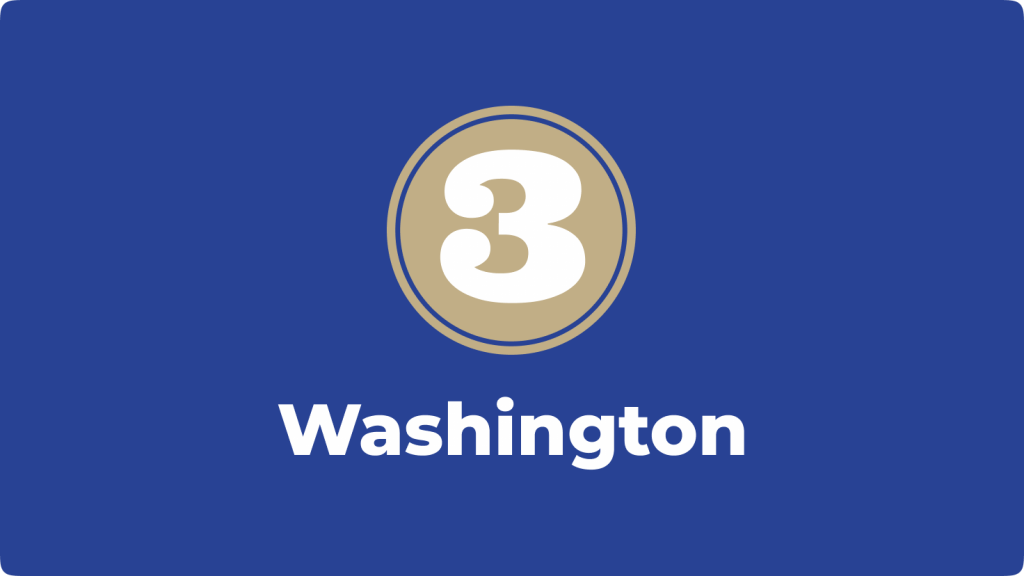 Depending on the insurance company, a 65-year-old female in Washington state can expect Medigap plan costs to fall between $140-$325. Year-round guaranteed issue rights allow Medicare beneficiaries to switch Medigap plans of equal or lesser value in Washington anytime, making the state one of the most expensive for purchasing Medicare Supplement plans.
Washington residents, remember you can compare your options and change plans anytime if you feel your premium is too high.
| | | | |
| --- | --- | --- | --- |
| Carrier | Plan G | Plan N | Plan F |
| AARP | $210 | $165 | $264 |
| Anthem | $211 | n/a | n/a |
| Humana | $215 | $174 | $276 |
| USAA | $276 | $151 | $255 |
| Cigna | $315 | $143 | $239 |
What makes Medigap so expensive in the state of
Washington?
On top of a higher cost of living and year-round guaranteed issue rights, Washington requires plans to follow the community rating method. Consequently, these factors can all lead to higher Medigap premiums.
#4 Florida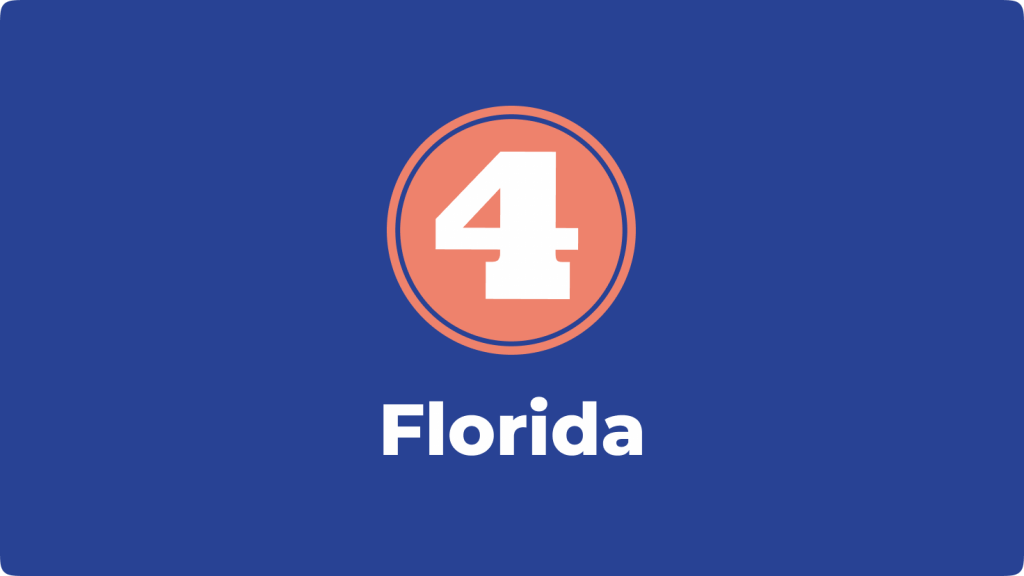 Medicare Supplement plans in Florida can cost between $120 and $220 for a 65-year-old female. Florida doesn't require community ratings and doesn't require insurance companies to provide options for those under 65. Floridians even pay excess charges on Medicare Part B.
However, Florida does require insurance companies to provide you with guaranteed issue rights after your Initial Enrollment Period if you have an active employer but are voluntarily terminating your group coverage.
What makes Medicare Supplement plans so expensive in the state of
Florida?
Medigap in Florida is costly due to the high number of retirees and the cost of living. With many seniors needing insurance in Florida, the carriers must charge more to accommodate coverage for each policyholder. This makes Florida one of the most expensive states for Medicare Supplement plans.
#5 California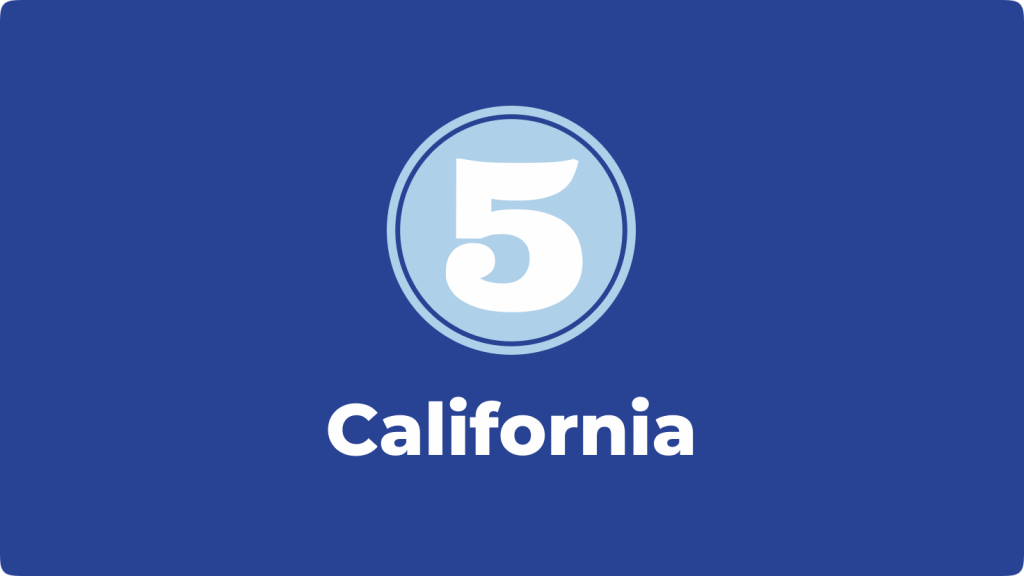 Being one of the most expensive states to live in, it's no surprise that California Medigap is also costly. A 65-year-old man can expect to pay between $90-$200 for a Medicare Supplement plan.
California's birthday rule allows beneficiaries to change from carrier to carrier during a 91-day Open Enrollment Period. The enrollment period begins 30 days before your birthday. You qualify for guaranteed issue rights when you select a policy of equal or lesser value.
Also, if you voluntarily leave employer group insurance, you could still be eligible for guaranteed issue rights.
| | | | |
| --- | --- | --- | --- |
| Carrier | Plan G | Plan N | Plan F |
| Medico | $121 | $94 | $147 |
| New Era | $134 | $93 | $165 |
| State Farm | $135 | $104 | $200 |
| USAA | $140 | $123 | $163 |
| Globe Life | $144 | $118 | $195 |
What makes Medigap so expensive in the state of California?
The cost of living impacts the cost of health insurance, including Medigap. Private insurance companies base the premiums on what is considered affordable for that area.
Also, the birthday rule allowing beneficiaries to change plans each year without underwriting is a factor in the higher average premium costs.
Why are Medigap monthly premiums more expensive in some states?
Most of the states on this list are known for having a higher cost of living, which does impact premiums. It's no secret that many things are more expensive in New York, and Medigap is no exception.
Also, many states on this list follow a community rating method to price plans. Community ratings mean everyone pays the same premium for the same policy within an age bracket. Prices will vary by company and specific Medicare Supplement letter plan selected.
No matter which state you reside in, you can lower your monthly premium by choosing a high-deductible plan, paying more coinsurance or copayments, or shopping around to find similar benefits for a lower premium.
Medigap alternatives
If Medigap is still out of your healthcare budget, consider enrolling in a Medicare Advantage plan. Some Part C plans include Medicare Part D prescription drug coverage, unlike Medigap. While these plans generally have a low premium, they have higher out-of-pocket costs. Also, before becoming an enrollee, you must verify all your medications, doctors, and specialist accept the policy. While they boast a low monthly premium, there are some disadvantages to Medicare Advantage plans.
FAQs
Which Medigap policy is the most expensive?
Medicare Supplement Plan F is generally the most costly Medigap policy since it has the most coverage. This Plan is considered a "first dollar" coverage option, meaning this plan would cover any medicare-covered services starting with the first dollar. However, if you become Medicare eligible after 2020, Plan F won't be an option.
Which states have a Medigap anniversary rule?
The Missouri Medigap anniversary rule allows Missourians with Medicare Supplement insurance to switch plans 30 days before or 30 days after the policy anniversary date with guaranteed enrollment. If you keep the same letter plan, change from one company to another without underwriting. You may undergo medical underwriting if you choose a plan with fewer or more benefits than your current policy.
Which states have a Medigap birthday rule?
Several states follow the Medigap birthday rule, including California, Idaho, Illinois, Louisiana, Nevada, and Oregon. The "birthday rule" varies by state. For example, some states let you change from carrier to carrier, and others only allow you to adjust plans with your current company, promising a guaranteed issue right. Some states only give you 31 days to change plans, and others may give you 93 days to change.
Are Medicare Supplement plans the same in every state?
Most state supplement plans follow the rules of standardization, or they offer the same benefits. For example, Plan F in Arkansas has the same benefits as Plan F in Maine. The state of Wisconsin offers Medigap plans that are structured, to begin with, a base plan, followed by the option to select riders that will provide additional coverage.
Meanwhile, Massachusetts Medicare Supplement plans provide three distinct options: the Core plan, Supp 1, or Supp 1A plan. In contrast, Minnesota's Medicare Supplement insurance options are constructed with a basic plan that can be supplemented with additional riders or prebuilt plans to enhance coverage.
Which states don't allow excess charges?
States that don't allow excess charges include Connecticut, Massachusetts, Minnesota, New York, Ohio, Pennsylvania, Rhode Island, and Vermont. Part B excess charges are applied when the doctor disagrees with the Original Medicare-approved amount as full payment.
Does my Medigap policy cost change if I move from one state to another?
Yes, the cost of your Medigap policy will likely change when you move from one state to another. However, the benefits can remain the same.
How do I find Medigap plan premiums in my State?
Medicare premiums differ in each state, but our agents can help you find the best options. Even if you live in one of the most expensive states, we ensure you don't overspend on coverage.
Call us at the number above, and one of our agents will review plan options with you today! Or fill out the online rate form to get started now.