Bankers Fidelity has been operating since 1955. They are a subsidiary of Atlantic American Corporation and have a few products designed to help Medicare beneficiaries. Their corporate headquarters is located in Atlanta, Georgia, and they do business as Bankers Life, Bankers Fidelity Assurance Company, and Bankers Fidelity Life Insurance Company.
Bankers Fidelity Medicare plans offered
Not all companies offer all Medicare plans. Bankers Life focuses its efforts on the Medicare Supplement market. Since they don't offer Medicare Advantage or Part D prescription drug plans, they can focus more of their time and energy on improving coverage and helping Medigap customers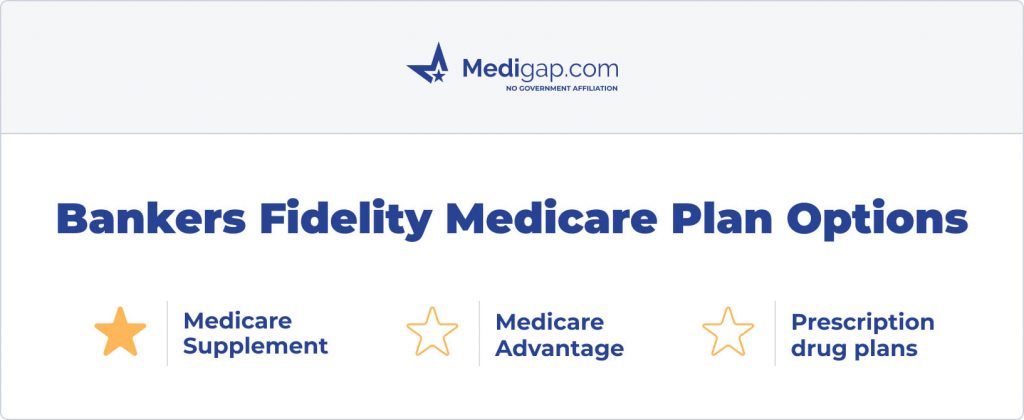 Bankers Fidelity companies
Regarding Medicare plans, Medicare beneficiaries have two paths. Medicare Supplement plan, a Part D prescription drug plan, or an all-in-one Medicare Advantage plan.
We'll cover Bankers Fidelity Medicare Supplement plans and Medicare Advantage plans. Next, We'll talk about Medicare Prescription drug plans and the financial strength of Bankers Fidelity.
We'll wrap up by answering some frequently asked questions and reviewing how to enroll in a Bankers Fidelity Supplemental Medicare insurance plan.
Bankers Fidelity Medicare Supplement plans
Regarding complete coverage, Medicare Supplements are where the buck stops. These plans work together with the Medicare program to limit and sometimes eliminate your out-of-pocket costs when using healthcare coverage. These costs include copayments, Medicare Part B coinsurance, and deductibles.
There are ten Medicare Supplement insurance plans to choose from. Bankers Fidelity offers a variety of them. However, most members choose one of the top three plans in the nation. It's hard to beat the price and coverage levels of Medigap Plan F, Plan G, and Plan N.
Plan F and G both have a high deductible option. These plans are designated HDF and HDG.
Medicare Supplement policies are called Medigap policies because they cover the gaps in Original Medicare. Medicare Supplement health insurance plans must have the same coverage regardless of which company you choose to enroll with. They don't include drug coverage.
Bankers Fidelity Medicare Advantage plans
Medicare Part C is named Medicare Advantage. These plans include all your Medicare Part and Part B benefits. In most cases, your prescription drug coverage is also included. Medicare Advantage plans are required to provide an annual maximum out-of-pocket limit.
In addition to having all these benefits compiled into one plan, they will typically have additional benefits and coverages that Medicare doesn't cover. Many programs include gym memberships, over-the-counter benefits, dental, vision, and hearing coverage.
Bankers Fidelity doesn't sell Medicare Advantage plans. If you want more information on Medicare Advantage, please let us know. We can have one of our licensed insurance agents assist you with finding an insurance carrier that does.
Bankers Fidelity Medicare Part D
Part D coverage is for picking up prescriptions at the pharmacy. Part D coverage is obtained through a stand-alone drug plan or a Medicare Advantage plan that includes drug coverage.
Bankers Fidelity Medicare pros and cons
Pros
Liberal Underwriting
A 30-day free look period
Several Medicare Supplement plan options
Household discounts available in most states
Cons
Higher monthly premiums
Rate increases are higher than average
Financial strength ratings
| | |
| --- | --- |
| A.M. Best Rating | A- |
| Standard & Poors Rating | A- |
| Moodys Rating | N/A |
We like to assess a company's financial strength to determine a few things. The higher the rating, the better the company will be at the following:
Ability to pay claims promptly
Ability to keep rates competitive
lower rate increases
Reviews
Bankers Fidelity has over 60 years of providing outstanding services to their clients. They are well known for processing claims quickly. They're more likely to accept clients with health concerns than their competitors. They have a more straightforward underwriting process.
| | |
| --- | --- |
| Medicare Supplement plans | YES |
| Medicare Advantage plans | NO |
| Medicare Part D Drug plans | NO |
FAQs
Does Bankers Fidelity Plan G cover Medicare deductible?
Bankers Fidelity Plan G covers the Medicare Part A deductible. It doesn't cover the Medicare Part B deductible.
What costs do Bankers Fidelity Medicare Supplements cover?
Depending on the plan letter you enroll with, you could have coverage for the Medicare benefits below:
Medicare Part A deductible
Medicare Part B deductible
Skilled Nursing Facility copays
Hospice care coinsurance
Part B excess charges
foreign travel emergency
Cost of pints of blood
and other medical costs related to Medicare Parts A and B
Is Bankers Life and Bankers Fidelity the same?
Yes! Bankers Life and Bankers Fidelity are affiliated.
Is Bankers Life and Colonial Penn the same company?
Yes! Colonial Penn is a subsidiary of Bankers Life.
Does Bankers Fidelity offer dental insurance?
No. Bankers Fidelity does offer other insurance products, such as critical illness and hospital plans.
Do Bankers Fidelity supplemental plans have prescription drug coverage?
No!. Bankers Fidelity doesn't offer Medicare Part D plans or Medicare Advantage plans.
What is the price of Bankers Fidelity Plan G?
Medigap prices will vary based on serval factors. Some include your age and where you live. You can expect to pay somewhere between $100 and $220 monthly premiums for Plan G.
Does Bankers Fidelity Plan G cover the Part B coinsurance?
Yes. The Bankers Fidelity Plan G covers Part B coinsurance at 100%. Your Open Enrollment period is the best time to enroll in a Medicare Supplement.
How can you enroll in Bankers Fidelity Plan G?
Yes! The following conditions must apply.
You must be eligible and enrolled in Medicare Parts A and B.
You must live in an area where Bankers Fidelity offers the plan.
How to Enroll in a Bankers Fidelity Medicare Plan
Choosing the right plan for your needs is one of your most important decisions. Don't do it alone. We can assist with education and help you determine which programs fit your individual needs and wants once you settle on the proper Medicare Advantage or Medicare Supplement insurance policy.
We'll make the enrollment process painless and fast. For help with this crucial decision, fill out our online request form. If you need help now and don't want to wait, give us a call!