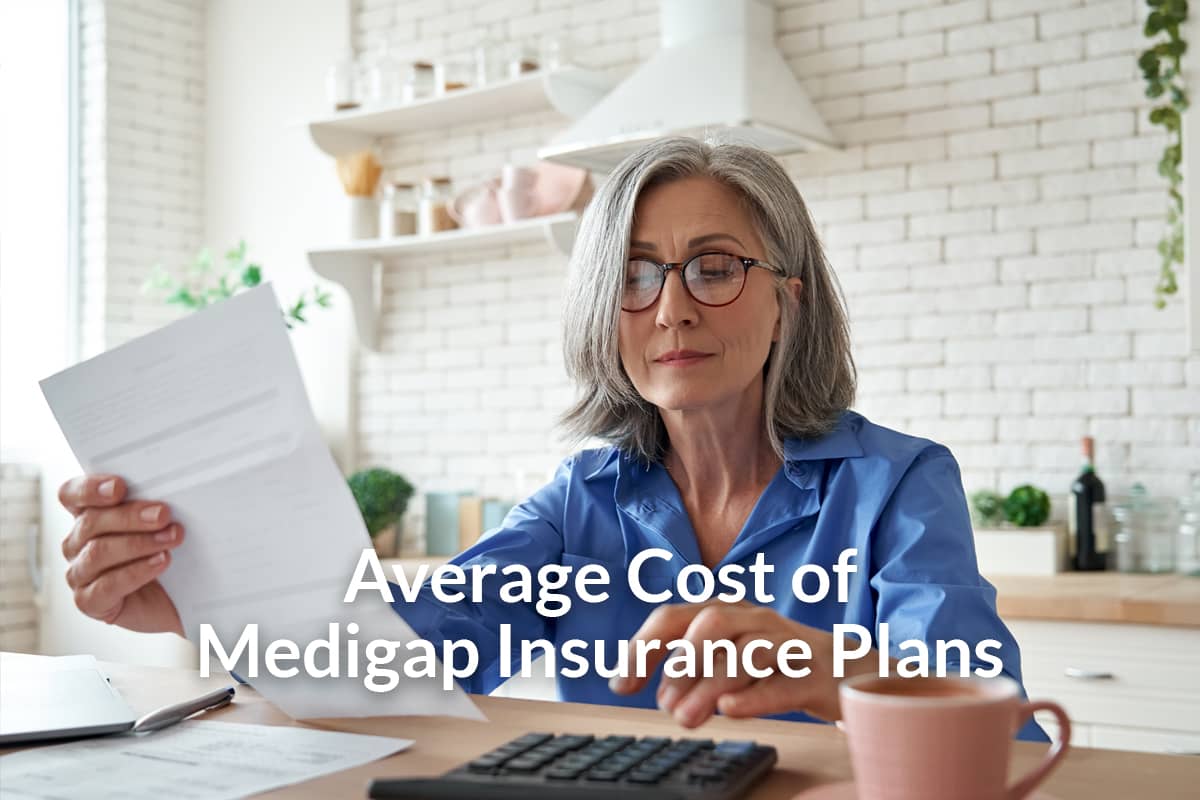 The average cost of Medigap insurance depends greatly on factors such as gender, location, and age. Your chosen plan will impact the price; a policy that provides more coverage will have a higher premium than a policy that provides less.
What's the average cost of Medigap insurance?
The average monthly premium cost of a Medicare Supplement plan can range from $50 to over $300. With Medigap plans, premiums change each year. Tobacco use, health issues, gender, location, and age can influence costs.
You can expect to pay a monthly premium for Part B, Medigap, and Part D. Your premium for Part B is deducted from your Social Security check, or you can sign up for Medicare Easy Pay.
Some of these costs are dependent upon which policy you select. For example, Plan F doesn't have a deductible, and Plan N does have copayments.
The company you choose can also play an impact on the monthly premium. Insurance companies use one of three various rating methods to determine cost. Your Medigap policy will be community-rated, issue age rated, or attained-age-rated.
To better understand the average cost of Medicare Supplemental insurance, let's look at the average cost of the most common Medigap plans.
Average cost for Medigap Plan F
Plan F is the most comprehensive coverage option, costing around $150 to over $300. It's important to note that the price will vary depending on your eligibility. You could pay more if you have major health issues and don't qualify for a Guaranteed Issue.
A high deductible Plan F is an option to save money on premiums and still have comprehensive coverage. The premium is much lower than Plan F, between $50 to $150 monthly, but you must meet the deductible to reap the benefits.
How much is the Medigap deductible?
The year's standardized high-deductible amount for plans F, J, and G is $2,700. If you have a high-deductible Medigap policy, you must meet the annual out-of-pocket expense before the benefits begin. Some preventive services may have coverage before you meet the deductible.
Average cost for Medigap Plan G
Medigap Plan G can cost $100 – $150. Medicare Supplement Plan G offers coverage almost identical to Plan F, except you pay the Part B deductible. The Part B deductible is subject to change each year.
Plan G is a comprehensive coverage option for those not eligible for Plan F or who want a lower premium than Plan F.
If Plan G seems like a good option, but you want a lower premium, consider High-Deductible Plan G or Plan N.
Average cost for Medigap Plan N
Plan N costs $80-$120 monthly. Medigap Plan N is a lower-cost premium option for the most common Medigap policies purchased.
However, with Medigap Plan N, the out-of-pocket costs can seem daunting if you see the doctor frequently. The copay for doctor's office visits can be up to $20 for each visit. The emergency room is a $50 copayment unless you're admitted to the hospital.
Plan N exposes you to Part B excess charges and the Part B deductible.
How can I pay less for Medicare Supplement insurance?
Buying Medigap insurance when you're first eligible is important because the younger you are, the less you'll pay for a policy.
Also, you cannot predict the future when you could be ineligible for Medigap if your health deteriorates quickly. Getting this insurance before it's too late while the premiums are low is best. You may not be as healthy tomorrow as you are today.
Generally, women pay a lower premium than men, about $10-$15 monthly. The reasoning is that women tend to be healthier and live longer than men.
Your location is another huge factor in the average cost of Medigap; metropolitan areas will have higher Medigap premiums compared to rural areas with lower average wealth. For example, New York City Medigap plans are more expensive than the same policy in rural Tennessee.
You can always shop around with your Medigap plan; it's best to call an agent representing multiple carriers to consult you on your options.
There are 3 Medigap premium rating methods
Premiums are set in place by each insurance carrier. Their pricing method can make a difference in how much they charge for policies now and in the future. There are three separate ways that Medigap plans can be rated.
Community-rated or no-age rated
With this pricing, everyone insured under the policy will see the same monthly premium, regardless of age. However, premiums can increase due to inflation and other factors. This means that if you are 65, but your spouse is 75, you will both still pay the same monthly Medigap policy premium.
Issue-age-rated policies
For this type of policy, the premium is based on the policyholder's age at purchase. Younger policy buyers will see lower prices. The premiums will not change as you get older but can increase for other reasons, such as inflation or other factors.
For example, you buy a Medigap plan at age 65 for $140 monthly. However, your neighbor is 78 when he purchases his policy, so his monthly premium is $185.
Attained-age-related-policies
Unlike the other two pricing policies, this plan is based on your current age. This means that your policy premium will go up as you get older. In addition, they can increase based on other factors, such as inflation.
For example, you are 65 when you buy your Medigap policy. You will pay $120 per month to maintain your coverage. Your premium will go up each year as you get older. At age 66, you may pay $126 per month. At age 67, it might increase to $132.
When you turn 72, you might be paying $165 per month. However, if your sister is 72 when she purchases her Medigap plan, her monthly premium might start at $165. It will then go up from $165 yearly as she ages.
FAQs
How much does Medicare gap insurance cost?
Medicare Supplement insurance prices will vary depending on many factors. These factors can include the Plan you enroll in, age, and location. You can expect to pay between $90 and $250 monthly on average.
Is Medicare gap the same as Medicare Supplement?
Medicare gap coverage is called Medicare Supplement or Medigap plans. Medicare Supplement plans are standardized; the only difference is the price and company you choose to enroll in. The coverage is identical with every carrier.
Is Medigap more expensive than advantage?
Medigap plans have higher premiums than Medicare Advantage in most cases. However, sometimes, your out-of-pocket costs could equal more than the annual costs of a Medicare Supplement plan.
Where can I get Medigap premium rate comparisons?
Now you know how much Medigap costs, so come find out what it will cost you.
Our team of licensed Medicare agents can help you find the policy you need. Signing up for Medicare supplemental insurance is so simple it can be done over the phone.
In just a few minutes, an agent can help you compare Medicare Supplement Plans side by side. Our mission is to help you determine the policy that provides you with the most value. Call us at the number above or complete our online rate form now.