To this day, you must be on active duty, retired, or family members of the United States military to have USAA insurance, which includes its USAA Medicare Plans.
USAA began in 1922 when 25 Army officers gathered and decided to insure each other's vehicles.
USAA's mission is to provide excellent service to its members. Standing financially strong, it can pay claims promptly, serve a growing membership, and invest in ways to help its members better.
In addition to Medicare options, USAA's life insurance company offers its members various health insurance, banking, and investment options.
USAA Medicare plans
USAA has been a staple for military members and their families, offering auto, homeowners, and life insurance. They also have a strong presence in the Medicare market with Medicare Supplemental policies.
USAA offers Medicare Supplemental plans (Medigap) nationwide. Medigap plans go hand in hand with your Original Medicare and pay your portions of the Medicare cost-share.
Medicare Supplement insurance plans retain your Original Medicare benefits, including the freedom of healthcare providers.
Medicare beneficiaries will pay a fixed monthly premium. When you have medical or inpatient services, you pay little or nothing out of pocket with medical or inpatient services.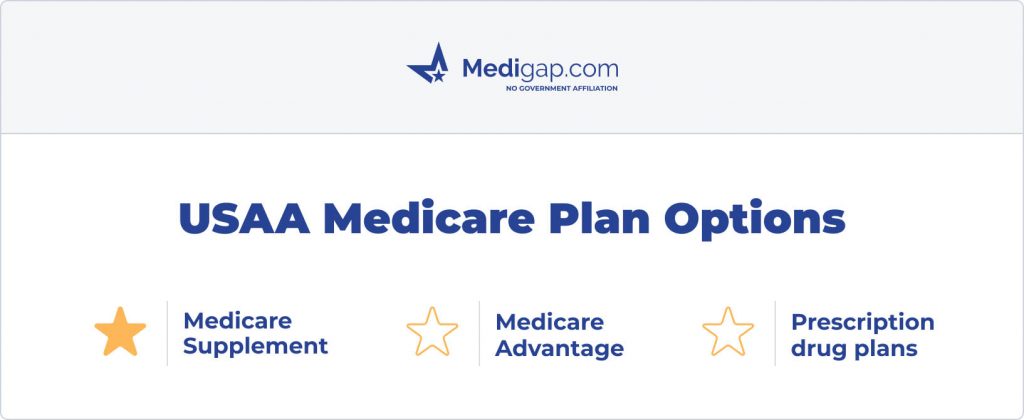 Most Popular USAA Medicare Supplement plans
USAA offers several Medicare Supplement plans, including the most popular options.
USAA Plan G is the most popular Medicare Supplement plan for beneficiaries that are new to Medicare. It covers all the costs associated with Original Medicare except the Medicare Part B deductible.
Plan F is the most popular Medigap plan nationwide. However, only individuals eligible for Medicare before January 1, 2020, can enroll in this plan.
Medigap Plan N is the most cost-effective plan. It offers similar coverage to Plan G. The main difference is small copays of up to $20 for an outpatient physician visit and up to $50 for a trip to the emergency room.
USAA Medicare Advantage plans
USAA doesn't offer Medicare Advantage plans (Part C). If you want to review Medicare Advantage options, fill out our online request form or call us.
Part D prescription drug plans
USAA doesn't offer part D prescription drug plans. Call or complete the online request form for additional Medicare Part D options information.
USAA Medicare pros and cons
Pros
Great Medigap premiums
Mild rate increases
Provides the top three plans
Excellent customer service
Cons
Must be a former or current military or family member to enroll
Strict Underwriting
USAA financial strength ratings
Medicare plans get ranked by their financial strength by A.M. Best and Moody's. A.M. Best gives USAA a rating of A++. Moody's gives USAA a rating of Aa1.
Companies with higher ratings tend to have smaller rate increases and more stable rates.
USAA reviews
Great Customer Service
USAA Medicare Supplement plans have some of the best customer service ratings. Overall most of their policyholders state they have excellent customer service.
Fast Claims Processing
They have efficient and accurate electronic claims processing. Your healthcare providers will receive payment for the services rendered promptly.
Competitive Pricing
USAA's Medicare Supplement plans are among the most competitive insurance carriers in the Medigap market. Enrolling in a USAA Medigap plan means you're paying a fair price for your insurance.
USAA Medicare Supplement FAQs
How much is the premium for USAA Plan G?
The premium will vary from state to state. The premium for Plan G with USAA starts at around $100 monthly.
What Medicare Supplements does USAA offer?
USAA offers Medigap Plan A, Plan B, Plan F, Plan G, and Plan N. These plans aren't available in all areas.
Will my USAA premium increase?
Yes! You can expect to see annual rate increases regardless of who you choose as your Medicare Supplemental plan company.
When can I enroll in a USAA Insurance Policy?
You can enroll in a Medicare Supplemental plan at any time. The best time to enroll is during your one-time Medigap Open Enrollment Period. Outside this window, you should expect to answer underwriting questions.
Does USAA Plan F cover Medicare deductible?
Yes, Plan F covers both deductibles under Medicare Part A & Medicare Part B. It's a first-dollar coverage plan. This means you'll have zero out-of-pocket costs outside your monthly premium.
Which Medicare Supplement plan has the highest level of coverage with USAA?
The federal government standardizes all Medicare Supplement insurance plans. This means regardless of the insurance carriers you choose. The benefits are the same. The Medigap plan with the highest level of Medicare coverage is Plan F. Plan G is the runner-up.
What is the highest-rated supplemental insurance plan with USAA?
The highest-rated supplemental Medicare plan with USAA is Plan G and Plan N.
What are the benefits of USAA Medicare Supplement Plan F?
Plan F with USAA, and every other carrier, will include all possible benefits with a Medigap plan. Thus, leaving you with no out-of-pocket costs as you use the benefits. You won't ever have any deductibles, copays, or coinsurance.
What is the maximum out-of-pocket limit for USAA Medicare Supplement Plan G?
The Part B deductible is the only out-of-pocket cost with USAA Plan G outside your monthly premium. The Part B deductible is currently $240.
What is the difference between USAA Plan G and Plan F?
The only difference between Plan G and Plan F is that Plan F covers the Part B deductible, and Plan G does not. The current deductible under Part B is $240.
What is the deductible for USAA Medicare Supplement Plan G?
Technically, USAA Plan G doesn't have a deductible. However, Plan G doesn't cover the Part B deductible, which is currently $240.
How to enroll in a USAA Medicare plan?
To enroll in a USAA Medicare Supplement plan, call us. If you prefer, you can fill out our online request form. We have licensed insurance agents that can assist you with information and help you choose the right company for your individual needs.