Your Medicare Initial Enrollment Period is a once-in-a-lifetime event that you cannot miss. Well, technically, you can – but if you do, there will be consequences.
Failing to enroll in Medicare during your Initial Enrollment Period can result in a huge hassle, a ton of paperwork, lots of stress, and late enrollment penalties on top of everything.
So it's important to know when your Medicare Initial Enrollment Period is, what you need to do in order to enroll, and what your options are as far as delaying enrollment without getting penalized.
Calculating Your Medicare Initial Enrollment Period
One of the reasons beneficiaries often miss out on their Initial Enrollment Period is because they don't know how to figure out when it is. They assume it happens at the same time every year, just like many other enrollment periods associated with Medicare. But that isn't true.
Here's how to figure out when your Initial Enrollment Period starts and ends so that you don't end up missing out on your health care coverage.
Start with the month in which you will turn 65. Now, count back three months. Next, count the 3 months after your birth month. This is when your IEP is, 3 months before your 65th birthday, the month of, and 3 months after.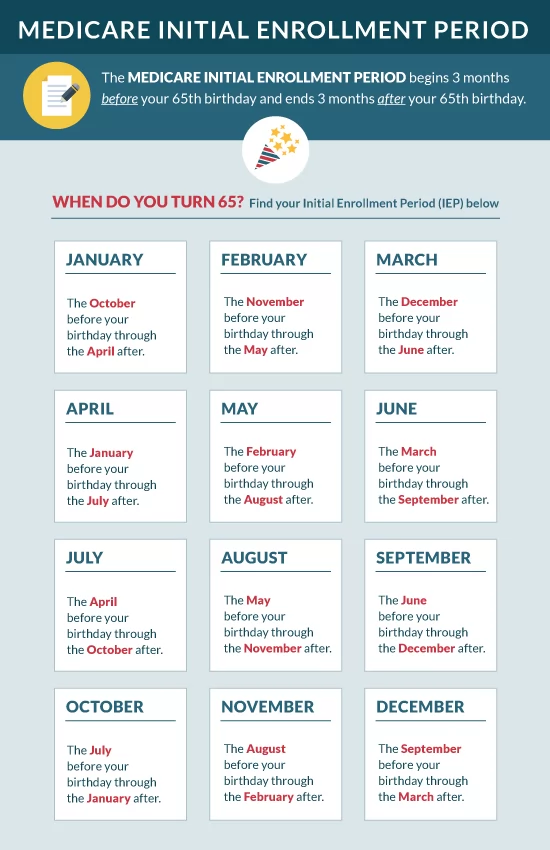 That gives you a 7-month window in order to get your paperwork together, figure out what type of health coverage is best for you, and enroll in that plan as soon as you can.
This isn't just for Part A & Part B. This also applies to Medicare Part D, your prescription drug plan. There are late enrollment penalties for Medicare Part D as well as Original Medicare.
Lastly, your Medicare Initial Enrollment Period for Original Medicare and Medicare Part C (Medicare Advantage) is going to be different. This enrollment period is called the Medicare Advantage Initial Coverage Election Period (ICEP).
Missing Your Medicare Initial Enrollment Period
If you do happen to miss your Initial Enrollment Period, don't worry. It's not the end of the world. You will have a second chance to enroll during the General Enrollment Period.
It starts every year on January 1st and continues through March 31. Unfortunately, even if you enroll during these dates, your Medicare coverage will not start until July 1.
That's why it's important to pay attention and make sure you enroll on time – if not, you can go several months without any coverage and have to pay 100% out of pocket in the event of a health emergency.
Some Beneficiaries May Be Eligible for Automatic Enrollment
There are some circumstances in which beneficiaries may get automatically enrolled in Medicare without having to go the extra mile and do it themselves. This automatic enrollment will still happen during your IEP, but it won't require any action on your part.
If you are currently receiving Social Security benefits, your local CMS office will mail you your Medicare packet – which includes your Medicare card – within the three months before your 65th birthday.
Social Security disability and Railroad Retirement Board disability work in a similar capacity. If you've been receiving benefits for at least 24 months before your 65th birthday, you will receive your Medicare packet in the mail either during the first three months of your IEP or by your 25th month of collecting benefits, whichever comes first.
Enrolling Early Gives You Coverage More Quickly
The center for Medicare and Medicaid services would really, really like you to enroll earlier rather than later.
If you enroll within the first three months of your IEP, your coverage will start on the first day of the month of your birthday. But if you delay, you could have a lapse in coverage.
The general rule of thumb is the sooner you enroll, the sooner you get coverage. And that will help you avoid expensive coverage gaps.
FAQs
What is the initial Medicare enrollment period?
It is the timeframe right around the time you turn 65 and can sign up for your Medicare benefits. It's a 7-month period that begins 3 months before your 65th birthday and ends 3 months after the same birthday.
When should you apply for Medicare?
For most, anytime up to 3 months before your 65th birthday is when you should apply for Medicare. However, analyze your personal bn
Are you automatically enrolled in Medicare?
You will be automatically enrolled in Part B approximately 3 months before your 65th birthday. But you will have to enroll yourself into Part A.
How to Get Help During your Medicare Initial Enrollment Period
If you're IEP is approaching, or you're in the middle of it, when can help. Our agents can help you navigate the different parts of Medicare and ensure you also enroll in the right supplemental plan for your healthcare needs.
If you are already enrolled in Part A & Part B, but still need supplemental coverage, give us a call. Or complete our rate form to get rates in your area.