Anthem BCBS is one of the most trusted names in health insurance. Anthem was formed in 2004 when Wellpoint and Anthem merged. In 2014, Wellpoint inc changed its name to Anthem Inc.
Anthem is part of Blue Cross Blue Shield, one of America's largest healthcare companies. The company has many subsidiaries that vary by name from state to state.
Anthem BCBS Medicare plans
Anthem offers many different Supplemental Medicare options. Plan offerings include Medicare Advantage, Medicare Supplement, and Part D prescription plans. They have plenty of Medicare coverage options and a health plan to fit your needs.
We'll discuss the plan options below, starting with Medicare Supplements. Then we'll move to Medicare Part C and Part D plans.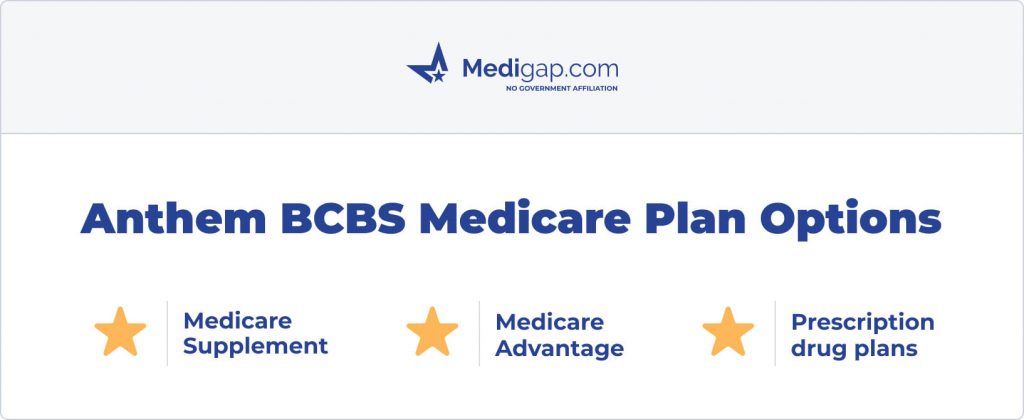 Anthem BCBS Medicare Supplement plans
When it comes to Medicare Supplement plans, Anthem is a household name. These supplement plans, called Medigap plans, fill in the cost gaps in Original Medicare.
Most Medicare beneficiaries will enroll in Plans F, G, or N. Those plan letters have been the most popular for several years.
Medicare Supplement insurance plans cover Medicare deductibles, copays, and coinsurance. They offer the ultimate freedom to choose from health care providers nationwide.
These plans have fixed monthly premiums, making them easy to budget and providing minimal out-of-pocket costs.
Medicare Supplements are standardized, so the coverage will be the same no matter where you live. There are three exceptions to the standardized rule.
Massachusetts, Minnesota, and Wisconsin have different Medicare Supplement plans that don't match the standardization model. Medigap plans don't' cover prescription drugs, so make sure you choose the right Part D plan to go along with it.
Anthem BCBS Medicare Advantage plans
Medicare Part C is called Medicare Advantage. These all-in-one plans cover your Medicare Part A, Medicare Part B, and in many cases, Part D coverage. Anthem offers a wide range of Medicare Advantage options throughout the nation.
Anthem Blue Cross and Blue Shield's Medicare Advantage plans offer affordable copays and additional wellness benefits. Benefits will vary depending on where you live. These plans include preventive wellness and extra benefits such as dental and vision coverage, and SilverSneakers
They offer PPO, HMO, HMO-POS, PFFS, and SNP Medicare Advantage options. Some of their most popular plans include the following:
Anthem Blue Cross PPO
Anthem Mediblue PPO
Anthem Mediblue Plus HMO
Blue Cross Anthem PPO
Anthem Medicare preferred PPO
Anthem Mediblue dual advantage
No matter where you reside, you can be sure plenty of Anthem options are available. Their Special Needs Plan options help beneficiaries with Medicaid, chronic health conditions, or that are living in an institution. Keep in mind that not all plan options are available in all areas.
Anthem BCBS Medicare Part D
Anthem also offers prescription drug plans. Medicare Part D plans are used to pick up your prescription drugs from the Pharmacy. They offer Medicare prescription plans in every state. To select the best plan for your needs, speak with a licensed insurance agent to review whether your prescriptions are covered properly. In some states, Anthem has different names for its products. For example, Unicare is an Anthem Part D company in Massachusetts.
Anthem BCBS Medicare pros and cons
Pros
Trusted insurance company
Low premiums
Offers Medicare Advantage, Medigap, and Part D drug plans
Gym membership included with most plans
Highly rated plans
Cons
Limited availability
Higher than average Maximum out-of-pocket limits
Financial strength ratings
| | |
| --- | --- |
| A.M. Best Rating | A |
| Standard & Poors Rating | AA- |
| Moodys Rating | A2 |
Reviews
Anthem is a solid insurance provider that's affiliated with BlueCross BlueShield. They are major players in the Medicare insurance arena and under-65 markets and are among the most well-known and respected companies in the United States. Anthem insures nearly 10% of Americans.
Anthem BCBS FAQs
Is Anthem BCBS the same as Medicare?
No! Anthem BCBS is a private insurance company that offers Supplemental Medicare healthcare options throughout the US.
Is Anthem BCBS the same as Anthem?
Yes! Anthem BSBC is a subsidy of Anthem Inc.
Is Anthem BCBS the same as BCBS PPO?
BCBS PPO is a Medicare Advantage plan offered by Anthem BCBS.
Who owns Anthem Medicare?
Anthem Inc. is the parent company and owner of Anthem Medicare plans.
What is the main difference between Anthem BCBS and Medicare?
Medicare is the federal health insurance program for Americans aged 65+ or under 65 with certain health conditions.
Anthem BCBS offers Medicare Supplement plans to help offset the costs of Original Medicare. In addition, they offer Medicare Advantage plans that take over your health care from traditional Medicare. They also provide Medicare prescription drug coverage.
What is Anthem BCBS?
Anthem BCBS is a private insurance company that specializes in health insurance. They offer insurance coverage for group insurance, Medicare, and individuals.
What is the difference between Anthem BCBS and Blue Cross Blue Shield?
Anthem BCBS is the largest Blue Cross Blue Shield affiliate in the nation.
Does Anthem BCBS have a Medicare Supplement policy?
Yes! Anthem offers All 10 Medicare Supplement plans nationwide.
How to enroll in an Anthem BCBS Medicare plan
Need help choosing the right plan for your needs? Whether you're in the market for a Medicare Advantage, Medicare Supplement, or even just a prescription plan, we can help. Our licensed brokers can access all the plans available to you.
Let us educate you and help provide the information needed to make the best decision for your needs. We can even help make the enrollment process quick and easy. For assistance, give us a quick call, or fill out our online request form.