New Era Life Insurance Company has been in business since 1924, with the same management in place since 1989. Based in Houston, Texas, New Era offers Medicare Supplement plans, whole life insurance, and annuities through its subsidiaries.
This article will examine New Era Life Insurance Company's Medicare options and how they stack up against other health insurance plan types. We'll explain why financial strength is essential and disclose a brief review of the company.
Next, some frequently asked questions will be answered. Finally, we'll show you how to enroll in a Medicare Supplement plan with New Era Life Insurance Company.
New Era Medicare plans
The federal Medicare program has a lot of holes that beneficiaries are responsible for if they don't have health insurance other than Original Medicare. To help pay for their cost share, most people get either a Medigap plan or a Medicare Advantage insurance plan.
Medicare beneficiaries have been enrolling in supplemental Medicare plans for decades. These types of health insurance plans help compensate for some or all of the out-of-pocket costs when using Medicare Part A and Medicare Part B.
We're referring to charges not covered by Part A and Part B, such as :
Part A deductible, Skilled Nursing Facility copays, inpatient hospital, and Medicare Part B deductibles, coinsurance, and excess charges.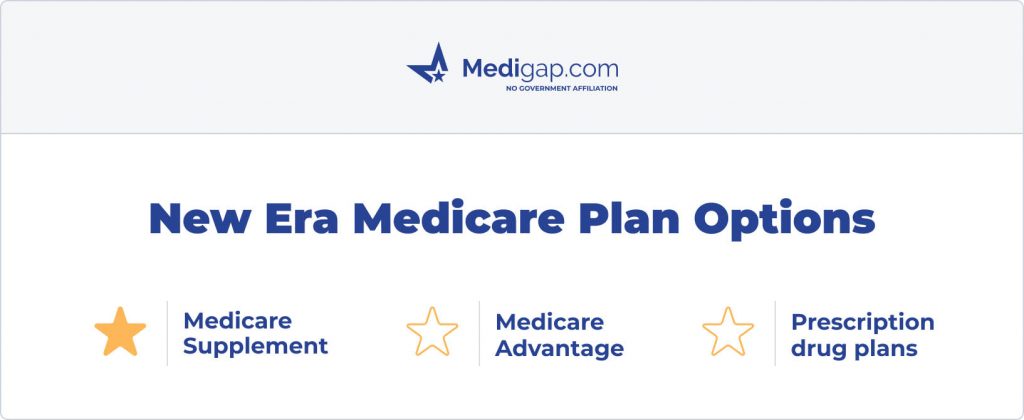 New Era affiliated companies
New Era Life Insurance Company
New Era Life Insurance Company of the Midwest
New Era Medicare Supplement plans
A complete way for beneficiaries to protect themselves from the gaps in Medicare coverage is to enroll in a Medicare Supplement insurance policy. Health insurance companies refer to these plans as Medigap health insurance because they fill the gaps in traditional Medicare insurance.
Medicare beneficiaries can choose between ten Medicare Supplement insurance plans. But most people choose one of the top three. Plan F, Plan G, or Plan N.
Most beneficiaries choose these plans because the cost and coverages from these plans give the most coverage for the price. Medigap plans require underwriting unless you enroll during the 6-month window when you're first eligible for Medicare. This is your OEP or Open Enrollment Period.
You'll get the best rating for your premium as well. Your plan is renewable every month, provided you continually pay your premium.
What beneficiaries love about a Medicare Supplement insurance plan is the peace of mind with buying additional coverage to Original Medicare insurance. However, the one restraint for folks is the high monthly premium in addition to their Original Medicare premium.
With a Medigap plan, you can keep your Medicare benefits and choose a healthcare provider that accepts Medicare. Also, beneficiaries aren't required to have a referral or authorization for a specialist.
Original Medicare and Medicare supplement insurance plans don't provide any Part D prescription drug coverage. You'll need to purchase a standalone Medicare prescription drug coverage to avoid a penalty and have drug coverage.
New Era Medicare Advantage plans
Another way to receive protection from the unpredictable expenses of Original Medicare is a Medicare Advantage plan. These healthcare plans combine your Medicare Part A and Medicare Part B benefits into one plan with little to no monthly premium, most of the time.
Most Medicare Advantage plans include your Medicare prescription drug coverage and benefits that traditional Medicare doesn't cover, such as dental, vision, and hearing. This coverage style is known as Medicare Part C and is a network-based plan. In many areas, your choice is an HMO or PPO style plan. These types of programs have both pros and cons.
New Era Medicare Part D prescription drug plans
Medicare Part D is standalone prescription coverage that Medicare beneficiaries add to Original Medicare or with a Medicare Supplement. Private insurance companies offer these prescription drug plans that CMS regulates.
Neither New Era Life nor its subsidiaries offer Medicare Part C or Part D plans. If you need help finding one of these plans in your area, complete the online request form to speak with a licensed insurance agent. We'll help review your options and answer your questions so you can make an informed decision.
New Era Insurance financial strength ratings
AM Best financial ratings provide insight into health insurance companies' stability and performance. New Era Life Insurance Company has an A.M. Best rating of B++, which equates to "Good." The faster the company pays claims and processes inquiries, the better the rating. A high rating is also a good sign of excellent customer service.
New Era Insurance reviews
New Era Life Insurance Company is based out of Houston, Texas. They have affordable rates on the most popular Medigap insurance plans. New Era's plan offerings include Plan F, Plan G, and Plan N.
Historically, their policyholders experience conservative rate increases.
FAQs
What is the average cost of a New Era Medicare Supplement plan?
The costs can vary depending on many factors. The most important things that affect rates are your location, age, and tobacco use. Another factor is which plan you choose.
Plan F will Range from $140 – $300
Plan G will Range from $90 – $170
Plan N will range from $75 – $150
What's the difference between Medicare Supplement plans and Medicare Advantage?
Medicare Supplement policies are additional policies that pay your cost-share after Medicare pays its portion. Medicare Advantage plans take over your Medicare benefits. These plans have copays, deductibles, terms, and conditions.
Medigap is additional coverage to Medicare, and Medicare Advantage is another way to receive your Medicare benefits.
How to enroll in a New Era Medicare plan
Call us for help enrolling in a New Era Medicare Supplement plan. We'll assist with the enrollment and make the process simple by guiding you through each step. Call us or fill out our online request form to speak to one of our licensed insurance agents specializing in Medicare.