Globe Life and Accident Insurance Company is a subsidiary of Torchmark Corporation and United American. Globe Life, founded in 1900, has its headquarters in McKinney, Texas. The Globe Life brand includes Globe Life of New York and United American Insurance Company. Globe Life offers Medicare Supplement and Medicare Advantage plans for Medicare beneficiaries.
Globe Life Supplemental Medicare Plans
When we refer to Supplemental Medicare plans, we're talking about plans that offset some or all of the costs associated with the Federal Medicare program. Plans that are considered supplemental Medicare health plans are Medicare Supplements, Medicare Advantage plans, and Medicare Part D coverage.
We'll cover Globe Life Medicare supplemental insurance plans and Medicare Advantage. Then, we'll discuss Medicare Part D and the financial strength ratings of Globe Life. Finally, we'll answer some frequent questions and how to get help enrolling in a Globe Life Supplemental Medicare plan.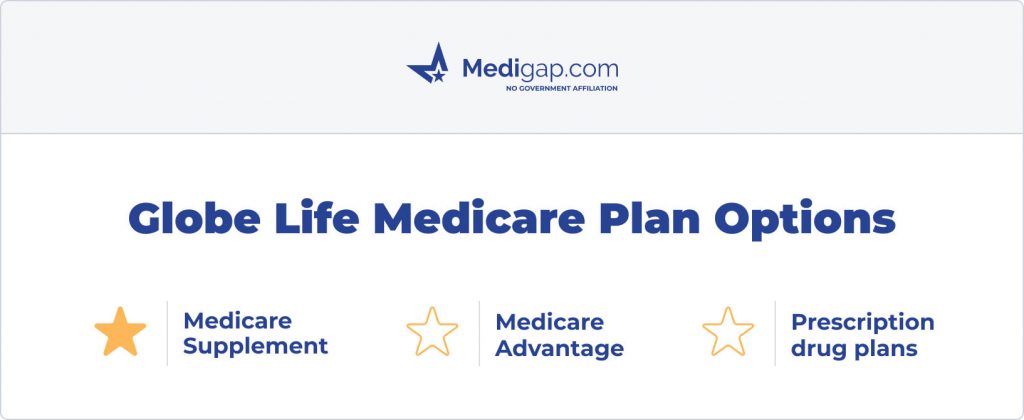 Globe Life Medicare Supplement plans
Medicare Supplement plans are also referred to as Medigap policies. These insurance policies will cover all or part of your cost-share left by Original Medicare.
Some out-of-pocket costs include your Medicare Part A deductible, Medicare Part B deductibles, Part B coinsurance, copays, excess charges, and medical expenses.
These plans have higher monthly premiums than other supplement plans, but they are the most comprehensive coverage you can purchase. They allow you to see any health care provider nationwide that accepts Medicare without needing a referral.
These standardized Medicare Supplement plans are monitored and regulated by the federal government and must have the same coverage no matter which health insurance company you choose. There are ten standardized plans from which to choose. Most Medicare beneficiaries select between the three most popular plan letters.
Plan F, Plan G, and Plan N are the top plans for Medicare Supplement policies.
Globe Life has one of the best high-deductible plans in the industry, with a significant focus on HDF and HDG.
They also offer Plan A and Plan C in many areas.
Globe Life Medicare Advantage plans
Globe Life and its subsidiaries don't provide Medicare Advantage plans. These plans work in place of your Original Medicare coverage. These plans combine all your Medicare benefits into a convenient all-in-one plan.
Medicare Part C plans usually include drug coverage and plans extras and benefits that traditional Medicare doesn't cover. These plans are network-based insurance products. They have lower up-front costs than Medicare Supplements.
When you use these plans, you'll pay small copays and coinsurances when you see healthcare providers for office visits and other medical services such as emergency room visits.
Globe Life Medicare prescription drug plans
Medicare Part D is the pharmacy prescription coverage for Medicare beneficiaries. You can get this type of coverage by enrolling in a Medicare Advantage plan that includes drug coverage or a standalone Part D Medicare plan.
Globe Life Medicare pros and cons
Pros
Lower than average rate increases
High-deductible G is upgradable at the 2-year anniversary w/o underwriting
Specializing in high-deductible options
Affordable monthly premiums
Cons
No Medicare Advantage or Part D plans
Not available in all areas
Globe Life financial strength ratings
When it comes to a company's financial strength ratings, they usually affect a few aspects for insurance carriers. Economic strength, quick claims payment, stable rates, and competitive premiums correspond to financial stability.
AM Best gives Globe Life a rating of "A Excellent," and Standard & Poors rates them at "A.A.- Strong."
Globe Life Medicare reviews
Globe Life is a reliable company that specializes in Medicare Supplement plans. They put an additional focus on the high deductible options.
Globe Life is an American company that answers their phone when you call with excellent customer service and some of the industry's most stable rates.
FAQs
Is Globe Life a legitimate insurance company?
Yes! Globe Life has been in business since 1900 and has some of the most stable rates in the insurance industry.
Is Globe Life part of Liberty Mutual?
No. Globe Life isn't associated with Liberty National Life Insurance Company.
How much does Globe Life's Medicare Supplement Plan F cost?
Plan rates will vary depending on several factors, including where you live, your age, and other factors. A 65-year-old female in New York will pay around $374 per month. Remember that Plan F is the most expensive plan, and New York is one of the most expensive states.
What insurance company is the parent company of Globe Life?
Torchmark is the parent company of Globe Life.
How to enroll in a Globe Life Medicare plan
Enrolling in a Globe Life Medicare Supplement can be simple. But it's wise to speak with an insurance agent to ensure you choose the plan that fits your needs. Give us a call, or fill out our online request form.