Lumico Life Insurance company provides Medicare supplements and life insurance products. The company was founded in Arizona on December 8, 1965, as a Congress Life Insurance Company. In 2016, iptiQ Americas, inc. bought Lumico and is now part of Swiss Re.
When the buyout occurred, they rebranded Congress Life to Lumico and moved their home office to New York. Elips Life Insurance Company underwrites Lumico Medigap Solutions.
Lumico Medicare plans
Supplemental Medicare plans come in a few shapes and sizes. You can choose Medicare Advantage plans that combine your Medicare benefits into an all-in-one plan to fit your needs. The other choice is a Medicare Supplement plan that works with Original Medicare and a Part D prescription drug plan.
Next, we'll discuss Lumicos Medigap plan options and give an overview of Medicare Advantage. Then, we'll cover Part D prescription drug plans and how they operate.
After that, we'll discuss the company's financial strength and answer some common questions. Finally, we'll tell you how to get help with Lumico's supplemental Medicare plans.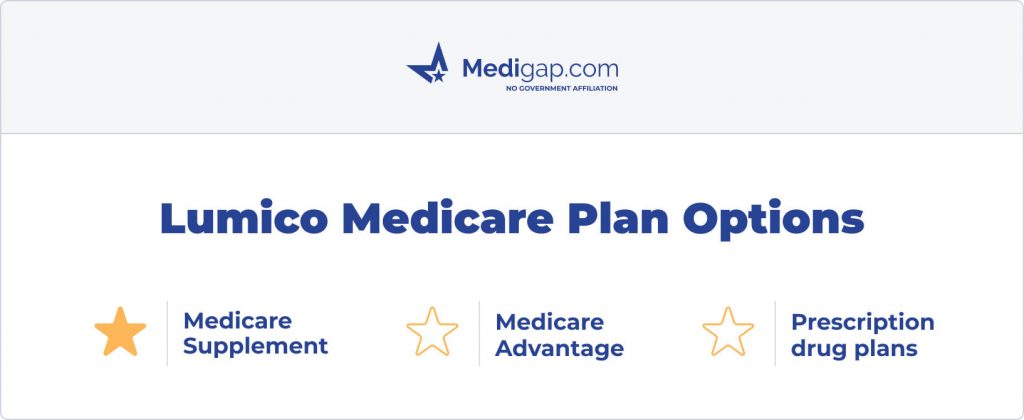 Lumico Medicare Supplement plans
Medicare Supplement plans are considered the top insurance coverage you can purchase alongside your Medicare.
Medigap Policies have an additional monthly premium and help cover your portion of the Medicare costs.
These plans can pay most, if not all, of your remaining healthcare costs for services covered by Medicare Part A and Medicare Part B.
Some of the costs covered by Medigap plans are your Part B coinsurance and deductibles. Some of these plans will even cover foreign travel emergency coverage and Part B excess charges.
This comprehensive coverage and freedom to choose any doctor nationwide that accepts Medicare make Medicare Supplement plans a favorite among Medicare beneficiaries.
Medigap plans available through Lumico
Medicare Supplement insurance plans have ten plan choices available. Lumico offers four Medigap plan options, including the top three Medigap plan letters and a high-deductible version of Plan G.
Lumico's plan offerings include Plan A, Plan F, Plan G, Plan N, and the High Deductible version of Plan G. Plan F is only available to Medicare beneficiaries that were on Medicare before 2020. The most popular plan is Plan F. It covers your portion of Original Medicare's cost-share.
Plan G is the most popular among beneficiaries that are new to Medicare. The coverage is virtually identical to Plan F, with one exception. It doesn't cover the Medicare Part B deductible.
The HDG works like you have only Original Medicare until your reach the annual plan deductible. At that point, your cost share is paid for the remainder of the year by Plan G.
Plan N is the plan that gives you the most for your money. With a coverage level similar to Plan G, the price point is significantly lower over the year. The significant difference is you pay a copayment to see the doctors and the emergency room.
Lumico Medicare Advantage plans
Medicare Advantage plans represent Medicare Part C. These plans cover all the benefits included under Original Medicare. In addition to those benefits, most Medicare Advantage plans include Medicare Prescription Drug coverage.
While these style plans must include the essential Part A and Part B benefits, they typically have additional coverage and benefits that Original Medicare doesn't offer. Some coverages that are often included are dental and vision coverage.
In addition to these added insurance benefits, they can have extra gym memberships, transportation, and over-the-counter allowances.
If you are looking for Medicare Advantage plans, Lumico won't be an option as they don't offer this coverage style.
We can help find you a Medicare Advantage plan if that fits your needs. Just let us know, and one of our licensed insurance brokers can reach out and assist you.
Lumico Medicare Part D
Medicare Part D is your stand-alone prescription drug coverage. These plans and Medicare Advantage are run by private insurance companies contracted and regulated by the Centers for Medicare & Medicaid Services.
Lumico doesn't offer Part D plans, but we can help if you need help with Part D.
Lumico Medicare pros and cons
Pros
Great monthly premiums
Low rate increase
Customer service driven
Cons
Only offer Medicare Supplement plans
Tough underwriting
Financial strength ratings
There are a few companies that rate the financial strength of insurance companies. We like to consider a company's financial stability to give us a complete picture of its operations.
A solid financial strength tends to correlate with them being better at a few things.
Faster claims processing
More competitive rates
lower rate increases
Lumico's underwriting partner Elips Life Insurance Company, has an "A-Excellent" rating from AM Best. This is the second-highest rating, indicating that the company is financially stable and secure.
Reviews
Lumico offers simple, straightforward, and affordable products. They have a quick and easy underwriting process. Lumico has some of the lowest rates in the industry and boosts itself by being able to answer most calls within 30 seconds. This is a breath of fresh air for many beneficiaries who spend considerable time on hold.
FAQs
Does Lumico Medicare Supplement plans?
Lumico offers Medicare Supplement plans. They offer Plans A, F, G, N, and HDG.
Is Lumico good insurance?
Lumico is reasonably new to Medicare Supplements, but they offer the top three Medigap plan options.
They are part of Swiss Re, a Fortune 500 company.
What is Lumico?
Lumico Life Insurance company is part of the Swiss Re family of companies. They were established in 1965. Their product offerings include Medicare Supplement plans and life insurance products.
What are the benefits of Lumico Medicare Supplement plans?
Lumico has a speedy underwriting process and personalized service. The process claims in about four days. In addition, they have a household discount of up to 12% for their Medicare Supplement policies.
How to enroll in a Lumico Medicare Supplement plan
The decision to enroll in your Medicare health insurance plans is among one of the most important decisions you'll make. It can be a confusing and daunting process. Our licensed insurance agents will help guide you every step of the way.
We'll help you understand your options and how the different coverages work. In addition, we'll work with you to ensure your prescriptions and doctors can be kept. In the end, we can even walk you through the enrollment process.
Let our licensed agents help you make your Medicare decision quick and easy! Give us a call or fill out our online request form.