Medico has been insuring Americans since 1930. With assets over 2.4 billion, Medico has the financial stability to protect you.
Medico is licensed in 41 states and offers Medicare Supplement, dental, hospital, cancer, and short-term care insurance policies. AARP for short-term care insurance endorses Medico.
Medico Medicare Supplement Plans
Medico offers supplement Medicare plans in 27 states. The plan options can vary from state to state. Medicare Supplement plans are secondary coverage to your Original Medicare. Medico Medigap plans boast a low premium.
The carrier offers a discount for automatic bank withdrawal and no pre-existing clause. Once approved with a Medigap plan through Medico, you will have no waiting period or exclusions on any pre-existing health conditions you may have.
When you enroll in a Medigap plan, you keep all your benefits from Original Medicare. These include freedom of healthcare providers, and the Supplement could pay most if not all your cost-share from Original Medicare.
Medigap plans have a predictable monthly premium, and your costs are minimal when using your healthcare coverage.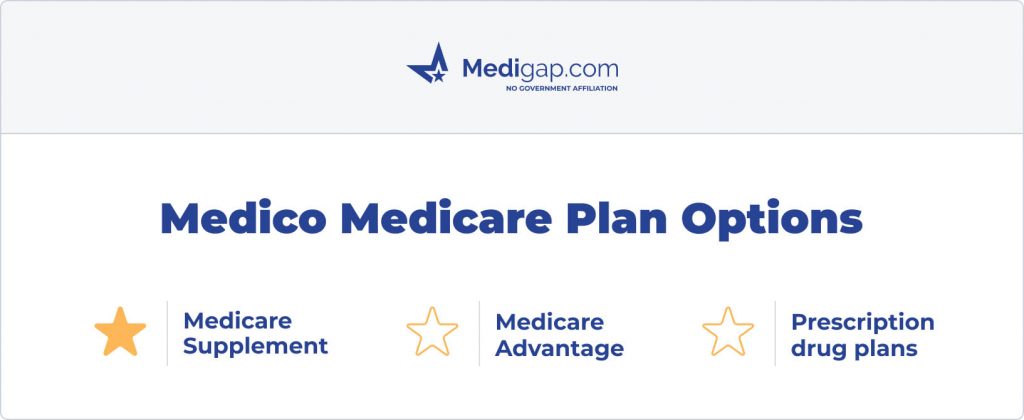 Medico Medicare Advantage Plans
This carrier doesn't offer Medicare Advantage plans. They have other supplemental options that assist in the gaps in Medicare Advantage coverage.
Hospital indemnity plans can help offset hospital and dr office co-pays. Cancer plans help cover the direct or indirect costs of cancer.
Short Term Care Medical plans, endorsed by AARP, can help offset costs for up to 360 days. Short Term Care plans are to help recover from an illness or injury.
STC plans also assist in transitioning from independent living to receiving assisted care at home or a facility.
Medico Medicare Part D
This company doesn't offer Part D plans at this time. If you need help with Part D plans, fill out our online request form, and we'll gladly assist you.
Medico Medicare Pros and Cons
Pros
Liberal underwriting process
Quick claims processing
Has additional ancillary products for seniors
Cons
Rate increase can be higher than the top carriers
Cluncky application process
Medico Financial Strength Ratings
A.M. Best rates insurance companies based on their financial strength. A.M. Best gives Medico a rating of A- excellent. Financial stability usually correlates with quicker claims payment and lower rate increases.
| | |
| --- | --- |
| A.M. Best Rating | A- |
| Standard & Poor's Rating | No Rating |
| Moody's Rating | No Rating |
Reviews
Medico Medicare Supplement rates are attractive to Medicare beneficiaries. They have a lighter underwriting requirement than many of their competitors.
They don't have a pre-existing condition clause, which is peace of mind for anyone with existing conditions and concerns.
| | |
| --- | --- |
| Medicare Supplement Plans | YES |
| Medicare Advantage Plans | NO |
| Medicare Part D Drug Plans | NO |
Medico Medicare plan options
FAQs
What's the average cost of Medico Plan G?
Plan G is the most comprehensive plan that new Medicare beneficiaries can choose. The average cost of Medico Plan G ranges between $90 and $180 month;y. Remember that prices will vary depending on several factors.
What Medicare Supplements does Medico offer?
The plan choices include Plans A, F, G, and N. Medico also offers high deductible F and G plans in some areas.
Does Medico offer plans for people on Medicaid and Medicare?
No! If you have Medicare and Medicaid, fill out our online request form. We'll have an agent contact you and review Medicare Advantage options to coordinate and give you additional benefits.
What doctors can I use on my Medico plan?
Since your plan is secondary to Medicare, you retain the freedom to choose any doctor that accepts Medicare. The majority of healthcare providers accept Medicare.
Will my rates increase with Medico?
All Medigap plans will see an annual increase. This increase is related to the claims history. Fortunately, since the company has a strong financial rating, the rate increases should be lower and more stable than many other companies.
How to Enroll in a Medico Medicare Plan
You can either give us a call or fill out our online request form. We'll be glad to assist you with your questions and enrollment. We can look up your prescriptions and doctors, assess your needs, and assist with finding the right plan for you.