Mutual of Omaha is a trusted insurance company that has been working in the insurance community since 1909. They begin with life insurance and financial products and are now a reliable company providing health insurance to Medicare beneficiaries.
They are well known for sponsoring the show "Wild Kingdom." Mutual of Omaha helped pilot the Medicare Supplement program and is still one of the top insurance companies regarding Medigap plans.
Mutual of Omaha Medicare plans
They have offered Medicare Supplement plans since they began in 1992. In addition to its Medicare Supplement offerings, they also sponsor Part D plans nationwide and have Medicare Advantage plans in select states.
Mutual of Omaha has a variety of subsidiaries that they operate. Some subsidiaries include United World, Omaha Insurance Company, and United of Omaha.
Today we'll discuss Mutal of Omaha Medicare Supplement plans, followed by some information on their Medicare Advantage plans. Next, we'll discuss the Mutual of Omaha Medicare prescription drug plans.
Then we'll conclude with information about their financial strength, answer some common questions, and show you how to get help with a Mutual of Omaha plan.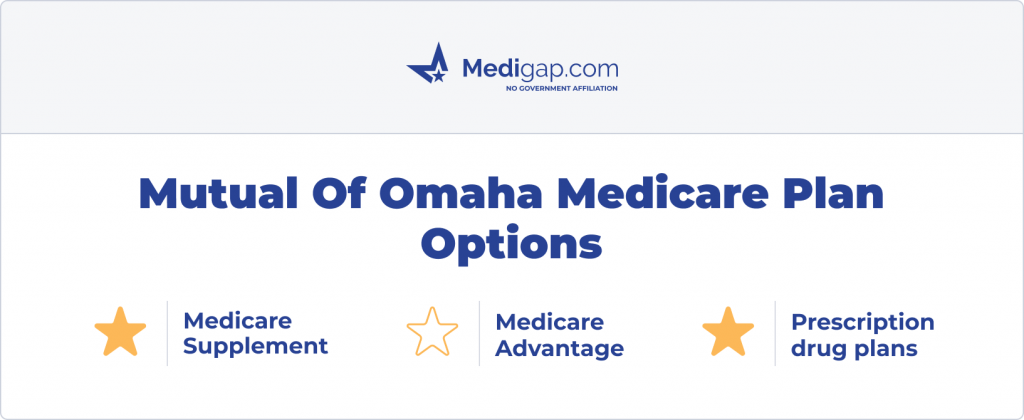 Mutual of Omaha Medicare Supplement plans
As mentioned above, Mutual of Omaha helped pilot the Medicare Supplement program. They have had great success with their Medigap business. They continue to remain one of the biggest and most trusted names regarding Medicare Supplement providers.
One of the great things about Medicare Supplement insurance policies is that you have the freedom to see any providers nationwide. And they don't require referrals, which makes it easy to use and has fewer hoops to jump through. Medigap plans significantly lower your out-of-pocket costs.
Mutual Of Omaha doesn't offer every Medigap plan option. They focus on Plan F, Plan G, and Plan N. These three plans are the most popular Medicare Supplement plan letters and provide some of the best coverage you can get to go along with Medicare.
Mutual Of Omaha's top Medicare Supplement plans
Plan F is the most popular Medicare Supplement plan. It has been consistently the top plan because you simply pay your monthly premium.
Plan F will pay your portion of the Medicare costs. It'll cover the Part B deductible, Medicare Part A deductible, copays, and coinsurance.
Plan G is the most popular plan for beneficiaries starting Medicare. With similar coverage to Plan F and a more affordable premium, Plan G is a very good option. The only difference in coverage between the two is that Plan G doesn't cover the Medicare Part B deductible.
Plan N is a great plan option. Its pricing is significantly lower than the previous two plans we discussed, but the coverage is almost as good. The main difference is paying a copay when you visit your healthcare provider and the emergency room. In addition, Plan N doesn't cover Part B excess charges.
Medicare Supplement plans are standardized. This means the coverage is the same no matter which company you choose or where you live. There are a few states that have exceptions to standardization. Those states are Wisconsin, Massachusetts, and Minnesota.
Mutual of Omaha Medicare Advantage plans
Medicare Advantage plans are a way to get your Medicare benefits in an all-in-one plan that combines Part A, Part B, and in most cases, Part D of Medicare. These plans focus on wellness and additional perks like dental and vision care.
Mutual Of Omaha has teamed up with Centene Corporation (Wellcare) to offer Medicare Advantage plans in select areas beginning in 2024
Is Mutual of Omaha a PPO or HMO?
Mutual Of Omaha used to offer a couple of HMO Medicare Advantage plans. They have discontinued that portion of their business and are focused on their Medicare Supplement insurance plans.
These plans work more like a PPO. However, it's not the same. A Medigap policy works as secondary coverage with Original Medicare.
Due to this reason, you're allowed to go to any provider nationwide that accepts Medicare without the need for a referral.
Mutual of Omaha Medicare Part D prescription drug plans
Part D plans are the insurance you use to pick up your prescription drugs from the pharmacy. Mutual of Omaha has two Part D plans to choose from. Mutual of Omaha Rx plans include the MutualofOmahaRX Premier and the MutualofOmahaRX Plus plans.
The MutualofOmahaRX Premier plan has a lower premium than the MutualofOmahaRX Plus and has savings on select insulin drugs. These select insulin options won't be subject to the deductible and will have a copay of $25 for a 30-day supply.
Mutual of Omaha dental coverage
Mutual of Omaha has a few dental options primarily targeted to Medicare beneficiaries. Their dental coverage options include preventive, basic, and major services. In addition, You can choose from options up to $5,000 in benefits for a calendar year, including coverage for implants.
Mutual Of Omaha's pros and cons
Pros
A mutual company, not a stock-driven
Household discounts in most states
Very Stable rate increases
Quick claims processes
Fantastic customer service
Cons
Rotate their companies, which sometimes can cause inflated premium increases
Rigorous underwriting
Mutual of Omaha Medicare Supplement rate increase history
Mutual of Omaha has a stellar record regarding premium rate increases. They keep their monthly premiums low and the rates from increasing as high as many other carriers because they are a mutual company.
This means their shareholders are their policyholders. That means you are a shareholder with a Mutual of Omaha Medigap policy. They, in turn, put profits back into the company to help lower prices and rate increases.
Another reason they keep their prices and increases lower is that they have strict policies on their underwriting. Since most Medicare Supplement insurance is underwritten, they have fewer unhealthy people, which drives the rates up for their members.
Mutually Well gym membership
Mutual of Omaha offers its own wellness program with Medicare Supplement enrollments. Mutually Well provides personalized wellness plans through its free mobile app. You'll also receive discounts on healthy living services and products, a free walking program, and able to purchase a discounted gym membership
Mutual Of Omaha subsidiaries
Mutual of Omaha has several companies that they offer Medicare plans through, and they seem to rotate these companies in and out of states every so many years.
Mutual Of Omaha
Omaha Insurance Company
United of Omaha
They also handle the underwriting for GPM's Medicare Supplement plans.
Mutual of Omaha financial strength ratings
Moody's, Standard & Poors, and AM Best are the companies that review and rate Medicare Inproviders'oviders' financial strength. Financial strength also affects rate increases. The stronger the company's financial stability, the lower the rate increases.
AM Best provides Mutual Of Omaha "it" an "A+" superior rating.
Standard & Poots awards them a rating of "AA-" very Moody's.
Moody's rates Mutual of Omaha" an "A1," good rating.
Mutual Of Omaha Reviews
Mutual of Omaha is one of the most reputable carriers in Medicare Supplemental Insurance. Their excellent financial strength ratings help keep the prices low.
They also offer a household discount for their members. They're one of the few Medigap companies that provide its own wellness program.
Their program is Mutually Well and gives you access to 10,000 fitness locations and discounts on other services like massage, acupuncture, and chiropractic.
FAQs
Is Mutual of Omaha the same as Medicare?
No! Mutual of Omaha provides Supplemental plans that assist with the high costs of Original Medicare.
Does Mutual of Omaha sell Medicare Supplement plans?
Yes! Medicare Supplement plans are a major portion of Mutual of Omaha's portfolio. They help beneficiaries pay for their Medicare copays, deductibles, coinsurance, and excess charges.
Is Mutual of Omaha a good Medicare Supplement?
Mutual Of Omaha is considered one of the top choices for a Medicare Supplement carrier. They have some of the best customer service available as well.
How long has Mutual of Omaha been selling Medicare Supplements?
Mutual Of Omaha has been in the Medicare Supplement business since the program began in 1992. They were one of the companies that piloted the Medigap program.
Mutual of Omaha pick up the Medicare deductible?
Yes and No. Different plan letters have different coverage. Mutual of Omaha has plan options that will cover Medicare's deductibles. They also have plans that don't. Check with a licensed insurance agent to ensure you enroll in the plan that provides you with the coverage you want.
How much does Mutual of Omaha Plan G cost?
Medicare Supplement plans vary depending on location, age, health, and other factors. You can expect to pay between $90 and $200 monthly for this Plan. It's possible it could be higher depending on several factors.
What is the rating of Mutual of Omaha supplemental insurance?
AM Best provides Mutual Of Omaha an "A+" excellent rating. This is the highest rating they award.
What are the top 3 Medicare Supplement plans from Mutual of Omaha?
The top three Mutual Of Omaha plans are F, G, and Plan N.
Does Mutual of Omaha offer a gym membership?
Mutual of Omaha offers a gym membership called Mutually Well. It includes a variety of gym services and gyms nationwide.
Does Mutual of Omaha Plan G cover prescriptions?
No! Medicare supplements don't cover prescription drugs. You should enroll in a Part D plan for prescription coverage.
Does Mutual of Omaha follow Medicare guidelines?
Yes! Mutual Of Omaha is required to follow all Medicare guidelines.
What is the difference between Mutual of Omaha and AARP?
Mutual of Omaha and AARP UnitedHealthcare both offer Medicare Supplement and Medicare Part D plans. AARP also offers Medicare Advantage plans. UnitedHealthcare focused more on the Medicare Advantage, whereas Mutual of Omaha focuses on Medicare Supplements.
Is Assured Life a Mutual of Omaha company?
No, however, Mutual of Omaha does handle the underwriting of Assured Life Medicare Supplement plans. Assurisn'tfe isn't an official subsidiary of Mutual of Omaha.
How to enroll in a Mutual of Omaha Medicare plan
Mutual of Omaha is a great option to help with your Medicare costs, but which plan should you? That's where we come in. We can help compare and educate you on your options. Verify the coverage meets your needs, and even help with the enrollment into your chosen plan.
For help, give us a call, or fill out our online request form. Our licensed brokers specialize in Medicare and can guide you through each step.