AARP UnitedHealthcare Medicare plans
AARP offers many Medicare plans throughout the United States. The plans offered vary from state to state. AARP-sponsored plans include Medicare Supplement plans, Medicare Advantage plans, and Medicare Part D.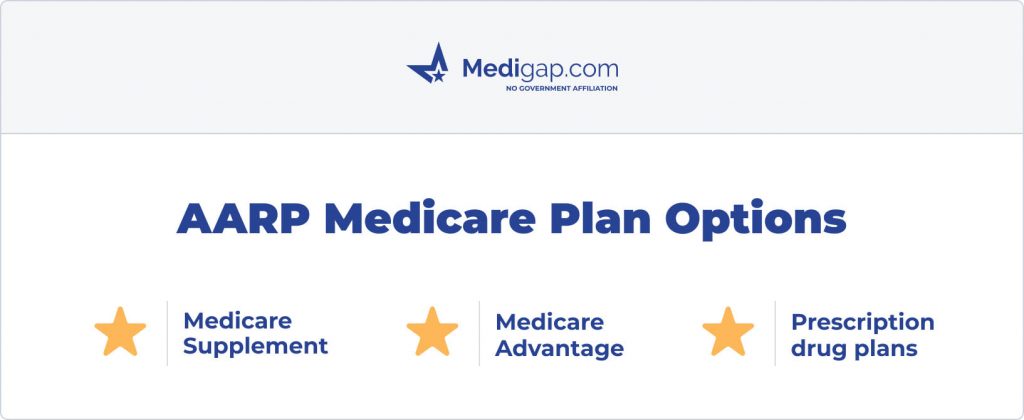 AARP Medicare Supplement plans
Administered by the health insurance company UnitedHealthcare, AARP offers Medicare Supplement plans. You must actively enroll in AARP to enroll in a UHC Medigap plan. Medicare Supplement plans are secondary coverage to your Original Medicare.
When enrolling in a Medigap plan, you keep all the benefits from Medicare, such as freedom of healthcare providers, and the Medicare Supplement plan pays part or all of your cost-share from Medicare.
Medicare Supplement plans have a fixed monthly premium, and you pay little or nothing in co-pays when you use your healthcare coverage. The following benefits are also available to all AARP UnitedHealthcare Medicare Supplement policyholders.
Renew and Active gym membership
Enjoy convenient access to a gym membership at no additional cost.
Access a wide range of top-tier gyms and fitness facilities in your vicinity.

Access to customized physical fitness programs and a range of exercise classes.

Interacting with other Renew Active members at nearby health and wellness events and on the Fitbit Community platform.
Hearing discount program
HearUSA offers a discount on hearing aids and access to certified HearUSA hearing care providers for screenings. The Hearing Care Program by HearUSA features:
AARP members are eligible for a discounted rate of up to $100 on hearing devices from the top 5 tiers of technology, ranging from standard to premium.

Extended protection plans accompany HearUSA's digital hearing aids.
Your exclusive auditory health assistance squad.
24/7 nurse assist line
Our team of experienced registered nurses is available 24/7 to provide support and answer any of your questions or concerns. Furthermore, we offer interpretation services in Spanish and various other languages.
Nurses can provide support and direction to outside resources, which can assist with transportation services, cost management for medications, and access to meal delivery services.
AARP Staying Sharp: Brain health
AARP Staying Sharp is an online brain health program that facilitates the development of a healthy brain lifestyle. It offers a comprehensive suite of resources, including a brain health assessment, educational articles, cognitive exercises, stimulating activities, nutritious recipes, and entertaining brain games.
Dental discount
Reap the benefits of Dentegra's in-network dentists offering discounted dental services.
In-network providers typically offer a discount of 30-40% on contracted rates for various dental services, including cleanings, examinations, fillings, and crowns.
Access a nationwide network of 30,000 general dentists and specialists at 90,000 locations.
No waiting durations, initial out-of-pocket expenses, or yearly limits.
Dentegra offers a dental discount program and isn't a form of insurance.
Vision discount
Save on eyewear purchases and routine eye exams. AARP Vision Discounts provided by EyeMed include:
Participating providers offer eye exams at a rate of $50.
LensCrafters offers an exclusive discount of $50 for AARP Vision Discount or any applicable in-store offer on no-line progressive lenses when purchased with a frame.
Driver safety program
Enhance your driving skills with the AARP Smart Driver™ course. The program offers an opportunity to review driving regulations and minimize driver distractions.
AARP Medicare Supplement Plan holders may access this course at no additional cost, either online or through in-person sessions.
Completing the AARP Smart Driver course may entitle you to a reduced rate on your automobile insurance.
AARP UnitedHealthcare Medicare Advantage plans
AARP UnitedHealthcare Medicare Advantage plans are another way to receive your Medicare Part A and B benefits. A Medicare Advantage plan with AARP gives you plan extras such as gym memberships and a benefits card to purchase food or over-the-counter medications from Walgreens.
Most carriers require you to use your over-the-counter benefits through mail order. AARP Medicare Advantage plans allow you to buy items directly from the pharmacy.
AARP UnitedHealthcare Medicare Part D prescription drug plans
The carrier offers prescription drug plans available throughout the United States. Check your prescriptions against the plan formulary (list of covered drugs) to ensure you choose the Part D Plan that's best for you. If you use a preferred pharmacy, your drug costs could see significant savings.
AARP UnitedHealthcare Medicare pros and cons
Pros
Large Provider Network
Available in 49 states and D.C
Low premiums on Medicare Supplement plans
Liberal underwriting
Many $0 premium MAPD options
Cons
Higher Medigap rate increases once you reach certain ages
Pay additionally for an active AARP membership on top of Medigap premiums
Stand-Alone drug plans premiums are on the higher end
Financial strength ratings
Medicare plans get rated for their financial strength by A.M. Best, Standard & Poor's, and Moody's. A.M. Best gives AARP UHC a rating of A- with a positive outlook. Standard & Poor's gives AARP UHC an A+ rating with a stable outlook. Moody's gives AARP UHC an A3 rating with a stable outlook.
| | |
| --- | --- |
| A.M. Best Rating | A- |
| Standard & Poor's Rating | A+ |
| Moody's Rating | A3 |
Financial stability usually correlates with lower rate increases and shows the ability to handle claims for Medicare Supplement plans.
Reviews
AARP UHC has some of the most competitive rates for Medigap plans for Medicare beneficiaries starting Medicare. They are also more forgiving on the underwriting than some of their competitors. Their gym membership is a no-cost benefit and helps set them apart from their competitors.
On the Medicare Advantage side, using your benefits card to purchase healthy food and over-the-counter items from a store instead of mail-ordering is a fantastic feature that Medicare beneficiaries love.
| | |
| --- | --- |
| Medicare Supplement Plans | YES |
| Medicare Advantage Plans | YES |
| Medicare Part D Drug Plans | YES |
FAQs
Is AARP Medicare Advantage the same as Medicare?
AARP Medicare Advantage plans are NOT the same as Medicare. An established private health insurance company provides these plans and follows the same regulations as those offered through Original Medicare.
Is AARP Medicare considered an Advantage plan?
AARP offers both Medicare Advantage plans as well as Medicare Supplement and Part D drug plans.
Does UnitedHealthcare give discounts to AARP members?
AARP Medicare Supplement Insurance Plans from UnitedHealthcare provide insured members exclusive discounts and services in 2023. These offerings vary by region, from sophisticated programs to valuable resources, so you can maximize your coverage and get the most out of every plan!
Is a Medicare Advantage plan from UnitedHealthcare good?
AARP/UnitedHealthcare Medicare Advantage plans stand out for their affordability, with average monthly costs of just $15. However, the customer satisfaction rating trail behind those of other providers like Humana and Anthem – making it an essential factor to consider before signing up. Overall, these comprehensive policies boast a 4.2-star average rating among enrollees – giving them good marks overall!
Is AARP UnitedHealthcare and UnitedHealthcare the same?
The answer is both yes and no. UnitedHealthcare supplies both its own and also the AARP UnitedHealthcare plans. The differences lie in the exact benefits that each plan offers. Either compare them yourself or solicit the help of a licensed insurance agent for assistance.
Because it's an AARP-specific plan, you can get safe driver discounts and dental, hearing, and vision coverage depending on your chosen plan.
What is the difference between AARP Medicare Complete and AARP Medicare Advantage?
There is no difference. Both AARP Medicare Complete and Medicare Advantage are Part C plans. The only possible difference is which additional benefits you receive with each MA plan.
How much is AARP Medicare Advantage plan?
Most Medicare Advantage plans will carry a $0 premium. However, your particular area and health needs can trigger a premium ranging from $9 to $112, depending on what's included.
Is AARP UHC a Medicare Advantage plan?
Yes, an AARP UnitedHealthcare plan is a Medicare Advantage plan. While it has the AARP branding, it's not fundamentally different than most other Part C coverage.
Does AARP UnitedHealthcare offer a Medicare Part D plan?
Yes, AARP UnitedHealthcare offers a Medicare Part D plan. You can also receive prescription drug coverage.
What are the benefits of AARP UnitedHealthcare plans?
The benefits of an AARP UnitedHealthcare plan are relatively standard for Medicare Advantage. You get a free gym membership, a national network, and prescription drug coverage, depending on the chosen plan. You could also receive hearing, dental, and vision benefits, plus reduced out-of-pocket costs.
How much is AARP UnitedHealthcare?
An AARP UnitedHealthcare Part C plan can range from $0 monthly to hundreds of dollars. No one price can be quoted since it depends on where you live and what benefits are included.
How is AARP UnitedHealthcare different from other Medicare Advantage plans?
AARP UnitedHealthcare plan options aren't different from standard Part C plans. The individual differences between any Medicare Advantage plan stem from where you live and the benefits in each plan.
What Medicare Supplements does AARP offer?
They offer Plans A, B, C, D, F, G, K, L, M, and N. UnitedHealthcare administers the Medicare Supplement options. Not all plans are available in all areas. There are high deductible F and G plans available in some areas.
Does AARP offer plans for people on Medicaid and Medicare?
Yes! They offer Dual Special Needs Plans (SNP) through UnitedHealthcare. UHC offers one of the only PPO options on their Medicare-Medicaid coordinated plans.
Where can I pick up my prescriptions on an AARP plan?
Walgreens is a preferred pharmacy with AARP UnitedHealthcare Medicare Advantage and Medicare Part D plans.
For a complete list of preferred and non-preferred pharmacies, contact the number on the back of your Medicare card, or give us a call so we can assist.
How to Enroll in an AARP Medicare Plan
If you need help enrolling in a Medicare Advantage, Supplemental, or Part D plan, we are standing by to give you the proper assistance to select the right one.
Our team of licensed insurance agents knows everything about Medicare plans, including the associated benefits and costs. Their help can give you a leg up in the enrollment process.
Give us a call today. Or fill out our short online rate form to be connected with the best rates in your area for a Medicare Supplement plan.