United American Insurance Company has been offering supplemental Medicare plans since the federal program began in the mid-1990s. This makes United American a trusted carrier for your supplemental Medicare plan.
Medicare-qualified beneficiaries can rest easy knowing there's a company out there that will work with them. For almost 50 years, they've been providing custom policies to meet the demanding needs of members all across America.
United American Medicare Plans Offered
Currently, United American only offers Medicare Supplement plans. Currently, they do not offer Medicare Advantage or Part D prescription drug plans. Medicare supplement insurance is designed to fill in the gaps left by traditional Medicare. It provides coverage for areas where it lacks, such as deductibles and copayments but not coinsurance.
Medicare is a great program for eligible beneficiaries who need assistance with their medical expenses. There are 10 different policies, lettered A-N. Each one provides its own set of benefits that the federal government standardizes. This means benefits won't change between carriers.
United American offers Medicare Supplement plans in all states except Massachusetts, Wisconsin, and Minnesota. They offer all letter plans in almost all states. In the state of Wisconsin, comprehensive Medigap coverage is structured around a base plan, which can be supplemented with riders to meet their specific healthcare needs.
In contrast, MA residents can choose from three distinct Massachusetts Medicare Supplement plans, namely the Core plan, Supp 1, or Supp 1A. Similarly, Minnesota Medigap plans allow residents to opt for either a basic plan that can be personalized with riders or prebuilt plans that offer a more robust set of benefits. These flexible and customizable options ensure that individuals can access the right level of coverage to safeguard their health and financial well-being throughout their retirement years.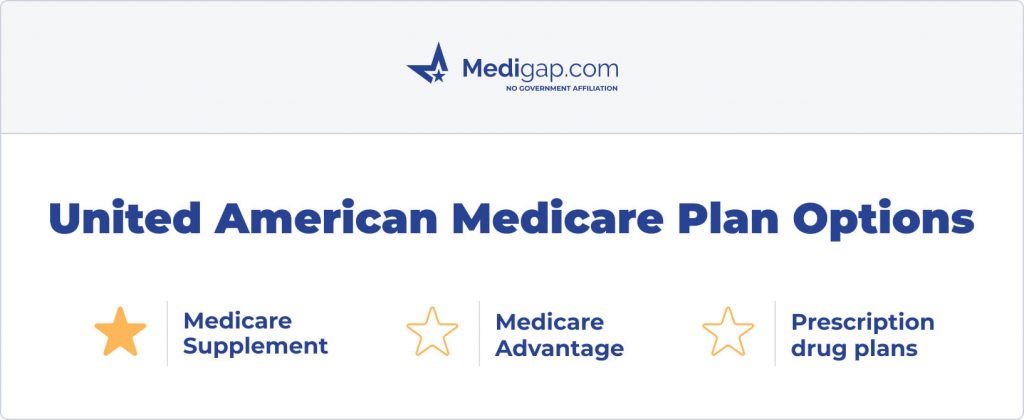 The below states have limited letter plan options through United American:
United American Medicare Supplement letter plans
The most popular letter plans include Plan G, Plan N, and for those eligible, Plan F. If you became eligible for Medicare after 2020, you're considered newly eligible. This means you cannot enroll in Plan F. If you fall in this category, Plan G will benefit you most.
The only cost-sharing you'll have with Plan G outside the monthly premium is the Part B deductible. Currently, the Part B deductible is $240. With Plan N, you'll have small copays to pay at the doctor's office and hospital. However, your monthly premium will be significantly lower.
If you're looking for a cost-sharing plan, which will keep your premium lower, you'll want to look at Plan K or Plan L. Plan K will cover 50% of your cost-sharing, while Plan L will cover 75% of your cost-sharing.
When to Enroll
When you first start your Part B, enrolling in a Medigap plan is the best time. When your Part B becomes effective, your 6-month Open Enrollment Period for a Medicare Supplement plan beings; during this window, you can enroll in any letter plan you choose without going through medical underwriting.
However, you can still enroll in a plan at any time of the year. The only difference is outside your 6-month OEP window; you'll have to answer health questions and undergo medical underwriting.
United American Medicare pros and cons
Pros
Specialize in high-deductible options
Low rate increases
Mild underwiriting
Cons
Non high deductible plans premiums can be higher
Only Medicare plan option is Medigap
Reviews and Ratings
| | |
| --- | --- |
| A.M. Best Rating | A+ |
| Standard & Poor's Rating | A+ |
| Moody's Rating | No Rating |
United American is one of the most stable companies in the Medicare Supplement market. Since its inception, they have been working with Medicare and have great financial strength ratings. Part of the reason for their success in low rates, is their strong book of business in the high-deductible Medigap plan options.
| | |
| --- | --- |
| Medicare Supplement Plans | YES |
| Medicare Advantage Plans | NO |
| Medicare Part D Drug Plans | NO |
United American Medicare plan options
FAQs
How is United American Insurance rated for a Medicare Supplement plan?
United American has an A.M. Best Rating of A+ and a Standard & Poor's Rating also of A+.
Where is United American Medicare Supplement accepted?
They offer plans in all states except for Massachusetts, Wisconsin, and Minnesota.
How much is a United American supplemental Medicare health plan?
This depends on which letter plan you enroll in. The average premium can range from $50 to $300 per month.
How to enroll in a United American Medicare plan
United American Medicare Supplement plans offer comprehensive coverage to eligible beneficiaries, and there are various options to choose from. If you're looking for supplemental insurance to help cover the costs that Original Medicare doesn't, then a plan from United American is a great option.
You can call us today or complete our online form to get started comparing rates and benefits from some of the best-rated plans in the industry. With so many options available, we're sure you'll find one that fits your needs and budget.