State Farm Mutual Automobile Insurance Company is well-known for auto, homeowners, and property & casualty insurance. They've been in the insurance industry for nearly 100 years. State Farm was founded in 1922 and had its corporate headquarters in Bloomington, Illinois.
State Farm Medicare plans
First, we're going to discuss what a supplemental Medicare plan is. Original Medicare is an excellent base insurance policy allowing you to choose your doctor with few restrictions on covered healthcare services. However, there are coverage gaps in which you must pay out-of-pocket costs.
Supplemental Medicare health insurance plans help to mitigate those costs and risks of eligible Medicare beneficiaries.
There are two types of supplemental Medicare insurance plans. Medicare Supplement policies work as secondary coverage or a Medicare Advantage that takes over your primary insurance coverage. Next, we'll cover the State Farm Medigap plans.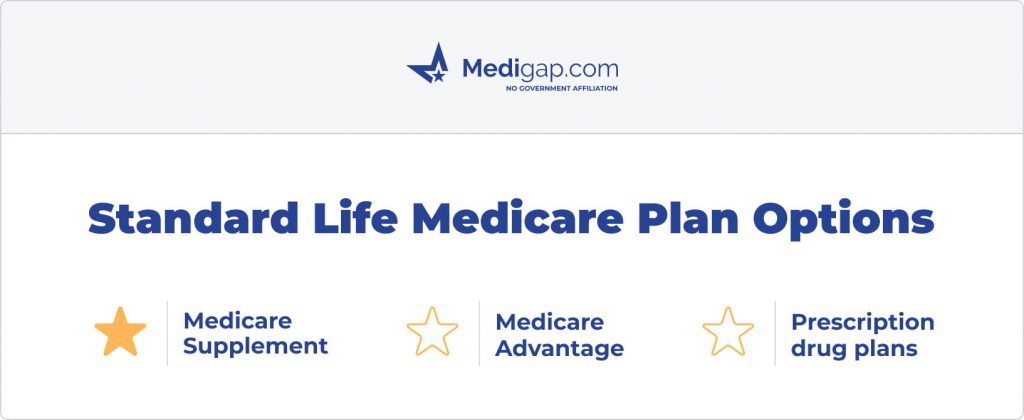 State Farm Medicare Supplement plans
State Farm Medicare Supplement insurance plans work together with your Original Medicare to eliminate or lessen your out-of-pocket costs associated with your Original Medicare. You can choose between ten standardized plan options with varying coverage levels.
These plans help cover expenses you'd usually be responsible for paying. Medigap plans help cover the cost of Medicare Part B coinsurance, hospital costs, Part A deductible, Part B deductible, skilled nursing facility copays, emergency room visits, and Part B excess charges.
For a Medicare Supplement insurance plan to pay the cost share, the procedure or service must be an item that's covered under the Original Medicare benefits. These plans will have an additional monthly premium that Medicare beneficiaries are required to pay.
Since Medigap plans only supplement Medicare Part A and Medicare Part B, they don't provide prescription drug coverage. Medicare beneficiaries must add a standalone Part D plan to receive coverage for prescription medications.
State Farm Medicare Advantage plans
Now we'll explain how a Medicare Advantage plan works. These plans combine your Medicare benefits into one program that administers them. These plans, also known as Medicare Part C, typically include your Medicare prescription drug coverage.
In addition to covering your Original Medicare benefits, many Medicare Advantage plans will have additional coverage such as gym memberships, over-the-counter allowances, and dental, vision, and hearing coverage.
Unlike Medicare Supplement insurance policies, the benefits of Medicare Advantage plans can vary widely depending on your area and chosen plan.
State Farm Medicare Part D prescription drug plans
Medicare drug plan benefits are provided through a Medicare Advantage or Part D prescription drug plan. These plans must have coverage as good or better than the standard model outlined by CMS.
State Farm doesn't offer Medicare Advantage or Part D plans. If you need these coverages, call us at the phone number listed above, and one of our licensed agents can assist.
State Farm Medicare pros and cons
Pros
Excellent customer service
Strong monthly premiums
Conservative rate increases
Cons
Strict Underwriting
No Part C or D plans are available
Financial strength ratings
State Farm is a highly stable company. They have the highest rating that AM Best can give. State Farm's financial strength is rated at A+ "Excellent."
Reviews
While most people recognize State Farm Mutual Automobile Insurance Company for auto insurance, they offer other products like life insurance and Medicare Supplement insurance. They are a financially sound company with excellent customer service and products.
FAQs
What Medicare Supplement insurance plans does State Farm offer?
Plan offerings can vary depending on your location. State Farm offers the below Medigap plans.
In which states does State Farm provide access to Medigap plans?
State Farm serves 45 States and the District of Columbia. The states that State Farm doesn't offer Medicare Supplement insurance are:
When's the best time to enroll in a Medigap plan with State Farm?
The ideal time to enroll in a Medicare Supplement plan is during your Open Enrollment Period. Outside of your open enrollment, you'll need to pass medical underwriting to enroll in a plan unless you have another guarantee issue situation.
How to enroll in a State Farm Medicare Supplement plan
Enrolling in the State Farm Medigap policy that meets your needs is simple. The time-consuming and complicated part is comparing options to ensure your chosen plan meets your needs.
Our licensed agents are experts in Medicare and can help assist in every step of the process.
To make things easier, call or fill out our online request form to speak with a broker specializing in Medicare.