Guarantee Trust Life Insurance Company has benefited from the stability of being owned and managed by the same family since it was established. Having direction from one voice has allowed them to remain laser-focused on providing quality products along with excellent and personable customer service. For over 80 years, Guarantee Trust Life has provided access to high-value accident, Medicare, health, life, and special risk insurance for Americans nationwide.
Today, we'll discuss supplemental Medicare plans and GTLs Medicare Supplement health insurance. Then, we'll explain Medicare Advantage and Prescription Drug Plans. Upon conclusion, we'll show the company's financial ratings, answer a few questions, and direct you on how to get help with GTL Medicare Supplement insurance.
Guarantee Trust Life Insurance Medicare plans
Medicare by itself is decent health insurance. However, there are some high and unpredictable costs you have to watch. These costs come in the form of:
Medicare Part A deductible
Medicare Part A Copays
Medicare Part B Deductible
Medicare Part B Coinsurance
Medicare Part B Excess Charges
Another item many people don't realize when they're approaching Medicare because some healthcare isn't considered medically necessary. For Medicare to cover a healthcare service, procedure, or equipment, it must be considered medically necessary. Services such as routine eye, dental, and hearing care aren't covered.
They can enroll in supplemental Medicare insurance products to help Medicare beneficiaries offset these out-of-pocket costs and lack of coverage. These products include a Medicare Supplement insurance policy or a Medicare Advantage plan.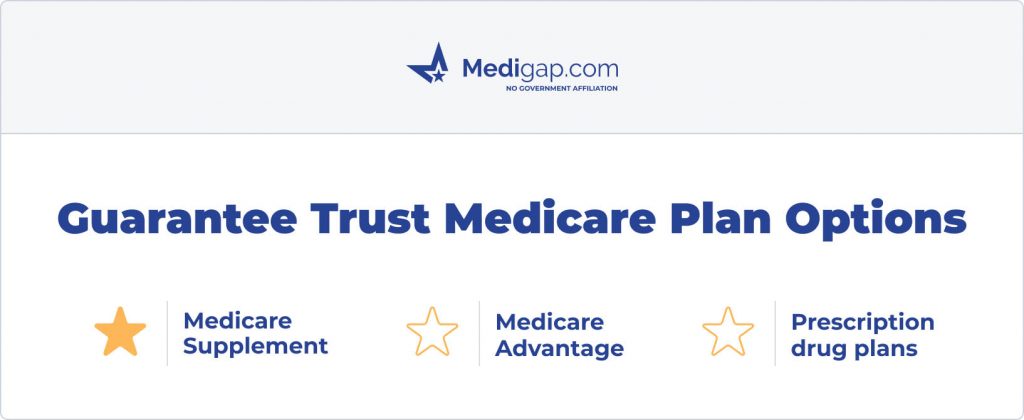 Guarantee Trust Life Insurance Medicare Supplement plans
First, let's talk about what a Medicare Supplement is. These plans assist in paying your portion of the out-of-pocket costs left by Original Medicare. These supplemental health care policies are often called Medigap plans.
Medicare Supplement insurance plans are secondary coverage to your Medicare Part A and Medicare Part B. Since they aren't primary, you can choose any healthcare provider nationwide that accepts Medicare.
These Medigap plans have an additional monthly premium and don't cover drug coverage. There are ten levels of Medicare Supplemental plans you can choose from to cover your costs for medicare benefits. They help pay for items and services such as skilled nursing facility copays, outpatient medical expenses, foreign travel emergencies, and hospital stays.
Medicare Supplements are guaranteed renewable as long as your actively paying your monthly premium. Guarantee Trust Life Insurance Company offers the following Medicare Supplement insurance plans.
Guarantee Trust Life Insurance Medicare Advantage plans
Medicare Part C is another supplemental Medicare option. These plans will combine your Medicare benefits into one Medicare Advantage plan. These plans will typically include Medicare prescription drug coverage and additional benefits not covered by Original Medicare.
Guarantee Trust Life Insurance Medicare Part D prescription drug plans
Medicare drug coverage can be embedded in a Medicare Advantage plan or a stand-alone Part D prescription drug plan. Both Medicare Part C and Part D plans are regulated by CMS and provided by private health insurance companies.
GTL doesn't provide access to coverage for Medicare Advantage or stand-alone drug plans. For more information on these style plans, call the phone number at the top of this page to speak to a licensed insurance agent.
GTL Medicare pros and cons
Pros
Good Customer service
Affordable Medigap rates
Mild underwriting
Cons
Only offers Medicare Supplement options
Limited availability
GTL financial strength ratings
GTL has been establishing trust and quality service for more than 80 years. AM best provides them a rating of "B++."
GTL reviews
GTL is headquartered in Glenview, Illinois, and was formed in 1936. They operate with integrity as a top concern for every aspect of their business. The same family has been instilling family values since the company's inception. They have excellent financial ratings and competitive rates.
FAQs
Do GTL Medicare Supplements cover Hospice care?
Hospice is covered under Medicare Part A. Once someone is in hospice, there aren't usually any out-of-pocket costs. However, if any covered medicare costs needed to be paid, your Medicare Supplement insurance would help cover those costs.
I have pre-existing conditions. Would a GTL Medicare Supplement cover them?
There aren't pre-existing limitations with GTL. However, you must pass medical underwriting if you apply for coverage outside Open Enrollment or a guaranteed situation. Your premium could be higher depending on the condition, or you may not pass underwriting to become a policyholder.
What states does GTL offer Medicare Supplement plans?
GTL has Medigap plan offerings in 30 states. The states include:
How to Enroll in a Guarantee Trust Life Insurance Medicare Plan
Medicare can be a confusing topic. There are many moving parts, constant phone calls, and changes. Let us be your source. We can ensure you have the education needed to make your best choice. Our agents specialize in Medicare.
Call us today or fill out our online request form. Our specialists will educate and walk you through each step. Once you choose the right plan, we'll guide you through the enrollment process.