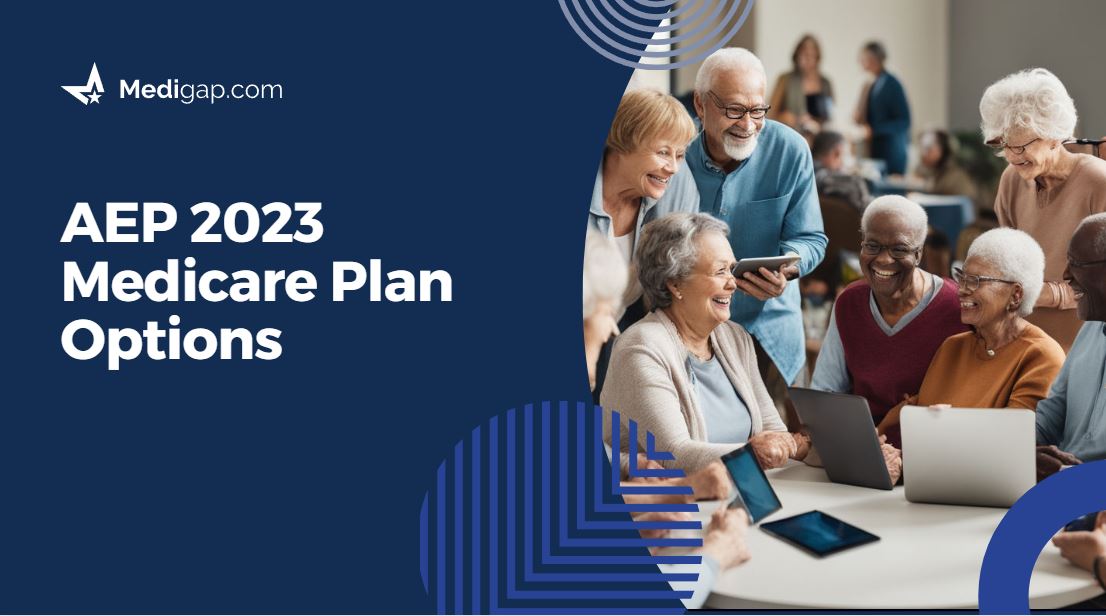 Medicare's Annual Enrollment Period is the most well-known enrollment period regarding Medicare. It allows Americans enrolled in Medicare to change their Medicare plans from October 15 through December 7. The plan changes take effect on the 1st of January the following year. Learn more about the AEP Medicare plan options during the 2023 enrollment period.
Exploring plan options
Medicare has several options to select from when considering your Medicare health coverage. Plan options range from Original Medicare (Part A and Part B), Medicare Advantage (Part C) plans, Part D (prescription drug plans), and Medicare Supplement (Medigap) plans. Each plan option is a little different, and knowing your options will empower Medicare beneficiaries to make the right choice for themselves.
Original Medicare
Original Medicare is Part A and Part B of Medicare. Part A covers hospital and inpatient services, while Part B handles outpatient, medical services, drugs administered at an inpatient facility or a medical office, and durable medical equipment. Original Medicare doesn't include prescription drug coverage, so you'd need to enroll in a stand-alone Part D plan to provide coverage for medications filled at a pharmacy.
Original Medicare's benefits include fewer restrictions and authorizations and allow beneficiaries to see any healthcare provider nationwide that accepts Medicare. No referrals are needed to see specialists making OM easy to use and navigate.
However, there is no cap on how much you can spend on your Medicare cost-sharing and essential services such as routine dental, vision, and hearing. This makes staying with only Original Medicare a huge financial risk and missing vital well-being components necessary to stay healthy.
Medicare Advantage plans
Medicare Advantage plans are a way to receive Medicare benefits through a private company. When a beneficiary enrolls in a MA plan, the private insurance company takes over the administration of your Medicare benefits. Since these are run by private companies contracted with Medicare, they must cover, at a minimum, the same benefits as Original Medicare.
However, since they are private companies, they can include additional benefits and plan extras. These Part C plans often have low or sometimes no additional premiums, a cap on out-of-pocket, and prescription drug coverage. Many of these plans include plan extras such as dental, vision, and hearing coverage, gym memberships, flex cards, and even transportation.
Remember that these plans' benefits will vary depending on the location and the plan chosen, so not all plans include the same benefits. In addition, these plans are network-based, meaning there could be limited access to doctors or pay more out of pocket for using non-network providers.
Medicare prescription drug plans
Prescription drug coverage is Medicare Part D. These are stand-alone plans that beneficiaries use to add coverage for medications filled at a pharmacy. While these plans are optional, Medicare will penalize beneficiaries eligible for Medicare prescription drug coverage but didn't enroll in a plan or don't have creditable drug coverage.
Like Medicare Advantage plans, Part D plans are administered by private companies contracted with Medicare. These plans must have coverage as good as the Medicare standard model The Centers for Medicare and Medicaid Services provided. These plans will have different premiums, copays, deductibles, coinsurance, and covered drugs.
Medigap (Medicare Supplement) plans
Medicare Supplement plans are standardized plans that cover the cost-sharing gaps in Original Medicare. They're designated by different plan letters, and the coverage is the same regardless of where you live. The only difference is the insurance company and the premium of the plan. Since these plans are secondary coverage to Original Medicare, beneficiaries enjoy the same freedoms in coverage, such as no referrals and the option to see any provider nationwide that accepts Medicare.
At the same time, since they're supplements to Original Medicare, they'll only cover items and services covered by OM. Beneficiaries must enroll in additional coverage for prescription medications, dental, vision, or hearing coverage for those items.
Enrollment and considerations for switching plans
When deciding which plan option is best for you, there are a few things to consider. Everyone has different medical needs, financial situations, and wants. Next, we'll discuss some things to review and how to change plans.
Factors to consider when choosing a Medicare plan option during AEP
Several factors should be considered when deciding the right coverage for your situation. Among the most important are health status, budget, and age. Another large consideration is the provider networks and the coverage areas. If you have doctors that you must keep, choosing a plan that doesn't limit you to networks or choosing a plan that your preferred healthcare providers are participating in is paramount.
When considering your prescription drug coverage, it's more important to review the formulary and find coverage that covers your prescription and has a lower cost for them. In many cases, the premium of a drug plan becomes irrelevant compared to the annual costs of your prescriptions on that plan. Always choose a plan that covers your prescription needs properly
How to enroll or make changes
Changing plans is straightforward and can be completed online or by calling a company directly; however, working with a licensed professional representing multiple insurance carriers is wise. Insurance agents will have additional tools that allow comparisons side by side and can quickly provide insight on which plans accept your doctors, how they cover your prescription needs, and the coverages important for you.
FAQs
When can I change my Medicare plan for 2023?
Unless you qualify for a Special Enrollment Period, you must wait until the Annual Enrollment Period. It runs from 10/15 through 12/7.
What changes can you make during Medicare AEP?
Within the Annual Enrollment Period, you can enroll in fresh Medicare coverage or modify your current plan. AEP spans from October 15th to December 7th annually, providing the specific window to enroll, switch, or discontinue Medicare Advantage and Medicare Part D prescription drug plans.
What is the biggest disadvantage of Medicare Advantage?
One notable drawback of Medicare Advantage plans is their restricted provider networks, constraining your freedom to select doctors or medical facilities. These plans also hinge on medical care usage, posing predictable healthcare budgeting challenges.
Can I drop Medicare Advantage plan and go back to Original Medicare?
Should you have enrolled in a Medicare Advantage Plan during your Initial Enrollment Period, you have the option to switch to a different Medicare Advantage Plan (with or without drug coverage) or return to Original Medicare (with or without a drug plan) within your initial three months of having Medicare Part A & Part B.
Find help with 2023 AEP Medicare plan options
Getting help with your 2023 AEP Medicare plan options is quick and easy. Fill out our online rate form. We can help you review the plans in your area and find the ones that match your needs.
Related Content: