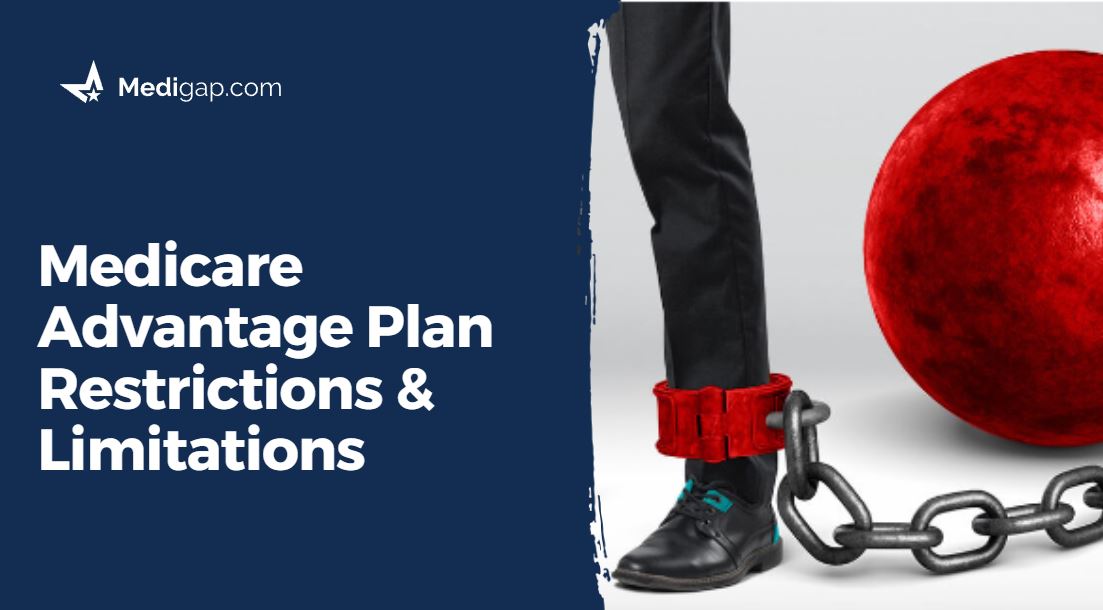 There are plenty of advertisements about Medicare Advantage options, and the closer you get to 65, the more information blasts at you. There are several supplemental Medicare plans to choose from, and by now, beneficiaries have heard about all the benefits. Still, few people focus on the restrictions of Medicare Advantage plans.
Below, we'll discuss Medicare plan options, how they work, and the plan restrictions for each type of Medicare health insurance option.
Restrictions and limitations of Medicare Advantage plans
Eligibility requirements for Medicare Advantage plans include having an active Medicare Part A and B and living in the service area of your desired program.
Next, we'll explain the different Medicare Advantage plan types, including each type's benefits and plan restrictions.
Limitations of Preferred Provider Organization (PPO) Medicare plans
PPO health plans allow for coverage from both in-network and out-of-network providers. While this sounds like an ideal plan for many, there are a few restrictions.
While it is true that they include coverage from in-network and out-of-network providers, that doesn't mean that there aren't some challenges.
Using the plan coverage out of network will usually have a higher cost share and maximum out-of-pocket limit.
In addition, a non-network provider could require the entire bill upfront, leaving you to submit the claim to the insurance company for reimbursement.
Limitations of Health Maintenance Organization (HMO) Medicare plans
HMO plans are the most restrictive Medicare plan options available. However, in most cases, they also provide the most plan extras.
Providers in the plan's network must perform all covered healthcare. The only exception is emergency services and dialysis when out of the plan's service area.
These plans require referrals for most specialists and additional prior authorizations. Most Medicare Advantage Special Needs Plans (SNP) are HMO-style medical insurance.
Limitations of Private Fee-For-Service (PFFS) Medicare Advantage plans
PFFS plans are a little different than the other Medicare Advantage plans. These Medicare Advantage plans are the only type that allows you to purchase a separate Medicare Part D prescription drug plan.
Like a PPO, you can seek services out-of-network, but it has the same drawbacks as a PPO, with an additional twist. The health care provider must accept the terms and conditions before rendering services on these plans.
When enrolled in a private fee-for-service plan, the health care provider may accept the terms and conditions for one service and then not another.
Restrictions for all Medicare Advantage plan types
In addition to these restrictions on each plan type, Medicare Advantage plans have a non-medical plan administrator who approves or denies coverages.
This individual's job is to ensure that only medically necessary services are approved. It also means that sometimes the plan will refuse service in favor of a less expensive option.
Doctor's leaving network
Medicare Advantage plans keep costs low by using a network of doctors. Unfortunately, doctor contracts are not locked in the same way as a Medicare beneficiary.
Doctors can join or leave the plan network throughout the year. When this happens, you may have to find a new doctor for the remainder of the year.
Lock-in period
Only specific times or enrollment periods allow you to make changes when enrolling in a Medicare Advantage plan.
These plans typically continue until December 31. If there are changes to your prescriptions, if your healthcare needs change, or if your doctor leaves the plan's network, you can't just change your plan.
You must wait until the Annual Enrollment Period, Medicare Advantage Open Enrollment Period, or have a valid Special Enrollment Period.
FAQs
What are the biggest Medicare Advantage weaknesses?
Most Medicare beneficiaries would agree that the network restrictions and constant need for approvals and referrals are the biggest disadvantages to Medicare Advantage plans. These plan restrictions can be problematic for individuals who want the freedom to choose their doctors.
Are their Medicare plans with no network restrictions?
Medicare Supplement or Medigap plans are secondary to Original Medicare. These plans don't have Networks, as they can use any healthcare providers that accept Medicare. In addition, Medicare Advantage PPOs all for more freedom than the HMO options.
What is excluded from a Medicare Advantage plan?
Medicare Advantage plans don't include long-term care in a nursing facility. Consequently, no Medicare plan option will provide custodial services in a long-term care facility.
Do Medicare Advantage plans have limits?
Medicare Advantage plans limit out-of-pocket expenses related to medical care. The out-of-pocket limit is a significant plus versus Original Medicare, as it doesn't cap the Medicare costs left over for you.
What is the max out-of-pocket for Medicare Advantage?
The maximum out-of-pocket is an annual limit on an enrollee's medical expenses. Medicare Advantage's maximum out-of-pocket costs range from $900 to $11,000+, depending on your chosen plan and your plan's service area. Expenses that count toward your out-of-pocket max don't include costs related to additional plan benefits or prescription drugs.
What is the difference between a Medicare Advantage plan and a Medicare Supplement plan?
Many retirees mix up Medicare Advantage plans and Medicare Supplement policies. Medicare Advantage is Medicare Part C, which provides an alternative route to receive your Medicare benefits. These Part C plans typically include plan extras like dental and vision coverage and can consist of prescription drug coverage.
Medicare Supplement policies are additional insurance plans that help cover part of the costs left over from Original Medicare. These Medigap plans don't include prescription drug coverage and have an additional monthly premium for the program.
What is the Medicare deductible?
Medicare has two deductibles, one for Medicare Part A and one for Medicare Part B. The Medicare Part A deductible is $1,632 and is paid each time you start a benefit period in the hospital. The Medicare Part B deductible is a small annual deductible of $240 that you must satisfy before Part B benefits begin.
Help finding the right Medicare plan for your needs
It's crucial to find a Medicare plan that fits your situation. Working with a licensed insurance agent is the best way to accomplish this. Our agents specialize in Medicare and can assist with each step. Please fill out our online request form or give us a call today!
Related Content